Emojis have become a universal language of expression with the rise of social media. Usually, people add emojis in photos to give them flair. However, when you need to use them for personal or professional reasons, you might want to remove emojis from a picture online. It could be that you no longer want the emoji, it is distracting, or it just clashes with the overall aesthetic of the photo.
The good news is that you can easily remove emojis from your photos with several online apps. In this post, you will learn different methods, tools, and tips to help you get the best results. So, whether you are a social media influencer or simply looking to clean up your photos, read on to discover how to remove emojis from pictures online.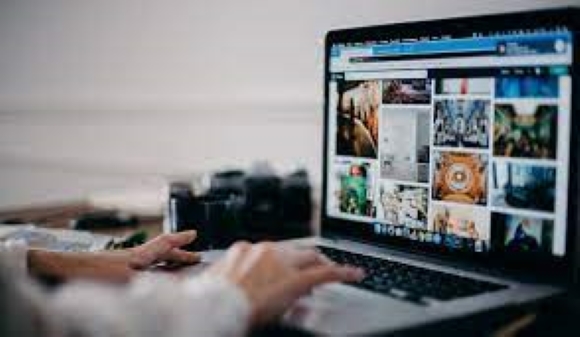 Part 1. The Best Ways to Remove Emojis from Pictures Online
Here you will explore some efficient approaches to removing emojis from a picture online. You can decide which technique is best for you based on its pros and cons. Check out these methods to learn more.
Using Online Photo Editors With Emoji Removal Tools
Using an emoji remover from photos online with an object removal feature is one way to say goodbye to emojis from images. Online photo editors usually feature AI to allow users to select an object they want to remove from the photo and remove it.
To apply this technique, upload your image to the online photo editor. Use the objects removal tool, and then click or pick the emojis and other inappropriate elements you wish to eliminate from the image. Once done, you can download and save the altered image.
Pros
Here are some advantages of using a photo emoji remover online:
Easy to use

. Photo emoji remover online is beginner friendly because of its simple user interface and in-app tutorials.

Save storage space

. It is a practical choice for individuals who do not want to clog their devices with additional apps. Because you do not need to download or install any software.

Accessible

. Several online photo editors offer editing tools that are free to use. These tools include object removal from pictures. So users can easily remove content from images without paying for a professional photo editor.

Convenient

. Emoji removal solutions in online picture editors are frequently available on any device with an internet connection.
Cons
While using emoji remover from picture online has its advantages, it also comes with a few disadvantages:
In-app purchases

. Other sophisticated capabilities of an online picture editing tool are not available without purchasing them separately from the authorized supplier.

Lower file quality

. A few online photo editors use compressed files to reduce the overall file size. It makes the modified image could look grainy or have a lower resolution than the original file.
Using Specialized Objects Removal Services
Another method for removing emojis from pictures online is to use specialized object removal services. Professional photo editing companies often offer these services, using advanced software and techniques to remove unwanted elements. For emoji removal, specialized services can be effective, especially if embedded in a picture and need more advanced editing.
Use this method by uploading or sending the photo to their website and telling them which elements you want to remove. You will get the picture back after they edit it.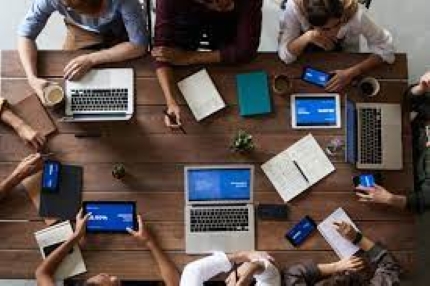 Pros
Hiring professional editors for object removal in your pictures has the following advantages:
High-quality results

. Graphic artists remove undesired aspects from photos using cutting-edge software and methods. They may provide altered pictures of high quality better than those generated by using other techniques.

Expertise

. Photo editing businesses that provide these services frequently employ graphic editors with experience and skills. They can tackle challenging editing jobs, like eliminating emojis from images with complex backgrounds or several layers.

Efficient

. Emoji removal might take a while, especially for a complicated or large batch of photographs. Hiring editing companies may save you time and effort, as they will do the editing process for you.
Cons
While using specialized object removal services can be a good option for some, there are also some potential drawbacks that you may dislike, including:
Cost

. Since you are hiring professional editors to tweak your photo, their service comes at a high price, particularly if you have a big, complicated image that needs a lot of editing. Because of this, it can be less affordable for those on a limited budget or who want to remove emojis from picture online free of charge.

Turnaround time

. The experts can take several hours or days to edit your photo. It might not be the best option if you need the image instantly.

Privacy concerns

. Third-parties editing and/or storing your photos can be a security and privacy concern.
Using Social Media Apps With Built-In Editing Tools
Before publishing photos online, you may modify them using the built-in editing features of several social media applications, including Instagram and Snapchat. You upload your photo, choose an editing tool, and then use the editing tools within the app.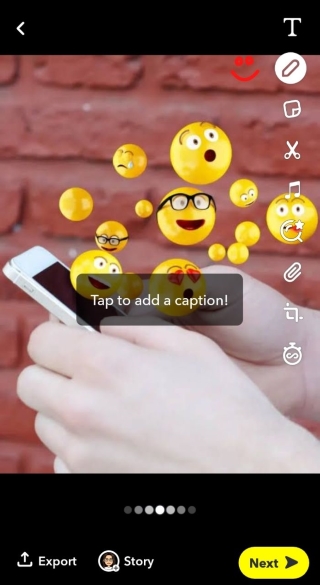 Pros
There are various benefits to using social networking applications with built-in editing capabilities as a photo emoji remover online, consisting of:
Convenience

. The built-in editing tools might be a convenient choice for modifying photographs online since you may already be using social networking applications on your device or browser. There is no need to set up new accounts or download additional software.

Easy editing

. Social media apps with editing tools typically have quick and simple editing options, including crop, rotate, and filter tools. Use them even with little editing experience.

Free

. If you don't want to spend money on specialized object removal services, social networking applications with built-in editing capabilities are frequently free to use.

Instant sharing

. After using a social media app to modify your photo, you may immediately share it with your followers and friends on the same network.
Cons
While using social media apps with built-in editing tools can be convenient, there are also some potential drawbacks that you may dislike, including:
Basic editing options

. It might not be as sophisticated as those offered by other approaches, which could limit your capacity to edit your photos the way you prefer.

Loss of image quality

. Every time you upload and alter a photo, the image quality may decline, resulting in a lesser-quality final output.
Part 2. Step-by-Step Guide: How To Remove Emojis From Pictures Online
Now that you understand several efficient techniques to remove emojis from picture online, it is time for you to explore some practical solutions. Each online tools below have a different user interface and features, including an emoji remover.
AniEraser, a product of Wondershare, uses AI to quickly take out any undesirable elements like emojis to provide the desired effect within seconds. Use this photo emoji remover online for free and enjoy using it across three platforms, on your desktop (Windows and Mac), mobile (iOS), and web browser using one account.
Get unlimited access to the desktop version if you buy one license and want to enjoy more features on three platforms. Also, AniEraser can quickly produce replacement files without overlays. Despite removing unwanted elements, this emoji remover keeps the image high-quality.
Want to remove emojis from picture online free of use with AniEraser? Start here with these simple steps.
Step 1
Visit AniEraser on your browser. Click Upload to import the image you want to remove the emoji.
Step 2
Brush on the areas with emojis to select them.
Tip:
You can adjust the brush size and zoom in or out for better precision.
Step 3
Click Remove objects now to see the image preview.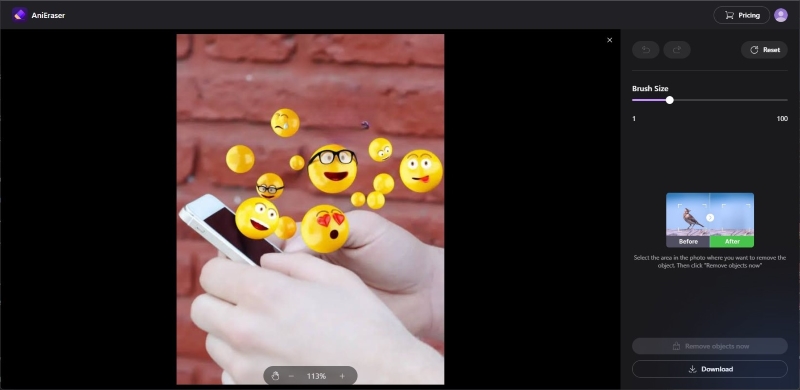 Step 4
Once satisfied with the edited image, click Download to export the file in seconds.
Note:
It may require you to sign up or log in to an account before allowing you to download the edited image.
Apowersoft - Online Watermark Remover
You can remove emojis from photos online free of use in Apowersoft Online Watermark Remover. This online tool supports multiple image file formats such as JPG, JPEG, BMP, PNG, TIF, and TIFF. Apowersoft online app also allows batch removal of unwanted objects from your photos without blurring them. It helps remove emojis while preserving the original content by using advanced algorithms.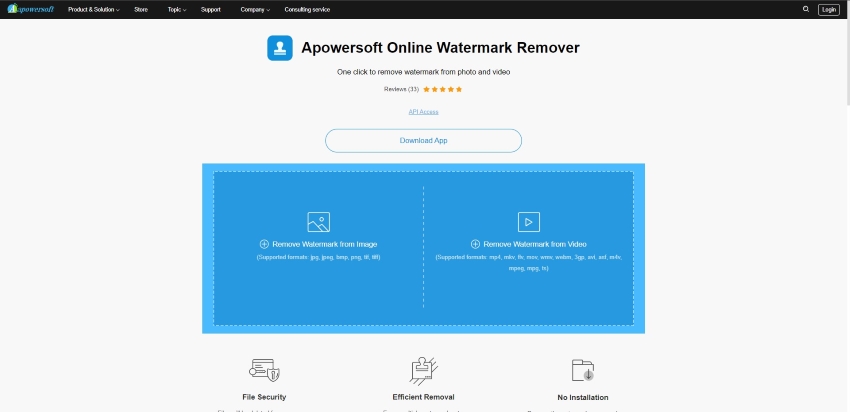 Follow the steps below to learn how to remove emojis from picture online using the Apowersoft Watermark Remover tool.
Step 1
Go to Apowersoft online watermark remover. Then, click Remove Watermark from Image on the left side to upload your image with emoji.
Tip:
You can upload multiple files for more efficient photo editing.
Step 2
Click the box and drag it above the emoji you want to remove. Next, click and drag the corners to resize based on your preferences.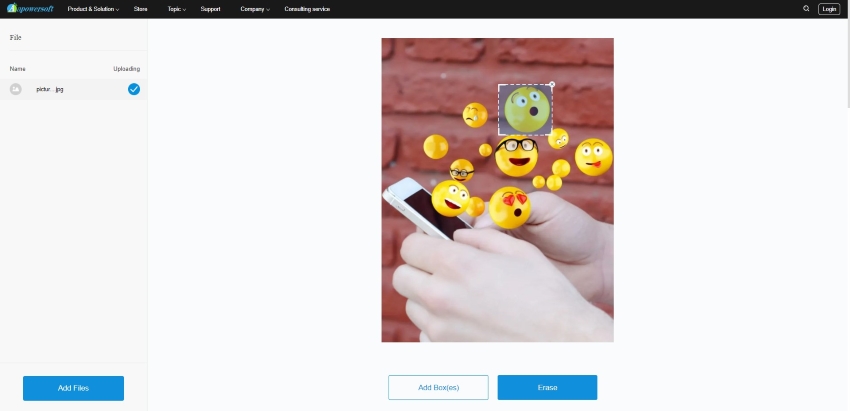 Tip:
Click Add Boxes on the lower navigation pane to select multiple emojis in the photo simultaneously.
Step 3
Click Erase once you have selected all the emojis you want to remove, then wait for it to process.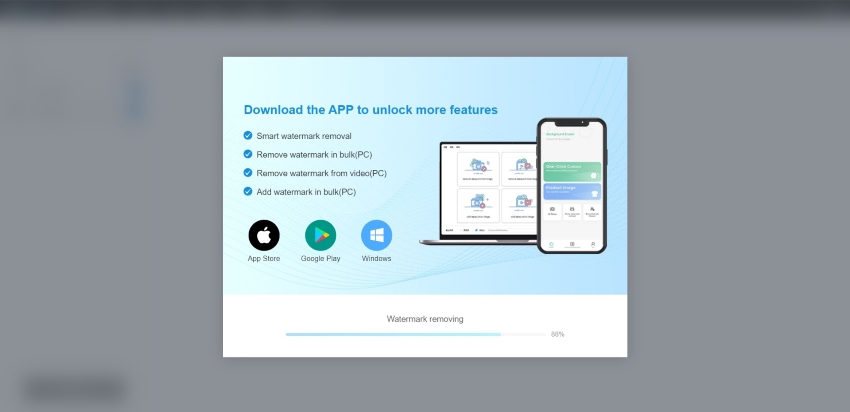 Step 4
Once done, click Completed, Download files.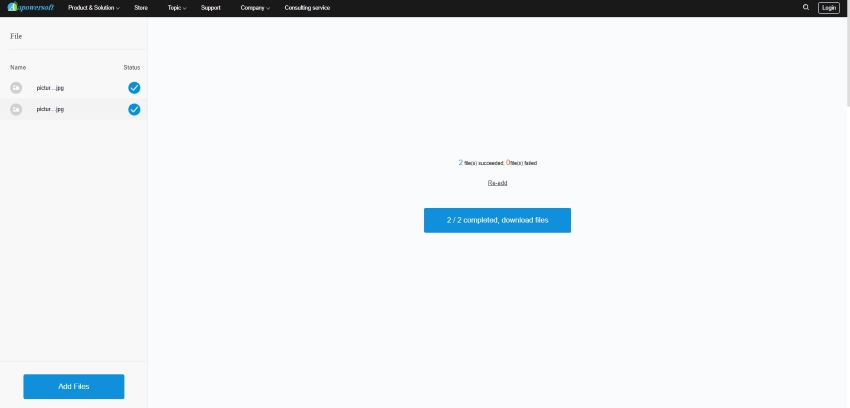 Note:
There is no available preview, so you need to download the file to see the edited image.
PicWish is another photo emoji remover online that is free to use in your browser. Just brush on the emoji in your pictures, and in a few other steps, you can achieve a clean photo. It has a low learning curve and uses AI technology, making it suitable for beginners.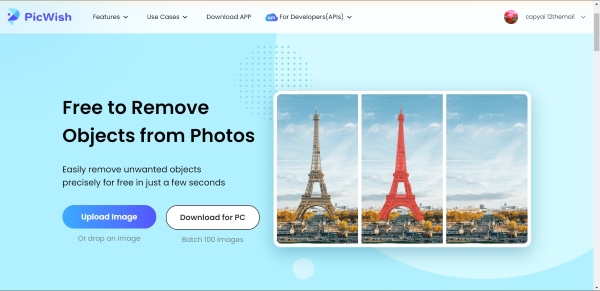 Follow the steps below to clean up your pictures with this emoji remover from picture online.
Step 1
Open your browser and go to the official website of PicWish.
Step 2
Click Upload Image to import your picture with emoji(s) or drag and drop the image.
Step 3
Brush is the default tool to remove the emoji. Swipe the brush over the emojis you want to remove.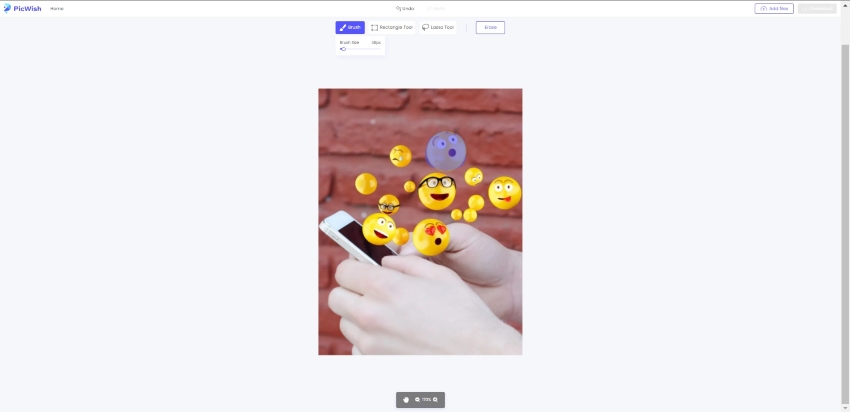 Tip:
Adjust the brush size depending on the thickness you want. You can also use Rectangle Tool and Lasso Tool simultaneously with the Brush tool for unwanted elements in the image.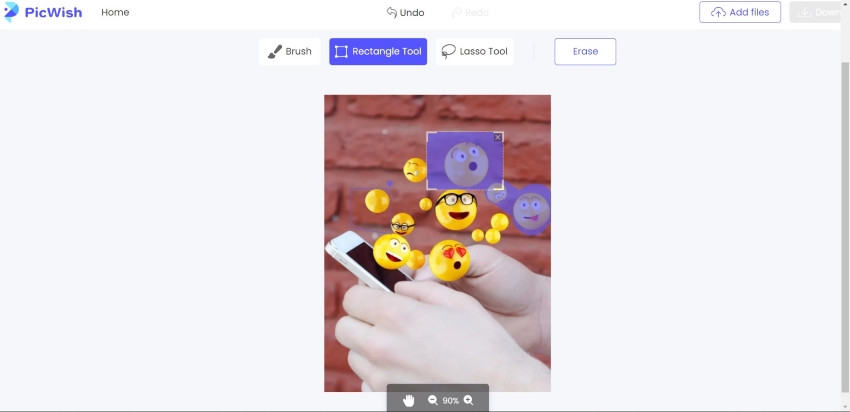 Step 4
Click Erase to see the preview of the edited version. Then, click Download on the upper right-side navigation pane to export your file on your device.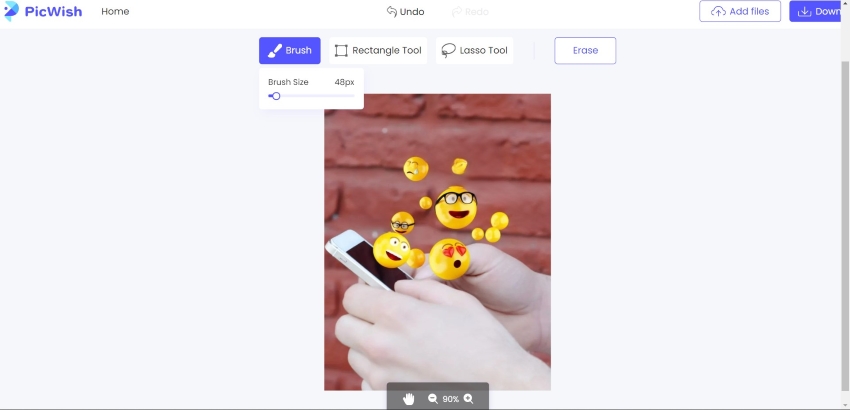 Part 3. Benefits of Removing Emojis From Pictures Online
No matter why you want emojis on your pictures, you can always get a clean and polished version if needed. In this section, you will learn the advantages of using an online tool to remove emojis from a picture online.
Better Social Media Presence
Your social media post reflects your branding, whether you are a social media influencer, a commercial brand, or a regular individual. While emojis are trendy and fun to use, they fit more on casual messages rather than on your social media posts.
Emojis on your posts make you look unprofessional and can be off-putting to your audience. Use the online tools mentioned above to remove emojis from pictures online free of use if you want to leave a professional impression on your followers.
Doing so will show your followers that you take your brand seriously and is willing to invest time and energy in curating it. It also suggests that you have a good eye for aesthetics and understand the importance of making your posts attractive, engaging, and informative.
Professional-Looking Images in Presentations or Documents
People may respond to your photos differently if they look good in your presentations or papers. You can easily remove emojis from photos online for free using one of the tools mentioned before.
Doing it will ensure your audience does not get sidetracked by irrelevant stuff and stay focused on your presentation. You will have a more sophisticated and aesthetically pleasing result if you remove emojis from your images, whether for a school project or a business pitch.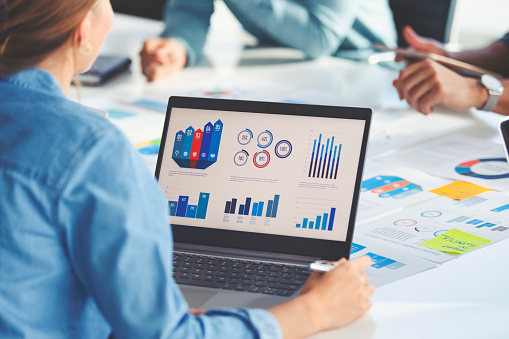 Accurate Portrayal of Image Content
Emojis can sometimes distract from what you are trying to say, leaving your audience confused or misinterpreting. You can quickly and effectively remove any emojis from a photo using an emoji remover from a photo online, ensuring that you connect to your intended audience the right way.
It plays a role in professional or educational contexts where precision and clarity are crucial. You will keep your image's theme clear and concise when you remove emojis in pictures online, whether for sharing an online photo or giving a presentation.