In the age of social media, editing things out of photos is an in-demand skill. Even though we work hard to get everything just perfect on camera, sometimes impermissible objects distract our efforts. How should a photographer proceed? Obviously, they should use a photo editor remove objects program! In this post, we'll go through the best 7 programs that can remove objects from your photos quickly and convincingly so you can edit objects out of the photo quickly.
The typical issue that many photographers run into is trying to get rid of a distracting aspect of a picture. Nevertheless, you need a photo editor to erase object program if there are background objects in your online meetings. When you only notice a problem with your picture when you attempt to upload it, an object removal program may aid you and elevate your shot. Here is all you need to know about top free editors to remove objects from your photos.
Part 1. Basic Photo Editing Techniques for Removing Objects
Occasionally the portrait may not be exposed as it should be because of a camera lens flaw or poor lighting. In these situations, editing to remove objects is a necessary tenet. Here are some must-to-know techniques for that:
Clone Tool:
The Clone tool copies picture details and pastes them on the same layer where you choose. Yet, the clone tool is not limited to simple copying. A piece of the picture that has been chosen is used as a brushed texture by the clone stamp to paint over other portions of the image. This makes the clone stamp ideal for situations when you wish to paint over an item in the picture with nearby pixels or make an object vanish by using pixels from the backdrop.
Healing Brush Tool:
The healing brush tool is intended to remove minor flaws from your shot. For picture editing, the Healing Brush is a highly potent tool. While it may be used to paint over defects and faults, it works best when eliminating undesired things from flat surfaces since it can do so in a very organic manner.
Lasso or Selection Tool:
The Lasso Tool works well for making selections along straight lines without numerous bends or curves. As you can only make choices by dragging your mouse, making an exact selection requires a very steady hand. Because of this, this tool works best when you require a fast and simple selecting process. Creating a selection around a rectangular structure or removing an object's smooth borders are two examples.
Content-aware Fill:
When eliminating complicated objects or removing distracting components from photographs, content-aware fill may save hours of editing effort. This makes it a very helpful tool for both professional photographers and designers. To achieve a seamless look, it achieves this by making educated guesses about the color, brightness, texture, and other aspects of each pixel. In order to intelligently recreate the missing pixels using nearby pixels, it first analyzes a selected region inside an image.
Layer Masks:
Designers may apply layer masks to any picture to quickly make adjustments that can be undone or produce striking visual effects. By enabling you to adjust the individual compositional layers, a layer mask allows you to hide or show certain aspects of a picture. Using the brush tool to highlight portions of the image layer, a layer mask may be used to conceal particular regions of a chosen layer inside an image file or to make other areas of a layer visible.
Part 2. Top 7 Free Photo Editors to Remove Objects
A. PhotoScape X
Description:
You can receive a variety of features with PhotoScape X, which is accessible on all platforms. You may see the tool's real color and shape by using the animated option in conjunction with the color picker. A dependable program that has all the features needed to effectively remove undesirable stuff from images is called PhotoScape X. The specified picture region can be easily recreated from pixels thanks to its high-quality characteristics.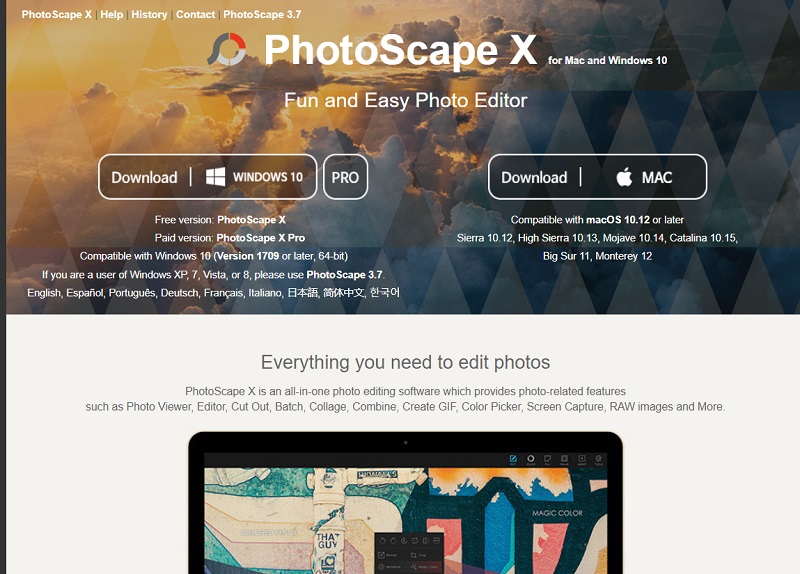 Link: PhotoScape X
Key Features:
PhotoScape X supports almost all file types, including RAW, GIF, and PSD.
The editors' user interfaces may be altered according to their degree of expertise.
You can batch-edit a number of pictures
Many choices for filters and effects, as well as semi-automatic color correction.
B. GIMP
Description:
GIMP provides you with powerful tools for enhancing the appeal of your photographs. Also, GIMP's interface is completely configurable, and as it is open source, you are free to add your own filters and features. It is stocked with expert tools for picture editing and retouching, free-form sketching, and format conversion. Users may quickly highlight and erase an area or item by tapping on it. Also, this program has capabilities that allow for effective picture editing and trouble-free use of photographs.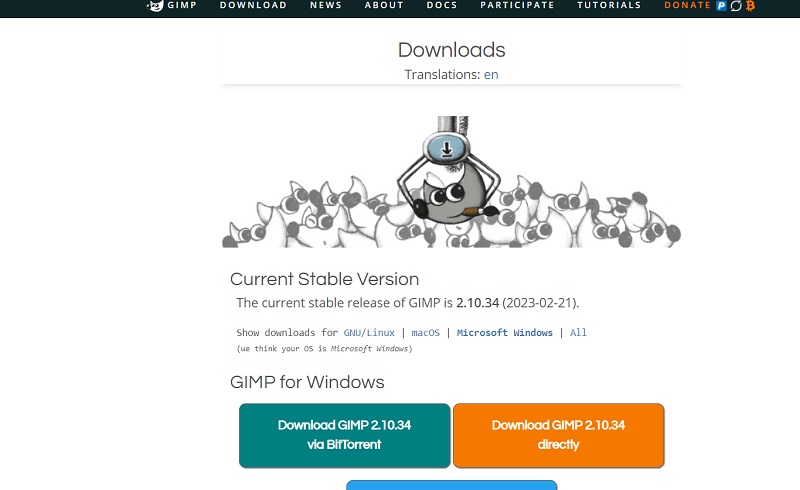 Link: GIMP
Key Features:
A powerful tool for editing photos to remove distortion and flaws.
JPEG (JFIF) and JPG, GIF, PNG, TIFF, and other special purpose formats file format support
Use digital retouching to swiftly and easily eliminate little details.
Totally adaptable interface for customizing the picture editor to your requirements.
C. Fotor
Description:
Fotor is one of the most well-liked programs for your editing requirements. All platforms are supported by this program, and you may always search to acquire full access to editing needs. To help you get the finest outcomes, the Fotor provides both fundamental and sophisticated editing needs. The Fotor picture editing tools are quick to use and don't need much time.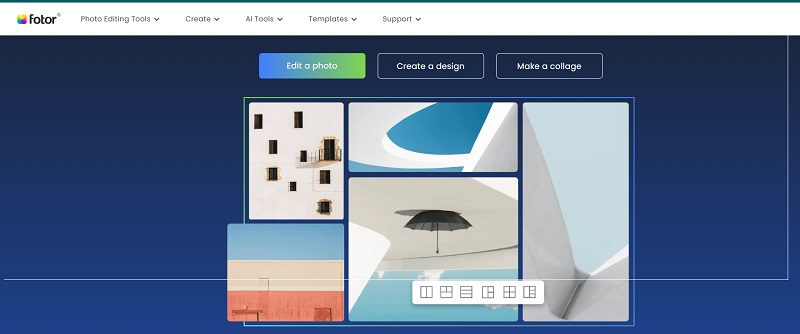 Link: Fotor
Key Features:
Important characteristics: Versatile text editor for adding text to any image.
Batch processing with a single click for borders, effects, and scenes.
Offers batch renaming, resizing, and file format conversion, among other things.
The collage tool includes up to nine photographs per composite and over 80 templates.
D. InPixio
Description:
An all-inclusive online image editor is InPixio. It includes an intuitive interface that makes it simple to create, share, and download designs from anywhere at any time. Image editing is made easy and enjoyable with its outstanding capabilities and a high degree of customizability. The superb object removal tools in this free software make it simple to eliminate undesirable things from photos. With the help of InPixio, you may create strong new photographs by using amazing new editing features.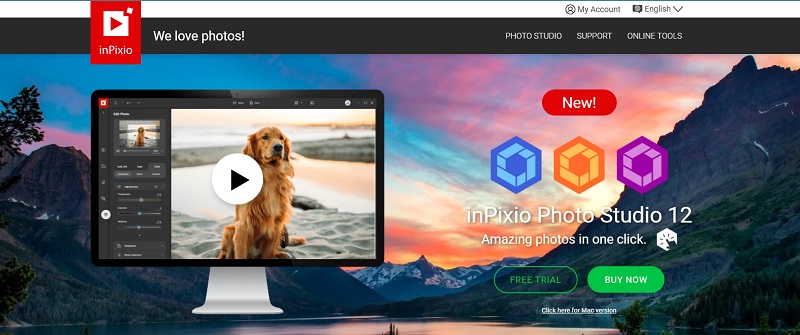 Link: InPixio
Key Features:
It is an easy-to-use tool for making vector drawings.
Easy node editing for effective picture modification.
Many one-click features and a powerful toolkit for fast and practical adjustments
Tools for shifting, skewing, cropping, and rotating photographs that are simple to use.
E. Canva
Description:
Free online graphic design and image editing software, Canva is another one on the list. With preset filters or more sophisticated tools like tints, vignette effects, sharpening, brightness altering, saturation and contrast, and more, Canva makes it simple to modify photographs. Millions of stock images, vectors, and drawings are available, along with a drag-and-drop design tool, in this online design platform.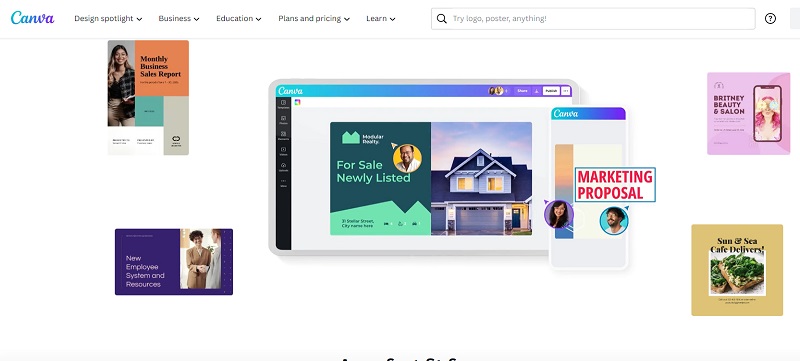 Link: Canva
Key Features:
Canva features a photo-grid design collage creator to produce classical lenses.
To magnify your message, you may drag & drop speech bubbles and text into your creations.
Many fashionable filters to add your preferred trademark appearances to images.
For reducing and modifying photos on websites or mobile devices, use an image cropper.
F. Paint.NET
Description:
Paint.net features an incredible object removing tool for users. You will experience quick performance with each mouse click thanks to the sophisticated picture composition process. This tool's UI is straightforward and aids in providing you with respectable performance. You may save time and enhance your photographs after eliminating undesired things with simply a press of your finger. The procedure is very easy to use, efficient, quick, and entirely dependent on the user's comfort.

Link: Paint.net
Key Features:
net is a straightforward, logical, and creative user interface
Many choices for filters and effects, as well as semi-automatic color correction.
Free video editor with social media export and cropping options.
For optimal results, undo and redo your modifications.
G. Photoshop
Description:
Photoshop Express is simple to use and offers great on-the-go editing tools, including the ability to trim, remove red eye, and post your completed product on social media. If you already use other Adobe products, you may sync the tool with them as well. Also, consumers will be able to view images on any mobile or desktop computer to further explore the project by logging into the Adobe Creative Cloud.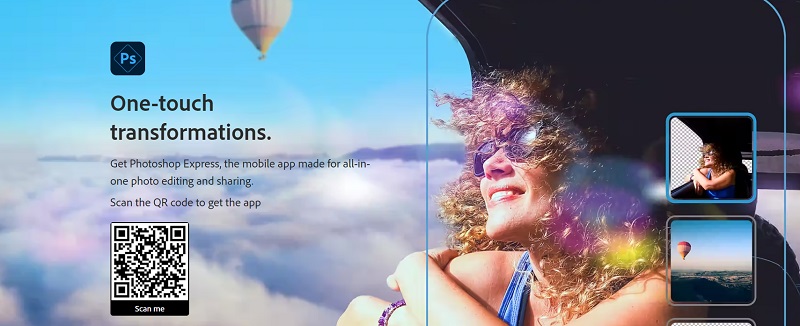 Link: Photoshop
Key Features:
Edit, retouch, make collages, or group photographs with only one swipe.
You may make and apply modifications to your photographs using the in-app lessons and playbacks.
Quick-fix solutions that remove imperfections, change perspective, and more.
You may add hundreds of themes, effects, font styles, and stickers with only one click to showcase the originality of your business.
Bonus Tips - The Best Photo Editor to Remove Objects Automatically
In lieu of the best photo editor application, the user-friendly program Wondershare AniEraser is your best choice as a free photo editor to remove objects. The program offers a unique viewpoint for automatically removing items from your images as you edit them. Even a novice without any editing experience may benefit from this. AniEraser allows you to quickly fix any errors in your final edit by using the preview mode and then save it while maintaining high-quality of your photos.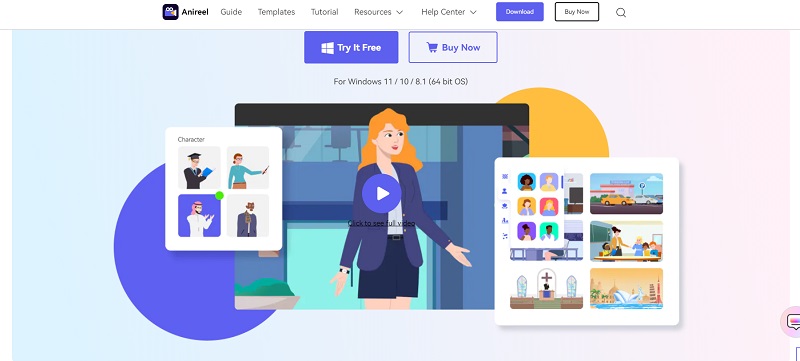 Key Features:
AniEraser gives you the ability to remove objects from videos as well as photos.
It features a strong and effective AI-based image remover.
You can do a number of images processed through AniEraser with ease.
The software is a fast, reliable, and easy-to-use tool for editors.
Step-By-Step Guide to Remove Objects Automatically with AniEraser:
Step 1

Launch the Tool and Add Images

The first step to remove objects automatically with AniEraser is to launch the tool and add images to the program. Launch the AniEraser and Click on the "Import Media Files" button to import the images into AniEraser.
Step 2

Run the Object Remover Function

Once you have added the images to AniEraser, you can now proceed to remove the objects. Select the image that you want to edit from the media library of AniEraser. Click on the "Object Remover" button in the toolbar of AniEraser. Use the brush tool to select the objects that you want to remove from the image and hit "Remove Objects Now" button to remove them automatically from the image.
Step 3

Save the Output Images

Lastly, tap the "Save" button in the top-right corner and choose the output format and file location for the edited image. Click on the "Download" button to export the image to your desired location.