If anything phone users find discouraging, it's the appearance of a watermark on a project they are editing. That is why it is essential to use a slideshow makerthat lets the creator make stunning video slideshows without the appearance of any watermark.
This post provides you with the top ten best free online slideshow makers that let you create without any watermark. By the end of this post, you will have found the perfect online slideshow maker that will give you a fantastic experience so that you will enjoy creating slideshows with no watermark whatsoever.
Below is a list of our recommended top 10 free slideshow makers you can use without a watermark.
The Online UniConverter Slideshow Maker is the first slideshow tool recommended to you for free creation of a slideshow without a watermark. You can easily create beautiful slideshows using your photos and videos, and the final result will carry no watermark.
How to Create A Slideshow with Music
Key features to be enjoyed when you use UniConverter include the following:
In three simple steps, you can create your ideal slideshow without stress.
You can choose to save your edited videos based on the aspect ratio that applies to the page you want to share it, such as Facebook, Instagram stories, YouTube channel, etc.
It protects your privacy by erasing all the photos uploaded on the site after twenty-four hours.
The output format of your slideshow is determined by you.
There is a preview feature that ensures you fully view your edited work before you export it.
Follow the simple steps below for creating slideshow without a watermark on Online UniConverter Slideshow Maker:
Step 1: Upload your selected group of photos or short video clips on the UniConverter site. Use "Choose Files" to add them or drag and drop them on the page.
Step 2: Make the slideshow to suit your taste by adding and cropping the photos and videos as you like. You can determine the duration of each photo, arrange them as you like, and add the music of your choice.
Step 3: Once you are done editing, you can preview your final work before exporting it. The choices of saved location are your device's memory, Google Drive, or Dropbox.
Another excellent slideshow maker without a watermark is Adobe Spark. It is a professional tool that gives you premium results when it comes to slideshow presentations using videos, pictures, and other multimedia items.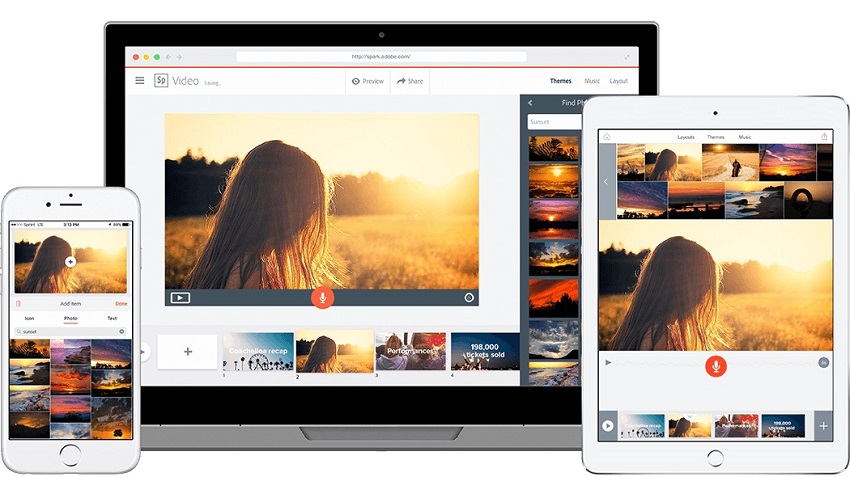 Key features:
It supports third-party plug-ins such as extra fonts and effects to give the images in the slideshow a more appealing result.
Adobe Spark has three significant components integrated into the software for a better experience: the Spark Post, Spark Page, and Spark Video. Spark Post allows for creating dynamic stories on your social media pages using music, text, and pictures. Spark Page lets you use unique designs to create outstanding web pages. Finally, with Spark Video, you can make beautiful slideshows and videos with effects and transitions, all without a watermark.
The software has forty default design templates to choose from when creating your picture slideshow.
The user interface is friendly, a suitable pick for beginners.
You can make a unique presentation with the use of voiceover while editing.
Motionden is another best tool for making slideshows without a watermark. With Motionden, you can create other types of videos in addition to slideshows such as video ads, logo animations, promotional videos, etc. Though it is a free online tool, it gives high-quality videos after you edit.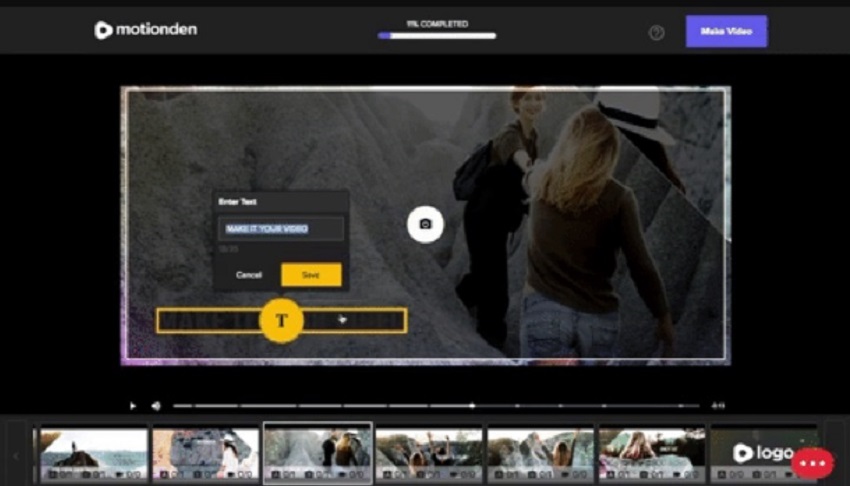 Key Features:
It allows the user to share edited slideshow videos to different social pages and media handles.
Various overlays and templates are available, each providing a mood that the user will find suitable for what they are going for.
There is an open media library where you can choose music, texts, images, and other effects if you do not have your collection to use.
This tool provides support for HD resolution, the best quality yet, of edited videos.
The video slideshows can be edited in 3D resolution for better quality.
You can also download the software and saved media to your PC.
The Movie Maker app is Windows software that lets you create slideshows with your photos and without a watermark. It is one of the best tools for beginners in the editing game as it is easy to navigate.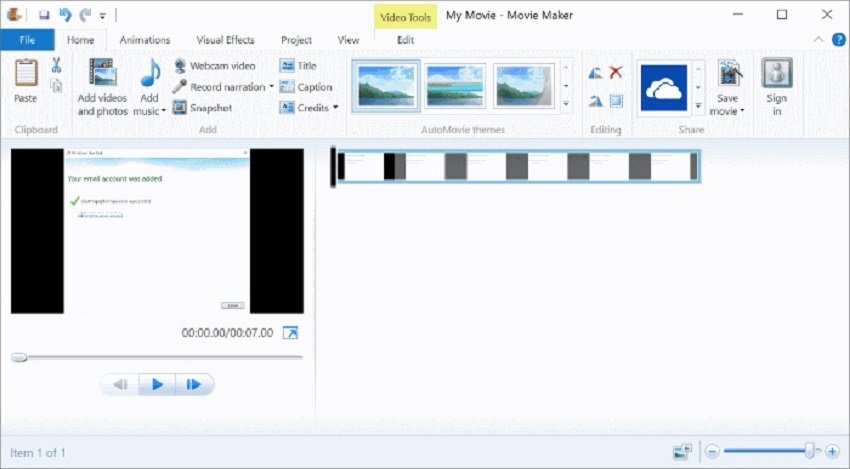 Key Features:
The editing tools built-in the app lets you play around with music and text to make your slideshow even more beautiful and unique.
The transition effects are various visual effects that make your photos and final video look more stunning.
Note that with Movie Maker, you cannot adjust the saturation and contrast.
The interface is intuitive and straightforward, and this makes the slideshow maker one of the go-to for first-time users.
It is a free tool that can be enjoyed online without a watermark, even in the final slideshow.
Apart from being a free online slideshow maker, PhotoStage supports video editing in different formats such as MP4. Once you are done editing your slideshow on this software, you can export it to a portable device or your computer for future purposes. You can also burn the final edited work to a DVD.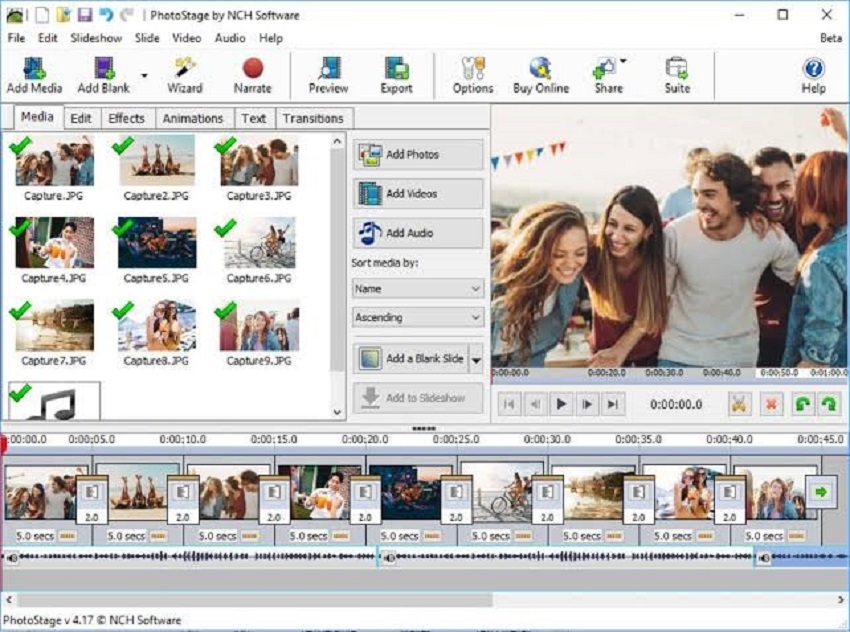 Key Features:
It is ideal for beginners as it is easy to use in creating slideshows and editing videos.
It allows you to save the edited work in different video formats.
PhotoStage encompasses a variety of components that can be utilized for video editing.
Again, you can share your slideshow videos on your social media handles once you are done editing.
Slidely is a free online slideshow maker with which you can create remarkable works without a watermark. It is the tool to choose when you specifically want to post your final edited video on social media and nowhere else.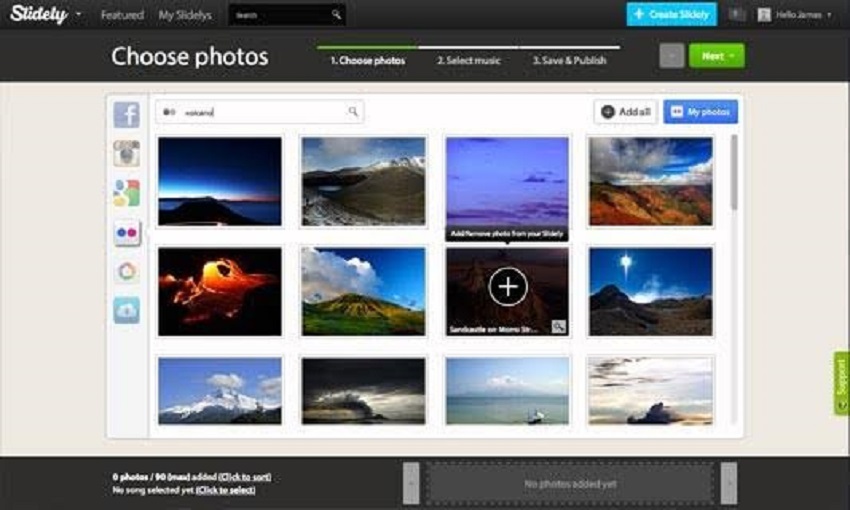 Key Features:
The variety of default templates on slideshow allow the user to create whichever mood they want using photos.
It has a mobile version that can be used on iOS and Android devices, a unique advantage the tool has over others on this list.
You can add the audio and images to your video while editing using various methods.
It supports playback with an adjustable speed.
Slidely has a preview feature that lets you view your edited work before posting it on your socials.
Icecream Slideshow Maker is a software that has made it to the best free online tools for creating slideshows without any watermark. However, this slideshow maker can only be used on a Windows PC.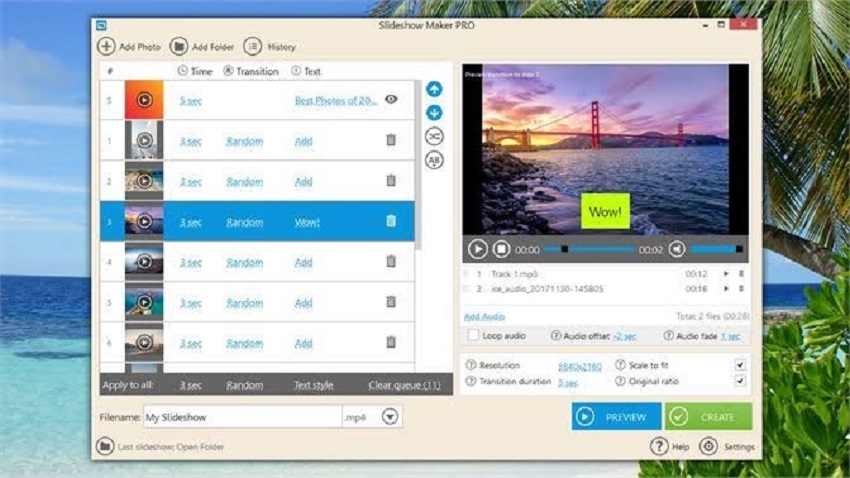 Key Features:
The tool has various effects and music that can be added to the slideshow before exportation to Google Drive or Dropbox for future sharing or use.
The preview feature is also available on Icecream Slideshow Maker.
Icecream supports up to 45 languages of the world which allows people from different backgrounds to use it.
It supports a 4K-quality slideshow.
It comes with a variety of effects from which you can select.
LightMV is an online free slideshow maker that allows you to create stable slideshows. It contains different video themes that can be applied to the slideshow you are editing.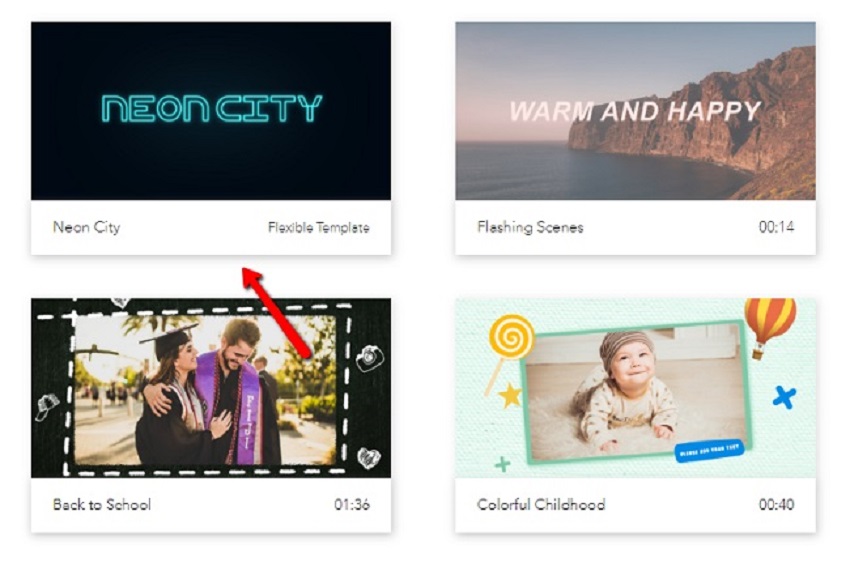 Key Features:
It works on both smartphones and online using your browser.
It has simple editing features and tools.
Watermarks do not appear in the final edited work.
It is not complicated to use as the interface is user-friendly.
You can choose to add texts selectively, i.e., to just the first and last photos of the slideshow.
InVideo is a slideshow maker that is useful for individuals and businesses. With Invideo, you can customize your video content to represent your brand and then share the final work on websites or social media platforms. Thus, it is helpful for events planning, promotions, marketing, general branding, Instagram stories, etc.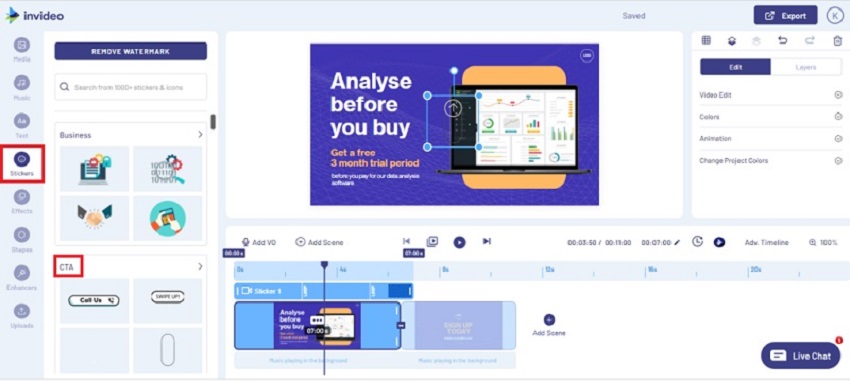 Key Features:
There are advanced editing tools within the app.
The default media library contains videos and images gotten from sites like Shutterstock and Storyblocks, from which you can select what suits your line of business or branding.
The duration of video slideshows can last up to fifteen minutes.
It provides users with a better understanding of how their videos perform by showing reports, analytics on impressions, social reach, etc.
It is a flexible app.
Canva is one of the leading photo and video editing software you can find online today. You can take it for the creation of slideshows without a watermark. It comes with an extensive library of preset templates that you can use for your video editing.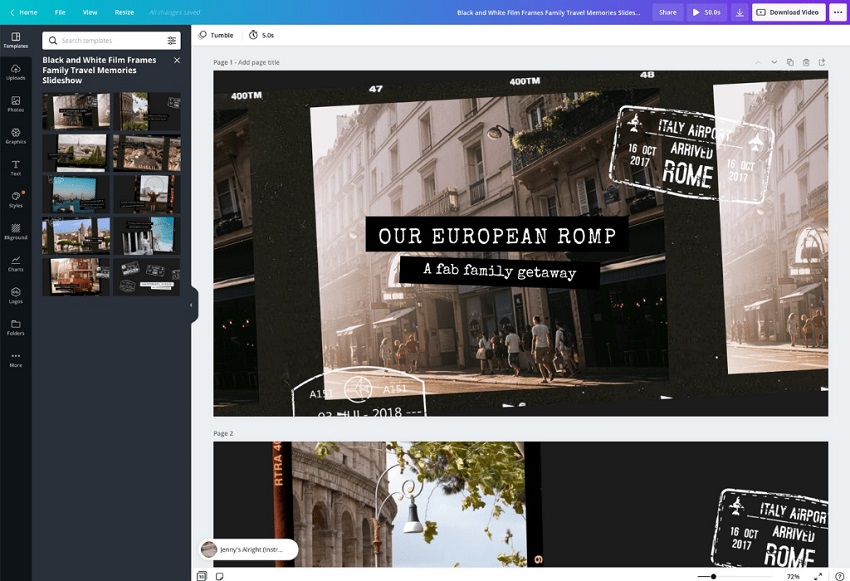 Key Features:
It supports teamwork when it comes to creating videos. Hence you can jointly make slideshows with your friends.
It has photo grids that form an excellent foundation for the start of your creation.
Editing tools such as image cropper and photo straightener help you to make the images in your slideshow to be precise and clear.
Canva comes with loads of free icons that can be applied throughout your work.
You can remove the background of your photos and add a different background to create a different mood.
Final Words
There are hundreds of software available online for creating slideshows. However, not all of them let you create without their brand watermark. Now, you have the top ten best free online slideshow makers to take your video editing game to the next level.