Videos are now an essential medium of communication, advertisement, and branding. Whether you are creating a video for professional use or for your personal purposes, video merging is an excellent way to make the content more engaging. But, how to merge videos online free without watermark?
We all know how unappealing a video editor's watermark can render our video. But, worry not. Lucky for you, we will show you exactly how to use an online video merger with no watermark. For your convenience, we have listed only the best tools, including the simple Avidemux merge videos software.
Let's dive in.
Part 1: Recommend the best online video merger without watermark for you
Are you looking for the best tool out there to merge videos online free without watermarks? Without a doubt, our recommendation is the Online UniConverter.
Online UniConverter, as the name suggests, is a tool that can be accessed online and hence requires no downloads, saving time and space on your device. This also means that the tool is always accessible from any device, making it very versatile. In addition, this video joiner online free without watermark comes packed with loads of amazing features. For convenience, it also supports a wide range of audio and video outputs, making it possible to upload media to and from a variety of sources.
Furthermore, there are numerous editing features in this tool. Not only can you merge videos online free without watermark, but you can also add background music or apply a transition for seamless merging. To make it easier for you to adjust the video according to the requirements of different social media platforms, Online UniConverter allows you to select from multiple aspect ratio templates to resize the overall video. After you merge video online without watermark, UniConverter also offers a myriad of other exciting editing features to refine the video or add effects to enhance it.
Better yet, despite the numerous editing tools available on Online UniConverter, it is still intuitive to use, even by beginners. Regardless, we have listed a step-by-step guide on how to merge videos online free without watermark in three simple steps:
Step 1: Open Online UniConverter and Import Media
Open https://www.media.io/merge-video.html on your browser. In the Merge Video tab, click on Choose Files to import media from local storage. Alternatively, you can also import from Dropbox, Google Drive, or YouTube by clicking on the specific icons.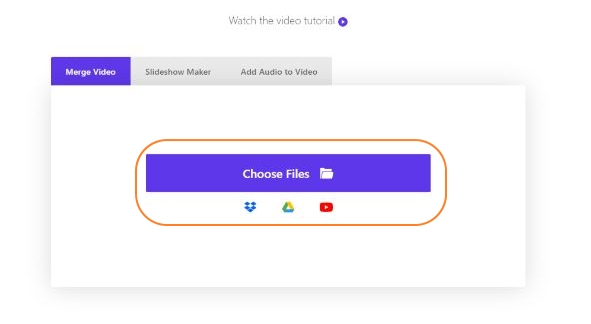 Step 2: Customize Video Parameters
After the quick import process, the editing window will open. Here, you can customize the settings, including the aspect ratio, transition, or video size. UniConverter also enables you to add background audio to the video by importing music of your choice.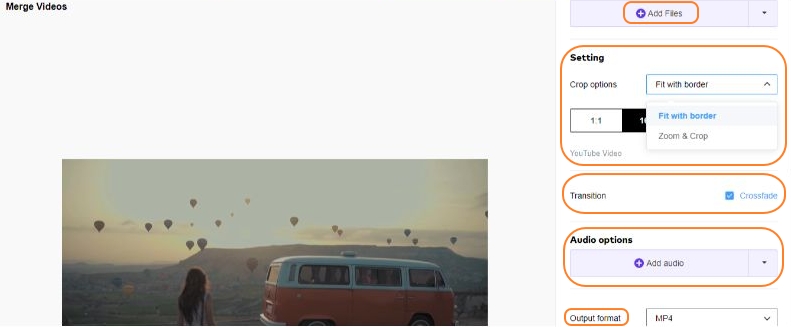 As you scroll down, you can drag and adjust the order of the videos on the timeline. Once you have adjusted the settings, click on Merge to proceed.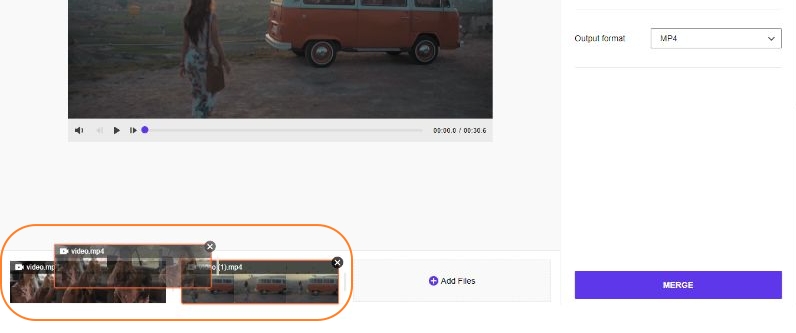 Step 3: Download the Final Video
Finally, the merged video is ready to be saved to your device. You can also directly save to Dropbox or Google Drive.

Part 2: FAQ--How to merge videos with Avidemux?
Another great way to merge videos online free without watermark is by using the handy software Avidemux. This is a free video editor that allows users to effortlessly merge clips and also make additional edits. Avidemux is a very simple and basic tool, so it does not offer many advanced editing tools.
Apart from Avidemux merge videos, you can also encode the videos or convert them to a different format. This easy-to-use tool even offers multiple filters and dynamic transitions to make the overall merged video more seamless and interesting. To adjust the video size according to where you want to upload the video, you can customize the aspect ratio by choosing a template. This tool also allows adding audio in the desired format. All in all, the Avidemux merge videos has much more to offer in order to enhance the video as per your preference.
Fortunately, Avidemux has a very simple interface, so you won't have any trouble even if you are a beginner and wish to merge videos online free without watermark. Here are the easy steps to help you out further.
Step 1. Download Avidemux and Import Media
Download and install the software on your device. Launch it. On the main interface, click on File in the top left corner. Tap on Open and import the first clip.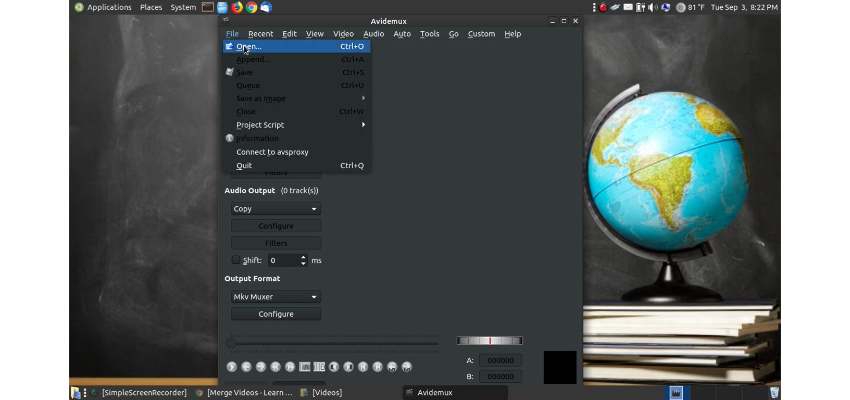 To add further clips, click on File again and tap on Append. Do this for all additional clips. Remember to import the videos in the order you want to merge them. You can also simply drag and drop the video file into the software.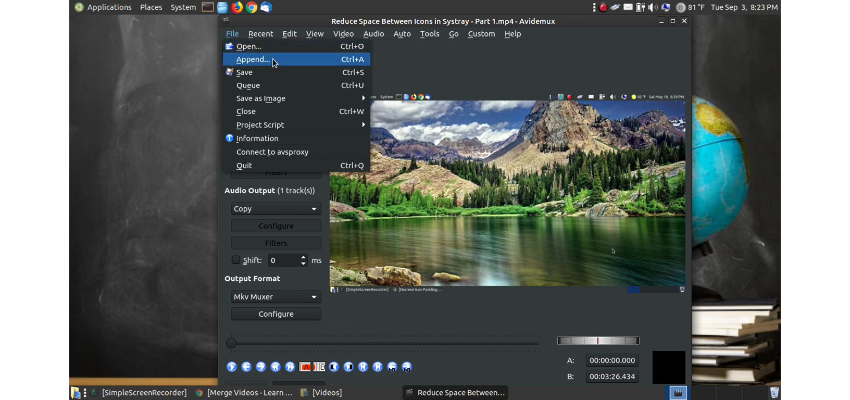 Step 2. Customize Audio and Video Settings
There are multiple audio and video formats available. You can choose to keep it the same as the original or adjust them as per your preference, such as MP4 Muxer, Mkv Muxer, etc.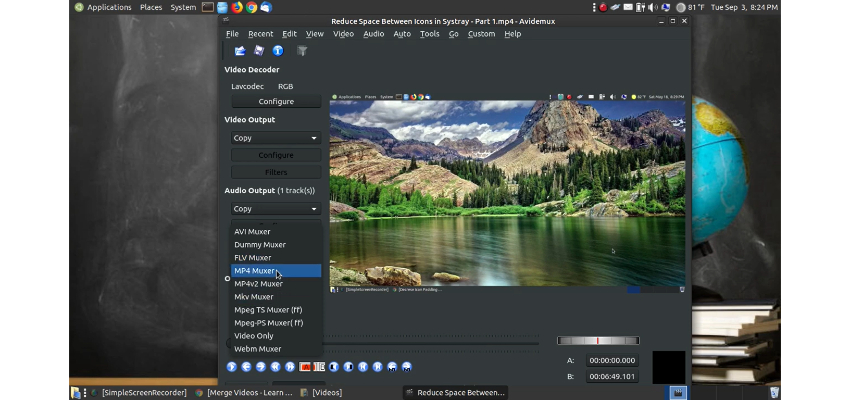 Under every main category like Video Decorder, Video Output, and Audio Output, there is also a Configure tab that can be accessed to make advanced settings. In the Configure tab under Output Format, you can choose the desired aspect ratio and even customize whether you want to rotate the video.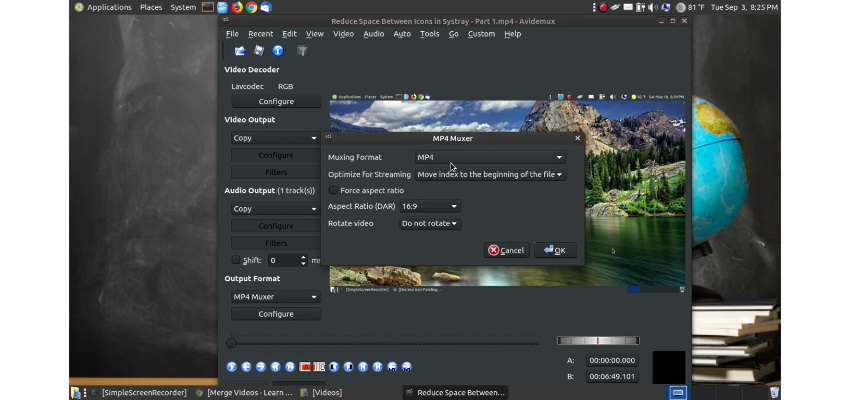 Step 3. Save the Merged Video
Finally, after you have made all the adjustments and merged the video, click on File and tap on Save. Then, type a name for the video and select a destination folder and click Ok.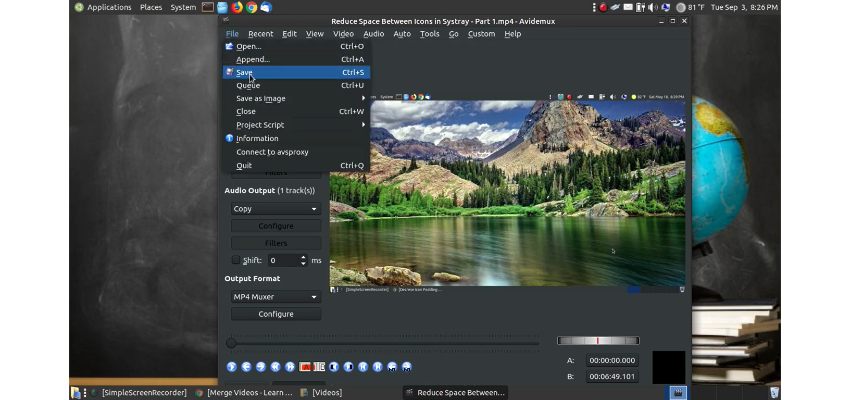 Conclusion
Using an online video merger no watermark has just been made easier for you. Just follow our guide to the letter, and you will be creating stunning merged videos in no time. If previously you had no idea how to merge videos online free without watermark, you must be a pro by now.
In addition, we just listed the two simplest yet most powerful tools that will enable you to merge video online without watermark without any hassle. So, no more worrying about using sophisticated video editors for as simple a task as merging video clips together. Just choose UniConverter or Avidemux merge videos and start merging.