A voice cancellation software is necessary if you want to remove noisy or redundant sound from your video/audio. For instance, you may have shot fantastic footage with your iPhone only to realize it has unnecessary wind sounds and people talking in the background. Or, you simply want to erase vocals from your audio/video file and use the instrumental part for a karaoke performance. Whichever the case, the voice remover software below will eliminate all ambient sounds and voices from your media file. Choose one!
Part 1. Top 4 free voice remover software to remove voices from a song
Let's begin by listing the best vocal removers to help you create an instrumental file easily.
Wavosaur is a free, open-source audio editor for recording and processing WAV and MP3 sounds. With it, you can batch edit files by copying, pasting, mixing, and joining. Additional editing options include muting, channel converting, inserting fade-in/fade-out, removing vocals, and so on. And, of course, you can load all standard audio files, including MP3, WAV, AIF, AIFF, FLAC, and more.
So, without wasting much time, here's how to remove vocals from a song with Wavosaur:
Step 1: Install and run Wavosaur on your Windows PC and then click File > Open to import audio.
Step 2: Next, click Process on the menu bar before choosing Voice Remover.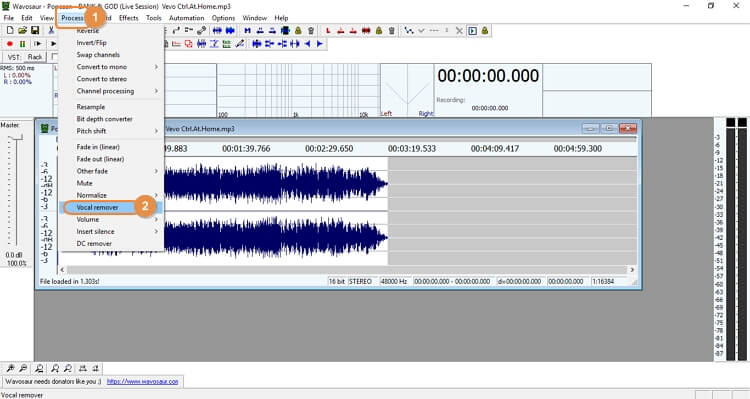 Step 3: After completing the process, click Play to preview before saving your instrumental file.
Limitation: Although having a powerful and free vocal remover like Wavosaur is a plus, it has multiple limitations. First, you'll realize that this voice cancellation software doesn't actually remove all sounds from a song. Instead, it only makes it noisier. Also, beginners might feel intimidated by the hidden features.
Therefore, use Media.io Vocal Remover to create high-quality instrumentals. Unlike Wavosaur, you don't need to install anything to use this program. Just get an updated website and start canceling sounds on your video or audio file automatically. Interestingly, this website also boasts a wealth of audio editing functions for cutting, splitting, muting, compressing, converting, etc. Here's how to use it:
Step 1. Launch Online UniConverter on your mobile or computer browser and then tap Choose File to load your audio file.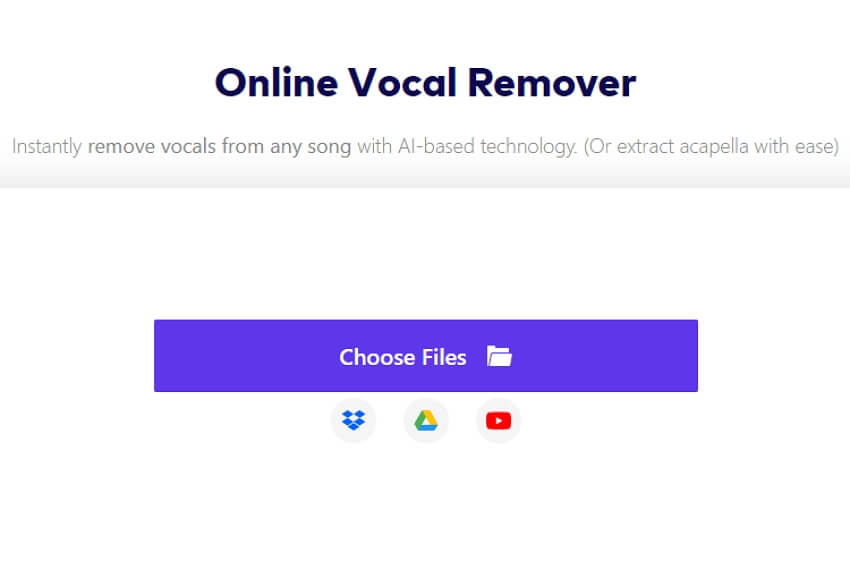 Step 2: This AI-powered website will immediately analyze your audio and separate vocals from instrumentals.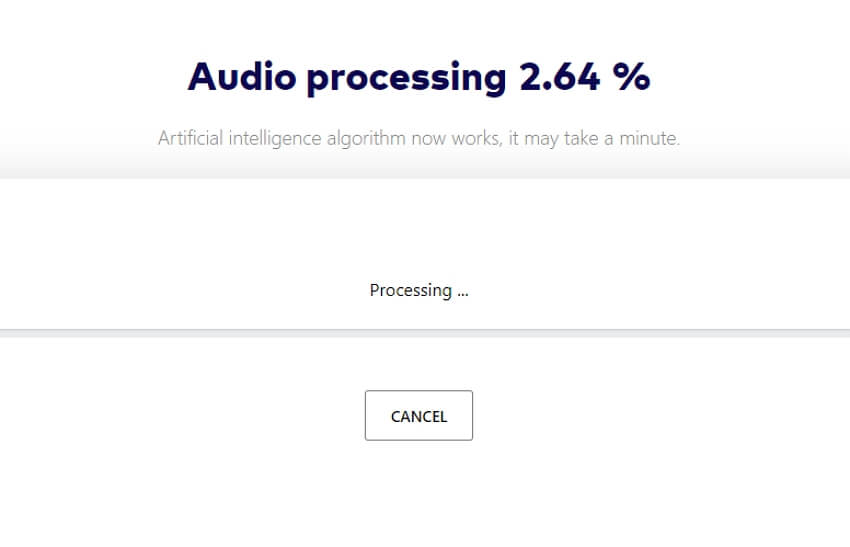 Step 3. Preview the instrumentals track before downloading it to your local storage. Yes, it's that easy!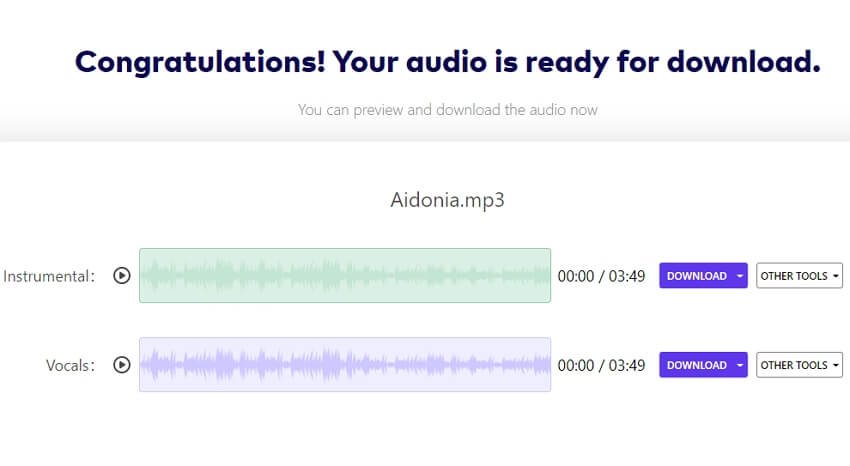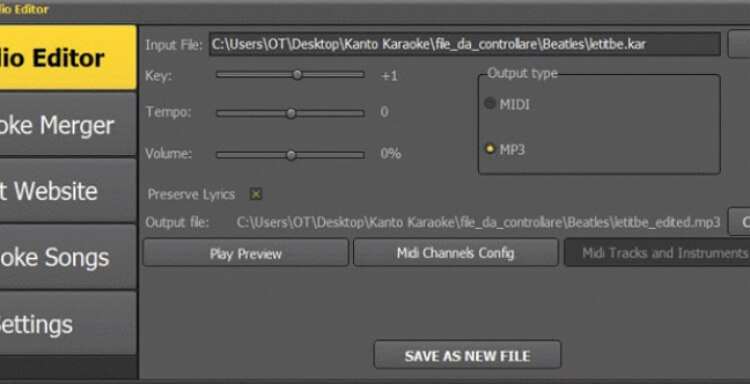 Kanto Audio Editor is another free tool for Windows PCs. Although the user interface can intimidate beginners, it packs many handy tools to help transform media files into beautiful karaoke. It has features such as an audio joiner with crossfade tools and an able splitter with two sliders. However, its most incredible feature is the advanced vocal remover. Here, you can choose whether to deafen the instrumentals or vocals. Just note that the program costs $39 to purchase.
Likes:
A powerful vocal remover tool.
Cut and split audio.
It comes with an inbuilt converter.
Dislikes:
Confusing user interface.
Most features are in the premium version.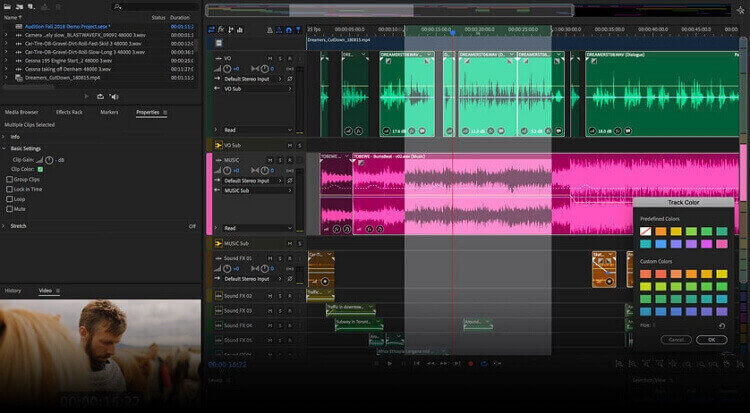 Adobe Audition is a professional-grade audio editor for macOS and Windows. It offers multitrack and non-distractive waveform editing that advanced users will "kill" to have. That said, Audition features toolsets for creating, editing, and mixing audio. You can record, edit, and join music clips without breaking a sweat. For instance, the "Voice Enhancer" tool lets you suppress vocals and enhance instrumentals with ease. However, it costs $24.14/month to edit audios here.
Likes:
Excellent voice suppression results.
Clean and modern UI.
Massive library of sounds.
Dislikes:
Expensive subscription plan.
It crashes sometimes.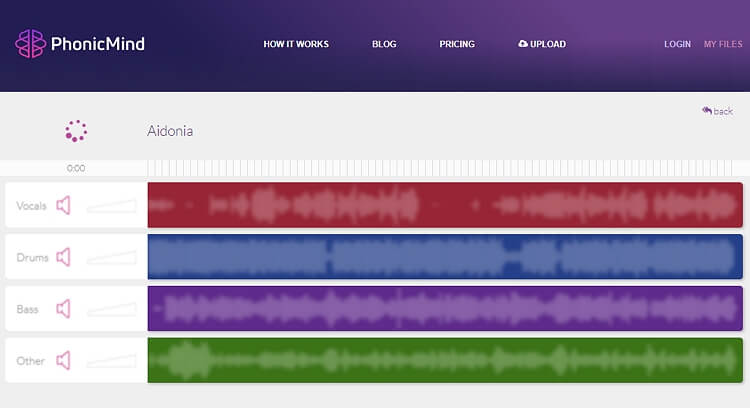 Phonic Mind is a free website that offers 5-step audio separation services. On its drag-n-drop user interface, you can load standard audio files like FLAC, MP3, AAC, AIFF, and WAV. Then, this AI software will automatically start processing your audio and separate vocals, drums, bass, piano, and more. Even better, Phonic Mind comes with dedicated apps for Android and iPhone. But on the downside, you'll have to upgrade to the $6.99/month plan to enjoy unlimited conversions. Better still, you can choose the $9.99/month plan to download files in multiple formats.
Likes:
AI-powered vocal remover.
5-step audio separation.
Excellent audio quality.
Dislikes:
Only MP3 downloads.
Slow processing speed.
Part 2. Top 4 Voice Cancellation Software to Eliminate Noise
As said at the beginning, you can also remove ambient sounds from your audio or video file. This can be things like car hooting, child screening, TV sound, ducks quacking, and so much more. Keep reading!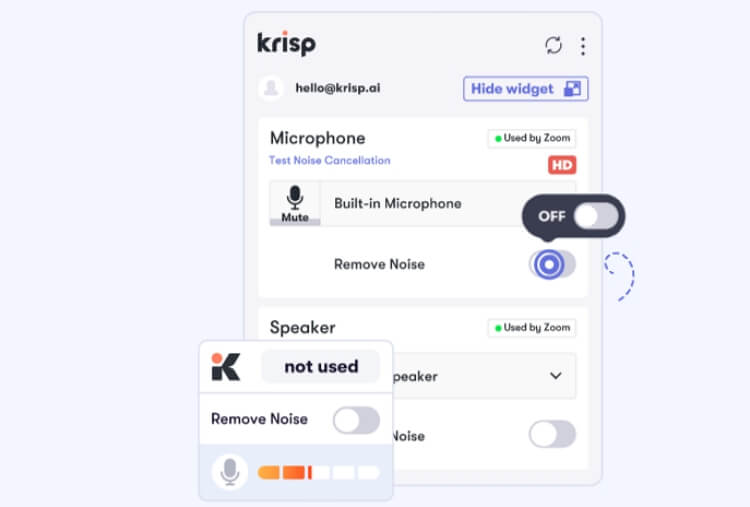 So, what is Krisp? As the name hints, it's an audio editing software that will help make your sound files crisp clear. You can use this AI-powered software to de-noise audio losslessly on Mac and Windows computers. Interestingly, this app works with several desktop communication apps. For example, it helps de-noise your recordings on apps like Zoom, Skype, Hangouts, Slack, and others.
Wondering how to do that? Here're the steps:
Step 1: Visit the website and choose whether to download the Mac or Windows version of the app.
Step 2: Now create an account to begin the download process.
Step 3: Next, open the "Show hidden icons" menu on Windows PC and tap the Krisp logo. Now enable the Remove Noise toggles on Microphone and Speaker.
Pricing: $12/month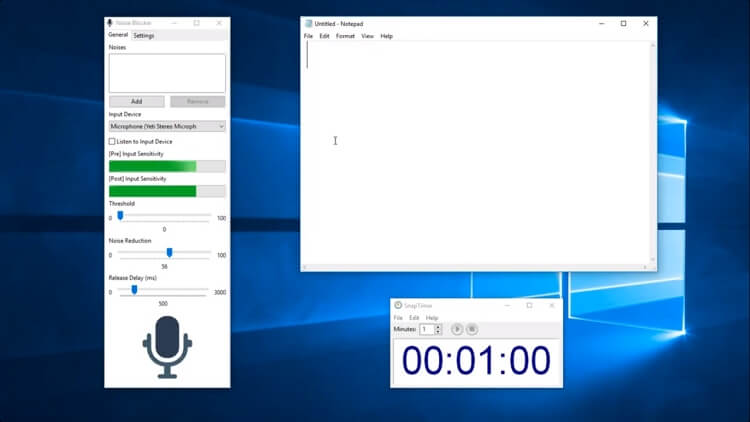 Noise Blocker is another beautiful program for blocking noise when gaming, streaming videos, and making calls on PC. With this voice cancellation software, you can block out keyboard sounds, mouse clicks, laptop fan sound, and background voices. As expected, it works with several desktop apps, including Skype, Google Hangouts, Zoom, and more. What's better, you can record samples of voices to block, and this AI program will analyze and block them accordingly.
Pricing: $19.99/lifetime.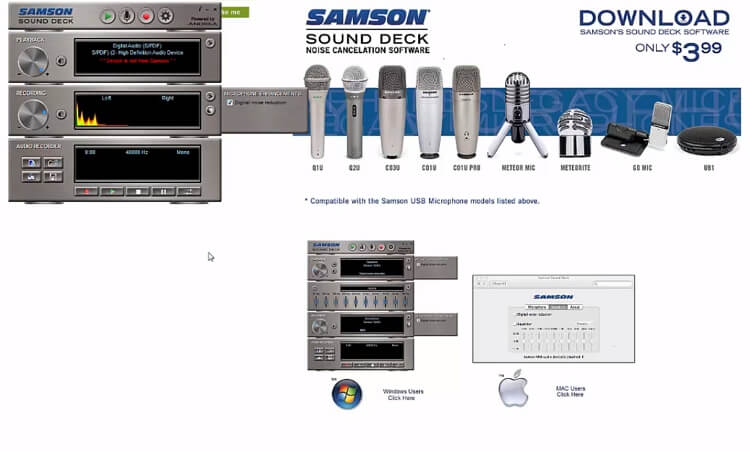 Have you ever heard of this software before? Probably not! Samson Sound Deck is a voice cancellation software for enhancing voice communication and recording on your PC. This program uses top-class de-noising technology, similar to what is used on fighter jets. To download this software, visit the website, open the Samson drop-down menu, and select Sound Deck Software under Microphones. You can then choose your OS version before downloading the software.
Pricing: $399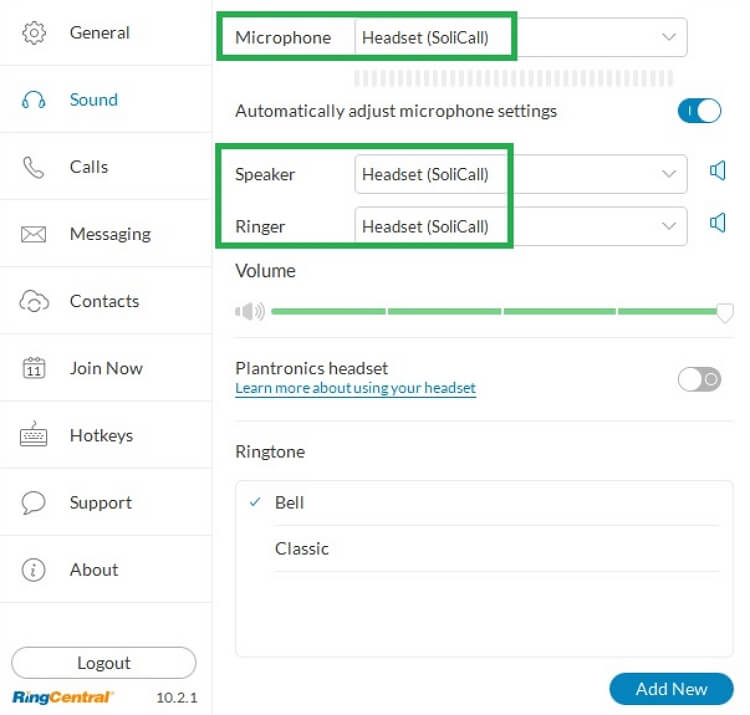 Lastly, use SoliCall to make high-quality voice calls. This software uses AI technology to identify who's speaking and improve the call quality. It works tirelessly in the background to cancel ambient noises during your phone calls on Skype, Zoom, Hangouts, etc. Surprisingly, SoliCall works with any phone, including desk phones. Overall, it's an innovative technology perfect for call centers.
Pricing: $42
Part 3. FAQs about voice isolation tool
1. What is the best free voice remover software for Windows/Mac?
Although there are many downloadable programs for removing voice from videos on PC, the output quality isn't that great. Even worse, some come with expensive subscription packages. So, use Online UniConverter Vocal Remover to extract vocals from video and audio without any limitations. As discussed above, this AI-powered program is simple to understand and works with most audio and video formats. And don't forget its wealth of file editing tools.
2. What is the best voice cancellation software?
It depends! If you want something handy but costlier, Samson Sound Deck will do. But if you're a beginner on a budget, I recommend Krisp. This noise cancellation software is easy to set up and use on a PC. Just toggle the Remove Noise function, and all your VoIP calls will be devoid of unwanted noise.
Conclusion
Do you still have any questions regarding the best voice remover software for PC? If any, feel free to ask in the comments section. That aside, these are the best vocal removers and voice cancellation software for online and offline use. As said earlier, use Online UniConverter Vocal Remover and Krisp if you're a green hand who is on a budget. Nonetheless, don't be intimidated by the big software above if you can meet the price.