There are many instances where an instrumental maker will come in handy. For example, you may want to extract bass, piano, drums, beats, or any other song instrumental and use it to practice karaoke. Or, you can remove an instrumental and use it as your phone's ringtone or background music for a video. Whichever the case, I'll teach you easy ways on how to make a song instrumental on a computer or mobile phone. Let's learn!
Part 1. Top 4 proven ways to make a song instrumental (Straightforward)
Let's learn how to make a karaoke instrumental on any device with four exciting methods:
Media.io is the best instrumental maker for Mac, Windows, Android, iPhone, or Linux. It's compatible with all HTML5 browsers like Chrome, Edge, Safari, Firefox; you name them. That aside, Media.io online vocal remover can extract instrumentals from formats like MP4, MOV, VOB, FLV, MTS, 3GP, MP3, M4A, etc. It's an AI-powered program that lets you create vocals and instrumentals automatically. And most importantly, you can further edit the extracted instrumentals by converting, compressing, cutting, adding to video, and much more.
Here is how to make a song instrumental with Online UniConverter Vocal Remover:
Step 1: Upload your media file.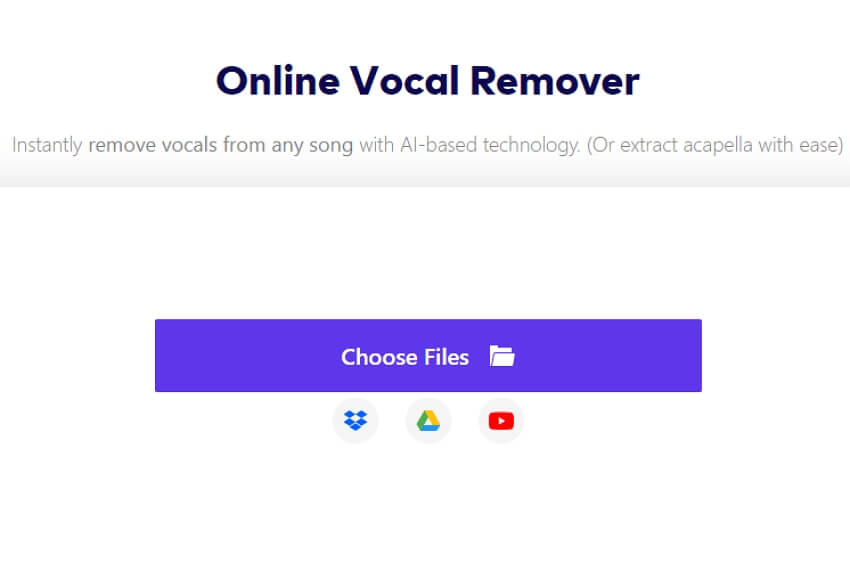 Run Online UniConverter Vocal Remover and drag and drop your video or audio file on the UI. Or, tap Choose Files to launch your local folders and load a media file from there. You can even click the YouTube icon to upload a YouTube URL directly.
Step 2: Extract instrumentals from the song.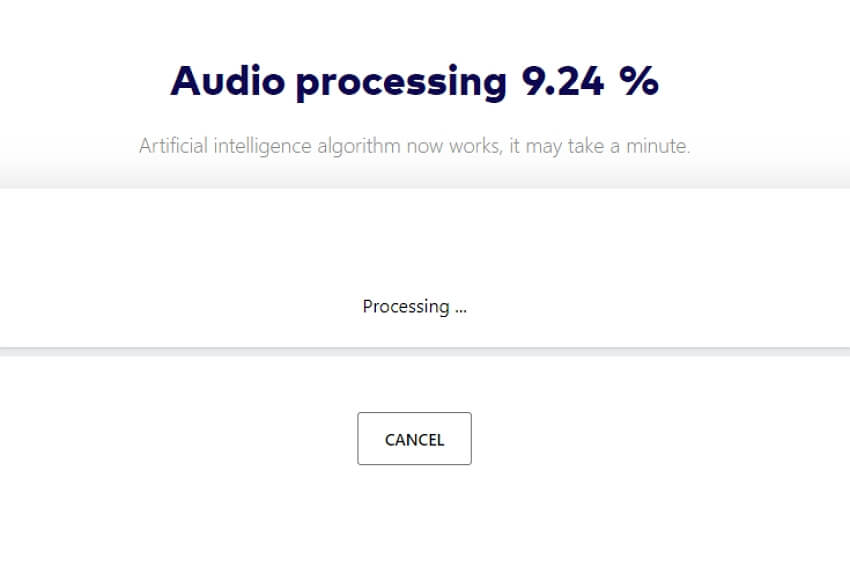 After uploading a song, just sit back and let Online UniConverter Vocal Remover take care of business. That should take a few seconds, depending on the file size.
Step 3: Download your instrumental tune.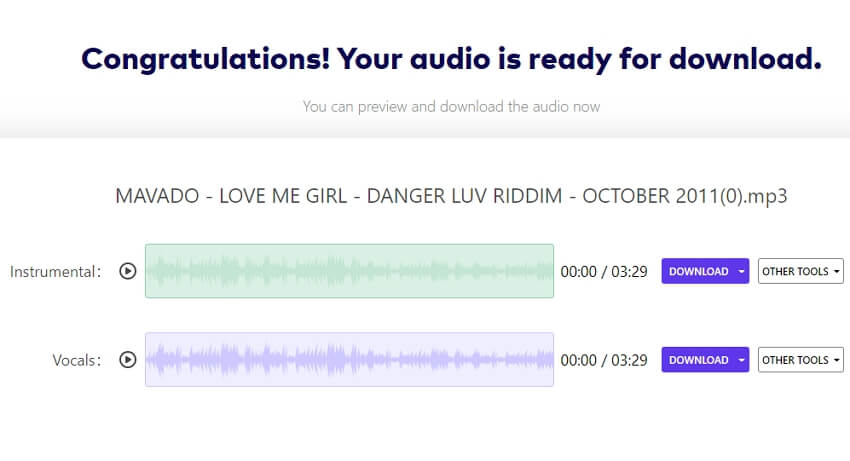 Now click the play button beside the Instrumentals track to preview the song. If satisfied with what you hear, tap Download to save it to your local storage. And there is it!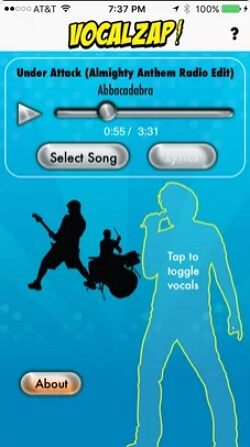 If you're an iPhone or iPad user, VocalZap will come in handy. It's a free instrumental that can easily separate vocals from instrumentals on most popular audio formats. VocalZap uses advanced AI technology to remove vocals quickly while maintaining the original audio quality. Interestingly, VocalZap also has plugins for Mac and Windows to help you create song lyrics on your PC. Just note that this instrumental extractor doesn't work with DRM-protected songs.
Here is how to make instrumental music with VocalZap:
Step 1: Install and run VocalZap on your iPhone.
Step 2: Click Select Song to choose and upload music from iTunes.
Step 3: Now toggle between lyrics and instrumentals to find the right balance before saving the song.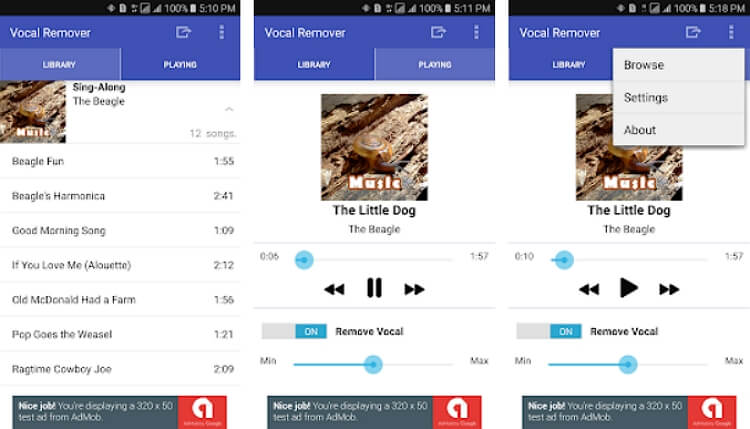 Vocal Remover for Karaoke is an excellent Android app to help you make a song instrumental quickly. With this app, you can transform any song file into an instrumental or vocal karaoke. It works with most music files saved in your library, including MP3, M4A, ACC, FLAC, and so on. In addition to that, it allows you to adjust the vocal effect strength and the bitrate. However, you'll realize that the output quality isn't the best.
Nonetheless, below is how to make instrumentals with Vocal Remover for Karaoke:
Step 1: Install Vocal Remover for Karaoke on Android and run it.
Step 2: Choose a song from your library and then turn on the Remove Vocal toggle.
Step 3: Drag the vocal slider to minimize or maximize vocals.
Step 4: If satisfied, tap Export at the top right corner, name your audio and save it.
Karaoke Anything is a free instrumental generator for Mac and Windows computers. Here, you'll enjoy real-time audio processing to separate vocals from instrumentals with a mere mouse click. This app supports MP3 files and CD audio. It features a unique equalizer to help you erase lyrics from the original song file. However, not all song formats work with Karaoke Anything. But overall, I find it perfect for anyone looking to host a private karaoke party.
Below is how to isolate instruments from a song with Karaoke Anything:
Step 1: Install and run Karaoke Anything on your PC.
Step 2: Then, click Open File and choose the music you want to edit.
Step 3: Karaoke Anything will automatically start separating vocals from instrumentals.
See, removing vocals or instrumentals from an audio file is dead simple with the right tools. But all methods to extract instrumentals from songs above are not the same. First of all, some users encounter the annoying "error" message while installing Karaoke Anything on PC. Also, Vocal Remover for Karaoke and VocalZap are dedicated mobile apps. So, use Online UniConverter Vocal Remover to extract vocals/instrumentals quickly and without restrictions.
Part 2. Method 5 - Make a piece of instrumental music from scratch (Complicated)
If you're damn serious about going professional in the music industry, you must learn how to create original instrumentals. These are tunes such as bass, piano, guitar, drum, etc. Fortunately, multiple online solutions allow users to create beats at an affordable fee or even free. So, let's engage one more gear in this article and learn how to create your own unique instrumentals with Soundtrap. Follow these steps:
Step 1: Visit Soundtrap.com to create an account and launch a new project. You can do this by clicking the Enter Studio button.
Step 2: After setting up a project folder, click Enter Studio to launch Soundtrap's studio.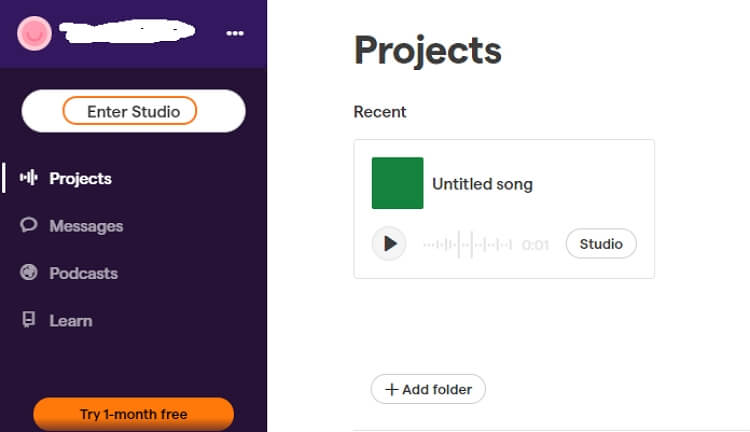 Step 3: Now choose whether you want to create music or podcast and tap Add New Track. A pop-up will launch with multiple instruments to select. For example, select Drums and beats.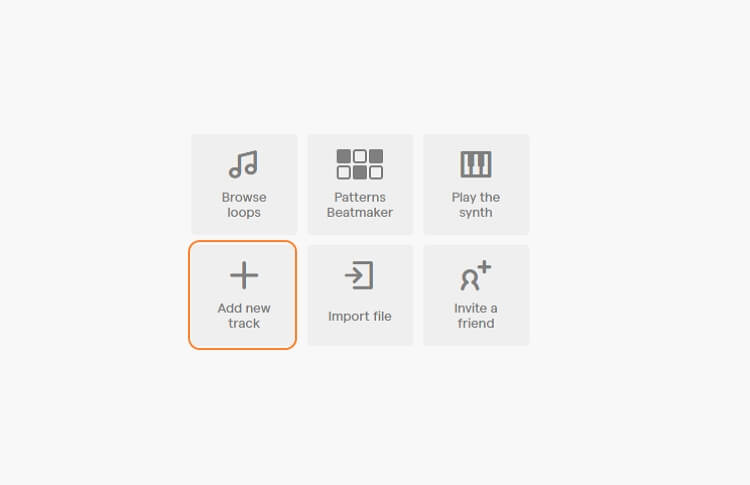 Step 4: Open the beatmaker drop-down menu on the left and choose an instrument. Now proceed to create a rhythm by clicking on the tiles. Also, click Play to preview your beats.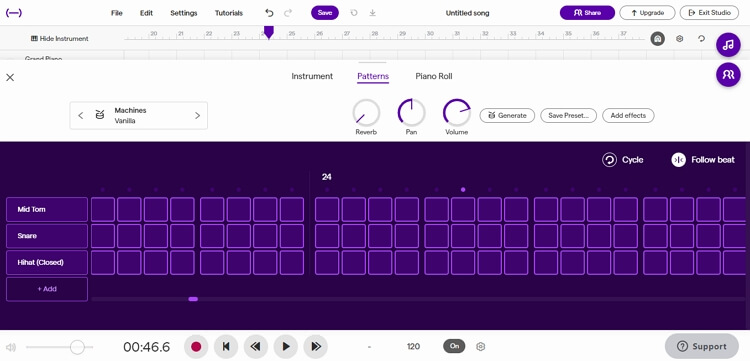 Step 5: If you're satisfied with what you've just created, click Save to start mixing your instrumental track. Now tap File > Export before choosing whether to save the files as WAV or MP3. Sounds interesting? Give it a try!
Conclusion
And that's how to make a song instrumental quickly and easily. If you're just making instrumentals for fun, use an online platform like Online UniConverter Vocal Remover to generate instrumentals from your local music file. But if your ambition is becoming a polished music producer, then start the long journey by learning how to develop your own instrumentals with the tips above. Remember, many other DAW (Digital Audio Workstation) programs are available online. Just choose wisely.