Picture this scenario: watching your favorite TikTok videos, and the music/sound effect in the video is so amazing. Hence, you want to listen to it offline. You know that you have to download the whole video, but you want to include it in your MP3 playlist. Thus, you need to convert this video TikTok to MP3.
That is where this blog comes in with a way out. We will share with you the best ten TikTok videos to MP3 converters available and how to use them in converting your TikTok videos to MP3.
Part 2: 10 best TikTok converters to MP3 [online & free]
There are TikTok videos to MP3 converters, and there are the best TikTok converters to MP3. Therefore, you should know the tools to convert your TikTok video to MP3 and give you the best audio quality. These tools will provide you with the fastest results online and free too. You can try one or more of the tools we recommend below to convert TikTok video to MP3: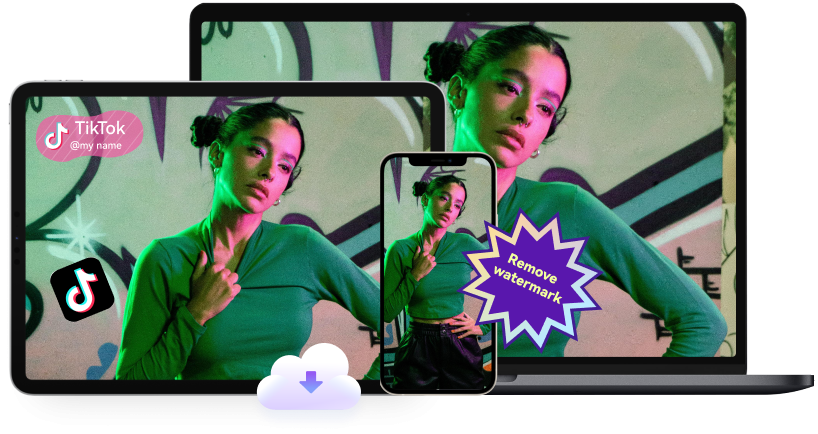 TikTok is an online tool that provides you with the fastest way to download videos from TikTok and convert them to MP3 at the same time. Using the TikTok video URL or link, you can download the audio from a TikTok video. All you need to do is copy-paste the link into the field provided for this purpose on the Media.io home page.
It is fast. It is easy. It is reliable.
You should know that you can only download MP3 of TikTok videos that have MP3 available for them on the site with this tool. Hence, your video may download as MP4 instead. That is an aspect of the tool that is still getting worked on, so, for the time being, you can get another video with similar music.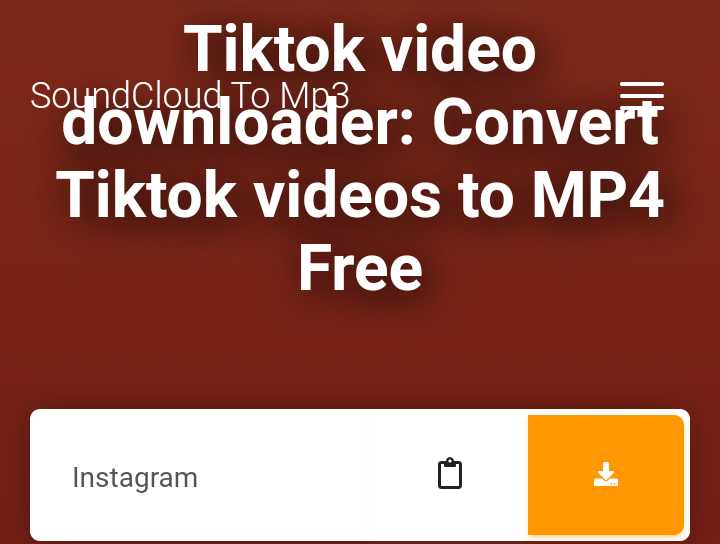 Another top tool that you can use to convert TikTok video to MP3 is the TikTok Video Downloader online tool. It is a free website that allows you to paste the link of your TikTok video directly and download the audio of the video on your local storage. You can then go on to listen to it offline.
TikTok Video Downloader is easy to work with, and the number of videos you can convert is not limited. But, more importantly, you get to do all this for free.
There are several audio quality options you can choose from, depending on the size your device can carry.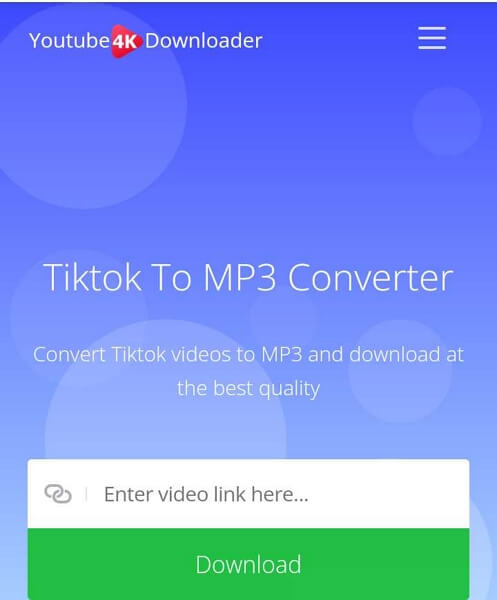 The Youtube4k Downloader converts TikTok videos to MP3 and lets you download videos of the best quality on up to four hundred websites. Therefore, although the website is meant to download Youtube 4k videos, you can download videos as MP3 from many different sites, including TikTok, Facebook, Instagram, etc.
The Youtube 4K downloader is a hundred percent secure and free from charges, as well as viruses. You can download different playlists at the same time. It is compatible with all browsers, so you do not need to download software before using the tool.
You should know that the website sometimes experiences glitches when users convert videos to MP3, affecting conversion speed. However, this glitch does not often happen, and in normal circumstances, the download speed is fast. You can also choose from the audio qualities available for download.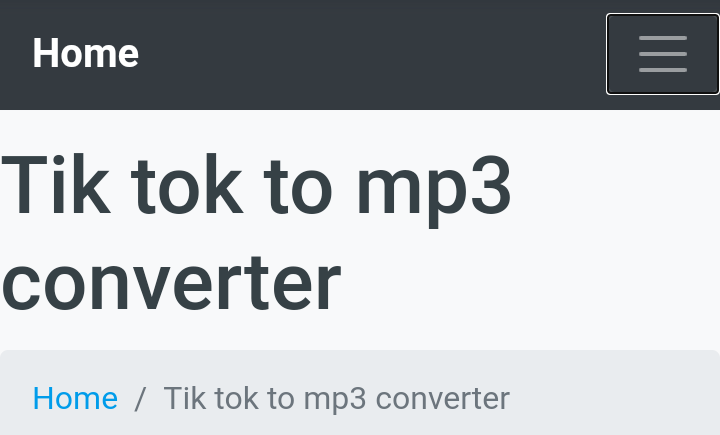 Another unique TikTok video MP3 converter you will find interesting is the TikTok to MP3 Converter online tool. It is one of the top online videos to MP3 converters on this list for a reason. It works on Mac Operating System, Android devices, Windows System, and other iOS devices.
Using the TikTok converter to MP3 exposes you to many ads that can hinder your conversion process.However, if you can endure the ads, you can enjoy the fast download process of the tool.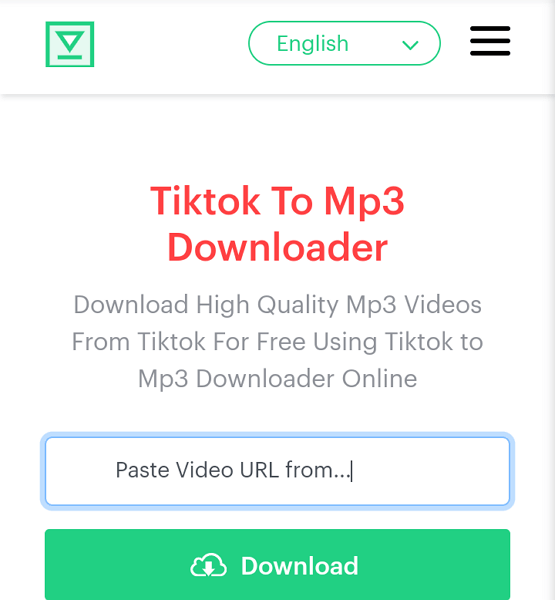 With a tool like Hello Converter, you can download TikTok videos to MP3 format in high audio quality and for free too. The tool can be used online with any browser of your choice, and it lets you download audio that you can listen to offline. This TikTok to MP3 Downloader has many exciting features you will enjoy online.
Apart from MP3, other file formats are available for you to convert your TikTok video to, all for free.
The experience is fast with Hello Converter, and it is smooth as well, so you rarely experience any glitches in the conversion/download process. Furthermore, it supports all browsers, including the major ones like Google Chrome, Mozilla Firefox, Safari, Internet Explorer, etc.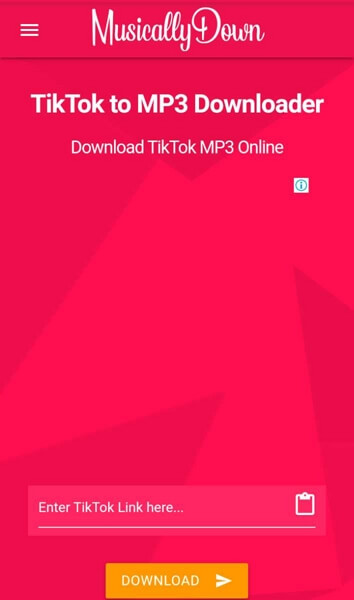 Convert TikTok to MP3 online and download the audio using yet another compelling video to MP3 converter called Musically Down TikTok to MP3 Downloader. It is a free online tool. With it, you can paste the link to a TikTok video of your choice to convert to Mp3 and add to your song list or ringtones. In addition, it allows for unlimited downloads of TikTok audios and MP3.
To use Musically Down TikTok to MP3 converter, you do not need any special tech skills as the tool has proven simple to navigate even for amateurs. While other converter tools may download with watermark, this tool does not download MP3 with watermark.
The conversion speed is moderate, and it is easy to use the tool as all that is required is two taps to complete the process, i.e., paste the video link and download the converted MP3.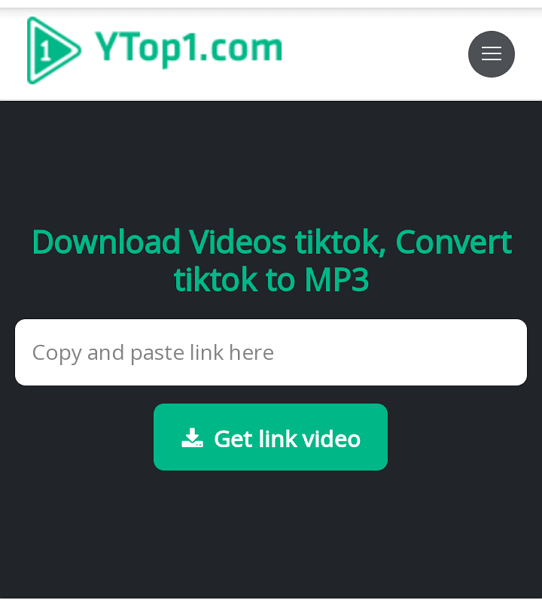 Designed initially as a YouTube downloader, YTop has been enabled to download TikTok videos after converting them to MP3. Hence, you can customize ringtones for your Smartphone using the TikTok video you have converted to MP3.
There are different audio qualities you can download from 240p to FullHD. YTop 1 will detect the size of the file and show you before it is saved.
YTop 1 has an easy, intuitive, and simple interface.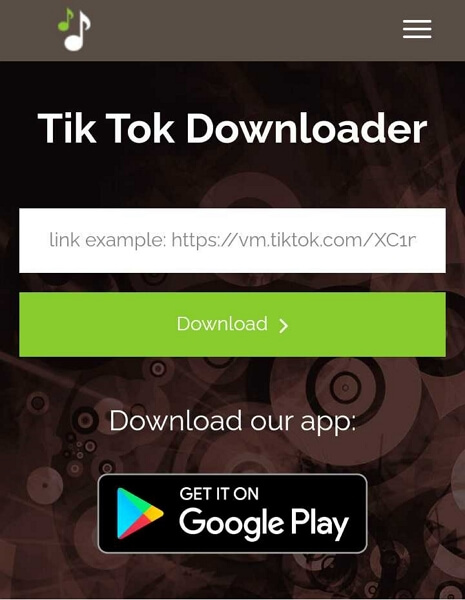 If you enjoy music or sound effect from a TikTok video, we suggest you use TikTokDownloader to download the TikTok as MP3 with a quality as high as 320kbps. Then, in three simple steps (copy TikTok video link, paste link on TikTok Downloader website, and download MP3 music), you can listen to your favorite TikTok sounds offline and for free.
TikTok Downloader TikTok to MP3 Converter is one of the most recommended tools to get the job done in little time.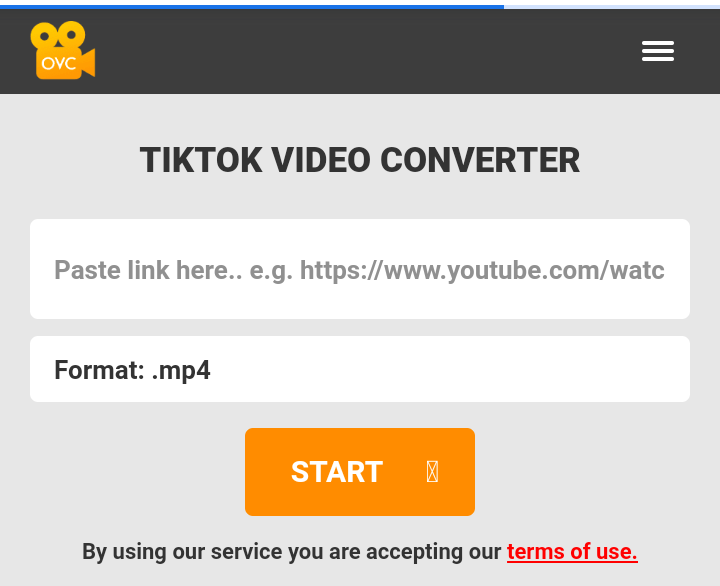 The TikTok Video Converter is a tool that is used on a web browser and not with software. It works based on video URL to convert TikTok videos to MP3 and download them for future offline use. Thus, with this online based tool, you can convert TikTok MP4 videos to MP3 audios.
TikTok video converter can be used on default browsers of iOS devices, Windows Computer systems, and Android devices. Thus, you can listen to the converted MP3 at your convenience.
To use this tool, you must know how to copy, link, and paste it from your TikTok videos. Note that it does not save converted videos with the TikTok watermark; this is effective and useful.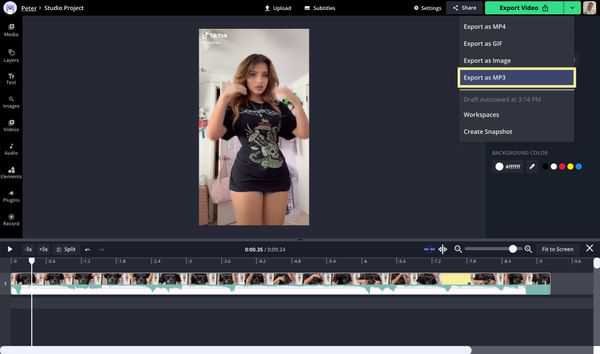 The next tool we recommend to you is Kapwing Resources. Many videos are shared on TikTok and cannot be accessed elsewhere, but you may want them in your playlist. Kapwing Resources can help you download these videos in the form of converted MP3 audios. You need to get the video link from TikTok and convert it to MP3 on the Kapwing website.
The site is super fast in converting and downloading your MP3 in a matter of seconds, especially since most TikTok videos are in 15 or 60 seconds.
Part 2: How to convert TikTok to MP3 [2 popular ways]
After doing tons of research on this particular topic, we have found out that TikTok users utilize two popular methods to convert TikTok video to MP3.
The two main ways to convert TikTok videos to MP3 are by:
Methos 1. Directly downloading the TikTok video as MP3 using an online tool for this purpose. The video URL is what you need in this method. It works pretty simple when you do the following:
Go to the TikTok video whose sound effect you want to download, and tap the"Share" arrow at the right panel menu.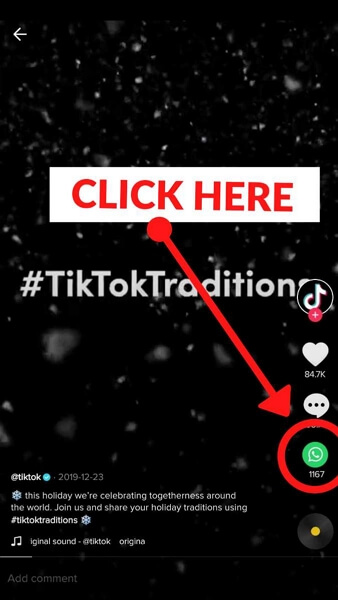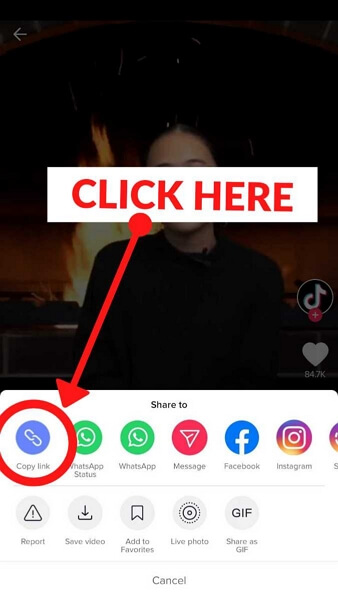 Paste the video link of the video on the website.
You can download the MP3 version of the video as the tool automatically converts TikTok toMP3 for you. You can use several online sites for this conversion, so make sure you get the right one based on good reviews.
Method 2. First, download the TikTok video to your device's camera rollbefore using a compelling video to audio converter to convert the video to MP3. With the availability of a plethora of tools that promise to convert your videos to audio, you may not know which ones will deliver as promised.
Therefore, you need a guide to the best tool to use so you can avoid making mistakes. But, don't worry; we got you covered. A well-recommended tool that can effectively convert your TikTok video to MP3 is Wondershare Online UniConverter. This TikTok video to MP3 converter can be used online for free with a browser of your choice, so you do not have to spend time downloading it to convert video to audio.
Using Wondershare UniConverter as an example, here is how to easily convert TikTok to MP3 after downloading the TikTok video to your local storage:
You either"Choose Files" or drag and drop the video you wish to convert to the home page of the online tool. If you choose files, you will be directed to your local device storage to import the TikTok video you want to convert.
Select the audio format you wish to convert the TikTok video using the conversion tab; select "Convert"to initiate the process.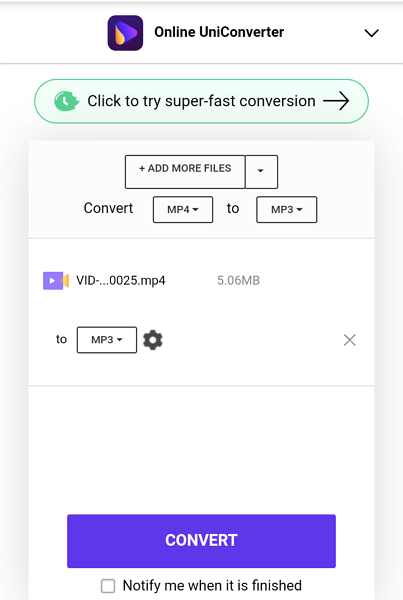 After the conversion is completed, tap on "Download."Your converted video will be saved to any location you choose: Dropbox, your local computer store, or Google Drive.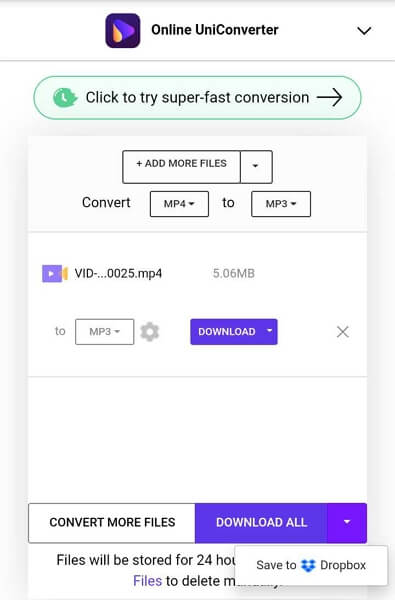 Now you have it: the two most popular ways you can convert TikTok video to MP3. Note that whichever way you choose to convert your videos to MP3, it is essential that you familiarize yourself with the top-rated free and fast TikTok to MP3 converters available online. It makes your choice easier.
Part 3: 2 further questions about TikTok converter to MP3
1. Can you select part of a song on TikTok?
Yes, you can select a part of a song from your TikTok video that has been converted to audio. After you have used any of the popular ways or tools above to convert your TikTok video to MP3, download it to an online audio trimmer like Wondershare Online UniConverter to trim the audio and leave only the parts you want.
To use this tool, do the following: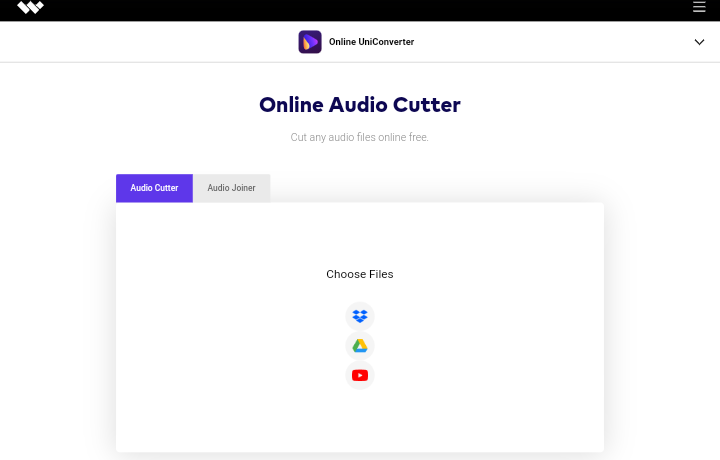 Choose the part of the audio you want to trim and which you want to keep by using the MP3 cutter feature.
Once your video beginning and end have been set, downloadit and save it to either your Dropbox or device local storage.
2. How do I easily add music to the TikTok video?
You may not necessarily want TikTok videos in the form of MP3 to add to your song playlist, but so that you can add them to your TikTok video. That is easy to do.
Step 1: Copy the link to the TikTok video, paste it on the website of the TikTok to the MP3 converter you want to use online, then download the converted audio.
Step 2: Go to TikTok, create a video, and add the converted audio to it before sharing or uploading it for your viewers.
You can also create the video directly using the sound you like.
Conclusion
There are many available TikTok converters to MP3 tools in the market. To avoid any confusion, we have reviewed our top ten picks for the moment. You can choose from any of these tools to change TikTok to MP3. However, it would be wise to use a tool like Wondershare Online UniConverter as I do. This tool contains so many features in one, so it is not just for converting videos to audio. After converting the video to audio, you can use the audio cutter feature of the tool to trim sounds to the parts you want on your song list. You can also run different edits on the tool to make your output more captivating.