Online Audio Cutter
Cut any audio files online for free. Readily remove unwanted parts from your song without giving up the original quality. It's easy and fast!
Online Audio Trimmer
Media.io Audio Cutter is among the best audio cutters online for creating ringtones, adding music to video or extracting audio from video. This audio trimmer online works with hundreds of video and audio formats, including MP3, AAC, MP4, MOV, MTS, VOB, MP3, M4A, OGG , and much more. After loading up the audio file, this program lets you trim by entering the exact playback duration or merely dragging the sliders. It can add audio fade-in and audio fade-out effects to allow smooth transitions, especially when making a ringtone. Additionally, this audio cutter also acts as a YouTube MP3 cutter. Just load a YouTube video URL and fast convert video to MP3.
Upload a file and try!
How to Trim Audio Online?
Step 1. Upload Audio File.

Upload an MP3/Audio file you want to cut by clicking the Choose Files button.

Step 2. Cut MP3 Online.

With the MP3 cutter, cut sound by selecting the desired beginning and ending of your audio file. Optionally, apply audio fade in or fade out effects.

Step 3. Download and Save.

Download the trimmed audio file to your local drive or Dropbox. For making ringtone, you can save as MP3.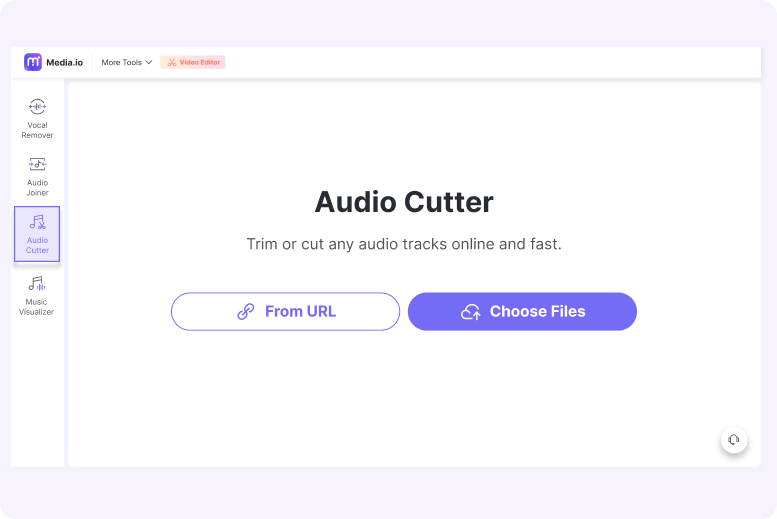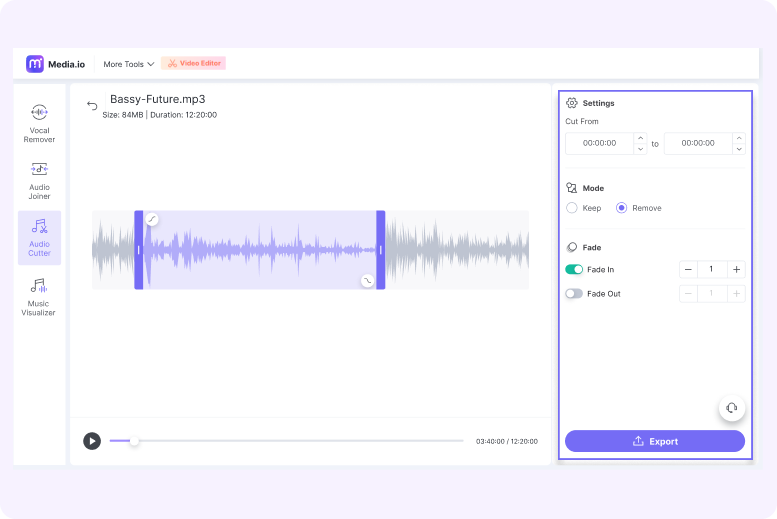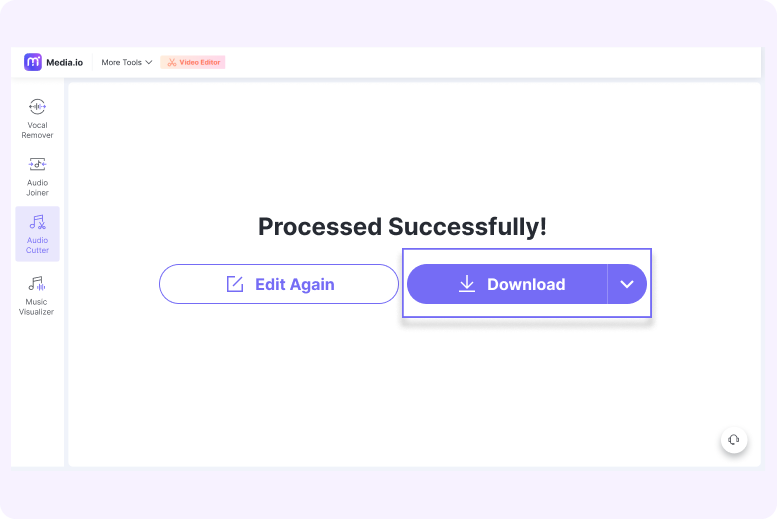 Why Choose Media.io Audio Cutter?
Online Ringtone Cutter
Media.io Audio Cutter can cut and make MP3/M4R ringtones from your favorite songs or recordings without losing quality. You can easily custom a ringtone for iPhone or Android phone.
This free audio trimmer allows you to trim MP3 files in seconds and use the split MP3 as a music song. You don't need to apply some pro softwares at all!
Fade-in and Fade-out
It enables you to make your audio track to fade in and fade out smoothly, at the start and endpoints of the trimmed audio.
Cut & Trim Any Audio Files
Media.io Audio Cutter supports all the popular audio formats such as MP3, WAV, AAC, M4R, FLAC, M4A, MKA, OGG , and more others.
Extract Sound from a Video
This online audio trimmer also allows you to cut and extract audio from YouTube video. Other video formats like MKV, VOB, MOV, MP4, WebM, MTS , etc. are supported.
Safe & Secure
All uploaded files are automatically deleted from our servers after 24 hours. This website is also SSL encrypted to prevent unauthorized data access.
Why You Cut An Audio File?
Make a Ringtone for Android/iPhone
Sometimes you might want to trim music to create a ringtone for your Android or iPhone. This is especially true if the music file you intend to use is too long, or if you just want to cut out the sections at the beginning and end. In that case, this online MP3 ringtone cutter will help you make a custom ringtone in seconds. Just upload a video or audio file and trim it with precision. Then, export the shortened music to MP3 for Android or convert MP3 to iPhone ringtone (M4R).
Remove Noise from Audio/Video
Audio or music files are sometimes recorded in noisy surroundings with cars honking, babies crying, people talking in the background, and more. For this reason, a noise cutter like Media.io is necessary. Here, you can cut MP3 free online and remove background noise from audio. This background noise removal tool helps you automatically detect and trim out the select the audio file's noisy parts.
Cut Unwanted Parts from Audio/Video
You may want to remove unwanted parts from an audio for iPhone, Android, or computer. For example, some music files come with unnecessarily long introduction parts, whereas some feature noisy or silent sections. Another reason to trim sound is to remove areas where the narrator uses abusive or inappropriate language. All reasons considered, use Media.io Audio Cutter to cut and shorten audio and video files with precision.
Shorten MP3/Audio to Save Storage
Finally, compress and crop an MP3 or any other audio format if your device is running short of storage. With Media.io Audio Cutter, you can reduce MP3 file size by trimming out unnecessary parts of the music file. But of course, Media.io Online Video Editor also comes with its own dedicated Audio Compressor .
FAQs about Trimming Audio Clips
How to cut and trim YouTube audio online?

You can easily cut YouTube audio online on any device with Media.io YouTube to MP3 Cutter. Below are the simple steps:
Step 1. Open the YouTube video/audio you want to trim and copy the URL link.
Step 2. Run Media.io YouTube to MP3 Cutter and then tap the YouTube icon. Then, paste the link in the field provided before clicking Add.
Step 3. Enter the start and stop time once the video is loaded successfully, then choose an output format.
Step 4. Lastly, click Export to save the trimmed video to your local folders.

How to edit audio online for free?

Media.io online audio editor is among the best one you can find. Apart from working with all major audio formats, it also packs a host of audio editing functions. It comes with tools to help you cut audio online as well as join, remove instrumental tracks, background noise and overlay cool soundwaves. You'll also find tools to add audio to video and convert audio to any audio format.

How to cut and trim an MP3 with ease?

With 3 quick taps, you can instantly get a trimmed MP3 song.
Step 1: simply tap Upload Files Now button on this audio cutter page.
Step 2: after uploading the MP3 file successfully, drag the sliders to reduce the playback duration. Alternatively, manually enter the precise start and stop points.
Step 3: Choose whether to apply fade effects and then select MP3 as the target format. Finally, press Export .

What is the maximum audio size I can upload?

For premium user: Unlimited Size/File with unlimited files.
For free registered user: 2GB/File with 25 audio files.
For non-registered user: 2GB/File with 10 audio files.

Can I merge multiple segments of an audio file?

What formats do ringtones need to be?

iPhone: M4R.
Android: MP3, MIDI, M4A, WAV, OGG.
Gianna Lujan
I deeply love this audio cutter because my iPhone nowadays rings just the way I want it. Also, no ads!
Aria W
This is a great audio cutter with excellent capabilities. It makes it relatively straightforward for me to cut ringtones these days.
Nora Dooley
Excellent online MP3 ringtone cutter. It's simple to use and converts almost any audio file to MP3.
Nikki Ericks
I used this app to convert my videos to MP3 ringtones. The ringtones come out with lossless quality.
Ayalla Jim
It's the best audio cutter by a country mile. Simple, works with any format, and the output is lossless.
Trim, Cut, and Edit Audio Files Online
in Minutes.
Make audio editing easy like never before!