Photos are the perfect illustrations that can depict an excellent idea or a story through it. Photos have been in the community for a long time, from personal to professional uses. The world has progressed to videos and other media formats. And photos are still considered the ideal picturesque illustration. However, there are many ways a photo can be aesthetically damaged.
One such instance is the existence of some unexpected individual in the photo. While capturing an image from your iPhone, you might have encountered such a situation. To tackle it, this article represents an outline explaining how to remove a person from a photo on an iPhone.
Part 1: What If An Unexpected Guest Appeared in the Photo?
To initiate our discussion, we will first examine why such individuals are removed from the photo. Although most of you won't consider doing it, the availability of a tool or service would influence performing it. Before that, let's dive into the scenarios and benefits of removing a person from a photo iPhone.
Scenarios Where an Unexpected Person Can Appear in a Photo
There are multiple scenarios where an unexpected individual appears in your photo. To know more about them, we've highlighted a few for your understanding:
1. Accidental Photo-bombing
There are times when you are in a crowded place. If so, you can have any person unintentionally appear in the background of your photo. They could be random passers-by or might appear near the camera lens.
2. Candid Photoshoot
Candid pictures are believed to be the finest form of photos captured. While capturing such unique images, the frames can be disturbed by unnecessary people and objects. As they disrupt the image's aesthetics, removing them is necessary.
3. Architecture Photography
While capturing the beauty of a building or its structure, several objects turn out to be a menace for the photo. For such images, the only solution is to remove them to gather the aesthetics of the photography and understand the depths.
4. Group Photoshoots
While capturing a group photo, multiple individuals can damage the frame during a gathering. Removing such unwanted people is essential to emphasize the photo's critical objects.
Benefits of Removing a Person from a Photo
We will now observe the benefits that define the reason to remove people from photos of iPhones. Review these advantages for a better understanding of the scenario:
1. Improving the Photo
One of the basic reasons for removing people from photos is to enhance the aesthetics. Distracting elements can change the dynamics of the complete image, which should be exempted.
2. Fixing Images
If your image has a particular person or object damaging it, it is best to remove them. Such people, when blurred out, can cause distractions. Removing them is the finest option to maintain the quality of the image.
3. Personal Liking
It can be an individual requirement if someone intends to remove a person from the photo. They might not like that person photo-bombing, for which they consider performing such an action.
4. Maintaining Privacy
Images that include such unwanted people can also breach their privacy and identity. Such reasons influence them to be removed from the photo. Under such circumstances, understanding how to remove a person from a photo on iPhone is essential.
Part 2: Use AniEraser to Remove People from Photos on iPhone Quickly
Do you know that there's a platform that can help you quickly remove the people from your photos? Wondershare AniEraser is the fine-line answer to your problem of having photo-bombed media files. This platform provides exquisite functionality to remove the person from the photo iPhone. One major highlight of this platform is its newly-set compatibility for various devices.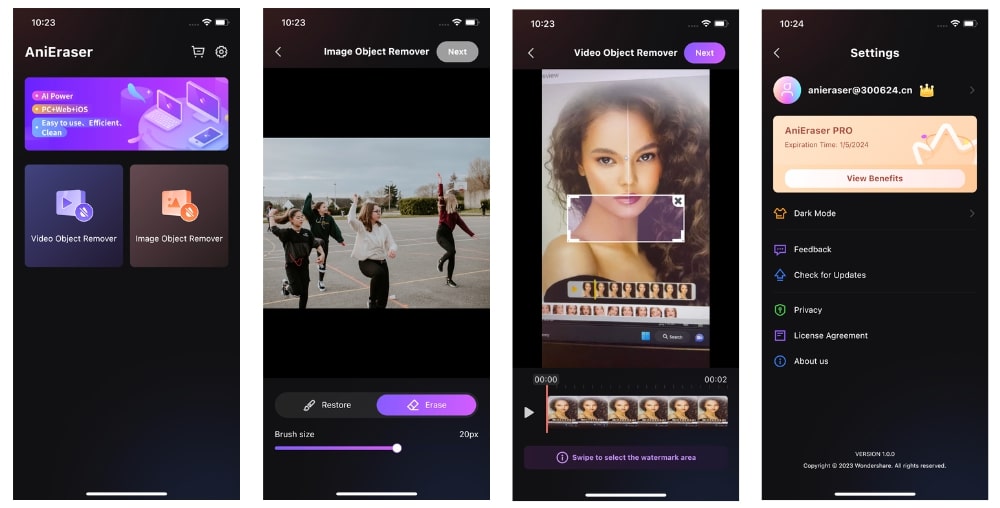 Buying a single license can give you access to all three platforms from Windows to Mac and iPhone users. This is why AniEraser makes itself a special option to work with. You can also find it on your web browser, which is convenient for many users. To know how to remove people from photos iPhone with AniEraser, look into the following guide:
Step 1

Download AniEraser from Apple Store

Starting with the process, download Wondershare AniEraser from the App Store. Once it is installed, launch the tool to remove the object from the image.
Step 2

Select the Person to Remove from the Photo

Select "Image Object Remover" from the main interface and continue to select the photo. As you tap the "Restore" button on the bottom, use your fingers to choose and remove the selected area from the picture. You can also set the brush size with the help of the slider.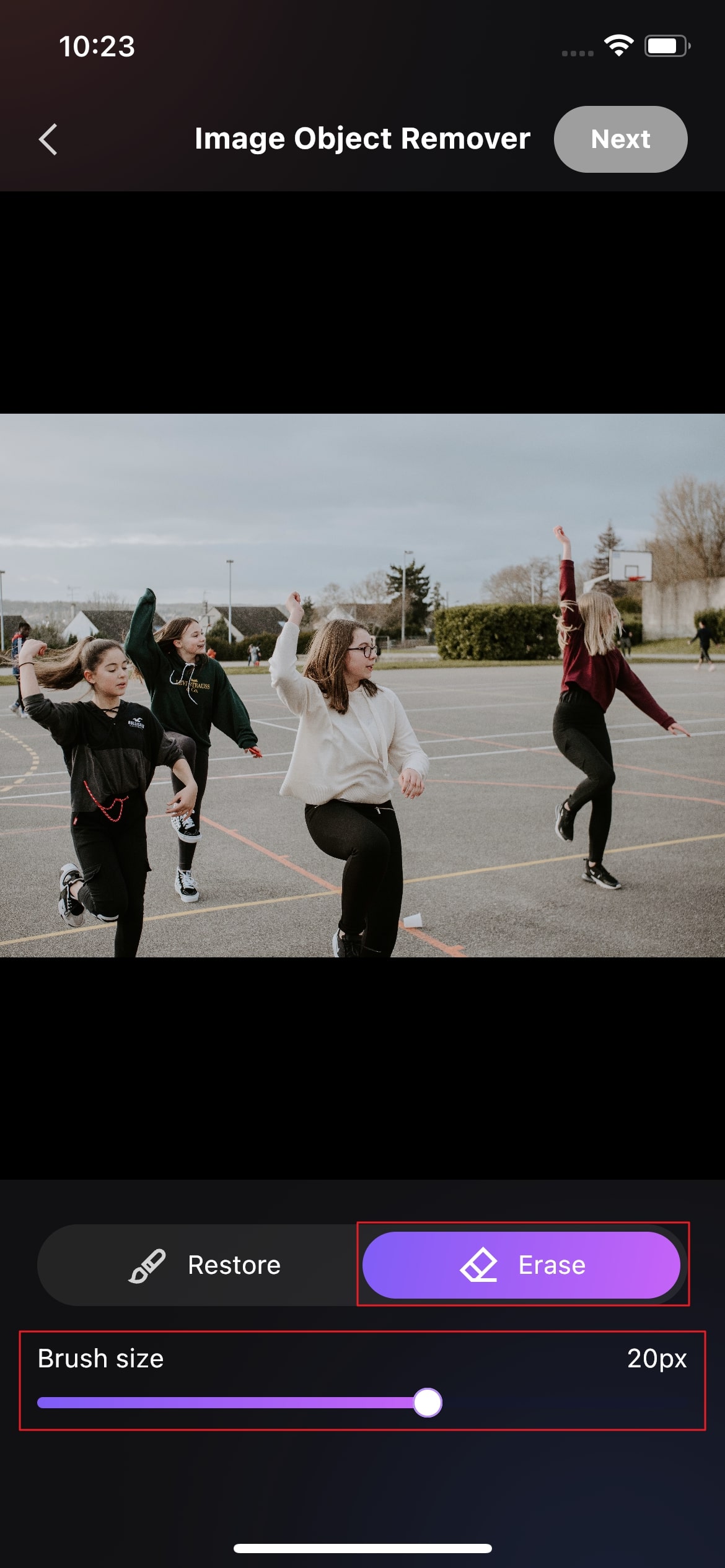 Step 3

Preview and Export Results

Afterward, tap the "Next" option to proceed with the removal process. Once the server processes and removes the people from the photo, it will lead to a preview of the image. Then, select "Save image to camera roll" to export the result.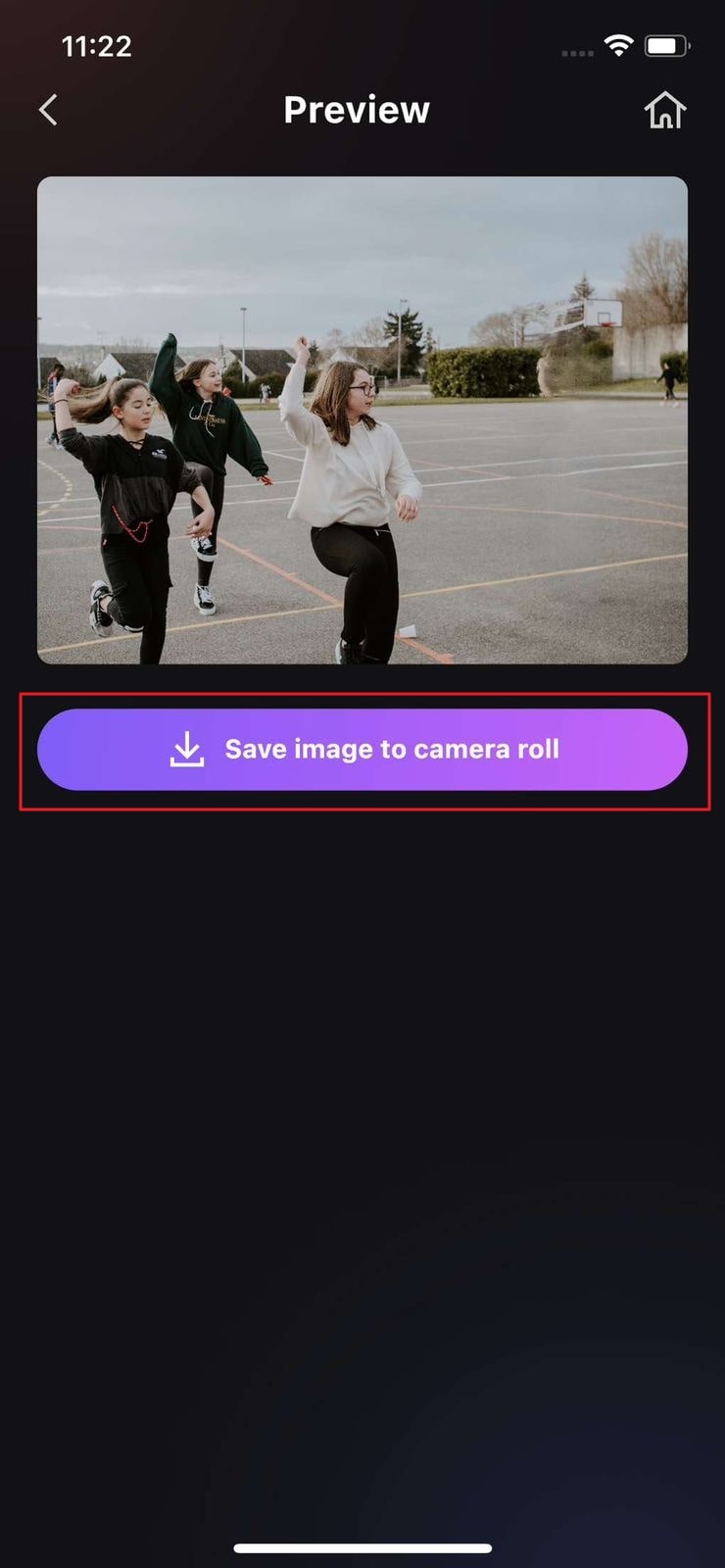 Part 3: Tips for Professional-Looking Results After Removing People from Photos
We will now oversee some tips that can be followed after removing people from photos. It is essential to follow this process to enhance the outlook of your photo and make it look professional. Look ahead to find out some professional tips for high-quality results for your photos:
1. Start With the Eraser Tool
You should start with an eraser tool to make a photo perfect in all possible dynamics. First, remove all unwanted objects and people from the image. Considering this as the foremost tip, you can use a tool like AniEraser. After selecting a particular area by applying a brush over it, the object under the area is easily removed.
2. Use Filters & Adjustments
After removing the person from the photos iPhone, continue using filters and other adjustments. Filters over an image enhance its outlook and develop a unique identity. You can perform other adjustments, including managing the photo's brightness and contrast. Manage other parameters such as saturation and vignette for enhancing the image.
3. Set Feathering Radius and Smooth Edges
Edge feathering is a prominent parameter considered in realistic photos. Setting such numbers is essential to bring a gradual transition between two types of objects. If the image has blunt edges and does not represent smoothness, it is also best to set this parameter. This is quite effective in image resolution and its enhancement.
4. Adjust Light & Shadows
The brightness of an image is an important trait to cover. Adjusting the lights and shadows display the objects to perfection. Adjusting such parameters can be important if you want to emphasize a particular image section. This can help you a lot in setting a proper picture outlook.
5. Retouch Imperfections & Sharpen Final Image
For any imperfections, tools with retouching tools can serve greatly. As you sharpen the image, the objects become clearer and more prominent. The details in the image will depict, and the viewer will see them more. Having such a controlled environment in an image helps display the illustration.