If you're a photographer, then you know that shadows can ruin a nice shot. It makes your portrait look dull and lifeless, and it's hard to make out what the subject is. That's why mastering shadow removal has become an essential skill.
Nowadays, there is no shortage of tools to choose from, making this task easier than ever before. But how do you find the right photo shadow remover? The easiest option is probably to go online - but which one? There are plenty of great options out there, so here's what you need to know before removing shadow from photo online. Keep reading for more information!
Part 1. How to Remove Shadows from photo online?
The best way to remove shadows from photos online is to use the AI-powered removal tool - AniEraser.
AniEraser is a powerful AI-powered objects remover, designed to make editing easier with a friendly user interface. With it, you can quickly remove any unwanted objects from your photos or videos in seconds with no hassle. It supports batch operation where you can remove multiple objects at once for even faster editing. And, thanks to its cross-platform feature, you can use AniEraser on three different platforms (Desktop/iOS/Web) with a single account for a consistent user experience across devices.
Product Features:
- AI powered object remover from photos and videos
- Friendly user interface with step-by-step guide
- Batch processing which allows multiple objects removal simultaneously
- Cross platform usages in PC / Mac / iPhone
- Partial pixel index: Save time without sacrificing accuracy
How to remove shadow from picture with online AniEraser?
The process is quick and easy with 2 steps. You don't need any special skills or knowledge.
Step 1

Open AniEraser and upload your picture

Go to the AniEraser website, click on the "Upload" button to select the image that you want to remove the shadow from. Wait for the image to upload and process.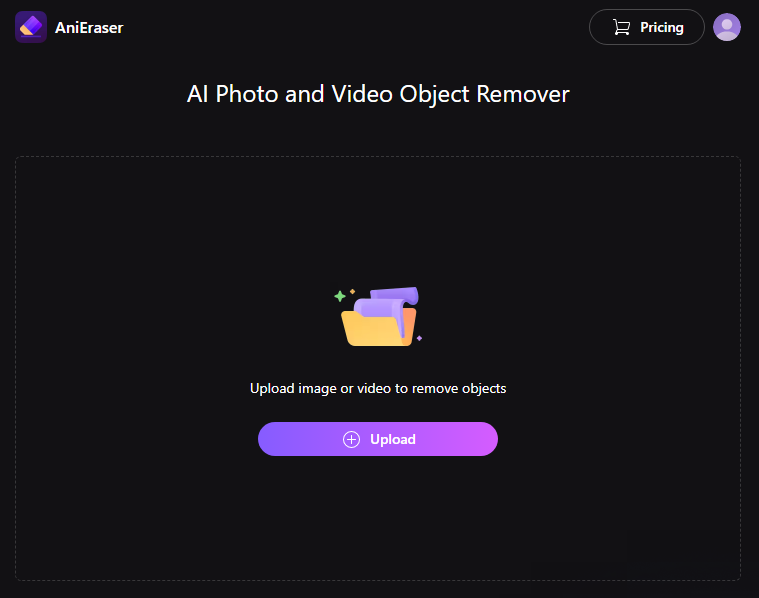 Step 2

Open AniEraser and upload your picture

Use the brush tool to paint over the shadow that you want to remove. If necessary, adjust the brush size using the brush size slider at the bottom of the screen. Once you have painted over the shadow, click on the "Preview" button to see how the image looks without the shadow.

If you're satisfied with the result, click on the "Download" button to save the edited image to your computer.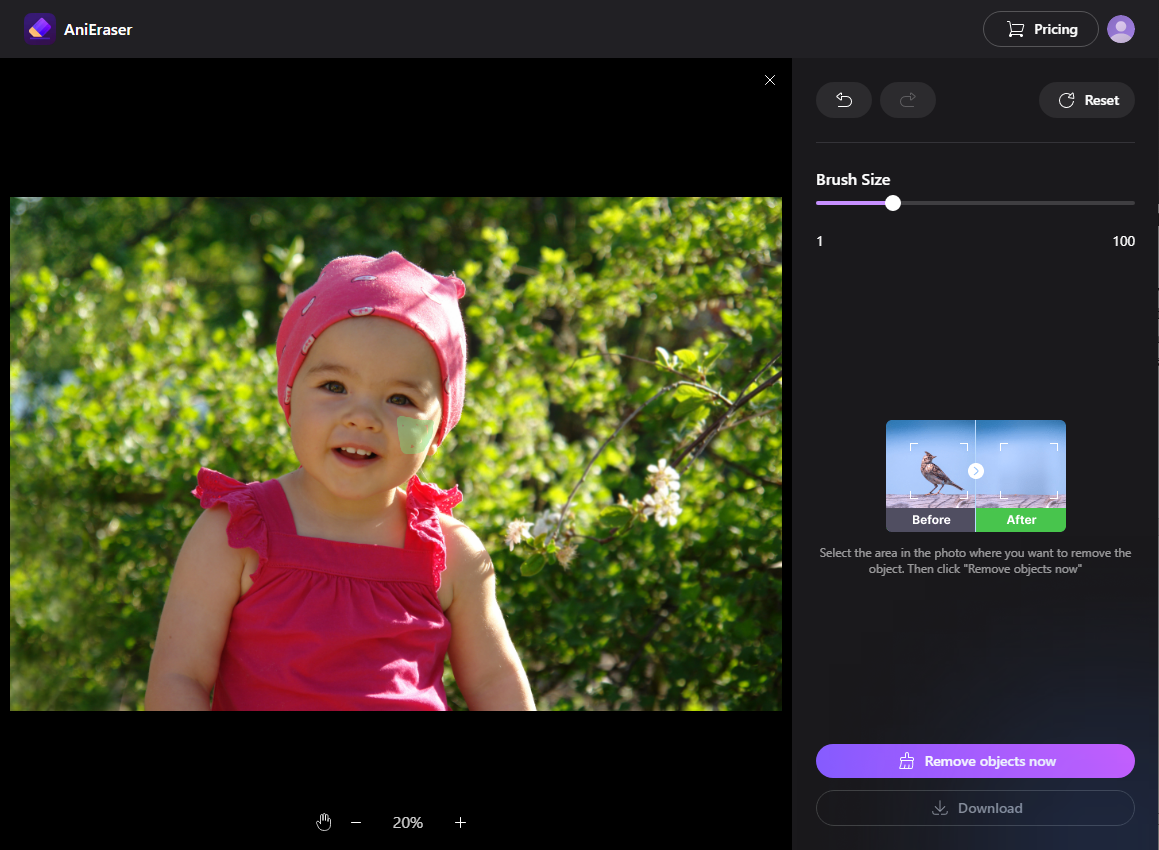 Part 2. Alternative methods for removing shadows from photos online
There are also a number of other online photo editors that can be used to remove shadows from photos. If you're looking for some other easy-to-use options, keep reading.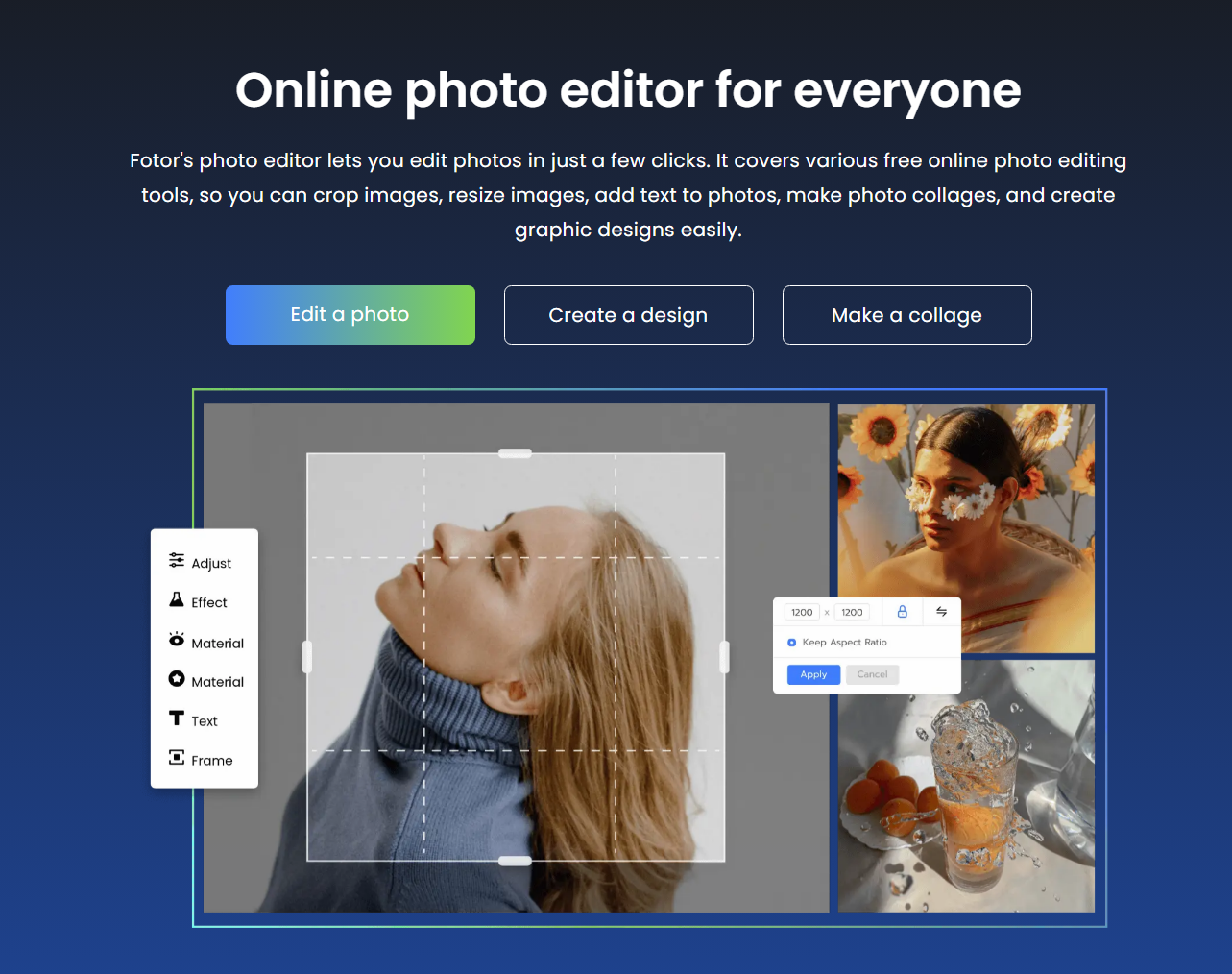 Fotor is an online photo editing tool that provides users with a range of features for removing objects and retouching photos. It allows users to easily erase unwanted elements from their photos, including flaws and shadow.
Fotor also provides users with a range of editing tools for enhancing the appearance of their images, which is greatly helpful in retouching skin, including blemish removal, skin smoothing, and teeth whitening. Additionally, Fotor offers tools for adjusting brightness, contrast, saturation, and other image parameters to achieve the desired look.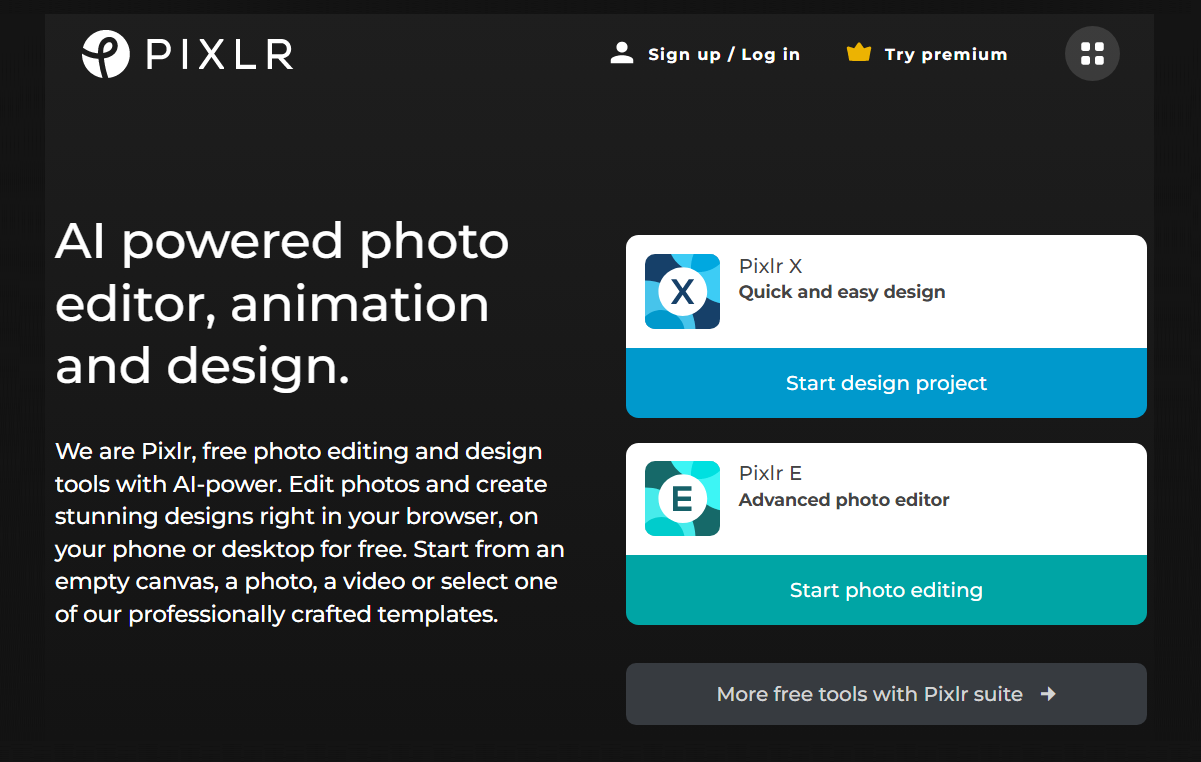 Pixlr is an online photo editor that provides all the tools you need to make amazing edits and creative photo compositions. With Pixlr's sophisticated object remover, you can remove unwanted elements from photos with one click. The tool can also detect shadows and automatically removes them to make your photos look their best. It's an essential tool for any professional or budding photographer.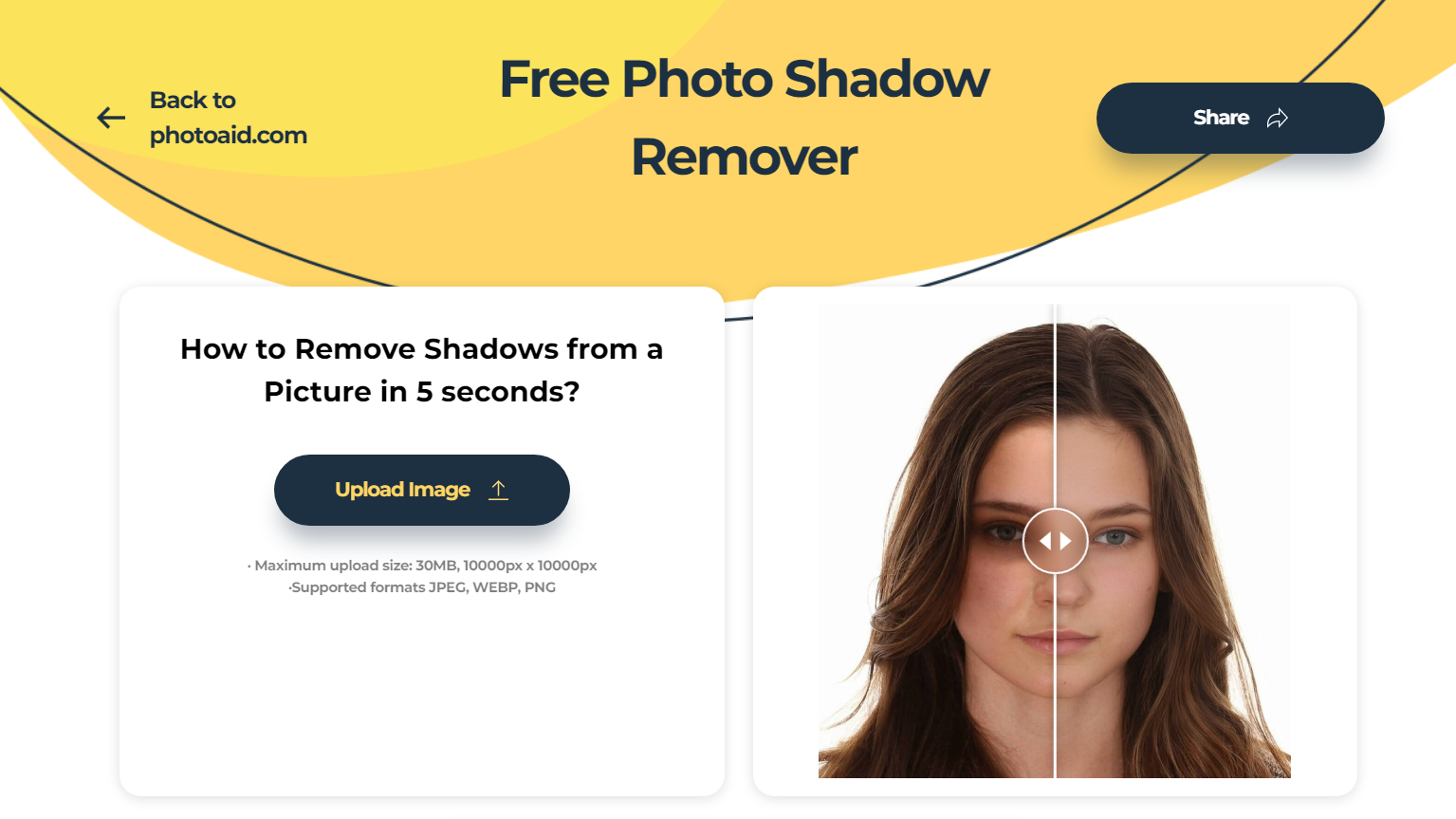 Photoaid is a free online object remover and shadow removal tool that helps you edit your photos quickly and easily. It's designed to be used by anyone, regardless of their design skills or experience. With its powerful AI algorithm, it can remove shadows from photos in just a few clicks. The objects removed with Photoaid are automatically evaluated so that the result looks as natural as possible. It also allows you to make color adjustments and crop images with intuitive controls.
Part 3. Tips on Taking Photos Without Shadows
Removing shadows with an online tool is great, but why not try taking photos without them in the first place? Here are some tips to help you take photos without any pesky shadows. Give them a go and see the difference!
Use Natural Light
Natural light is the best light source for taking photos without shadows. Try to shoot during the day, near windows or outdoors in the early morning or late afternoon when the sun is not directly overhead. Avoid taking photos in direct sunlight, as it can create harsh shadows.
Use a Diffuser
If you are shooting indoors and cannot avoid using artificial light, use a diffuser to soften the light and reduce shadows. A diffuser is a piece of fabric or plastic that you place over the light source to scatter the light and create a more even lighting.
Use Fill Flash
If you are shooting outdoors and the sun is creating harsh shadows, try using fill flash to brighten the subject and reduce shadows. A fill flash is a flash that is used in addition to natural light, to provide extra light and balance out the shadows. It works by filling in the darker areas of the photo with additional light, creating a more even exposure.
Camera settings
Adjusting your camera settings can also be helpful in reducing or eliminating shadows in photos. Here are a few camera settings advices:
- Adjust Exposure: Increase the exposure to make the image brighter and decrease shadows.
- Change White Balance: Experiment with different white balance settings, such as daylight or shade, to see which produces the best results.
- Adjust ISO: Increasing the ISO can help brighten the image and reduce shadows, but be careful not to increase it too much as it can create digital noise in the image.
- Use a Tripod: Using a tripod can help stabilize your camera and reduce camera shake, which can create unwanted shadows. It also allows you to use slower shutter speeds or lower ISO settings, which can reduce the appearance of shadows.