Image upscaler is a perfect tool to improve image resolution by increasing size. Upscale image online helps in showing what is essential without losing its quality. The images can also be seen clearly if upscaled with the right tool. However, this article is for you if you are new in business and don't know how to upscale images for your virtual business outlets.
Here, we will discuss top-notch online image upscaler for your ease. Moreover, to eliminate confusion, this article will also recommend the best one among these enlisted image upscalers.
Part 1: Overview of the Best Image Upscaler in the Market
Now that you know that online upscaler is a must-have for every type of business, you must be wondering about their names. Below are the top-rated online image upscalers which you can use to engage more viewers. Look below to find more details about them:
This online image online free is a perfect tool to level up the virtual aspects of your business. With Media.io, you can enlarge any photo in up to 8X resolution. Moreover, the state-of-the-art AI technology in it always derives reliable and desirable results. Above all, you can preserve every image detail without losing its quality.
You can also use this tool from anywhere and anytime without any restrictions. It is not compulsory to download this software to your device to use it.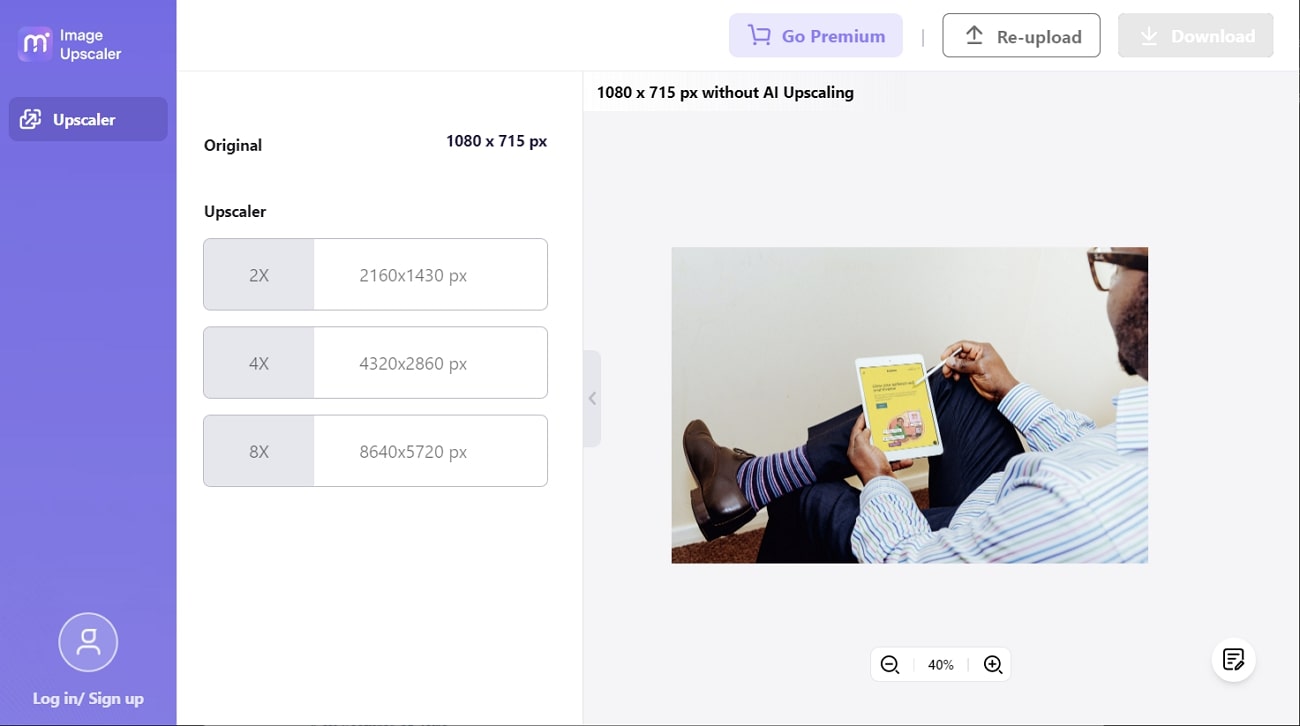 Key Features of Media.io
You can also enhance and enlarge blurry and low-quality images with it. After upscaling, you will not notice any blurriness, noise, or low resolution in an image.
io is a professional image upscaler that you can use for professional purposes. Whether you are in a car dealership or real estate business, this tool can help you with everything.
It supports diversified image formats, including JPG, JPEG, PNG, and more. You can also increase the resolution of any photo by 200%, 400%, or 800%.
It is one of the most known upscaler online free. You can upgrade low-quality images with it without worrying about image quality. Whether the photo is blurry or pixelated, this online tool can treat all types of images. Above all, there are many integrated marketing tools it which you can use for professional purposes. It will not take lots of time if you upscale the image with Zyro.
Key Features of Zyro
There are no special coding and editing skills you have to master before using Zyro. It is pretty easy to use the tool.
It supports deep convolutional neural networks by which the image is upscaled without losing quality.
Zyro also provides many other basic AI tools for users AI blog name generator, business name generator, and slogan generator.
With the help of Smart Upscaler, free online, you can resize the image to your required size. The process of image upscaling is completely automated in it. You can work with it in an easier way thank to its automation. It is powered by AI, which makes your raw images super resolute. You can also embed this feature in your website with the help of Smart Upscaler API.
Key Features of Smart Upscaler
This tool can also remove unwanted and dull backgrounds from your images.
The customer support of this tool is quite active, and you can get quick replies from them in the comment section.
It allows you to work on a 5MB image and upscale it to 7680 x 7680px.
Upscale.media is also a popular tool that is widely used to the upscale picture online. With it, you can work on various images in formats like JPG, WEBP, PNG, and JPEG. In addition, you can also use it on Android or iPhone if you are worried about the security of your data on online platforms. This tool also derives quick results in maximized resolutions in a blink of an eye.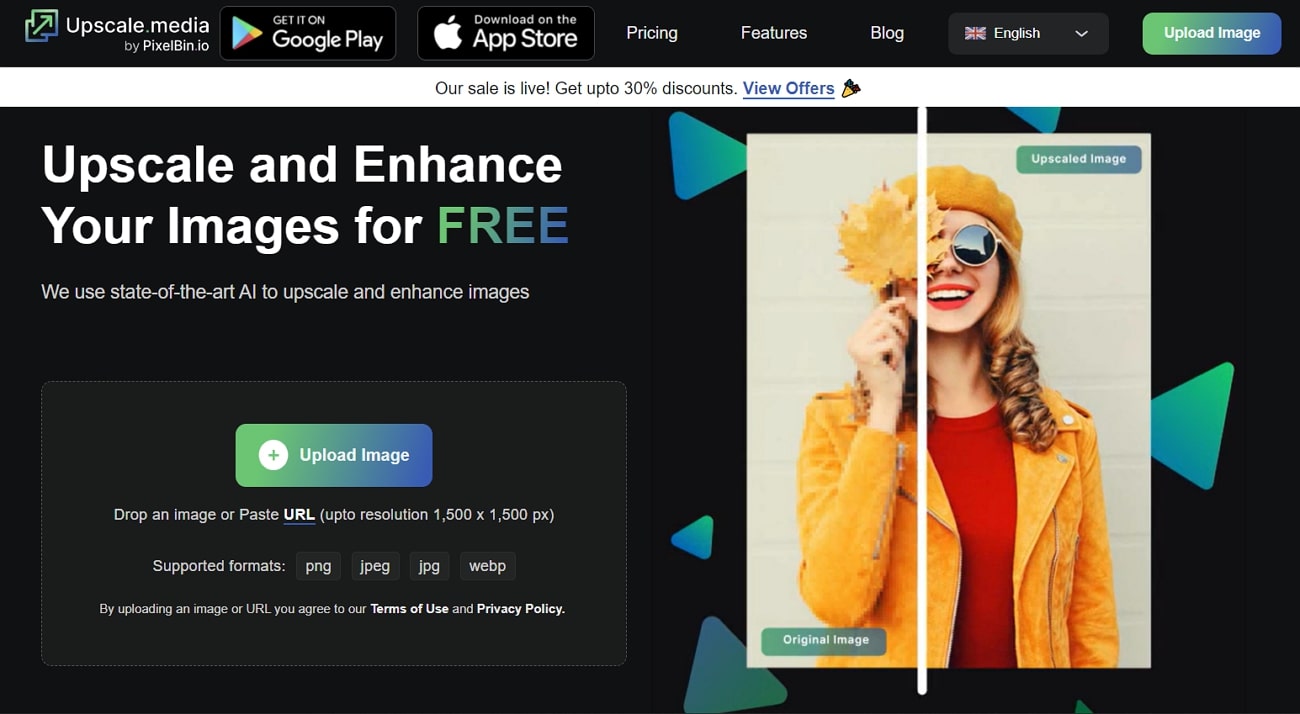 Key Features of Upscale.media
You can also use this image upscaler for professional purposes, such as making your pictures for your Amazon or Shopify store.
You can upscale all pictures from portraits to digital art without losing their resolution.
It also helps upscale images for your social media by up to 400%. This also works perfectly with compressed images.
Do you want to upscale your low-resolute images into a high resolution without compromising their quality? Then Pixelcut free image upscaler online is for you. This also allows you to select the desired resolution for image upscaling. No details, sharpness, or pixels will be reduced even after you upscale your picture with it.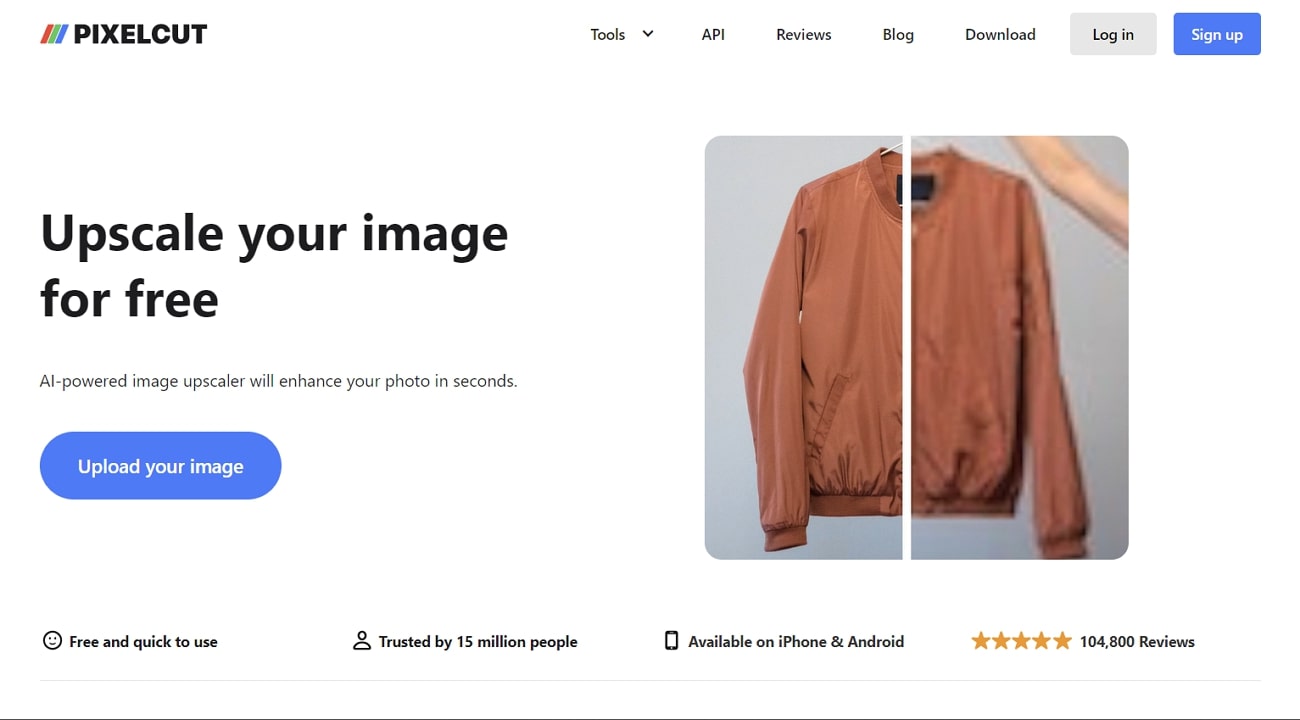 Key Features of Pixelcut
The interface of Pixelcut is pretty decent, which can provide a pleasant user experience.
With the help of this reliable tool, you can also remove all the unwanted objects from the images with a few clicks.
It also allows you to create reels and videos for business purposes with dozens of creative layouts.
Part 2: Which Image Upscaler is Best for the Beginners?
The abovementioned upscale image free online derives desirable results, but not all of them show reliability. Some of them are extremely expensive, and some have file size or format limitations. For this reason, you need to use a tool that can lead to satisfactory outcomes with the easiest process.
That is why we recommend you use a reputable tool like Media.io. This exclusive tool never fails to amaze its users with its higher functionality. You can find more reasons to use Media.io instead of other image upscalers below:
Easy to Use:

First of all, Media.io is a very easy-to-use tool. You can get the work done without any confusion and restrictions. Just by uploading your image and following on-screen instructions, you can get the job done.

Extra-Ordinary Image Quality:

The image quality will not be compromised even after you upscale it with Media.io. Some tools mainly distort images after enlarging them, but no such this is part of this highly reputable tool.

Strict Data Policies:

Undoubtedly, it is an online tool, but you will not face any data breaching issues with it. This image upscaler has strict data policies, so your data will not be shared with third-party images.

Lightning-Fast Processing Speed:

In a blink of an eye, you can upscale your images with Media.io. You don't have to wait for hours to enlarge an image.
How to Upscale Images in High-Quality with Media.io
The under-stated instructions will help you in upscaling any type of image at lightening fast speed:
Step 1

Access Media.io and Add the Image

To initiate the process, access the Media.io - AI Image Upscaler on your browser and click the "Upscale Image Now" button. After this, click on the "Upload Image" button and add the image that needs to be upscaled.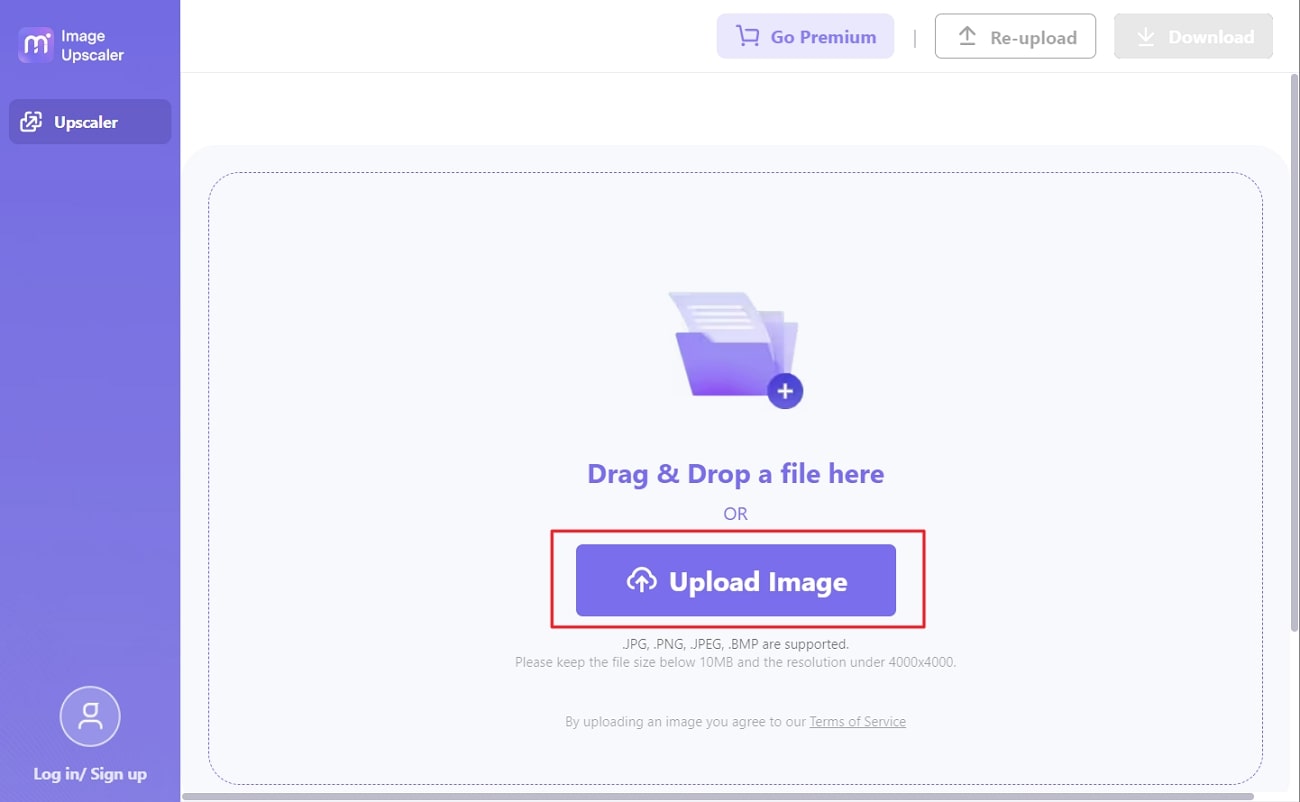 Step 2

Upscale the Image

Once the image is imported, select the resolution from the options of "2x," "4x," and "8x." After this, wait for a few seconds. Next, use the "Zoom in " or "Zoom out" feature to see the details. Now, click the "Download" button ad save the image on the device.