Animated GIF is created by encoding multiple frames of a video or image together in a sequence to attain the desired results. If you want to extract a particular frame from animated movie then you can use online software for breaking particular frame from the animated movies and create an animated GIF files. You don't have to download GIF frame extractor software on your computer.
Part 1. Split an Animated GIF Online Tools
EZGIF is a free online tool which is designed for creating and editing GIF file extensions. With the help of this tool, you can convert animated images into individual frames. You can view them separately on your computer. If you want to remove and rearrange the animation frames, then you can click on edit animation button. After the decompressing process of GIF file is complete, you can download specific structures on your computer in single and Zip file. This online tool is mainly intended for splitting animated GIF files.
Main Features:
It allows you to crop the image so that you can reduce the dimensions.
It offers a lot of effects that can be used to create better looking GIFs.
With the help of GIF maker options you can instantly create your GIFs by separate image file as frames.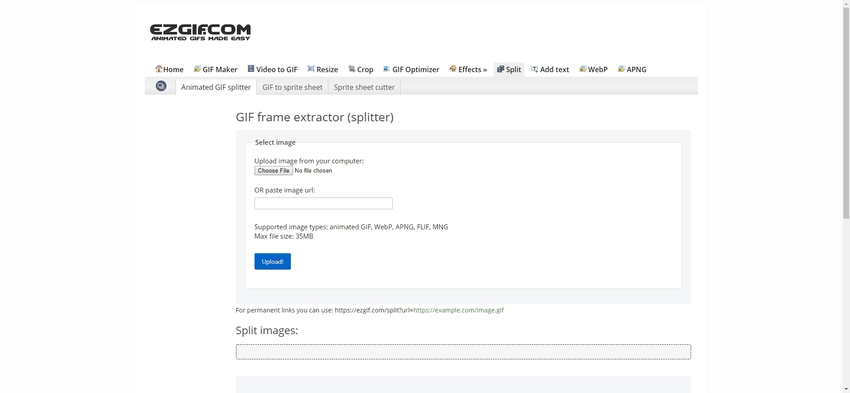 URL: http://picasion.com/split-animated-gif/
If you want to split a GIF file into individual frames, then pocasion.com is the best online tool. You can upload your desired GIF file from your computer, URL and other sources for creating different animated structures. By clicking on the choose file button, you can upload your desired file and extract it in your desired frames. For making your GIF frames unique, you can also create some effect with effect feature. You can easily remove your frames and post them on a separate platform.
Main Features:
You can select the quality of the separated frames from the GIFs.
You can also change the size of the particular frames according to your need.
With the help of the rotation option, you can rotate your animated GIF frames at particular angles.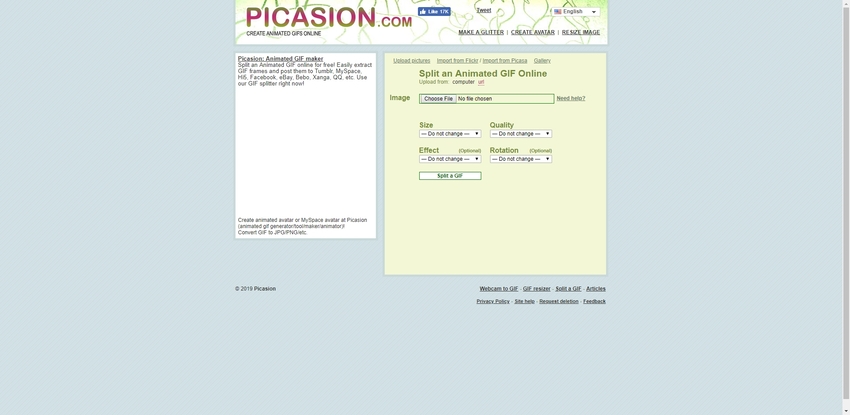 URL: http://gifgifs.com/split/
Gifgifs is one of the best online GIF separator tools that allow you to extract frames from animated GIFs in a few minutes. You have to upload a GIF file on the page from your computer, URL and Google drive and press the extract frame button to perform the process. After completing the process, you can share your GIF file on social media. With the help of this tool, you can crop and slice your desired frames for creating individual animated GIF files. It also consists of rotate option so you can rotate and flip your GIF frames at any angle.
Main Features:
You can reduce GIFs frame file to ensure that it's suitable for viewing on multiple devices
With the help of this tool, you can also add text to your GIF frames.
It also consists of PNG optimizer, which reduces the size of PNG files.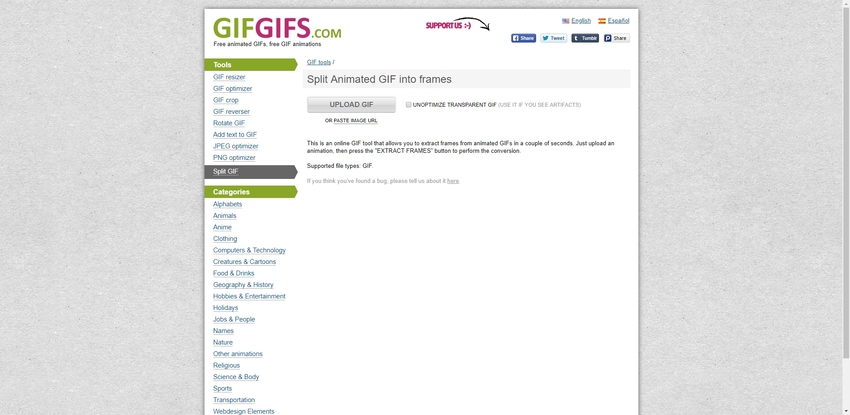 URL: https://gifmaker.me/exploder/
If you want to capture a funny frame in a GIF image, then gifmaker is the best option. This free online tool allows extracting all the structure of GIF images and helps you to save all of them separately as individual images. The split process of this online tool is relatively easy so that you can get your separated frames in a few minutes. For separating GIF frames, you can choose your GIF file from your computer and crop your desired frames which you want to post on social media.
Main Features:
It consists of various font styles so you can add your desired text in your extracted frame.
You can edit your frame with image editors such as Photoshop.
The tool allows you to create GIF files quickly.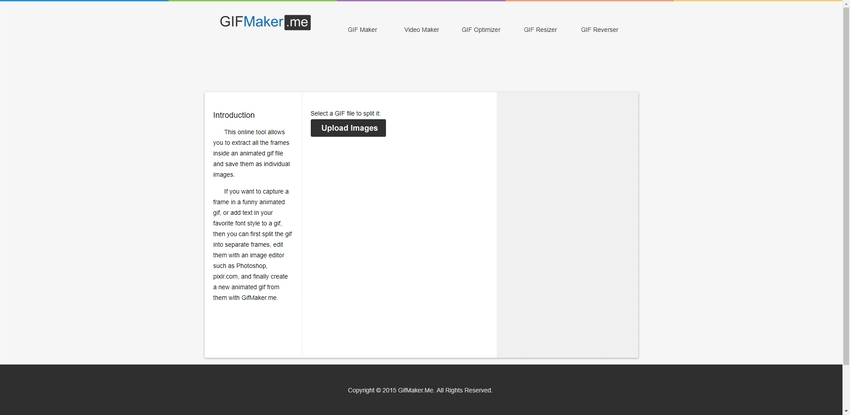 Part 2. A Useful Software for Splitting a GIF
GifSplitter
URL: https://gifsplitter.soft112.com/
GIF splitter is open source software that allows users to split any GIF within a matter of seconds easily. This software is a freeware and is easy to use; this program can be downloaded as a zip file and then extracted to your computer. The interface isn't anything fancy as the developers went for an easy to use and to-the-point UI.
Pros:
This is a freeware that means it can be used without any charges.
It's offline; hence, you don't need an internet connection to perform your desired task.
It is tiny in size hence won't take up a lot of disk space.
Con:
Lacks a lot of essential features like cropping.
No option to select a particular frame as the GIF will be shredded into all the structures it had.
Quality might get affected by the results.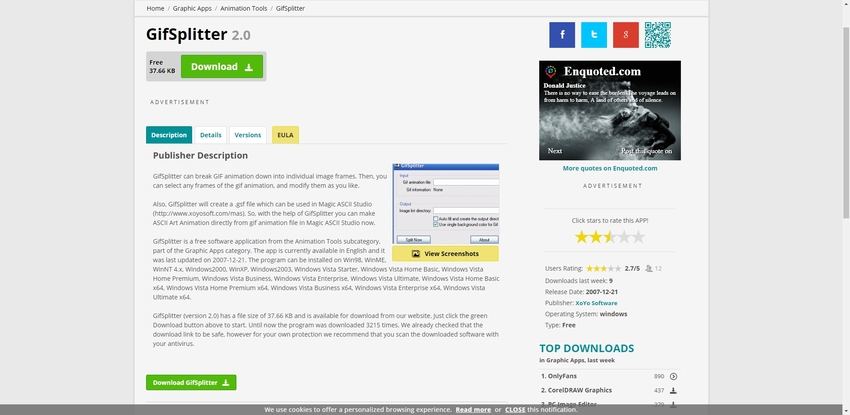 Summary
Getting the GIF split up and capture the desired frame was not an easy task. But now some software and online platforms are using which you can easily split the shells and make your desired editing and get the images as you like. All these programs are easy to use and provide high-quality output.
Wondershare UniConverter allows people to edit and convert image. Only three simple steps to finish. Beginners are easy to learn and get started.
Wondershare UniConverter
· Support multiple images processing conversion.
· Convert image, video, and audio to over 1000 formats.
· Turn photos or videos to GIF or specific devices formats without any trouble.
· Transfer convert files from PC/Mac to external devices easily via a USB cable.
· Versatile toolbox combines Image Converter, GIF maker, video compressor and screen recorder, and others.