When you click images from a high-end camera, then a great deal of hard disks' memory gets consumed, and in the long run, you may have to purchase an additional device. There is also an alternative way with which you can get relaxation from such situation, which is by converting NEF to JPEG file format. There is various online and offline software which provides you exceptional ease in turning the NEF files to a JPEG. There is nothing to fret about the quality of the file as its resolution will be maintained, and you can quickly email them to your loved ones.
Part 1. 6 Easy Ways to Convert NEF to JPEG Online
URL: https://www.media.io/image-converter.html
Main Features:
Online UniConverter supports to download the converted file directly to the computer or save it to Dropbox.
It could convert NEF images to JPEG in batch.
You could use an online UniConverter or download the desktop version for more features.
---
URL: https://www.iloveimg.com/convert-to-jpg/raw-to-jpg/nef-to-jpg
Iloveimg converts a large number of NEF to JPEG files in small time duration. You get a chance to upload files from multiple sources like a personal computer, Google Drive, Dropbox, etc. UX and UI features of this application make it very easy to navigate, and you also get an opportunity to acquire different edition viz. meme generation, creation of watermark, image rotation, etc.
Main Features:
The site provides you genuine help through a frequently asked question, and you can also contact them through email.
There are various languages to choose from, and this provides you a great opportunity in file conversion.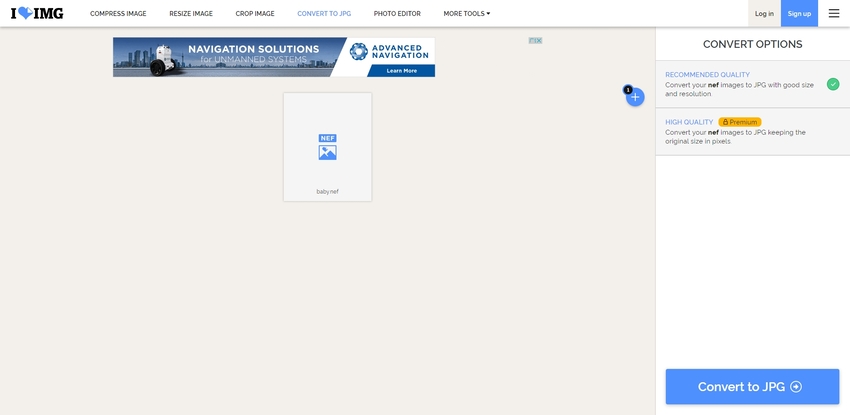 URL: https://image.online-convert.com/convert/nef-to-jpg
Online-Convert is easy to use for NEF to JPEG conversion and also provide a wide range of other options like the setting of pixels, DPI, and determination of the quality of an image. The site is SSL protected; thus, you don't have to worry about your data getting in the hands of the third party. Online-Convert also provides you conversion option for several file formats related to audio, video, archive, CAD, etc.
Main Features:
The site duly follows confidentiality norm due to which it can encrypt your file and delete it from the server after a certain amount of time interval.
You can also upload NEF file from a URL and can convert in immediately, and conversion speed of this site is pretty fast; thus you can complete your projects in time.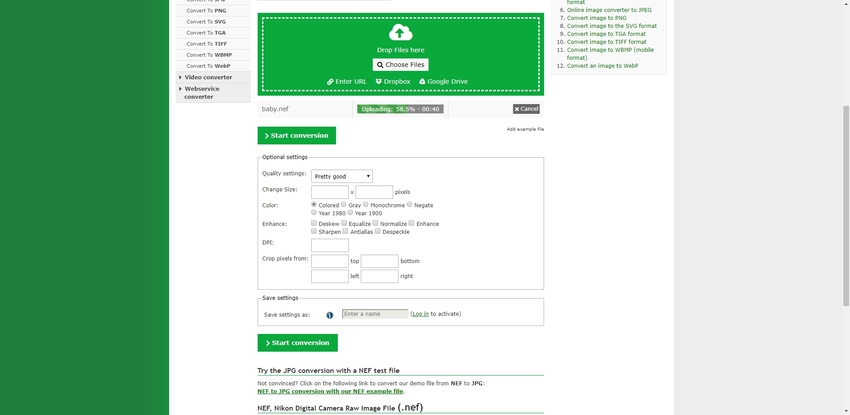 URL: https://www.zamzar.com/convert/nef-to-jpg/
Zamzar is an online converter which has only three preliminary steps during the conversion of NEF file to JPEG. When you sign up on this online converter, then several other features will get unlocked. You can operate this online converter on any platform of your choice, and there is no need to download any additional plug-ins. The site also provides you an opportunity for abuse reporting and to ask for help.
Main Features:
After the conversion of file through the application you can simply obtain it at your email, thus you can even take conversion on the go.
The online converter allows you to upload a file up to 2 GB which favors even large projects.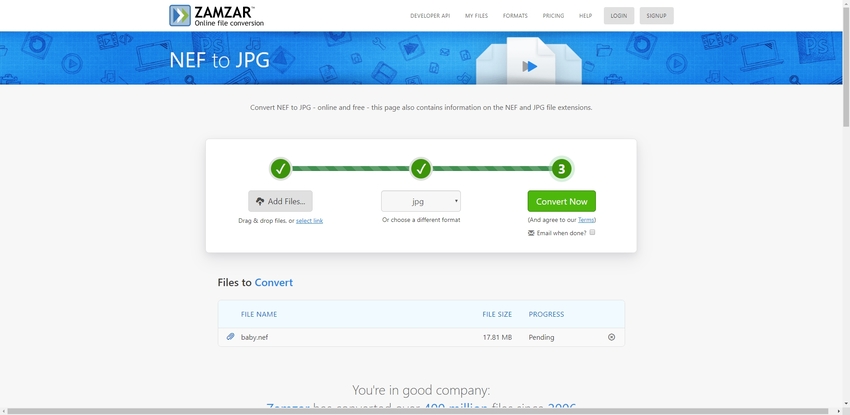 URL: https://convertio.co/nef-jpg/
This online converter is considered as one of the easiest to access, and it provides adequate HTTPS protection to your image files. One of the essential features of Convertio is that you can drag and drop NEF files which decrease the uploading time. To get more effective services for NEF JPEG conversion, you can also acquire premium plans which provide different types of editing options.
Main Features:
This online converter supports more than 190 types of file formats and allows you to upload the file through a different location.
You get a chance to upload 100 MB of the file at a time and can download the converted files immediately after the process.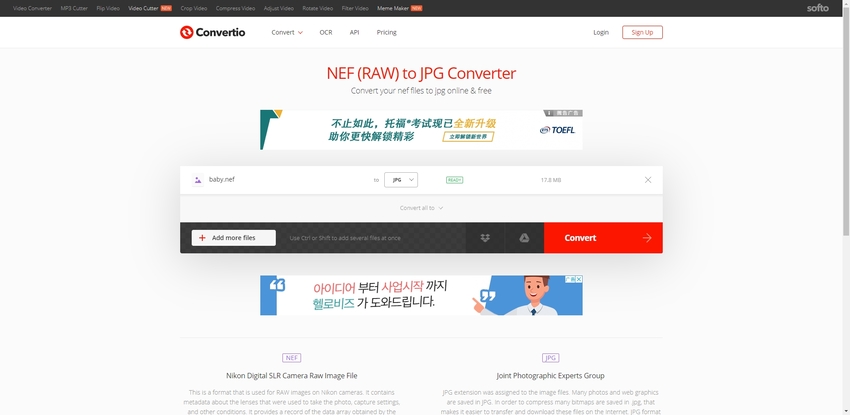 URL: https://cloudconvert.com/nef-to-jpg
Through this online converter, you will get a chance to upload NEF file through multiple sources like a personal computer, Box, Google Drive, URL, Dropbox, and One Drive. After the conversion proves it is over your original files will be deleted for security reasons. The web portal also allows you to modify data on your dashboard, and you can quickly remove the account at any occasion.
Main Features:
Cloudconvert offers you advance feature like folder monitoring and batch conversion of files which is essential in case you are undertaking some big project.
You will also get the advantage of API through which it is very easy to convert files on personal applications.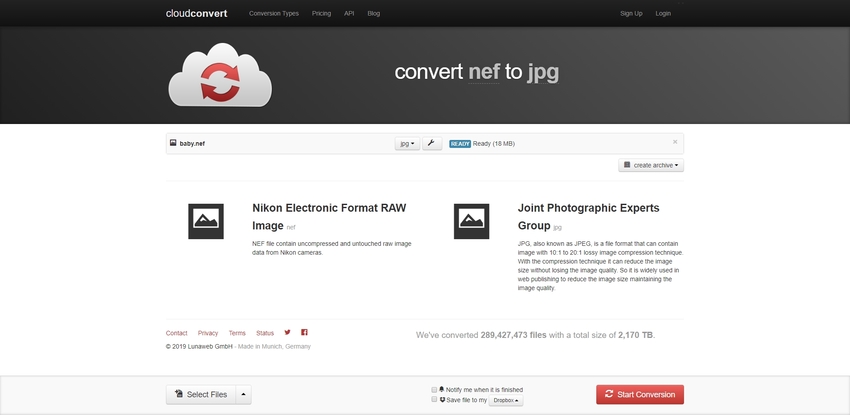 Part 2. NEF File to JPEG Format Converter
This software will answer your question about how to convert NEF to JPEG in Nikon camera, and you can effectively use it for MAC and Windows laptops. The converting speed of this software is too fast as well as reliable. The GUI features of UniConverter are user-friendly, which makes it easy to navigate. The installation procedure of UniConverter is effortless, and you don't have to download any other plug-in for its support. Through UniConverter you also get a chance to burn DVD and CD straight away and can even transfer the files directly in hard disk and flash drives.
Wondershare UniConverter
· In UniConverter, you can convert, edit, or compress photos, video, and audios.
· It allows you to transfer videos/pictures from computer to iPhone or Android mobiles without using iTunes.
· UniConverter allows batch NEF to JPEG images conversion at one time.
· Using UniConverter Toolbox function, includes convert images, create GIF, burn CD, rip CD, cast to TV, and fix Meta tags with just a few clicks.
· It could be downloaded in Windows or Mac.
Advantages:
In UniConverter, you can quickly get an exceptional editing process like adjustment of brightness, color contrast, sharpness, etc.
If you are planning to upload your photograph on several web platforms, then the application provides a facility of the watermark.
Unlike online converting software, you can convert files in batches and don't have to deal with a daily limit of conversion.
The rate of conversion on this platform is rather quickly than online tools.
Disadvantages:
When you use UniConverter for NEF/JPEG conversion, then you can't save your files on the cloud platform which consumes space of your personal computer.
To get premium services, you have to purchase the software, unlike several online platforms which are free of cost.
NEF to JPEG/JPG Conversion Steps
Step 1: Launch the UniConverter
In the initial step, you have to download the UniConverter software from the official site and after installation, launch the program. Go to Toolbox, and then you will see the Image Converter option.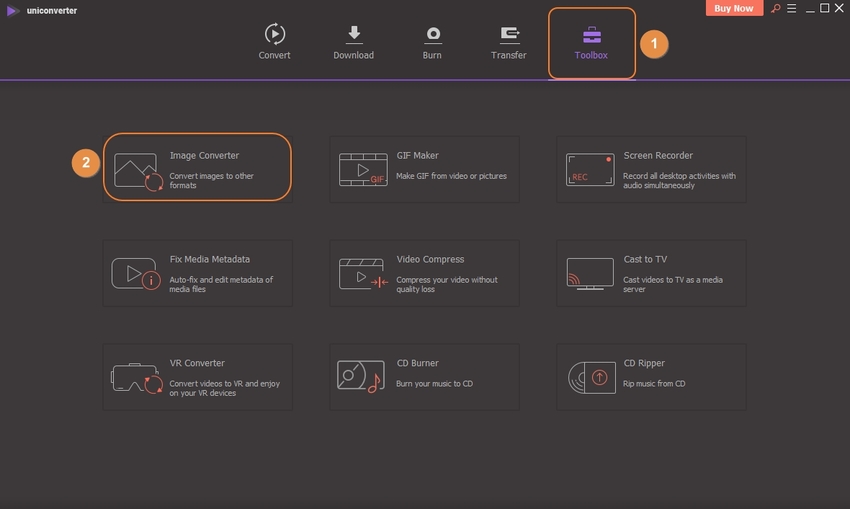 Step 2: Upload the NEF Image
In the second step, you are required to upload a NEF image from your computer with the help of drag and drop option.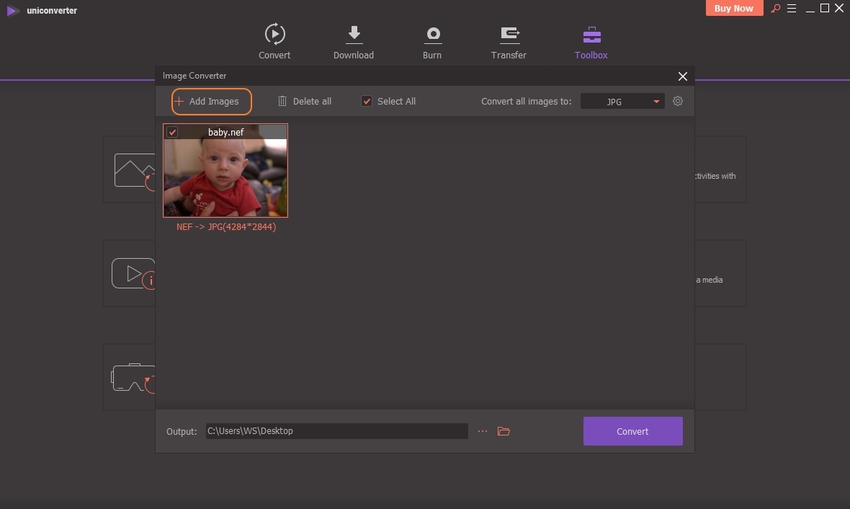 Step 3: Select JPEG Format from Convert All Images to Option
In the third step, you are supposed to select the JPEG format from the right hand corner of the screen in which you want to convert the file.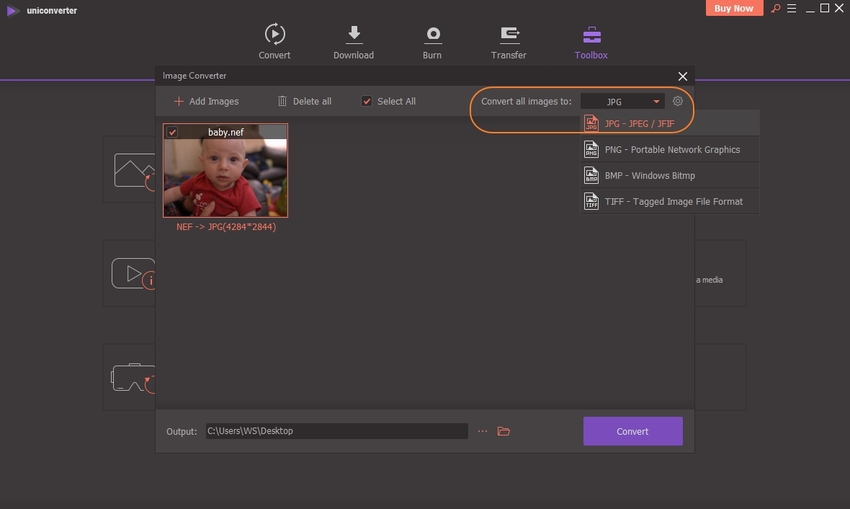 Step 4: Click on the Convert Button-Convert NEF to JPEG
In the last step, you just have to select the image and lick on the Convert button on the bottom right of the software. Eventually, congratulation you convert NEF to JPG successfully.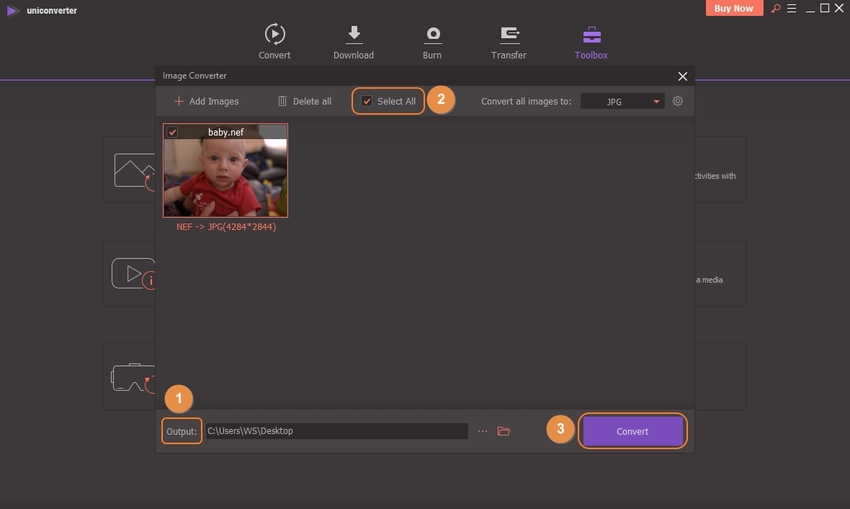 Part 3. NEF vs. JPEG
a. What is NEF?
Nikon Electronic Format is a type of RAW file that has digital photographs taken from Nikon camera. These images are high in resolution and capture details in the most excellent way possible. These images can be considered as digitalized negatives which are without any compression or quality loss.
NEF files contain metadata which contain a description of the setting, information about the lens and model of the camera. Various post-processing like adjustment of hue, tone, white balance, and sharpness isn't permanent. This provides an advantage to a user in altering the image, and they don't even have to compromise with details and quality.
b. What is JPEG?
The full form of JPEG is Joint Photographic Experts Group, and it is considered as a standard image which contains data in compressed format. Though they are low in size, they maintain the resolution of the picture. JPEG is used for sharing on the internet, mobile phones, and through Bluetooth devices as it has excellent compression rate. These image files can easily be shared in batches that to in small time duration. In paint images which are edited are generally stored in the form of JPEG. Lossless compression rate of JPEG file extension allows them to acquire excellent resolution even when they have a small size in comparison to NEF.
c. NEF vs. JPEG Pros and Cons
NEF Pros:
NEF images are used for highlighting shadows and display as the image quality, and resolution is worth commenting, and it is also used at project sites.
These images are read-only, and it requires specialized software for doing any editing, this is the reason why they are used in the court as proof, unlike JPEG file extensions.
NEF files are uncompressed in nature which makes them more flexible and you can also attain certain editions like sharpness and white-balance.
NEF Cons:
Unlike JPEG which can easily be edited NEF requires special software for the purpose. This is a time-consuming process as images become weak in color contrast and saturation.
These files are uncompressed, which makes them significant in size, and they take much of the space in your hard drive.
Moreover, it also takes lots of time taking pictures in NEF format as the camera takes time in processing the image.
JPEG Pros:
When you take images in JPEG format the camera does most of the editing; thus it saves lots of your time.
On an average the size of a JPEG is 1/3rd to that of NEF, this allows you to save massive number of files on your computer system with ease.
Moreover, you do not require special software for editing JPEG files as they can easily be opened on your laptop.
JPEG Cons:
Though the camera's firmware does offer advanced editing but it is done without your consent and some of the times you may have to undo that primary editing to get proper effect.
In comparison to NEF images which are taken in JPEG format are less dynamic and detailing are not sharp enough and images aren't ideal to look on large screen.
Compressed JPEG images also causes loss of some minute data from the photograph and the image is malleable to tweaking of the software.
Summary
There is an excellent range of online and offline converters available which will provide your assistance in seeking an answer about how to convert NEF files to JPEG. One of the best offline converters is UniConverter which offers you a chance to convert your files even through a remote location and you can do the conversion in batches. When you use an offline converter then there is no worry of virus or worms.
Contrary to this, there are various online converters which offer you cloud upload and download options. Moreover, you don't even have to download any software or plug-in when you use them. NEF and JPEG files have their pros and cons and are highly used in the field of photography. NEF files are used as proof in court, and they focus more on image quality. On the other hand, JPEG files are highly compressed, and they are considered ideal for sending to your family and friends over the internet.