Images are considered as the best way with which you get to save your memorable moments forever. At present, you also get a chance to convert a bunch of your image files into a video clipping through various online converter sites. These online websites provide JPG to MOV conversion in a short amount of time frame, and you don't even have to download any plug-in or software during the process. It is a very effective manner to make a MOV file out of JPG images since it utilizes a small amount of space, and you can also send it to your friends in an efficient manner.
Part 1. How to Convert JPG to MOV with JPG to MOV Converter Online
URL: https://www.filezigzag.com/jpg-mov-en.aspx
This site has excellent GUI features; thus, it would be straightforward for you to convert JPG to MOV file extension. Moreover, the site also provides excellent SSL security. Therefore, you don't have to worry about viruses and worms when you download the file on to your system. You also get an opportunity to send your data directly to your email. Thus it is secure for future references. Through drag and drop functionality of this web portal, it is elementary to upload a file efficiently.
Conversion Steps in Filezig-Zag
Step 1. Initially, you have to click on the Select button or use drag and drop facility to upload the JPG file.
Step 2. In the second step, you just got to choose the MOV file extension.
Step 3. You are required to type in your email address in which you want to get converted file.
Step 4. Finally, you have to click on the Convert button, and the job is done.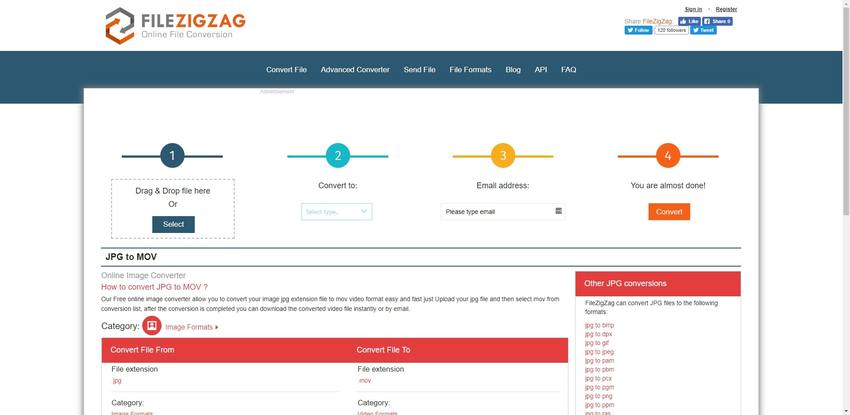 URL: https://www.files-conversion.com/
Files-Conversion is a site which provides you thorough assistance during the conversion of JPG to MOV through social media. The process of file conversion is speedy, and you can easily access it on several platforms. This web portal follows confidentiality norms in an efficient manner. Thus, your files won't be accessed by the third party. Here you also get an option to choose from wide varieties of output files or can keep it like the original one.
How to Convert in Files-Conversion
Step 1. Primarily, you have to click on the Choose File button; in this step, the converter will detect the file extension automatically. Then you have to select the file extension in which you want to convert it.
Step 2. You then have to choose from the quality of the converted file which you want and can even click on the size box and choose size manually. Also, set the converted format to MOV.
Step 3. At last, you have to click on the Convert button and then have to download the file on your computer system.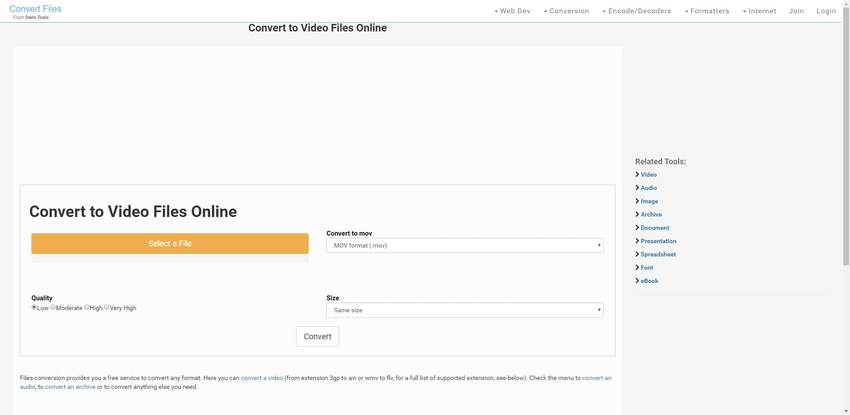 Summary
With the advent of the internet, it has become elementary to keep your files for a long time duration in an efficient manner. There are various online conversion sites which provide you a great deal of flexibility in converting JPG to MOV by following a few initial steps. These websites provide a secure connection and follow confidentiality norm strictly. Thus your files will stay safe. Here you get a chance to make several editing before conversion and can also place your data on your email. Moreover, they can be accessed on various platforms.
Wondershare UniConverter supports 1000+ video format conversion. Upload your video to UniConverter, and select the converted form that you needed, then click the Convert button to start the conversion. Easy to use!
Wondershare UniConverter
· Support batch processing of video files to MOV conversion.
· Convert image to JPG, PNG, BMP, TIFF, GIF, and other file extensions.
· Convert photo to JPEG/JPG format or specific devices formats without any trouble.
· Transfer converted files from PC/Mac to external devices easily via a USB cable.
· Versatile toolbox combines Image Converter, GIF maker, video compressor and screen recorder, and others.