If you want your images in JPG, JPEG, and other formats to be in lossless quality, conversion to PNG is the best solution. Additionally, fading and transparency of the files can also be achieved using the conversion. So to help you convert image to PNG, the tutorial below discusses the best methods.
Part 1. Top 6 Online Image to PNG Converter
To convert picture to PNG without installing any third-party software, online tools work as a great option. These programs do not need any software installation or registration hassle and work straight from the browser window. Listed below are the best tools to convert image to png online.
URL: https://www.media.io/image-converter.html
Online UniConverter is one of Wondershare produce produces. It is an all-in-one online tool for a picture, video, and audio. You could drop and drop or hit the + sign to upload your file to online UniConverter. Here you could simply try its features to convert image to PNG file.
---
URL: https://www.online-utility.org/image/convert/to/PNG
To convert photo to PNG, this works as a simple online tool. The program supports all major image formats for the conversion including BMP, CIN, JPEG, MAT, PDF, DCM, and many others. The process of conversion is hassle-free where you just need to load the local image files and they are automatically converted to the PNG format.
Key Features:
A free tool with a simple interface.
Supports wide array for formats for the conversion.
The converted file is downloaded to your system.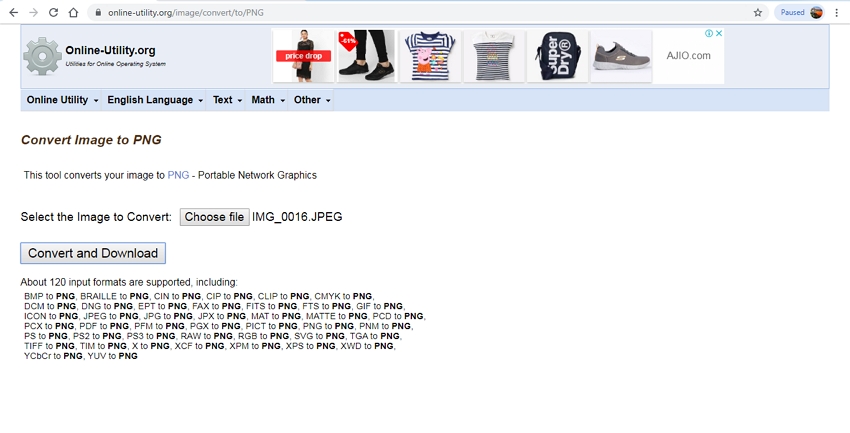 URL: https://image.online-convert.com/convert-to-png
Using this online conversion tool, images in JPG and other popular formats can be easily converted to PNG format in good quality. The program allows adding images from your system, online sources, Google Drive, and Dropbox as well. The images once added can also be edited by changing their size, color, and DPI. Option for image cropping is also available. The tool also facilitates saving the settings for the conversion if required for further files.
Key Features:
Add images from multiple sources like computer, URL, Dropbox, and Google Drive.
Option to change the file size.
Image cropping facilitated.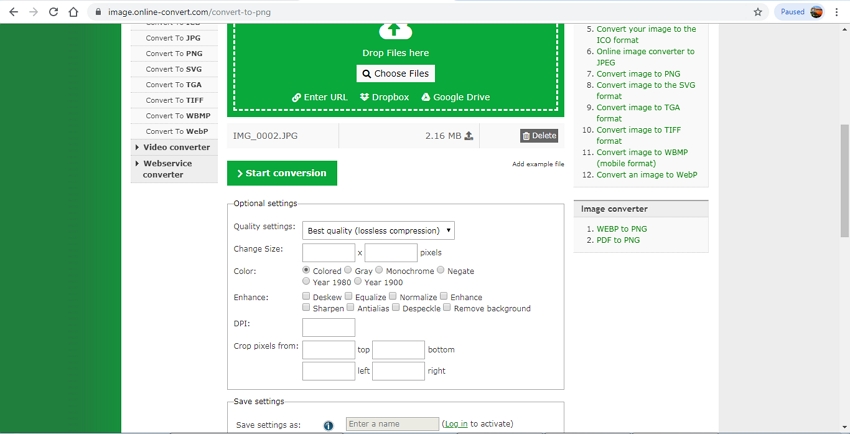 URL: https://www.iloveimg.com/jpg-to-image/jpg-to-png
Using this browser-based conversion tool, images in JPG and JPEG format can be converted to PNG files. The program allows adding local as well as files from your Dropbox and Google Drive account. Multiple files can be added and processed using the application. Additionally, the program also allows converting the attached images to GIF format. Post conversion, the files are automatically downloaded to your system or can also be saved to your cloud storage account.
Key Features:
Add images from Dropbox, Google Drive, and computer.
Multiple files at a time can be processed.
Converted files are saved to your system and can also be saved to Google Drive or Dropbox account.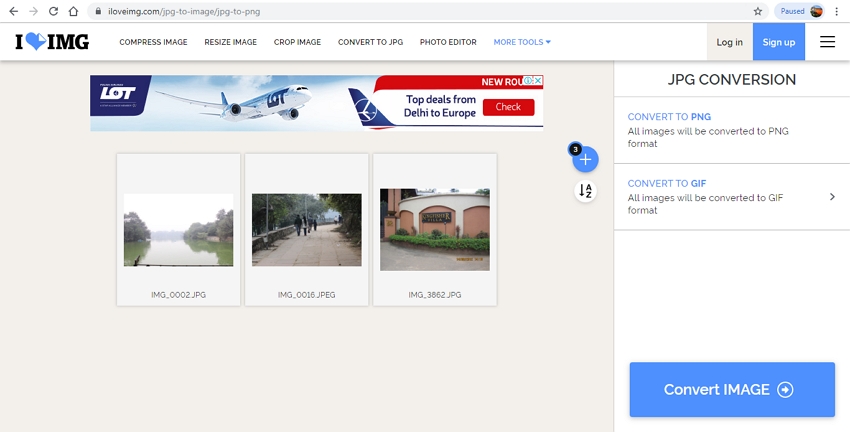 URL: https://www.browserling.com/tools/jpg-to-png
Compatible with all modern browsers, this online tool allows converting your JPG images to PNG format. The interface is simple, where you need to add the photos and choose to turn them. The program will quickly turn your file and will automatically download them to your system. In addition to JPG, other supported files are GIF, BMP, WebP, and others.
Key Features:
Support JPG, BMP, WebP, and other formats for conversion to PNG file
The simple and quick conversion process
The converted file is automatically downloaded to your system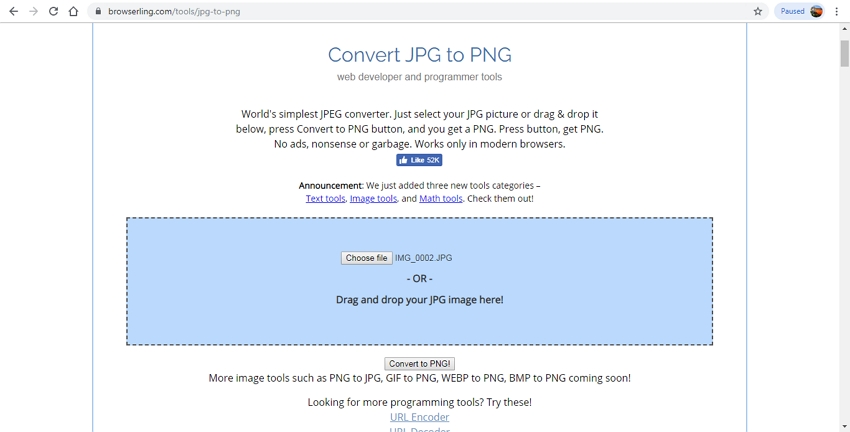 URL: https://convertimage.net/convert-a-picture/to-png/
This is a popularly used image converter to PNG tool that works from the browser without any software installation. The program allows converting the added files to PNG, JPG, BMP, GIF, ICO, PSD, PDF, TIF, and PCX format. Supported input formats include JPG, GIF, BMP, PSB, and other popular ones. Maximum supported image size by the tool is 2441 Mb. After the tool converts your added file, it can be downloaded to your local system.
Key Features:
Supports an array of output formats in addition to PNG
All popular image files can be added to the program interface
Free to use simple program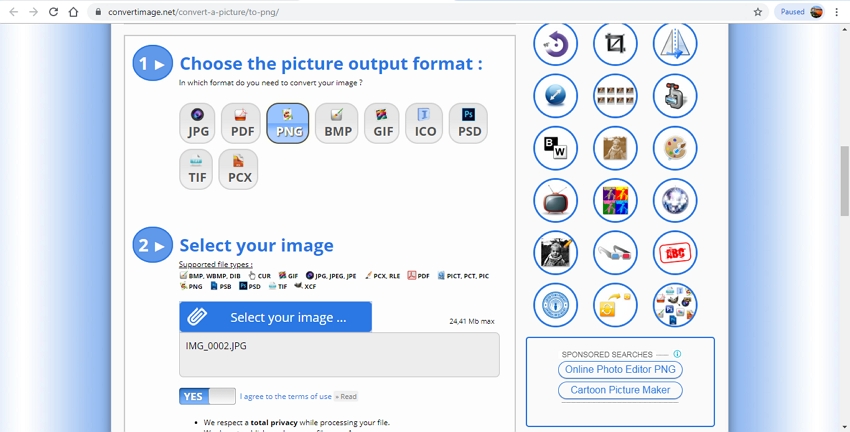 Part 2. Most Useful Image Converter for Pictures to PNG File
To convert image to PNG in best quality and a hassle-free manner, Wondershare UniConverter is a one-stop solution. The versatile program can be installed on your Windows and Mac system in a few simple steps and then it is ready to convert your images between PNG, BMP, TIFF, JPG, and JPEG format. Converting multiple files at a time is facilitated as batch processing is supported by the tool. Additionally, the software also allows for adding effects and watermark to the images if required. Your images can also be cropped and rotated using Wondershare UniConverter.
Benefits of Drawbacks of using Wondershare UniConverter
Benefits:
Professional software that supports image conversion between PNG, BMP, TIFF, JPG, and JPEG.
Batch processing supported.
Allows image cropping, rotation, adding watermark, and adding effects.
Facilitates editing the output file size.
Compatible with Windows and Mac systems.
Drawbacks:
Being desktop software it needs to be downloaded and installed.
Paid software.
Steps to Convert Image to PNG using Wondershare UniConverter
Step 1. Add Image Files to the UniConverter Application
Download, install and launch the Wondershare UniConverter software on your system. On the Toolbox section, click on the Image Converter option. A new pop-up window will open where clicking on the +Add Images button will allow you to browse and load local images to the interface. Alternatively, you can also click on the + sign to load the files. Multiple files for batch conversion can be added.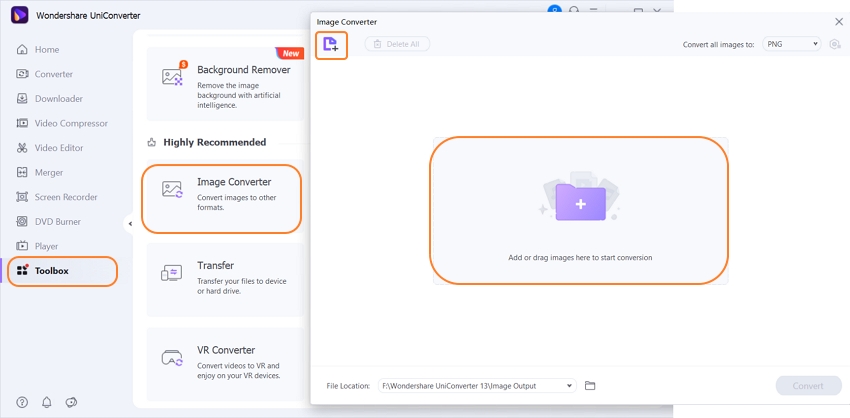 Step 2. Choose PNG as Your Target Format
After the files are added, select the ones that you need to convert. If you want to convert all the added files, enable the Select All button. Next, expand the drop-down options at Convert all image to: tab and select PNG from the list. Settings icon next to the format can be used for customizing the file size.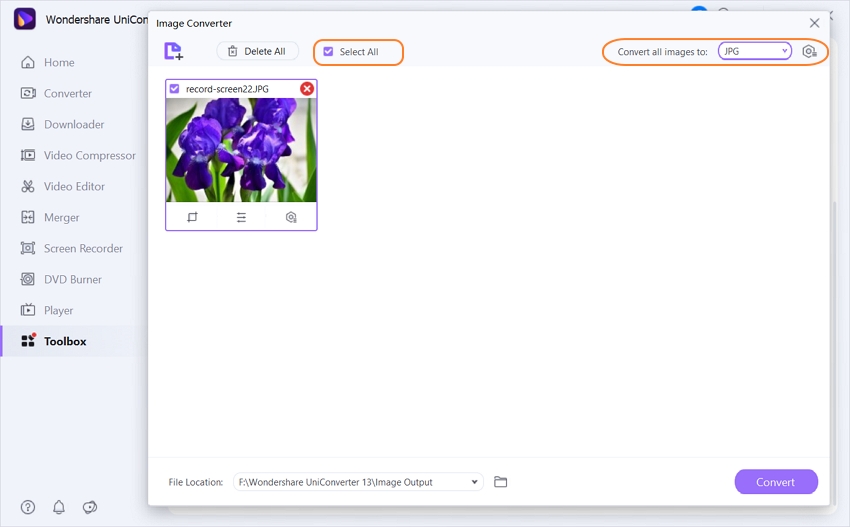 Step 3. Convert Photos to PNG Format
Desktop location to save the converted files can be selected from the Output tab. Finally, click on the Convert button to start the conversion process.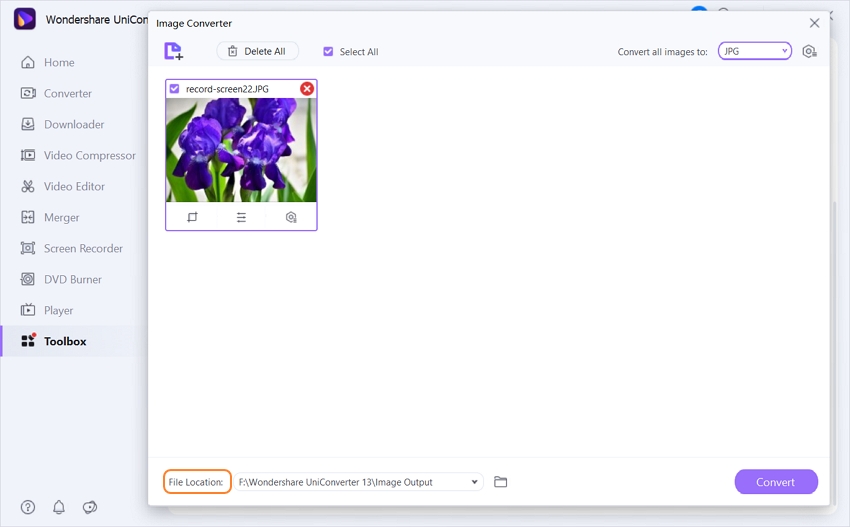 Summary
So if you are looking for solutions on how to make a picture to PNG, above listed are the best solutions. Online tools are simple programs, free to use and works from the browser. On the flip side, these programs are internet-dependent and have file size limitation. Professional desktop software like Wondershare UniConverter works as the best tool here where multiple files can be converted at a time with added editing features.