Many files do not open in the regular data, so you have to convert your data in other formats. EPS is a file format which is a vector of text, graphics, or illustration. It can easily be resized and edited. Many applications do not read EPS files, and hence, there arises the need to convert them into the friendlier format. Many online conversion sites are using which you can turn the data in your desired output format.
Part 1. Very Useful Converter for EPS to TIFF
URL: https://www.zamzar.com/convert/eps-to-tiff/
Zamzar is an online site where you can easily convert eps to tiff file extension by using three simple steps. It can also convert EPS file to other formats. First, you have to select your data that you want to save in tiff format then choose the size. Once the upload is complete, you can click on convert button to convert the file. The site supports more than 1200 formats.
Benefits:
The site offers convenience as the conversion is a quick and straightforward three-step process.
It offers conversion for a vast number of file formats like document, audio, video, e-books, etc.
The site also offers support from engineers in case you are not able to convert the file.
Drawbacks:
For converting files, it required high-speed internet.
You might have to go paid subscription after some time.
The platform does not support encrypted files.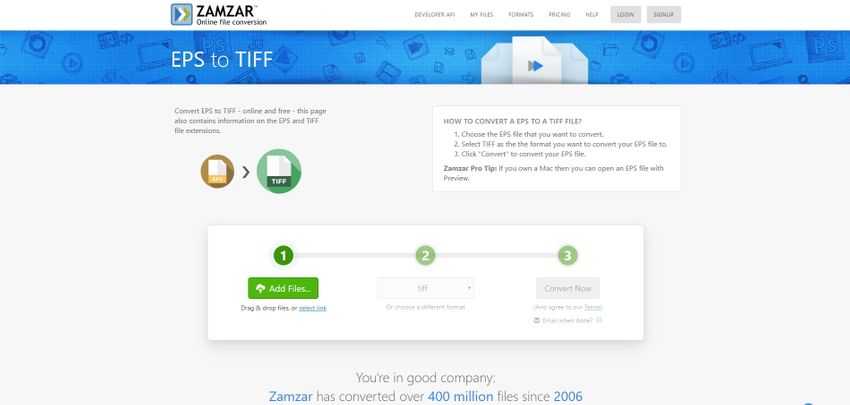 URL: https://www.onlineconverter.com/eps-to-tiff
Onlineconverter is an independent online platform on which you can easily convert the EPS file to the TIFF file. The user interface is straightforward, and conversion also takes very less time. All you need to do is to upload the EPS file that you want to convert and click on convert button to start the upload. The page is redirected to the conversion page from where you can download the converted file. You also get the option of resizing the image, and you can redefine the measurements to get the data in your desired size.
Benefits:
It helps you to convert files within minutes.
Maximum file input of this converter is 200MB.
You can also convert the file using the URL.
Drawbacks:
It does not support encrypted file.
For converting some files, you need to go through multiple processes which might require more time.
You can get a maximum of 1 GB size file output.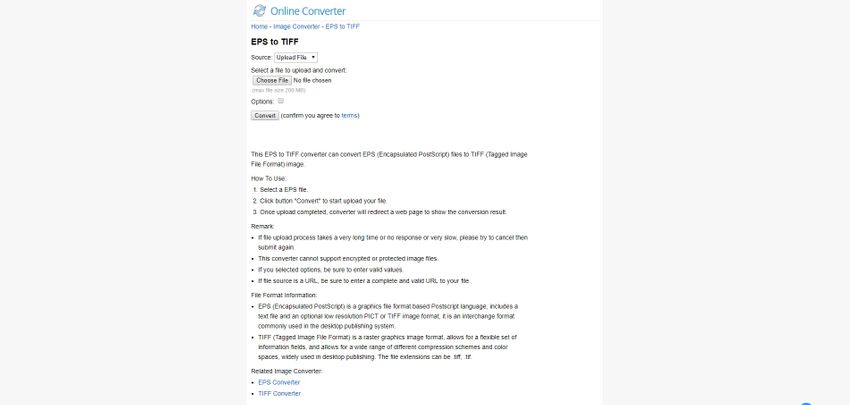 URL: https://convertio.co/zh/eps-tiff/
Convertio is free and high quality online EPS file extension converter software. You can covert image, audio and video file extension using this converter. By using some simple steps you can easily convert your EPS file in Tiff file extension. You can select your EPS file extension from goggle drive, URL or computer. You also get drag and drop option on the converter page which makes the uploading process easy. You just need to define the output file format and start the conversion process.
Benefits:
It supports more than 200 formats.
It provides fast and smooth file conversion service.
Apart from images, you can also convert and edit videos.
Drawbacks:
You can convert files with 100 MB size only.
You need a high-speed internet connection for uploading files.
Not all features are available in the free version, and you will have to take the paid subscription after some time.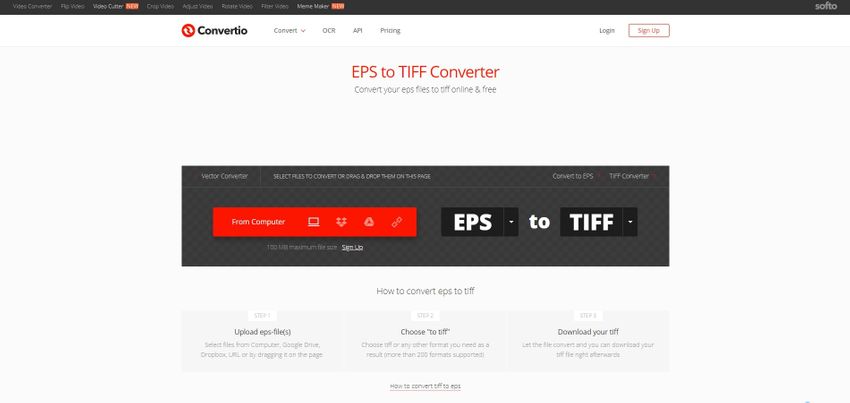 URL: https://www.aconvert.com/image/eps-to-tiff/
Aconvert is considered as the best online EPS file extension converter software. You can easily convert any sized file in your chosen file extension. By clicking on choose file button, you can select a file on a computer or click the dropdown button for selecting a file from URL. You should choose the target size of the selected folder and enter the right side of the data. Click the convert button for starting the conversion process. You can download output files form conversion result by clicking on the download icon on your computer.
Benefits:
You can use the original size of the selected file.
It can convert multiple files.
You can also change the file size.
Drawbacks:
It might a long time converting files.
No infographic detail is available on the website.
The trial version has limited features.
URL: https://cloudconvert.com/eps-to-tiff
If you are looking forward to converting the EPS file format to TIFF with ease, then this platform is one of the best. It also provides conversion and editing of 200+ sizes. You are not required to download any software, and the conversion process is done safely without any risk of the file getting lost or deleted. It is also available for download on the cloud. You also get the feature of folder monitoring and batch conversion.
Benefits:
The batch conversion process allows converting multiple files at a time.
It offers a powerful API, and you can easily use conversion services for your applications.
Advanced features allow you to set the codecs for audio or video files.
Drawbacks:
The conversion process might take a long time in case of batch processing.
Conversion can get failed in case of slow internet connection.
There is no informative video available on the site, and you have to read the text for understanding the conversion process.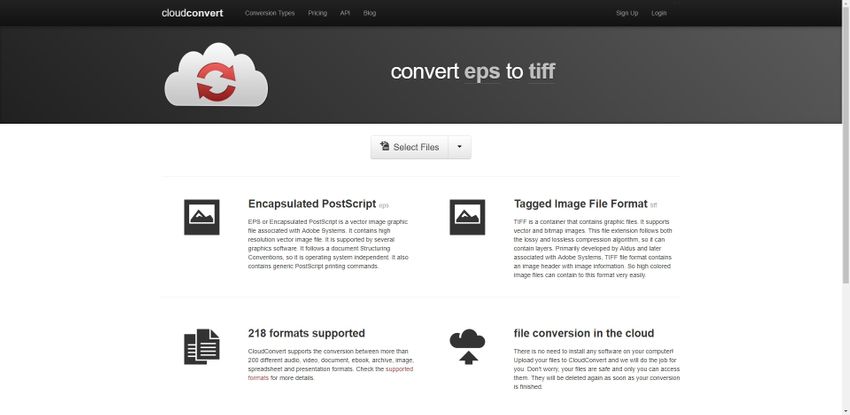 Part 2. More Details of EPS
a. What is EPS?
Created by Adobe, EPS is a graphics file format for vector-based images. EPS stands for encapsulated postscript, and the file is self-contained and can contain graphics as well as text. It is like the postscript program, which defines the position of drawings and images in the document. It contains post script code which you can use for storing vector images and fonts for high-resolution printing. As it is a complex format, there is a need of illustration programs to read it like Adobe Illustrator.
b. EPS format specification
| Originator | Abode |
| --- | --- |
| Platform | MS-DOS, MS window, UNIX, Macintosh, others |
| Colors | Mono |
| Multiple images per file | NO |
| Type | PDL, page description language; used as Metafile |
| Supporting applications | list is huge to mention |
| Maximum image file size | NA |
| Numerical format | NA |
Summary
Various kinds of file conversion software are available over the internet so you can choose conversion software according to your need. Conversion software makes file conversion process smooth and straightforward so you can download your file within a few times that save your time. The converter software is free of cost moreover you have to follow some simple steps for converting your data according to your need. You can upload files in bulk, so you don't have to worry about daily file uploading limit.
Wondershare UniConverter
· Support batch processing of image conversion.
· Convert pictures to over 1000 formats, including JPG, PNG, BMP, TIFF, GIF, and others.
· Convert pictures to TIFF or specific devices formats without any trouble.
· Transfer converted files from PC/Mac to external devices easily via a USB cable.
· Versatile Toolbox combines Image Converter, GIF maker, video compressor and screen recorder, and others.