GIFs and picture memes are one of the most fun and exciting things to share on the internet. Asides the laughter and fun moments, it helps create an atmosphere of happiness and relief. Now many people are getting used to the trend of creating funky GIFs by adding text, effects, merged, joined, or combined image to GIF. Improving filters to GIFs, making it attractive while still maintaining its original message. Nevertheless, in editing GIF, it all depends on what you want to create, i.e., all that is required is a text GIF maker. First, select the GIF that you want to use to edit, upload the chosen image, GIF, or GIF animation, and carry on with your edits.
By reading this article, you can learn how to add text to a GIF online easily, and the best GIF maker with text free online.
Recommended - Free Online GIF Maker from Video/Images - Online UniConverter
[没有发现file]
Part 1. Free Online GIF Editor for Adding Text to GIF
URL: https://www.gifntext.com/
GIFNTEXT GIF editor with its simple interface and edit features where user can add text in various fonts and colors to the GIFs. Allows user to upload images or GIFs of up to 100MB for editing. With GIFNTEXT, you can add moving text over GIFs, crop GIF, customize outline and color of text, reverse, resize, add moving images over, draw over a GIF, automatically animate text or images from a frame to another, slow down or speed up GIF, edit the start or end of a GIF, etc.
Pros:
Extremely easy to navigate due to its simple user interface.
Multiple features of the text.
GIF customization.
Con:
It has ads.
Limited file size, maximum file size upload is 100MB.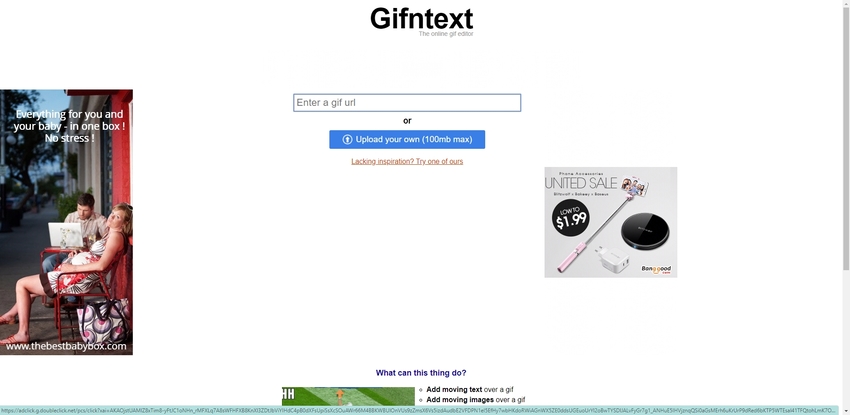 URL: http://gifgifs.com/add-text/
GIFGIFS is a fantastic GIF editing that allows user adds text to animated GIFs in just a few seconds regardless if you are a beginner or professional. All one needs to do is upload or paste URL of the GIF, input your text, select your font style, and click on the ADD TEXT button to commence the conversion. GIFGIFS only supports PNG, JPG, or GIF formats. To edit the text layer created, simply double tap on the layer, also by simply dragging and dropping, you can move your texts.
Pros:
Easy to access only.
Free to use online tool.
Good for beginners.
Con:
Limited features.
Only supports three formats i.e. GIF, PNG, and JPG.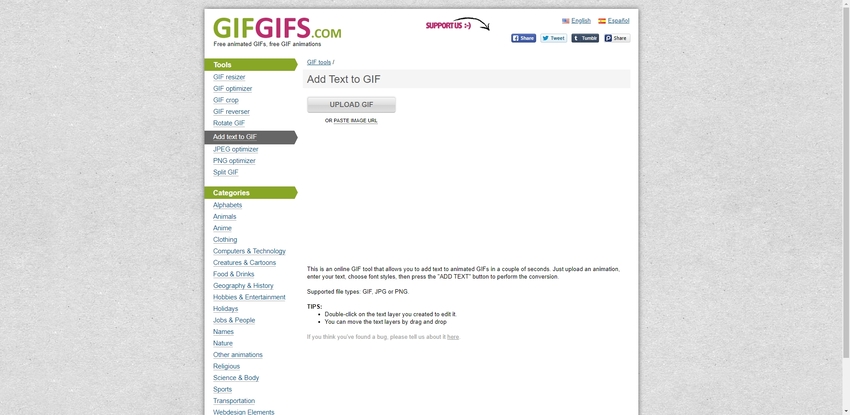 URL: https://www.kapwing.com/studio/editor/layer/2c8b4d99-a52c-448f-8003-379d859c44c7
KAPWING is a free online tool that allows the user to add text to GIFs. It is a fantastic tool that makes adding animated text to GIFs. The simple user interface makes it easy for a beginner to navigate the software easily. Users can edit text color, style, add shapes, audio, animate, add text outline, manage the timeline, etc. KAPWING also allows adding of multiple scenes as well as images. KAPWING allows registered user to save as draft their unfinished GIF editing. User can also determine the output size.
Pros:
The application is free to use.
Allows the save as draft features.
Contains several text editing features.
Con:
Restricted to only editing text on GIF.
Loading speed is slow.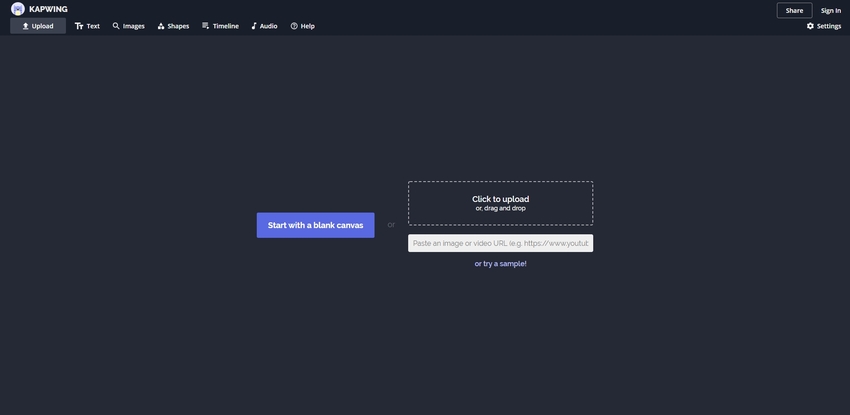 URL: https://gifs.com/add-effects-gif
GIFS provides the user with tons of effects that can be added to GIFs, such as stickers, captions, filters, black & white effects, and padding. Some of the website's additional features include GIF maker, GIF player, Auto GIF maker, Highlight maker, etc. In 3 easy steps, you can add effects to your funny GIF, i.e., upload your GIF or paste URL, add any of the software's impact of your choice and tweak of choice, and Create GIF.
Pros:
Hundreds of effects available.
Can create GIF memes with just a single click.
Con:
Not all features are free. Requires registering to use the platform.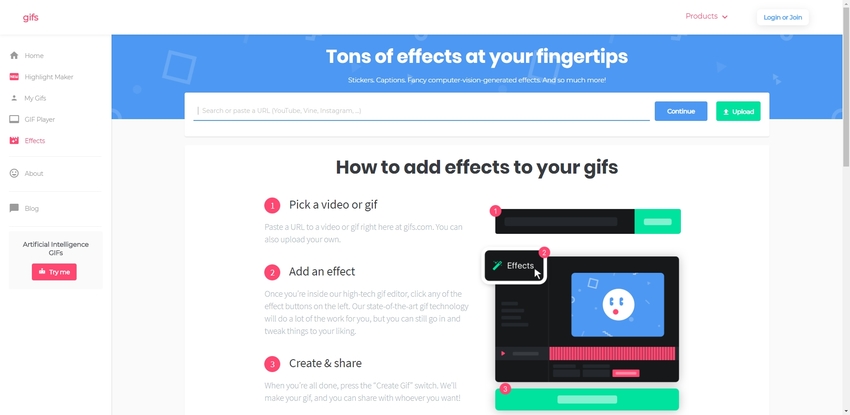 URL: https://ezgif.com/effects
EZGIF is one of the free online tools with amazing features, which can add text to GIF. With EZGIF, you can add text to GIF in a different style of choice. For example, Impact, Arial, Montserrat, and Gotham. You could change colors of fonts and replace the color with transparency. Also there is the feature to reverse, rotate, and transform GIFs. EZGIF allows the user to customize text over-animated GIF image without changing the animation of the GIF. EZGIF enables the user to add subtitles or annotation to either the entire or part of the GIF clip and also change the text on various frames or parts of the GIF.
Pros:
Free online tool.
Easy to navigate, simple interface.
Con:
It has a limit for file size upload.
EZGIF Comes with ads.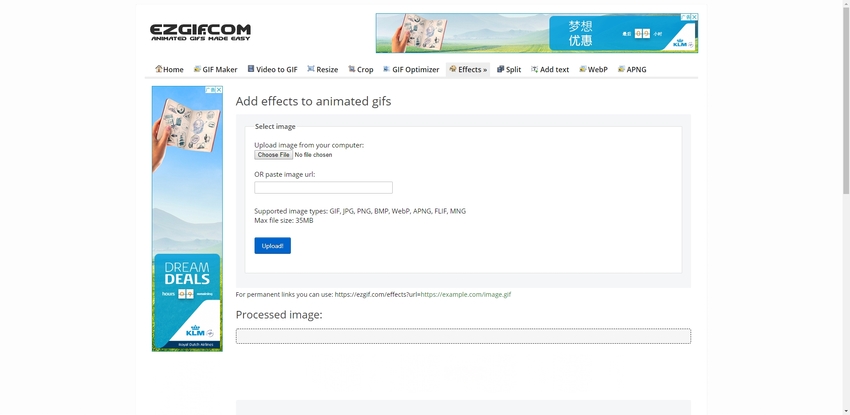 Part 2. The Best GIF Text Editor Software
GIMP is a free cross-platform image editor that supports GNU, Linux, Windows, OSX, as well as other operating systems. It allows the user to make changes to source code as well as distribute the modifications. Best used by anyone regardless if you are a photographer, graphic designer, illustrator, scientist, etc. It provides the user with refined tools to help add text to GIF as well as other amazing features. GIMP also has several customization features and options, including 3rd party plugins to deliver the best GIF. GIMP provides the user with advanced tools needed for high-quality image manipulation from retouching, restoring, to creative composites; the only limit is your human imagination.
URL: https://www.gimp.org/
Features:
Free to download and use.
Provides perfect and professional options that give user liberty to edit and fine-tune photos and images seamlessly.
Several ranges of editing options, i.e., rotating and trimming, and exports to several formats.
Allows user to make use of 3rd party plugins.
Output resolution quality is well-defined.
Summary
Adding text to animated GIF or animated text to GIF is now made simple with the best of the best GIF text editing tools highlighted above. The possibilities of creating educative, informative, as well as a funny GIF with block text or animated text, are limitless with these online free GIF captioners.
Wondershare UniConverter allows people to edit their videos, then use GIF Maker feature to turn videos to GIF. If you are looking for a comfortable use software to create a GIF — Uniconverter deserve to try.
Wondershare UniConverter
· Wondershare UniConverter is the easiest to use software. Easy to edit,convert, and compress files.
· You can download videos from over 10000 video sharing websites, or you can also record the videos or system screen.
· It allows you to transfer images from computer to iPhone or Android mobiles without using iTunes.
· Using UniConverter Toolbox function, includes convert images, GIF Maker, Burn CD, Rip CD, Cast to TV, and Fix Meta Tags with just a few clicks.
· Wondershare UniConverter support multiple files convert at one time.