Do you want to see another version of yourself, but in a funky and comical way?
If that's the case, turning your picture into cartoon art sounds like the best solution. Cartoon art is a filter in many photo-editing software platforms that transforms your realistic image into a cartoonish version. So whether you want to make a memory album with cartoon pictures or send someone a fun image, you must convert photos to cartoons.
But using photoshop software requires lots of technical expertise and precise actions. So, to ease your work, we have listed the best converters to help you transform an actual image into a cartoon picture flawlessly.
Part I. Comparing different tools for photo to cartoon conversion
If you want to convert picture to cartoon, use the best quality software. This will ensure 100% high image quality, tons of cartoon filters, and access to several other such unique features. Before discussing them, here is a brief overview of the best image for cartoon converters.
Software Name

Compatibility

Free/Premium

Price

Media.io Cartoonizer
Web browser
Free
NIL
Wondershare AILab
Web browser
Free
NIL
Picsart
iPhone, Web browser, Android
Free and Premium
Picsart Gold for $2.02 per month
BeFunky
Web browser
Free and premium
$9.99 monthly and $59.88 annually
PhotoCartoon.net
Windows 8, 10, and 11
Free with a premium version
$24.95 for 1-year license
Fotor
Web browser
Free and premium
i.Fotor Pro: $3.33 per month
ii.Fotor Pro +: $7.5 per month
Prisma Photo Editor
iOS, Android, Web browser
Free and premium
i.Creator: $4.99 per month
ii.Pro: $9.99 per month
Camart
Android
Free
NIL
Paint Lab
Android
Free
NIL
Cartoon Photo PRO
Android
Premium
Downloading fee of $2.18
Part II. Top 10 photo to cartoon converters to try
Below we have discussed the top ten software programs that will help you to use any photo and convert it into a cartoon in just a few steps.
One of the best converters to make a cartoon image of any picture is Media.io Cartoonizer. The software needs a couple of seconds to produce a funky and cartoon picture of the image you uploaded. You can upload any picture, from your candid photo to the beautiful scenery you photographed, and the software will generate the best cartoon image.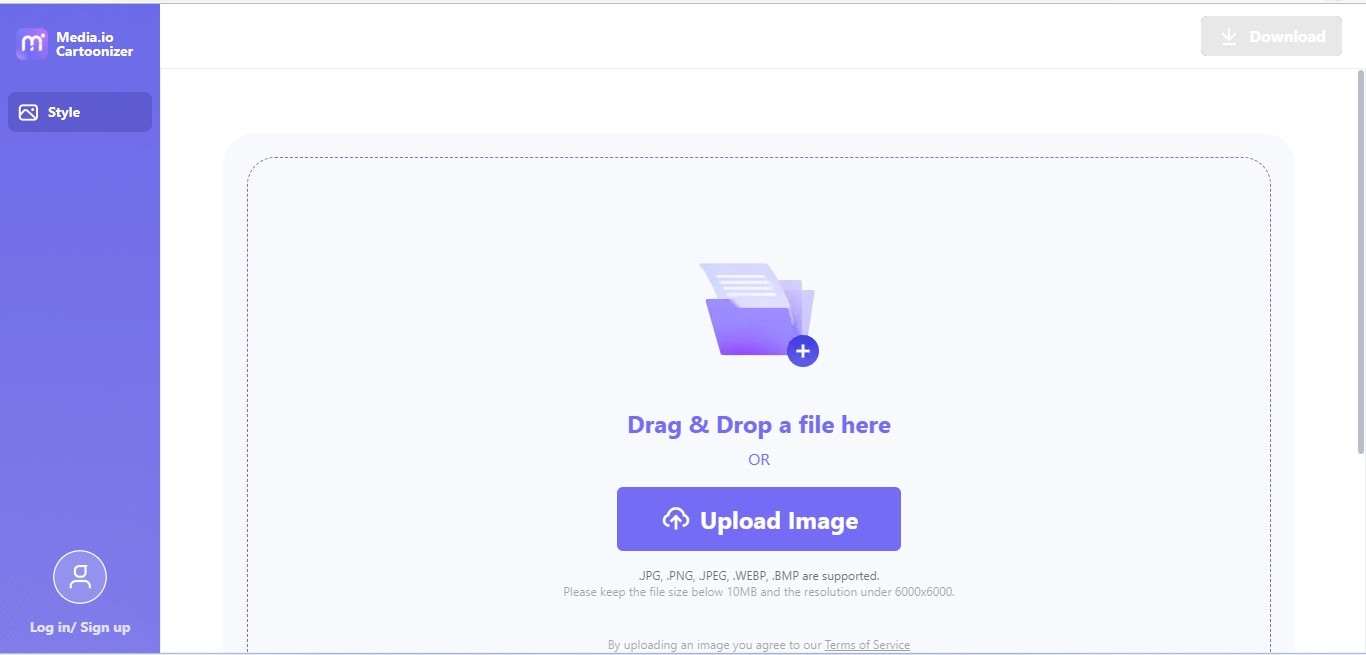 Features
It allows uploading cartoon avatars on social media platforms, like Twitter and Instagram.
Compatible with different picture types for converting into a cartoon
You can easily download the cartooned image to your system in jpg or png format.
AI technology maps all the essential points and flawlessly converts an image into a cartoon.
Pros
Easy to use
Best for beginners
Landscaped picture for maximum view
Cons
Doesn't allow customization
Compatibility
Browser-based tool
Price
Free
The Wondershare AILab is the best image to cartoon converter free you can use. You must upload the image and wait until the AI algorithm generates the cartoon image. You can also use different emotion filters to change facial structures, like happy, angry, distressed, and sad.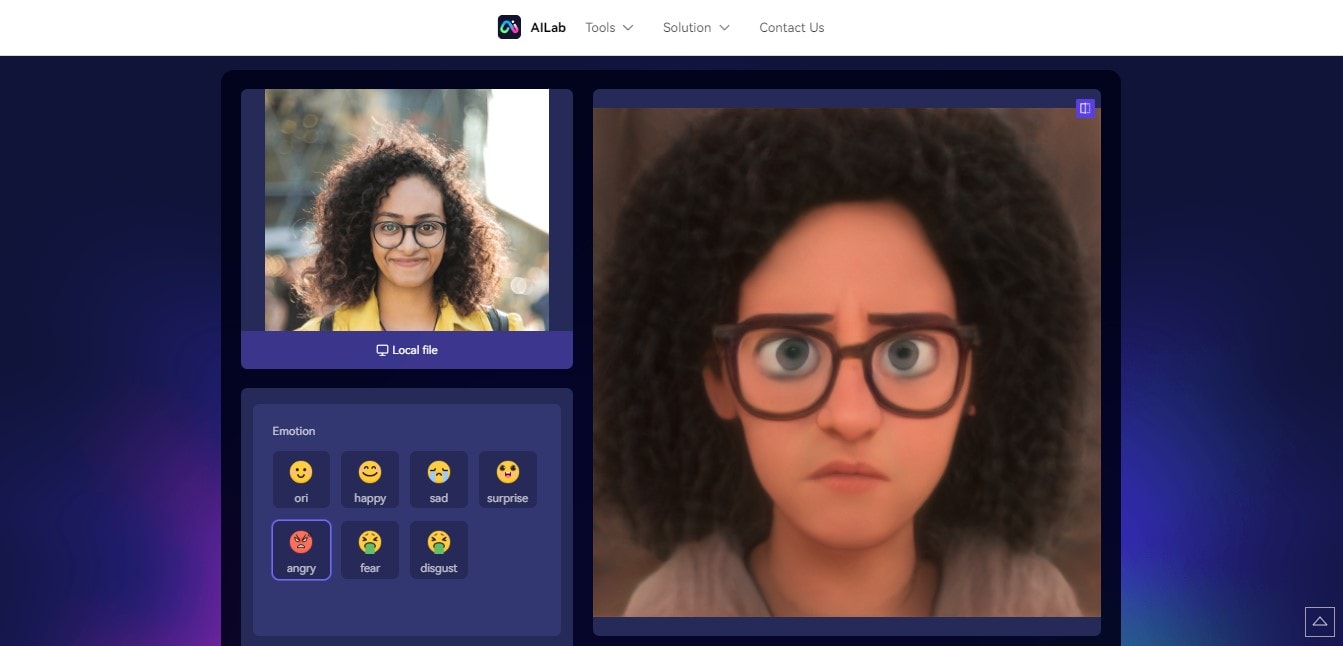 Features
You can choose from three cartoon styles- barbie, Disney, and manga.
It offers seven options to apply emotional facial filters on the cartooned image.
The software allows you to share the image across different platforms.
It doesn't hinder the activity with advertisements.
Pros
Can be used by a beginner
Easily customizable
Supports different image formats
Cons
Image size needs to be 5M maximum
Compatibility
Web application
Price
Free
With tons of cartoon effects available for customization, Picsart is one of the best photo to cartoon converters. First, you need to download the software and get started with editing. Then, from anime to sketches, you can apply these filters to portraits, selfies, and group photos. You can also transform your pet's picture or landscape into a unique cartoon image with Picsart.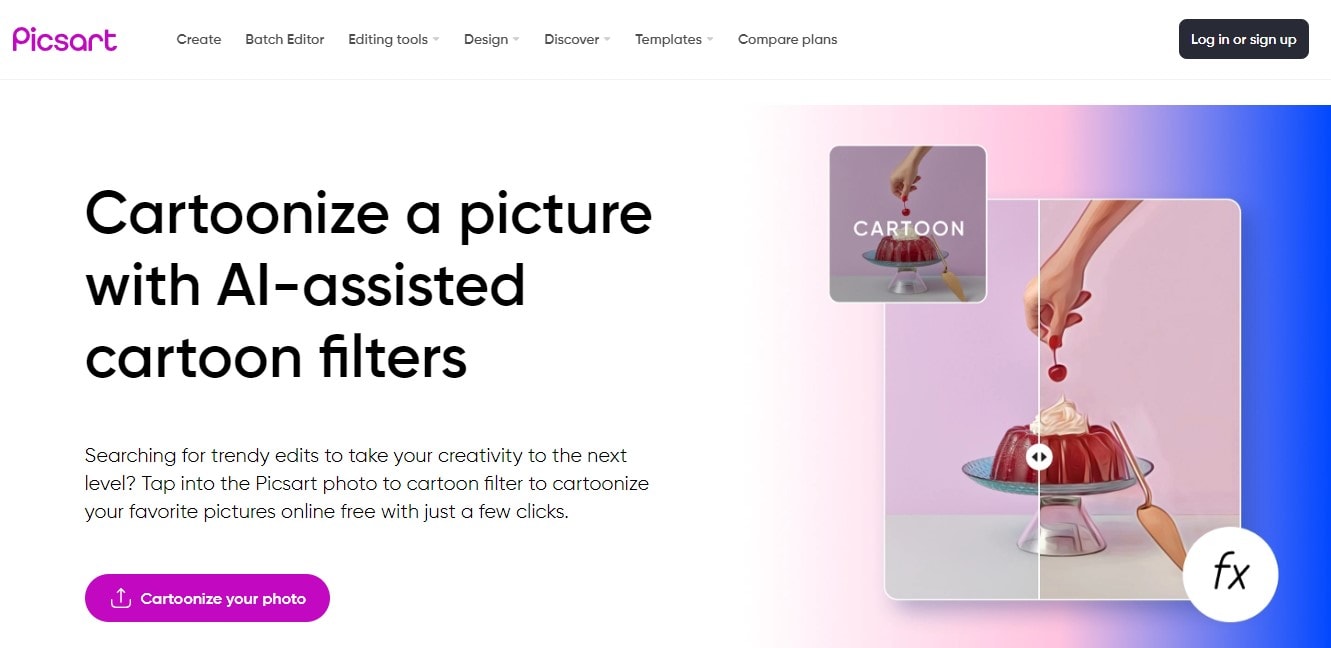 Features
Allows to apply different cartoon effects on uploaded pictures
The AI-based converter generates cartooned images in no time
Maintains the image quality at optimal levels
Converts different types of images into cartoons, like selfies and landscapes
Pros
Fast cartooned image generation
Comes with lots of cartoon filters
Can be downloaded in different formats
Cons
Subscription plan is not device-transferable
Compatibility
iPhone, Android, web browser
Price
Picsart Gold: $2.02 per month
BeFunky is a fantastic picture to cartoon converter free that can be easily used on the web browser. It comes with multiple cartoon filters and even allows you to add effects and change the image attributes for each option. So, you can convert any image to a cartoon and customize the same for social media, birthday invitations, or to have fun.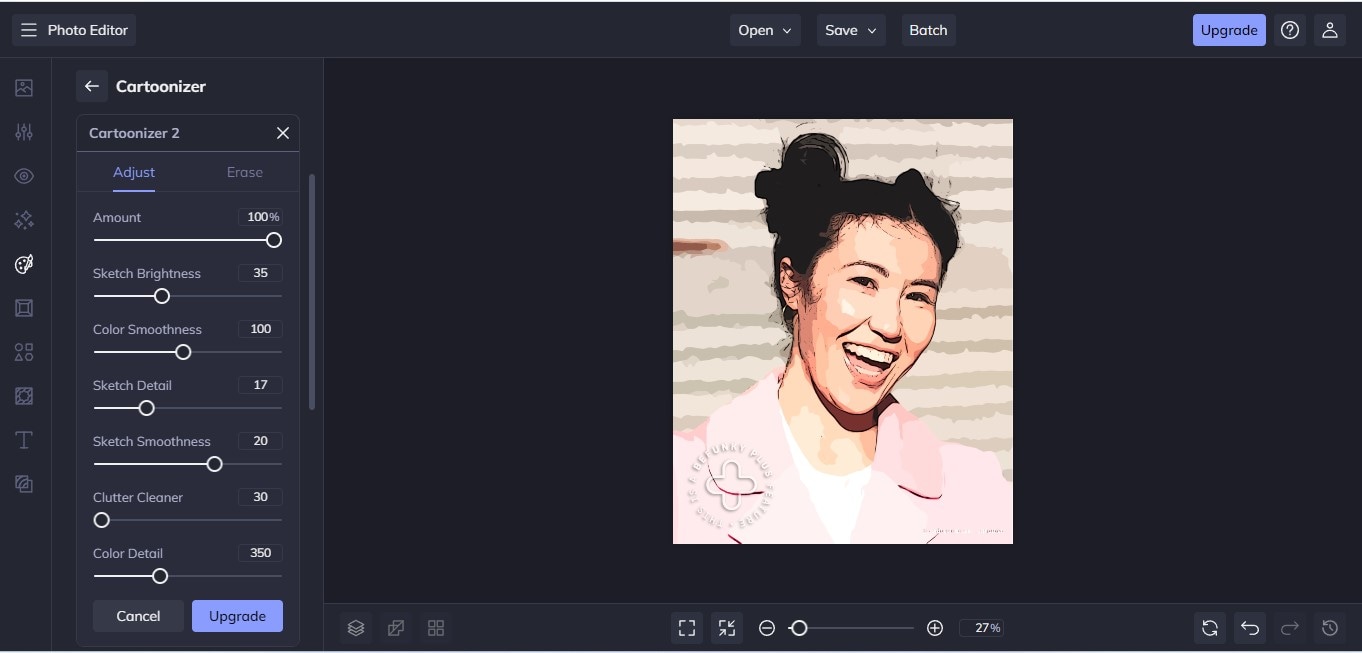 Features
Has six cartoon filters with different effects
Comes with an eraser that lets you adjust what part of the image you want to be cartooned
Allows you to customize the detail, sharpness, and smoothness of each filter
Let's you make cartooned versions of multiple images through Batch mode
Pros
Comes with multiple customizable effects
Different cartoon filters
Supports pictures from various sources
Cons
Takes a little more time to apply the filter changes
Compatibility
Web browser
Price
Monthly: $9.99
Annually: $59.88
If you are looking for a pic to cartoon converter online free that would generate results within seconds, PhotoCartoon is the ideal choice. Apart from the classic cartoon effect, it comes with five cartoon effects, including sketch, painting, and pencil drawing.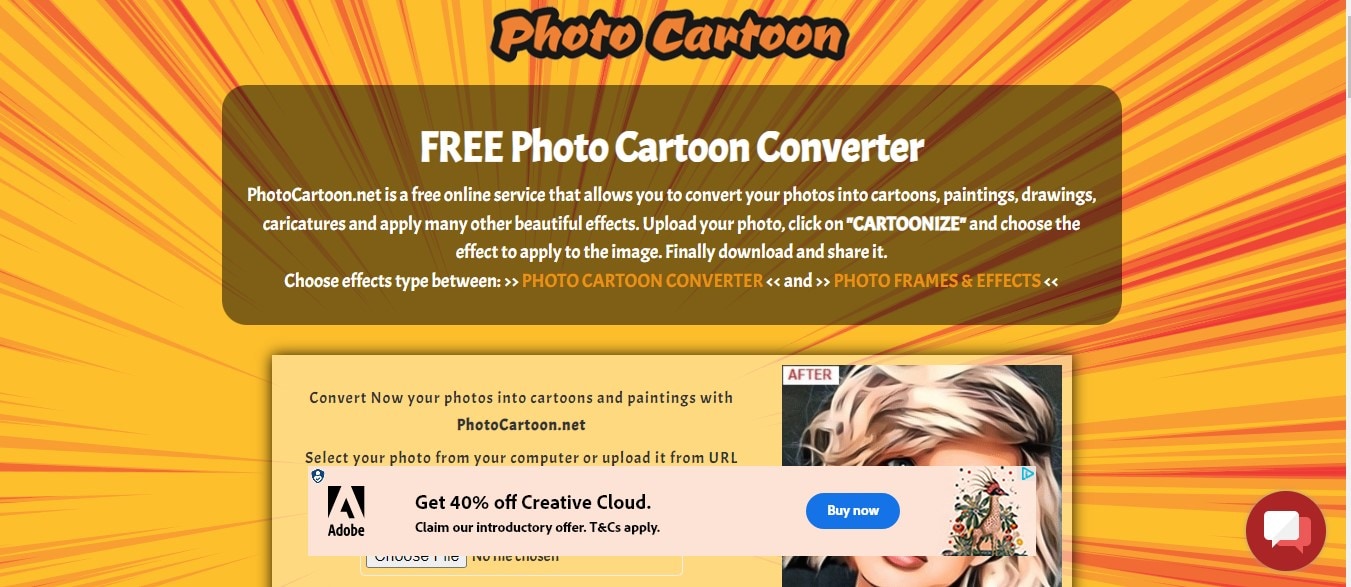 Features
Let you choose from five different cartoon filters
Generates cartooned images in HD formats
Allows you to upload an image from a drive or URL
Images can be downloaded in standard form
Pros
Generates cartooned images quickly without any delay
You can make a cartoon picture of any online image
Compatible with earlier Windows version
Cons
Image printing is available only in the PRO version
Compatibility
Windows 8/ 10/ 11
Price
Annual subscription with a 1-year license for PhotoCartoon PRO: $24.95
Fotor is an outstanding photo to 3d cartoon converter online that generates three versions of cartoon images for you to choose at your convenience. If you do not like any of the options, you can generate more images till you get the desired effect. Additionally, Fotor also allows you to edit the images in different ways so that the final result is flawless.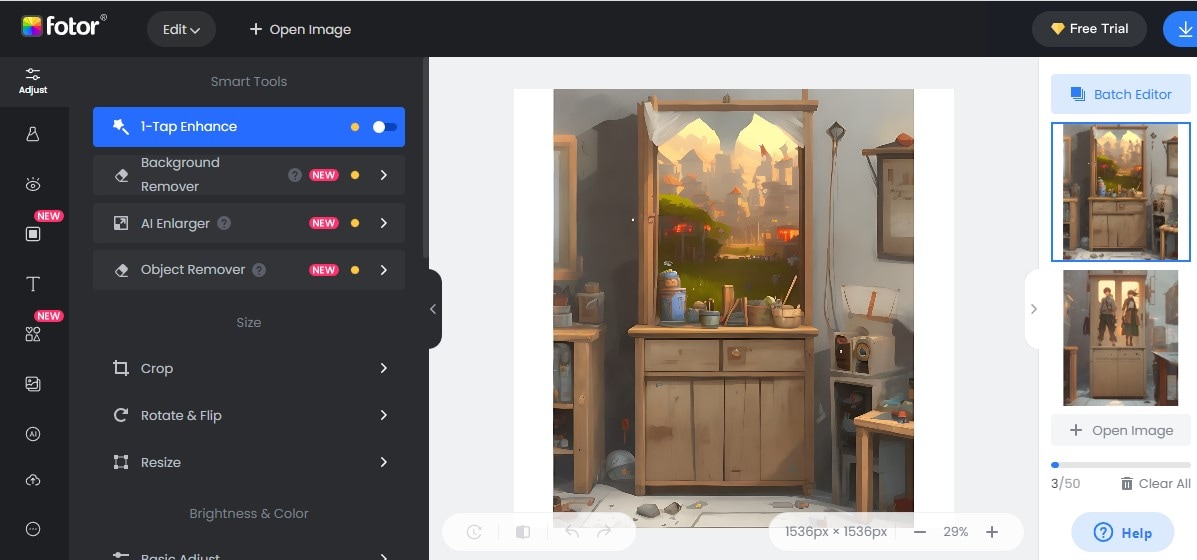 Features
Allows to customize pictures with brightness, contrast, sharpness, color, vignette, shadow, and more effects
Generates three cartooned images at a time
Transforms pictures of humans, pets, and sceneries into cartoons
Allows to download images in HD resolution
Pros
AI-enabled tool for smart and quick cartoon effect
Multiple editing options for each cartooned image
Best for beginners and professionals
Cons
Shows advertisements in the free mode
Compatibility
Web browser
Price
Fotor Pro: $3.33 per month
Fotor Pro+: $7.5 per month
Considered as a professional and sophisticated converter of images to cartoons, Prisma Art photo editor is a tool you should try. Simply upload the image you want to convert, and the AI-based tool will generate the cartooned image within seconds. In addition, you can change the intensity to create a fusion between the original and cartoon images.
Features
Creates a fusion image with original and cartoon filters
Produces clean and sharp cartooned images
Allows you to save images quickly in the system
Available in web and mobile app versions
Pros
Easy to use for beginners
Excellent image quality
Allows you to control filter intensity
Cons
HD resolution available in the premium version
Compatibility
iOS, web browser, and Android
Price
Creator pack: $4.99 per month
Pro pack: $9.99 per month
This image to cartoon converter will help you click the pictures immediately with your phone and quickly generate the cartooned images. Moreover, there won't be any restriction on converting the images into cartoons since it maintains optimal quality for human portraits, animal photography, and even sceneries.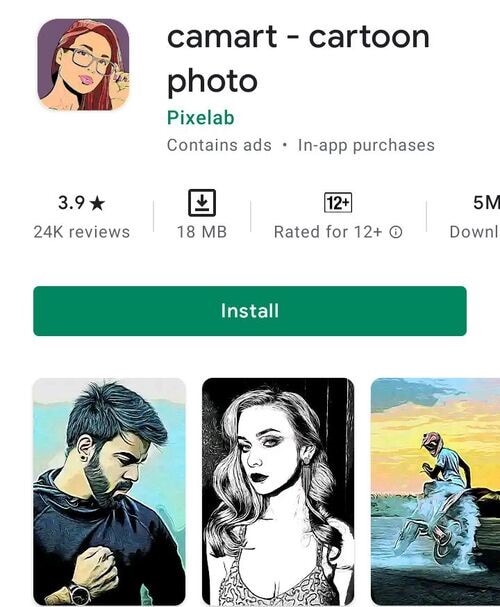 Features
Applies real-time cartoon effects on the pictures
Pick from a wide range of filters
Allows to click subject details through zoom and auto-pinching
Allows to post on social media sites
Pros
Mobile app makes cartoon conversion easy and hassle-free
Best for beginners
Multiple filters available for variations
Cons
Doesn't allow to customize the images
Compatibility
Android
Price
Free
Paint Lab is one of the easiest applications to convert your image into a cartoon. Once downloaded on the phone, you can access multiple cartoon filters from some of the top artists, with which beautifying the images is hassle-free.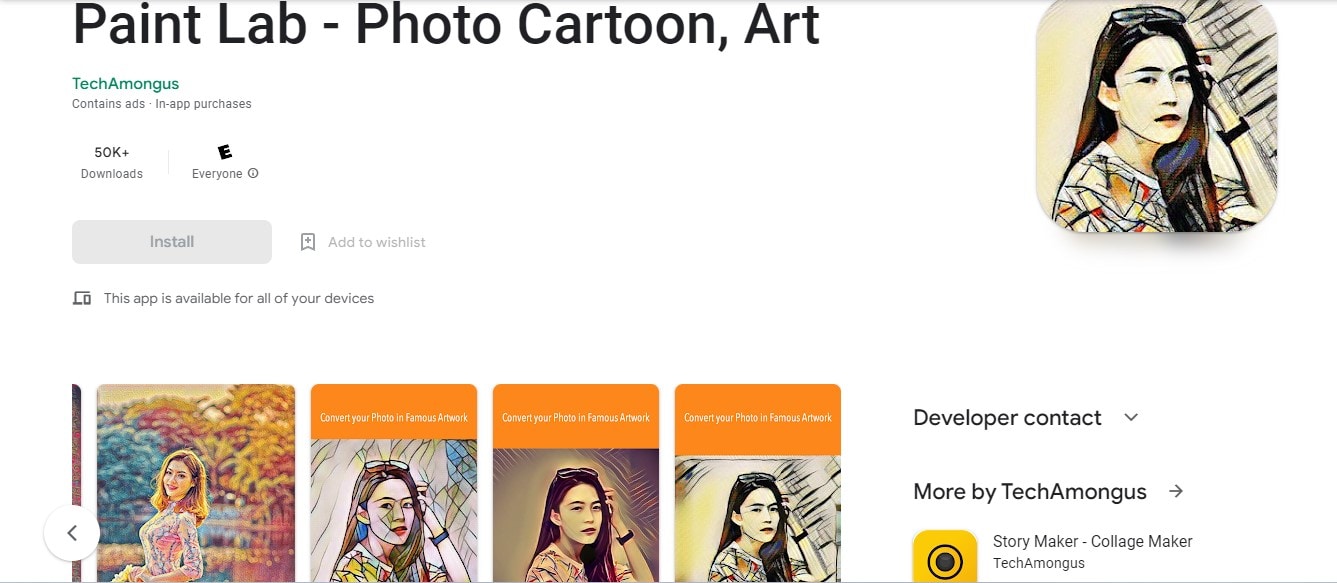 Features
Processes the images into cartoons quite faster
Helps you upload images across various social media
You can change the filter intensity to create a fusion between the original and cartooned image
Multiple image filters available
Pros
Easy to use for beginners
AI-powered picture converter
Maintains higher image quality
Cons
Not compatible with sceneries
Compatibility
Android
Price
Free
10. Cartoon Photo PRO
This is the best pic to cartoon converter online for mobile users if you are ready to spend a few dollars. It comes with impressive cartoon filters and allows you to edit cartoon images, like changing brightness or contrast. You can apply the cartoon filters on a photo uploaded from a gallery or a live image from the camera.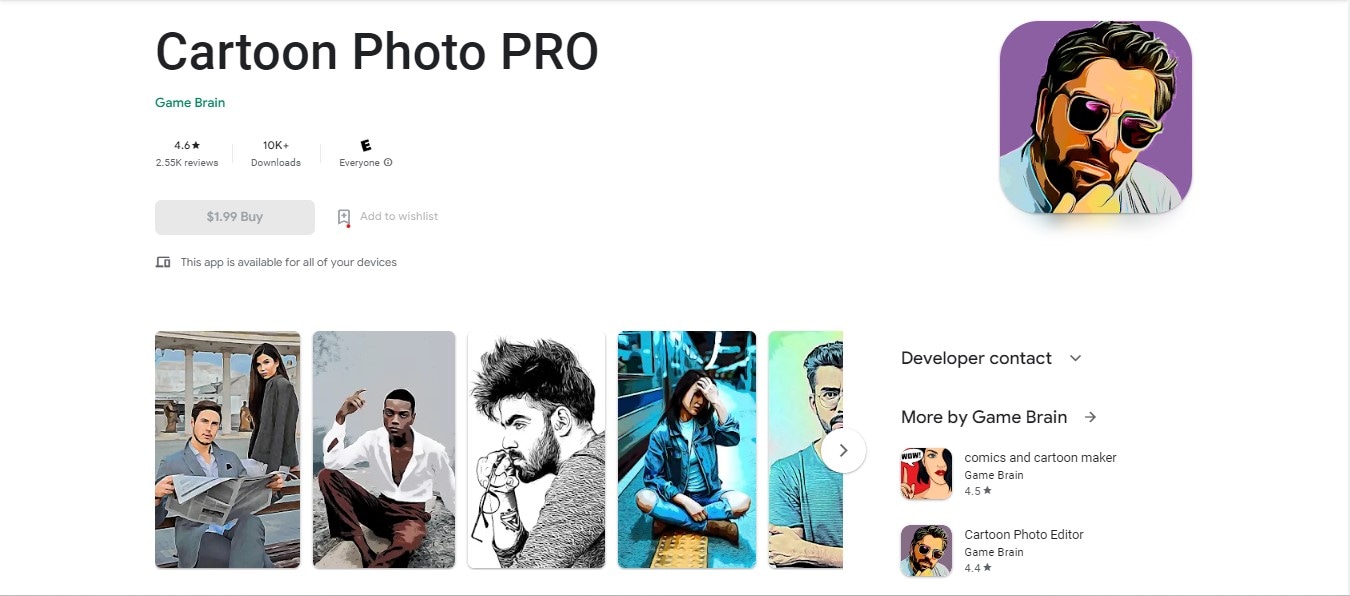 Features
Allows to click images from rear and front camera followed by converting to a cartooned photo
Comes with customizable options for the converted images
You can share the results with your friends through social media
Allows you to save the image on the device
Pros
Allows to export at 1080p
Has many different cartoon filter options
Ideal for beginners and professionals
Cons
Compatibility
Android
Price
One time app purchase during downloading: $2.18
FAQs about photo to cartoon converter
Q: What is the best photo to cartoon converter free?
A: The best photo to cartoon converter free is Media.io Cartoonizer. It is powered by an AI engine that generates the cartooned image within minutes after you upload the image. So you can get flawless results for different pictures uploaded, including selfies, candid pics, pet images, and sceneries.
Q: Which photo to cartoon converter comes with the best editing features?
A: Fotor is the best cartoon converter that lets you choose from three cartoon images. If you want to make any edits, the software allows you to alter brightness, contrast, and many other features.
Q: What photo to cartoon software can I use for quick conversion?
A: Prima Art photo editor is an ideal choice if you want a sophisticated converter for a photo to cartoon image.