If you own a digital camera, then the chances are that you have a collection of photos or videos that you want to breathe some life into. But despite all your editing skills, bringing pictures to life can be a tricky affair. Fortunately, you can add audio to video/photo to set the perfect mood for your audience. But again, doing that is easier said than done. And that's why this guidepost will walk you through some ten excellent apps to add audio to video to photo on Mac and Windows. You'll also learn the best photo audio video mixer to use online on any internet-connected device. Read on!
Part 1: Top 10 apps to merge audio, video, and photo 2021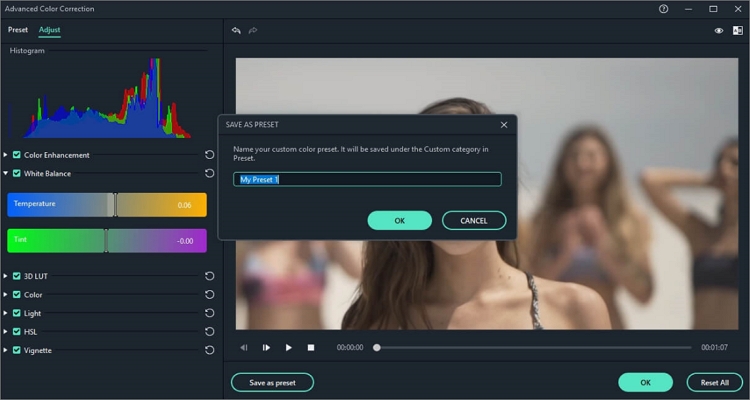 Wondershare Filmora is a desktop app that puts Adobe products to the test. While the UI might seem intimidating at first, the app is super-easy to use once you learn the hangs around it. That said, this all-in-one video editor supports multiple digital file formats, including raw videos and photos captured using DSLR camcorders. On the intuitive UI, you'll see tabs for adding media, audio, effects, transitions, titles, and so on. You can also perform basic video editing tasks like trimming, splitting, cutting, flipping, merging, and add audio to photo and video. Users can even remove audio from video. Just remember the output is watermarked if you're a free user.
Pros:
Expansive audio library.
Excellent audio video mixer.
Cons:
Watermarked outputs on the free version.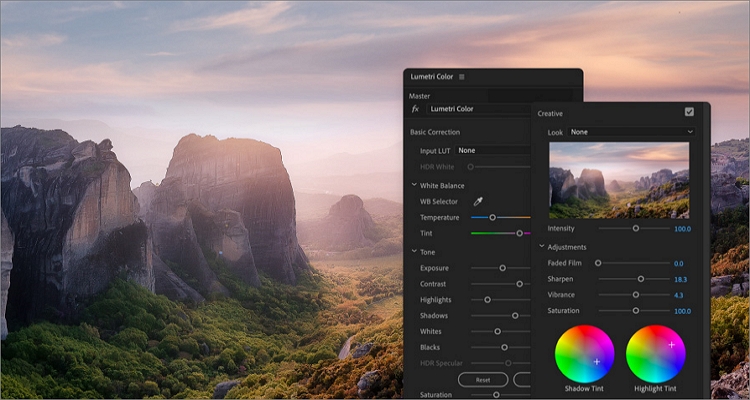 As said, Adobe products are some of the best video and photo editing software around. Well, that's true in the case of Premiere Pro, which is suitable for even the most demanding creators. This app offers a professional-level digital video editing experience, thanks to its many organizational tools. With it, you can merely drop your media on the workspace timeline and customize them with effects, logos, and texts. Interestingly, you can also copy-paste audio effects from one audio clip to another. Plus, the Adobe Stock library offers creators more than 5000 4K video clips to customize and share.
Pros:
Multiple video and photo organizational tools.
Responsive UI with super-fast processing speed.
Cons:
Expensive subscription plans.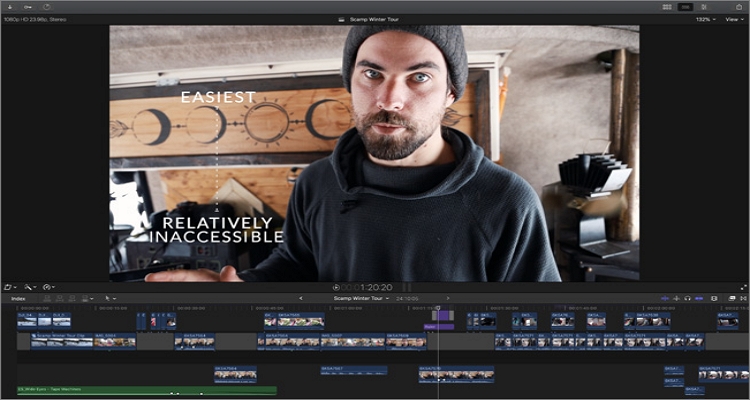 If there is an app on this list that gives Premiere Pro a run for its money, it's Final Cut Pro from Apple. As expected, this app offers professional-level video editing capabilities, although the interface is a bit beginner-friendly than Premiere Pro. Here, you can import projects in standard video format or XML format. It means you can upload projects from tools such as Blackmagic Design's DaVinci Resolve. In addition, Final Cut Pro supports Apple's new format called ProRes Raw, which is similar to Adobe's DNG Raw. Overall, it's an excellent app for Mac users.
Pros:
It supports ProRes Raw image format.
Super-fast performance.
Cons: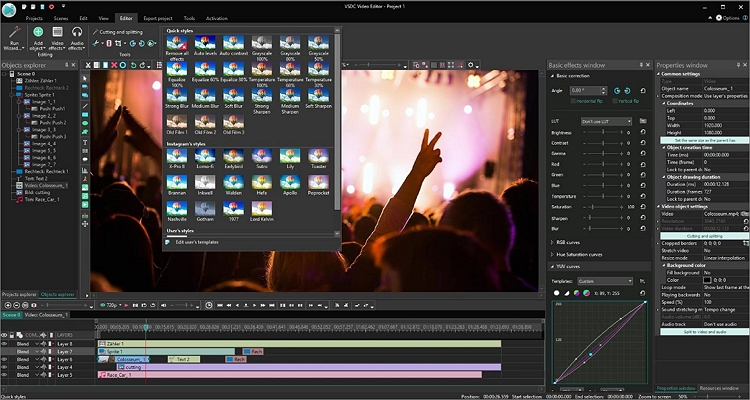 If you're still a greenhorn, try VSDC Video Editor instead. With this non-linear video editor for PCs, you can combine pictures and videos into sequences to create a superb composition. To achieve that, you'll have tools to create layers, blend fragments, overlap files, and place multiple objects onto a scene. Users can also activate the split-screen feature to view videos and photos side by side. In addition, you can apply picture-in-picture effects to your video and add photo and audio to video. And yes, you can crop, merge, trim, and cut videos.
Pros:
Supports adding of picture-in-picture effects.
It opens any video file format.
Cons:
Features can be overwhelming for beginners.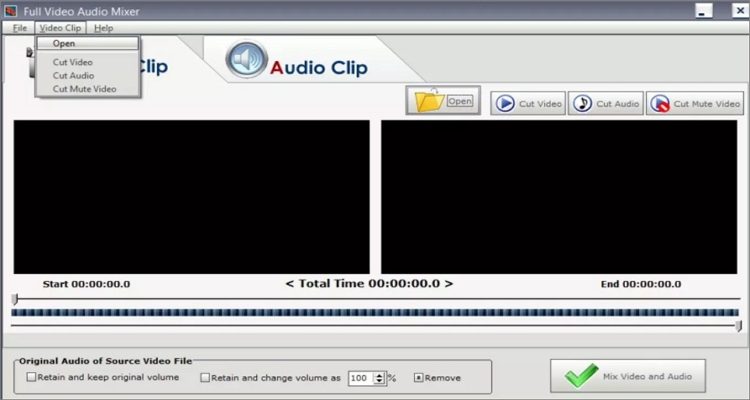 As the name suggests, Full Video Audio Mixer is a straightforward Windows program for creating music videos. With this tool, creators can cut and mix videos and audio to form a single music video file. And it doesn't matter whether the video has its own voice narrations or not; this program allows you to mute it and apply your unique background audio. And, you can convert media files to any digital format you want.
Pros:
Free, open-source app.
Multiple output formats.
Cons: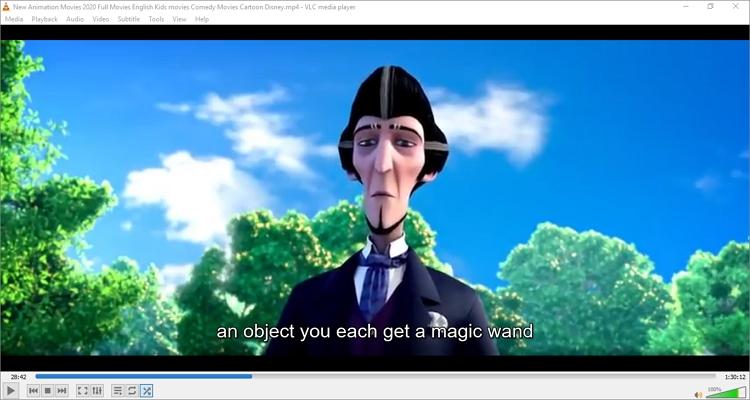 VLC is another popular free, open-source program that you probably have installed on your computer. With this cross-platform software, you can open almost any video or audio format. VLC users and enjoy watching videos of any quality, including 4K videos. But apart from these basics, VLC can also help users add audio to video with lossless quality. You can also use the inbuilt converter to encode between typical video and audio formats. But on the flip side, adding audio to video or converting files on VLC is not as easy as opening a music or movie file.
Pros:
Free, open-source, cross-platform app.
Converts between standard video and audio formats.
Cons: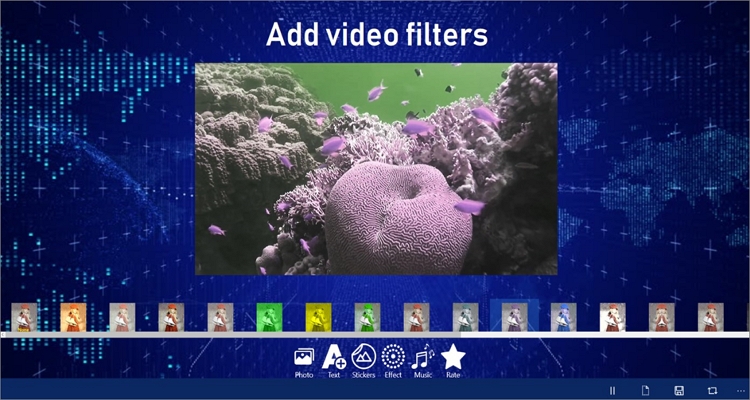 Video Editor Music Movie Maker is an excellent Windows app with a user-friendly timeline for editing any media format. Here, you can select pictures and videos from your local gallery and start trimming and cutting to remove unwanted parts. You can also merge videos and photos before customizing them with background audio. Besides music, users can customize videos with stickers, effects, and texts before directly sharing them to Vine, Vimeo, YouTube, Facebook, and other social media channels.
Pros:
Directly share videos on social media.
Add audio to photo and video.
Cons: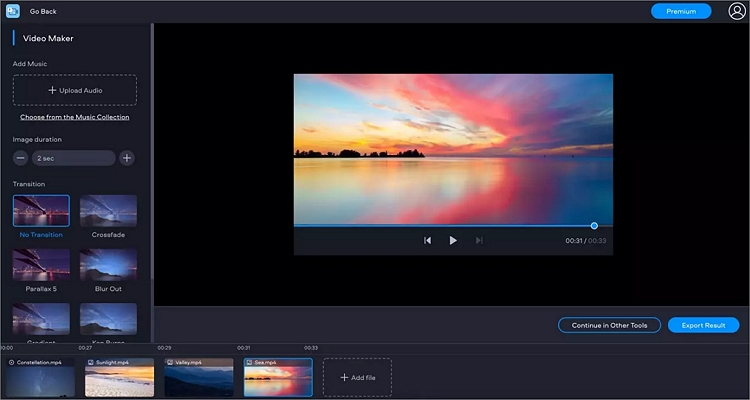 Movavi Video Editor is a simple to use program that's either accessible online or offline using a dedicated desktop app. On this simple yet powerful app, you can merge videos, photos, and audio in minutes. It supports adding popular audio formats like FLAC, OGG, WMA, and MP3 to MP4, MOV, AVI, etc. After adding audio, you can retouch the playback duration by trimming and splitting to fit the video playback duration. And of course, the online app is also accessible via iPhone, iPad, and Android phones.
Pros:
Multi-platform support.
Basic audio editing capabilities.
Cons: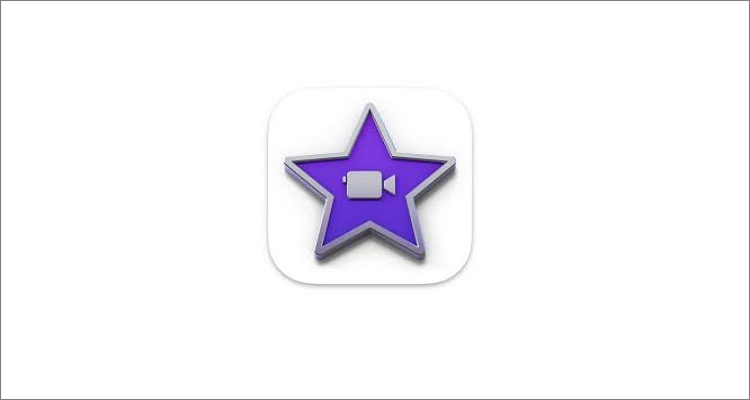 If you're a Mac or iPhone user, use iMovie to edit videos and audio files for free. This video editing software was released by Mac in 1999 and is today one of the most advanced tools around. iMovie allows users to transform video clips into award-winning movies, thanks to the multiple Hollywood-style trailers. In addition to adding audio to videos, iMovie can also apply effects, transitions, and catchy titles. Users will also get more than 80 free soundtracks to download, customize, and use as background audio. And lest I forget, the iCloud Drive allows iMovie users to save creations and continue creating on iPhone, iPad, or Mac.
Pros:
Free to use for Apple users.
It performs basic editing tasks hassle-free.
Cons:
It doesn't offer advanced video editing features.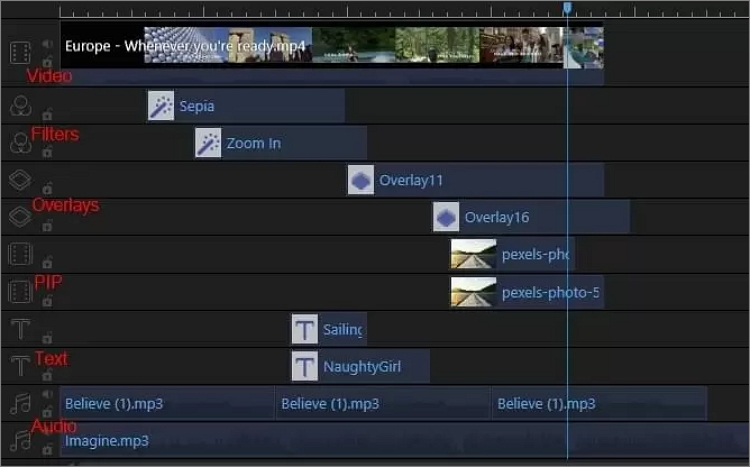 Finally, use BeeCut to edit and create music videos online or offline on desktops and mobile devices. You'll find the best moments of your video on the simple multi-timeline platform by trimming, cutting, and rearranging. After that, you can add video intros, subtitles, and text overlays with multiple fonts to select. You can also customize videos with visual effects, filters, transitions, and voiceovers. Plus, BeeCut boasts speech recognition technology for converting speech to text and vice-versa.
Pros:
Simple multi-timeline platform with several features.
Compatible with desktops and mobile devices.
Cons:
Limited video editing options.
Part 2: Best app to add audio to video or photo
Although the above desktop apps offer more functionality and efficiency, most are too complicated for beginners. Even worse, they don't provide the convenience you'll get editing videos online. In that case, use Online UniConverter to add audio to photo video online for free. It's a simple app that packs all essential video editing functions. While adding audio to video, this online app allows you to edit the audio by trimming and clearing the unwanted sections. You can also retouch the volume level and mute the video narrations in areas where you want the uploaded audio to play in the foreground. Furthermore, it features a lovely slideshow maker for creating amazing photo videos from all standard video and audio files.
Key features:
Free, open-source online app.
It supports 1000+ video, audio, and image formats.
Add audio to video or photo before trimming and adjusting volume.
An excellent slideshow maker for creating high-quality photo and video slideshows.
Intuitive video editor for trimming, cropping, splitting, merging, compressing, etc.
30x faster video editing and processing speed
2GB free cloud storage.
So, without any more ado, below is how to add audio to video or photo with Online UniConverter:
Step 1:Run the Add Audio to Video tool.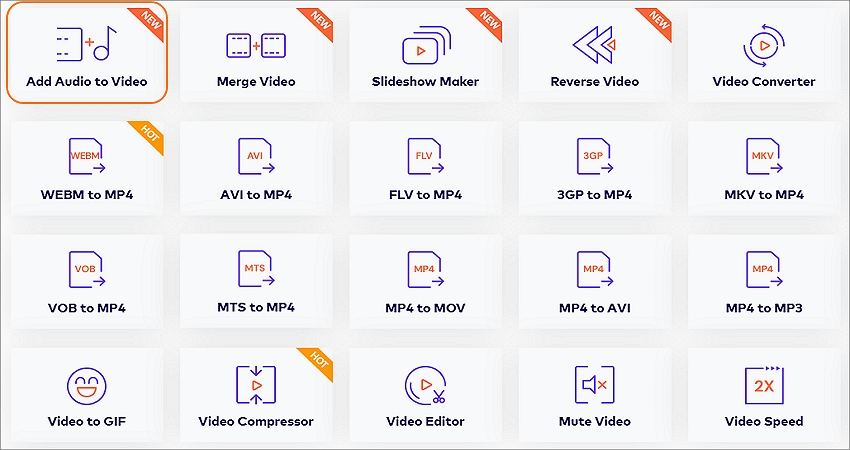 Use your favorite browser on iOS, Android, Mac, or Windows to visit the website before clicking Online Tools. You'll see several video creation and editing functions. Choose Add Audio to Video.
Step 2:Upload your video file.
After launching the Add Audio to Video function successfully, click Choose Files to open and browse your local media folders for a video file to edit. Alternatively, drag-n-drop the video files on the program's workspace. Meanwhile, you can also add video files from Google Drive or Dropbox. To do that, just click the relevant icons to upload your video.
Step 3:Upload and customize your audio file.
Wait for the video file to load up successfully, and then click the Add audio button on the right pane. Then, browse your local storage for an audio file to use as the background music.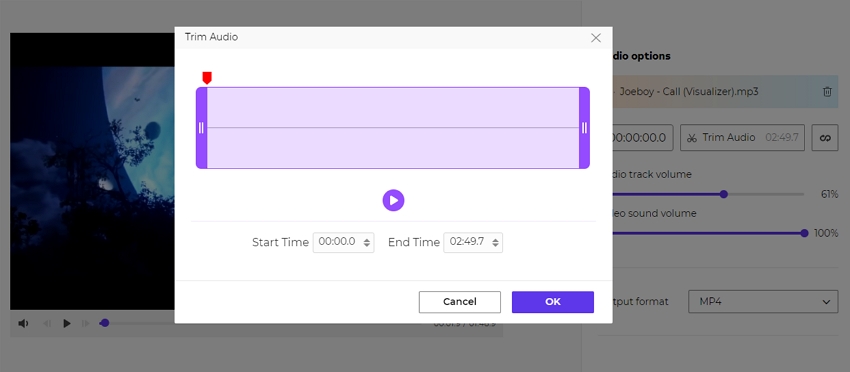 Next, click the Trim icon once the music file is loaded successfully. You can now drag the cutting handles to trim the music to fit the video clip's playback duration. If you want to cut with precision, manually enter the start/stop time. Now close the window and then drag the volume bars to adjust your video and audio sound levels.
Step 4:Add audio to video with Online UniConverter.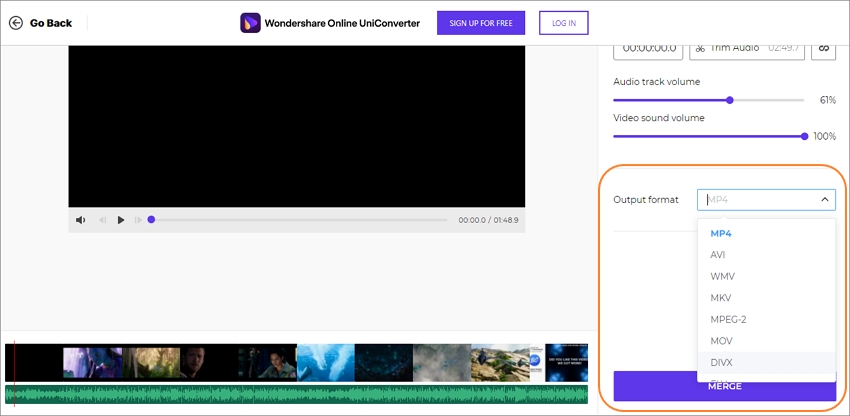 Is everything set to start merging and converting? Check that by pressing the play icon on the preview screen. If satisfied, choose a target format before clicking Merge. This program will start processing your music video in a heartbeat. That was simple, right?
Conclusion
Any questions, additions, or compliments? Please share them in the comments section. That aside, these are the best apps to add audio to video or photo on desktops, tablets, or smartphones. However, use Wondershare Filmora or iMovie if you're after something powerful but easier to understand. On the other hand, advanced users can make do with Final Cut Pro or Adobe Premiere Pro. And above all, use Online UniConverter to edit, convert, and create fantastic music videos on any device.