Images serve as an extremely important part of businesses as it helps in creating the right kind of visual impact. But for doing this, you will have to resize your photos so that they become compatible with websites and blogs. Today we are going to take you through 12 best photo resizer app which can help you with the same.
Part 1. Free Online Image Resizer - Works on All Devices
You can resize PNG, JPG, BMP and GIF images easily using Online UniConverter which can be availed without having to bear any extra cost. The best thing about this online utility is that it is compatible with a variety of devices for opening up greater versatility ahead of its users. Batch processing is supported by this online tool which guarantees super-fast speed and zero quality degradation. Let us now take a look at the steps for resizing images using Online UniConverter:
Try It Free | How to Bulk Resize Images on Broswer
[没有发现file]
Part 2. Best Photo Resizer App for Windows/Mac | Free Download
One of the biggest problems concerning online photo resizers is that they are fully dependent on a stable internet connection. In such a scenario, you can opt for a proper photo and picture resizer app like Wondershare UniConverter which is compatible with both Windows and Mac systems. Let us now take a look at the best features of this GPU accelerated software and the steps to follow for resizing images with the same.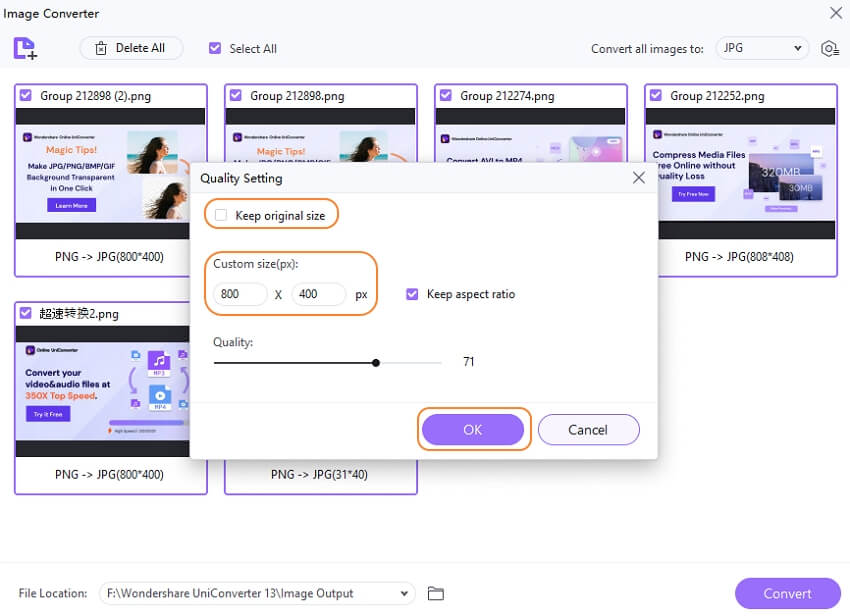 Main Features about Wondershare UniConverter
It brings 30 times faster speed without succumbing to any quality loss.
Allows saving images from numerous sites with a single click for being resized as per requirements.
It has an intuitive interface that can be easily mastered by people of varying skill levels.
Supports a variety of input formats such as BMP, JPEG, TIFF, PNG, etc.
Effects and watermarks can be added to the final image for a more professional look and feel.
Steps to Resize Pictures with Wondershare UniConverter on Windows/Mac
1. Launch Wondershare UniConverter & Select Image Converter
Primarily you need to launch Wondershare UniConverter in your desktop and navigate to the Toolbox option in the main interface. Next you will have to select the Image Converter icon for proceeding with the next steps.
Now you need to add the images you wish to resize. This can be done by clicking on the +Add Images button at the top left corner or the +icon in the center of the interface. You can add multiple pictures at the same time using its drag and drop functionality.
3. Make Necessary Changes In The Quality Settings Window
Once the images have been added to the interface successfully, you can view a thumbnail version of the files containing information on the image size, image name, and image format. You will have to click on the Setting button appearing on the picture which opens up the Quality Setting window. Here you can choose to retain the original size of the image or make customizations in terms of image height and width. The image quality can also be altered by moving the bar.
Once you are done making all these changes, you will have to save the same by clicking OK.
Part 3. Top 3 Photo Resizer App for Windows 10
This dedicated photo resizer app can rescale your image files within minutes by following three simple steps. You can also undertake batch processing while rotating and adding watermarks to hundreds of photos at one go with this best image resizer app. Real-time preview of the changes implemented can help you gain a clear understanding of how the picture is going to look post resizing. You can avail of this application in 35 different languages including Dutch, Portuguese, Chinese, Spanish, Italian, English, etc.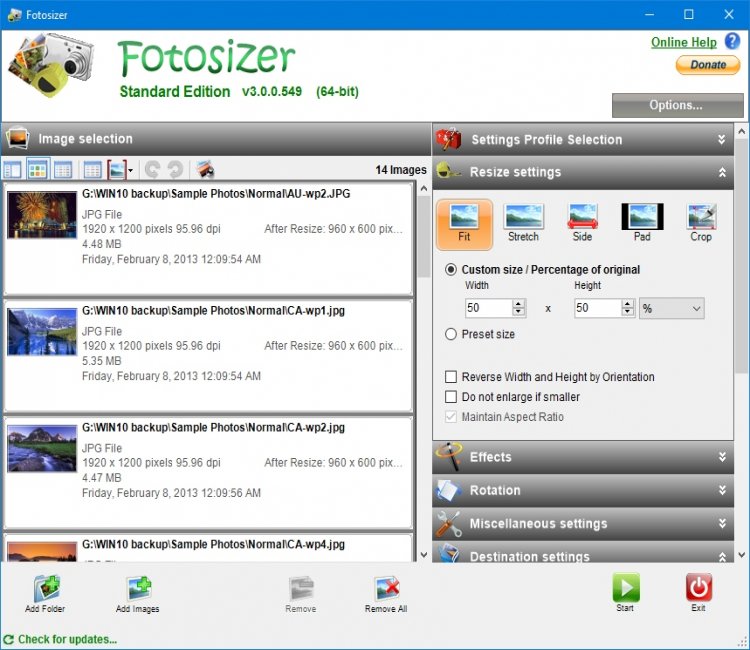 This photo resizer app for pc also helps to convert, rename, crop, rotate, add text, change color depth and watermarks to the files in a fast and easy manner. It supports batch processing with simple drag and drop operation. JPEG, GIF, BMP, TIFF, PNG, and JPEG2000 formats are supported by this application to resize photos. It doesn't come with any hidden spyware and adware. Support is rendered to a folder and non-folder structure so that you can follow a particular sequence in renaming files and saving the same.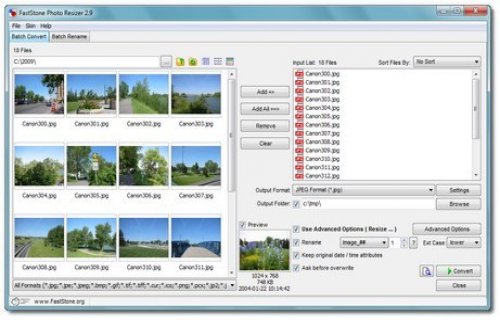 This award-winning application to resize photos offers an extremely intuitive interface that can help users undertake batch processing of files. A preview of the edited files can also be enjoyed on a real-time basis. The USP of Caesium Image Compressor is that it can compress pictures by 90% without undergoing any loss in terms of quality. This makes it extremely helpful in storing HD images without inflicting much strain on your system memory.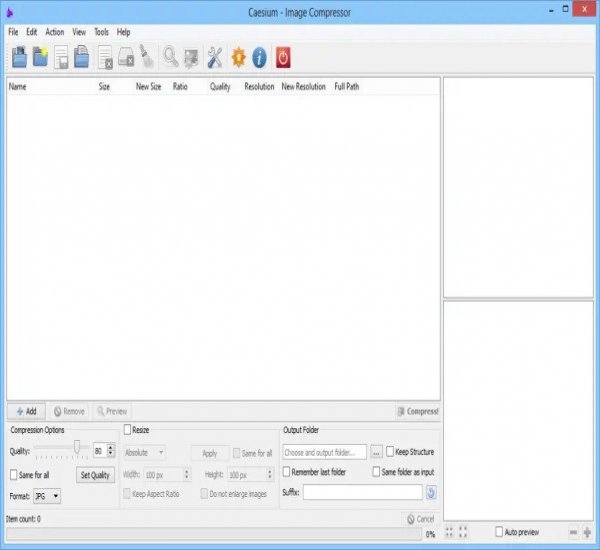 Part 4. Best 3 Image Resizer App for Mac
You can efficiently reduce the size of your image files using this pic resize app which is specially devised for Mac users. It has a simple interface that is divided into two main columns. You can make all the necessary adjustments from the right side and also enjoy a real-time live preview of the changes made. PhotoBulk presents users with multiple resizing options and also allows them to chose from preset profiles.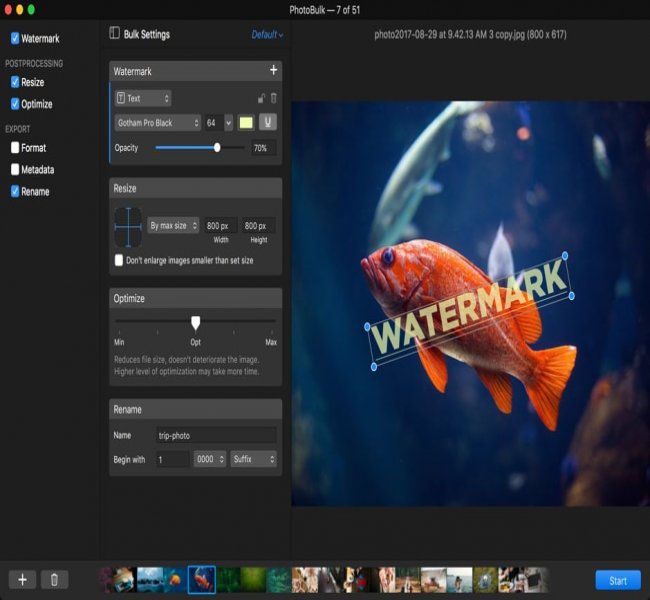 If you wish to considerably reduce your image size without succumbing to quality loss, then you can opt for this image resizer app. It operates by removing unnecessary binary information and works in a completely automated way. You just need to drag and drop the files which is followed by the initiation of the optimization process. Users can, however, take their pick amongst the dual options of exporting the processed ones in a new folder or overwriting the original images.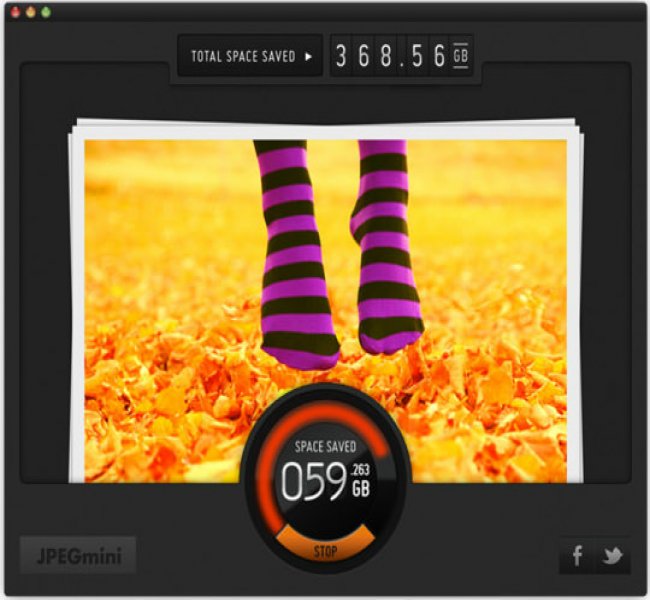 Resize Sense is the best resize app for Mac users as it presents them with a straightforward interface. The images can be resized easily for being used in graphic design projects, being sent as email or shared over social networks. Users can either crop the images or specify fixed dimensions in terms of height and width. Resize Sense also allows users to develop preset sizes that can be used for resizing future images.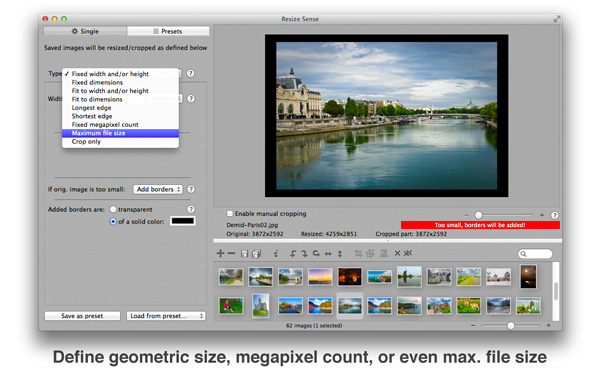 Part 5. Top 5 Picture Resizer App for Smartphone
Compressing large photos into smaller sized ones become a cakewalk coupled with this picture resizer app which is meant for the users of Android OS. You can thus resize, compress and crop multiple pictures with Photo Compress 2.0 which also allows users to determine the quality of the compressed image. The last used settings can also be used for quick operations after which you can share your results over various platforms directly from the application.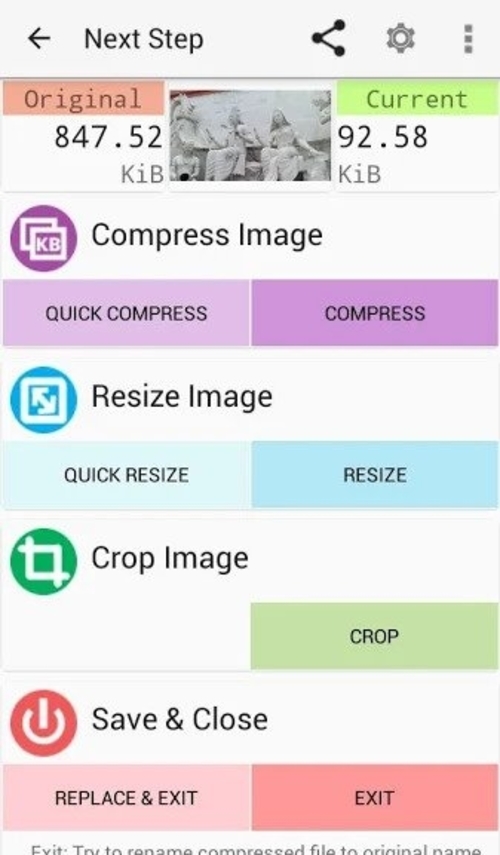 This photo editing program comes loaded with utilities and features which can help users undertake basic edit works like rotating, resizing and cropping the image. Its intuitive interface makes it possible to access 600 plus effects in a breeze. A unique thing about this resize image application is that it is compatible with both iOS and Android platforms.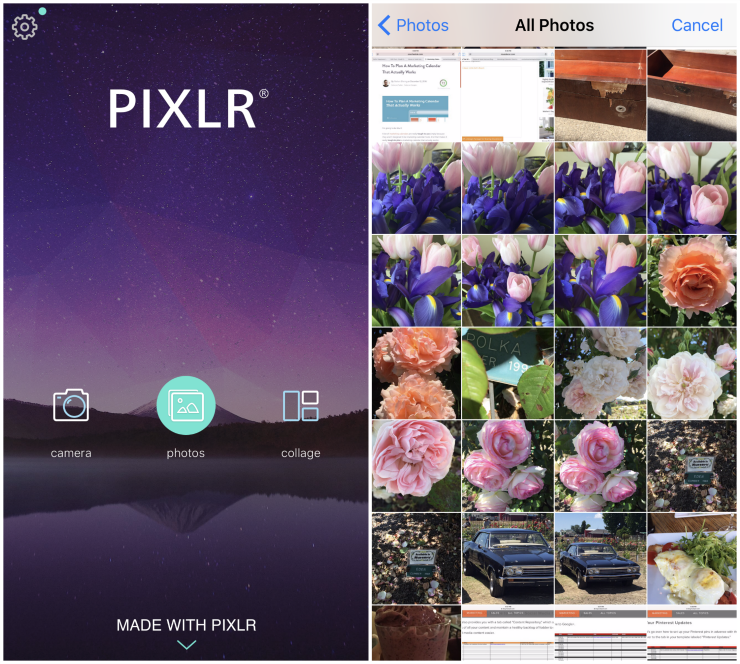 You can easily resize captured images for sharing them over social media platforms like Twitter, Facebook, etc using this photo and picture resizer app. Rather than compressing the files, it resizes the same to bring down memory space usage. Despite this, the quality of pictures does not undergo any degradation. You can also crop and rotate photos using this free of cost application meant for the Android platform.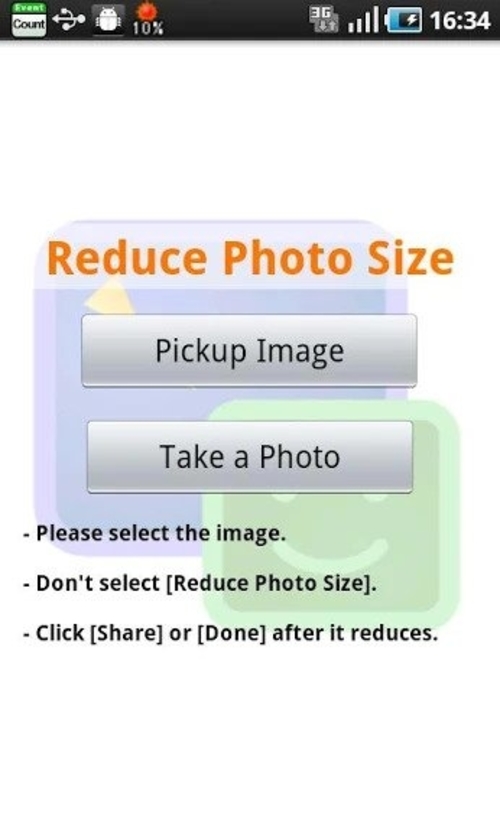 This free app to resize photos is compatible with iOS 10.0 and later versions. You can undertake batch resizing with this tool which can also deal with the resizing of videos. Users can undertake quick resizing with the existing presets and also enter manual input about the same.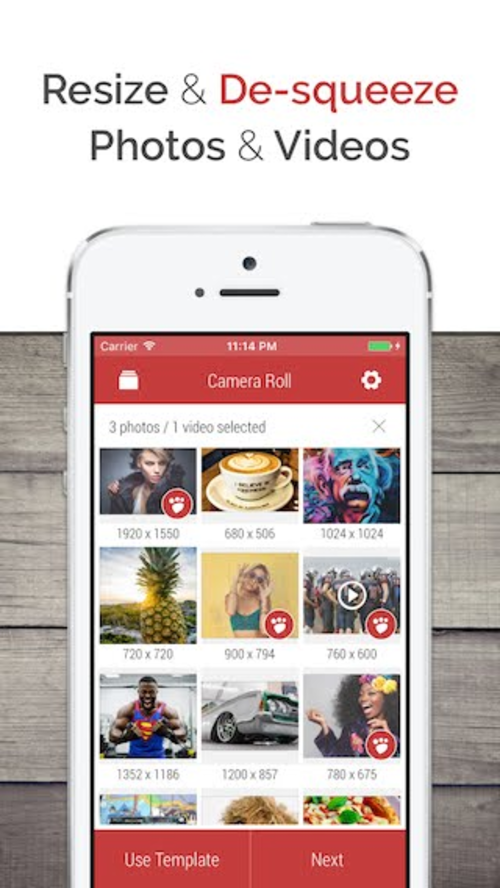 The CropSIze: Photo Resizer Editor is compatible with iOS 9.0 and later versions. You can undertake batch processing of 50 images simultaneously with this application to resize photos. It even provides us with the option of rotating, flipping, filtering images and editing metadata. Edits can be saved as templates for easy processing and sharing over social media sites like Instagram, Facebook, etc.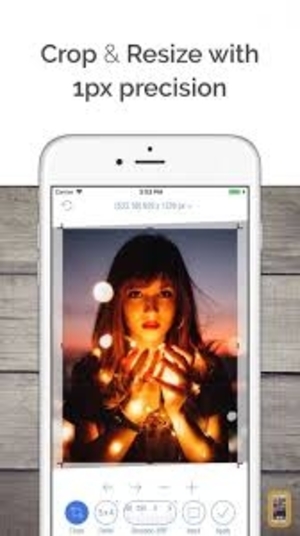 Properly resizing the image makes sure that it brilliantly fits into your content while enhancing its overall appeal. As a result, you can deliver more graphically pleasing results to your end customers who keep coming back time and again. While all the applications to resize photos listed above come with their unique set of selling points, Online UniConverter surely stands out from its peers in terms of an intuitive interface, easy learning curve, and immense possibilities.