Including the perfect YouTube background image on your thumbnail can be vital, especially for marketing gurus. That's because a nicely embedded background image can help potential clients/viewers identify your business brand easily. Even better, you can tweak it a little bit by adding in a few colorful texts and stickers. So today, I'll be polishing you with some top sites where you can download eye-catching YouTube background pictures for free. Stay put!
URL - https://unsplash.com/backgrounds/apps/youtube
Whether you're looking for a YouTube background image or stunning real-people photos, Unsplash is the best place to be. The site is absolutely free and offers thousands of free, well-taken images that you can add to your YouTube thumbnail. With Unsplash, you can search your images by categories such as Technology, Business & Work, Animals, Athletics, Food & Drinks, and so on. Also, you can create an account and upload artworks easily on the website. You can even edit your uploaded images if you want. Just create an account, input a keyword, and Unsplash will give you lots of options.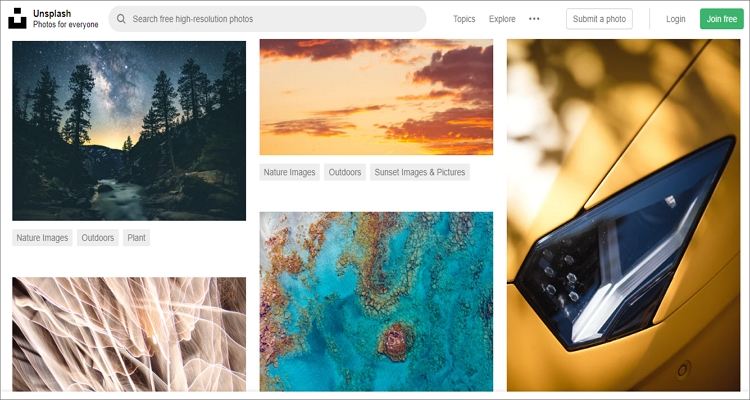 Features:
50K-plus photos
Advanced search function
No registration required
Has vector images
URL - https://www.shutterstock.com/search/youtube+background
Shutterstock is another famous image hosting site that also provides royalty-free photos. Here, you'll find more than 6,000 YouTube background stock images, illustrations, and vectors. Also, thanks to its ever-growing community of more than 600, 000 contributors, Shutterstock can provide users with over 250 million images and keeps the list updated from time to time. Also, Shutterstock offers more than 12 million video clips that you can download for free. Moreover, its pocket-friendly monthly and yearly subscriptions are top-notch. Overall, the image library here is massive, to say the least.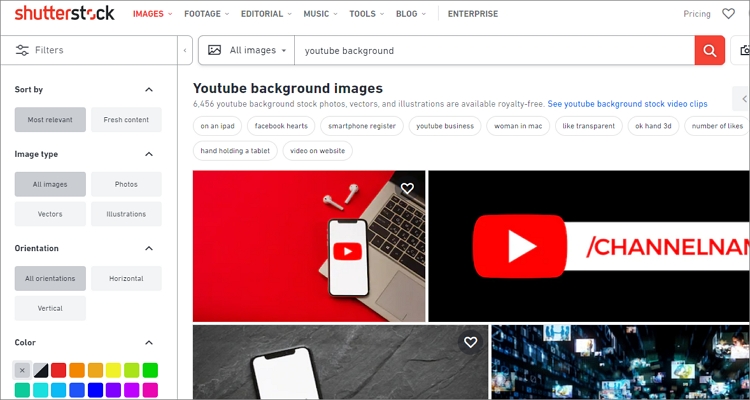 Features:
6000+ free YouTube background photos
250+ million photo library
Over 12 million free vides
Excellent search ability
WallpaperPlay is a beautiful, simple-to-navigate site that offers thousands of free images to download. The website has a plentiful supply of high-quality 2048 x 1152 YouTube wallpaper images from its vast community members. You can search for wallpapers by categories like Comics, TV series, Games, Music, Celebrities, Cars, and more. Also, you can take a look at other popular collections such as Tattoos, 3D Shapes, and Deadpool Comic wallpapers. And if you have photos that you're willing to share, you can simply create an account and upload them effortlessly.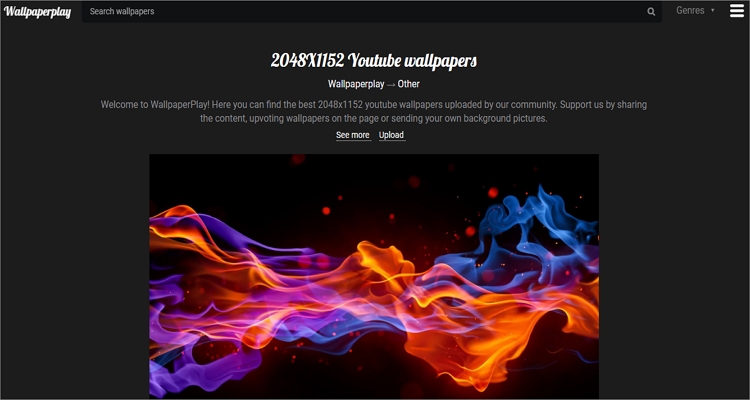 Features:
Vast YouTube wallpaper library
High quality 2048 x 1152 images
Search by categories
Share photos to social media
URL - https://www.pinterest.com/ksioks/youtube-backgrounds/
If there's one thing that makes Pinterest stand out from the rest, then it is the vast domain that has almost everything. Users can download free pictures, quotes, fashion ideas, mouth-watering recipes, and more. With just a sneak peek on Pinterest, you'll see thousands of images, each unique and stylish, while expressing different sensations. Also, you can access pictures by merely inputting a keyword. However, you'll have to create a profile firstly to use Pinterest. Even worse, you'll have to log in every time you want to use Pinterest. But honestly, the advantages clearly outweigh the disadvantages here.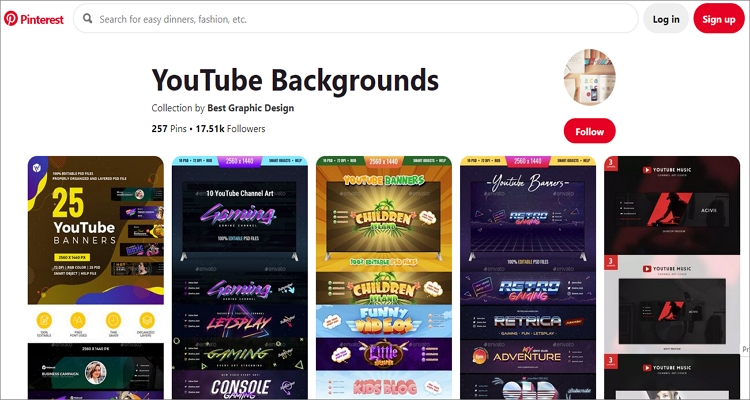 Features:
Native Android and iOS app
Promoted video features
Recorder section
Article pins for bloggers
URL - https://www.bannersnack.com/templates/display.html
I like Bannersnack because it's a one-size-fits-all tool. What do I mean? Well, Bannersnack offers a robust YouTube thumbnail image library as well as a thumbnail editor. Bannarsnack users can browse for thumbnails by categories like health, jewelry, sport, restaurant, education, and others. As for editing thumbnails, Bannersnack allows you to import your downloaded image or add a photo directly from the site. After that, you can edit it by cropping, adding text, colors, applying effects, managing backgrounds, and more. Even better, Bannersnack allows you to choose a pre-made YouTube thumbnail design and customize it appropriately.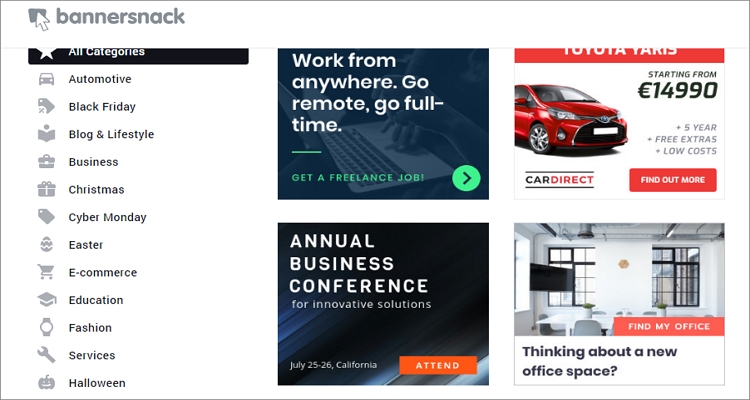 Features:
Drag-and-drop banner maker
Export banners in MP4, PNG, GIF, JPG, and HTML5
Free stock photos library
Share visuals to YouTube, Facebook, Twitter, etc.
URL - https://www.fotor.com/features/youtube.html
Just like Bannersnack, Fortor is an all-in-one tool that offers HD quality pics and a powerful photo editor. It boasts of a user-friendly UI that is universally accessible and uses exclusive technology to give you an easy platform to design graphics and cover photos quickly. That said, you can download plenty of Fotor images in JPG format and edit them professionally by cropping, managing background, applying texts, and more. On top of the online platform, you can also make YouTube thumbnail pictures offline using Fotor's dedicated apps for desktops and mobile devices. But more importantly, you can contact the customer support for quick solutions.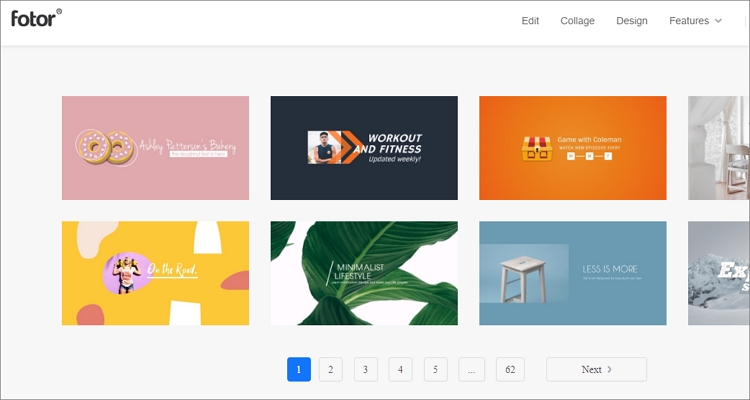 Features:
Excellent image editor
Native desktop and mobile apps
Massive Fotor Cloud storage
Professional customer support
Canva is a terrific photo editor that also doubles up as a thumbnail downloader. It offers over 50,000 templates that you can edit to create business cards, video thumbnails, Instagram stories, flyers, logos, and more. As expected, Canva also offers millions of stock photos, illustrations, and vectors that you can edit by adding filters, icons/shapes, fonts, and effects. Moreover, this site can export thumbnails with zero watermarks. If you add in the pocket-friendly subscription plans, Canva is undoubtedly a must-have for any serious YouTube thumbnail editor.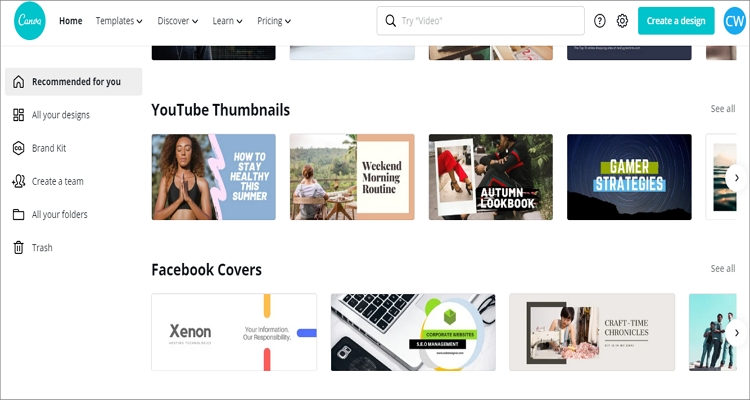 Features:
Drag and drop editor
Huge font library
Lots of custom templates
Transparent image backgrounds
URL - https://pixabay.com/images/search/youtube/
Lastly, you can use Pixabay's vast photo library to download a high-quality YouTube thumbnail background image. Its massive photo library is supplied by countless creators and professional photographers from all over the world. Most of its stock photos are artistic, and the platform doesn't subject you to stringent guidelines to use it. And best of all, Pixabay lets you use its stock photos in both commercial and personal use. All in all, I find very few negatives here.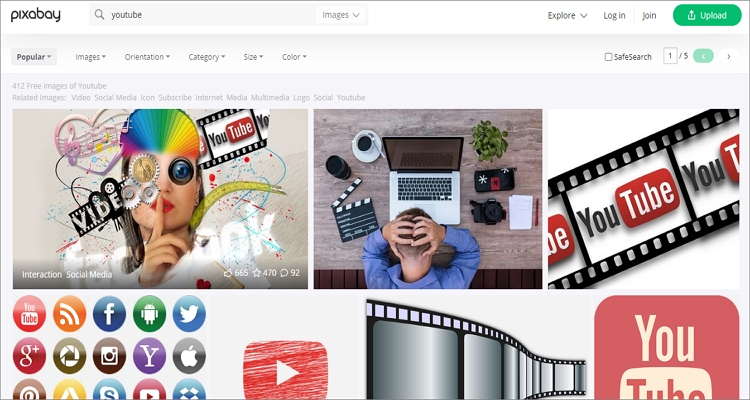 Features:
Free for commercial use
High-quality images
No registration required
Allows local image uploading
Summary
So, which one is your favorite YouTube thumbnail image downloader? Did we include it on the list? With these eight excellent sites, you can get the right photo to use as a cover for your YouTube video. However, I advise you to use robust options like Canva and Fotor because of the added image editing advantages. Just note that you'll have to part with a few bucks to unlock all features.