"How to add music to video online free? I want to create a tribute video for a loved one and wish to make it memorable. What application should I use to make it happen, and what are the handy tips to make the video worth seeing?"
Understandably, a video with good music playing in the background keeps the viewers committed to it till the end. Whether you are creating a birthday video, a funny clip, or an office presentation, it is crucial to attach the right music. Otherwise, it could quickly ruin the entire viewing experience.
However, it could be challenging for a newbie to edit videos and pick suitable music simultaneously. For that, we have compiled a list of tips to make a video unforgettable in this article. Moreover, we will also share the best technique to add music to a video online free of charge.
Part 1. How to add music to video online free
If you're looking for an online platform that offers all the functions of a high-end video editor, then the Online UniConverter is the best choice. The intuitive web layout enables beginners to add music to video online for free at a 30x rate. Moreover, it offers you to upload content from online platforms, such as Google Drive, Dropbox, and Youtube, saving ample time.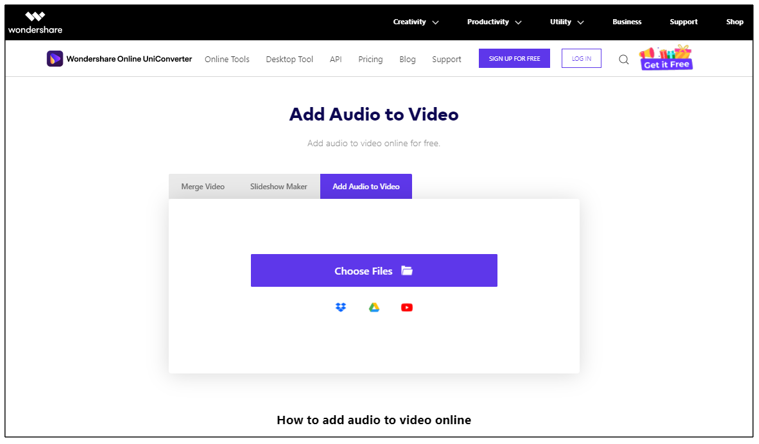 Please view the highly regarded features of the Online UniConverter in the list as follows:
Here are the steps to use the Online UniConverter to add music to video for free:
Step 1: Add your Video to the Online UniConverter
Open the Online UniConverter from your device's web browser. Under the Add Audio to Video section, click on Choose Files tab to upload the video from the device.
Step 2: Import Music Online
The next step is to add music to the uploaded content. Simply click on Add Audio button to select the file. Pick the Output Format for the video as well. Hit Merge to conclude this step.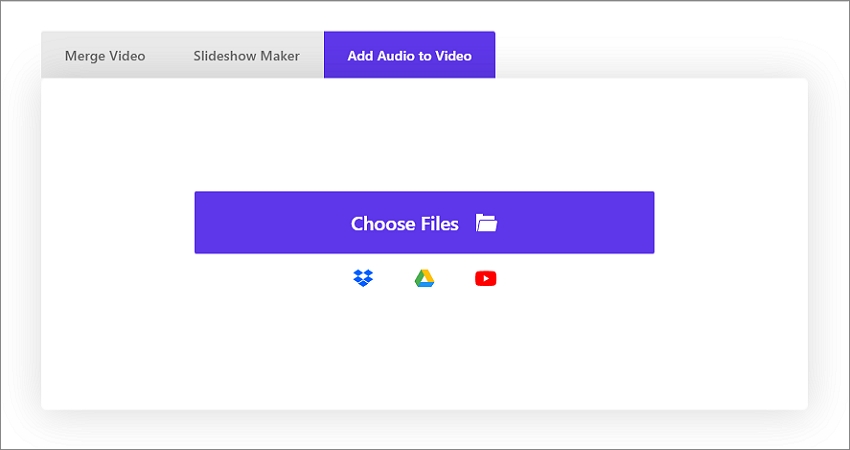 Step 3: Download the Video with Music
Lastly, click on Download to store the edited video back to your device. Besides, you can save it to cloud platforms like Google Drive and Dropbox.
The three-step method is easy to follow, and you will be done with adding music to the video for free in no time.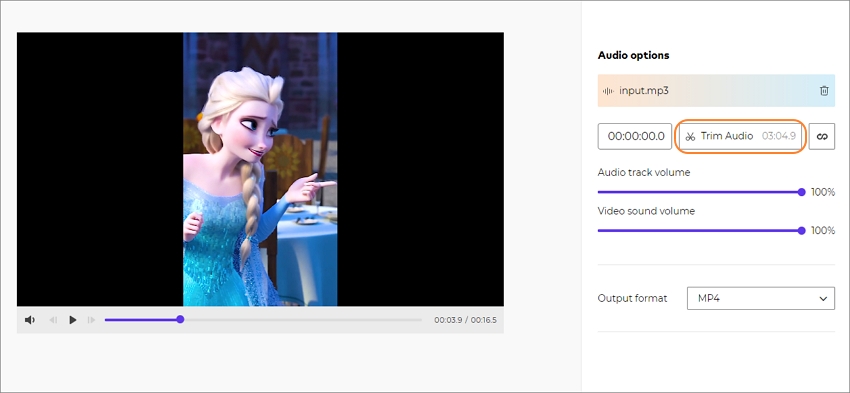 Why choose UniConverter music video editor
* Easy to add music to your YouTube or Instagram videos.
* Merge video and audio totally online without any other tool installed.
* You can edit the audio by trimming,looping,or changing the volume after adding it.
* It allows you to trim video to get your desired segment and select an appropriate output format.
* It can protect your privacy. Online UniConverter deleted the uploaded files from our servers after 24 hours automatically.
Part 2. FAQs for adding music to a video with Online UniConverter
If you have any queries related to the Online UniConverter, this part of the article is just for you. We have tried to answer commonly occurring questions associated with the tool.
Q1: What Online UniConverter accepts video formats?
Ans: The Online UniConverter supports as many as 1000 different video file formats, including the popular ones, such as MP4, MOV, FLV, AVI, WEBM, and WMV.
Q2: What are music formats accepted by Online UniConverter?
Ans: Wondershare's Online UniConverter is compatible with 20+ music formats like MP3, WAV, AAC, AMR, WMA, M4A, and many more.
Q3: How do I put music on a video with my phone?
Ans: You can put music to a video using your phone with the help of the Online UniConverter. The tool is easily accessible from the browser of any device, regardless of the platform. Simply open the service, upload the video and merge the music with it within a few minutes.
Part 3. Useful tips for adding music to video: Make your video attractive & memorable
If you wish to create a video by adding music to it and make it memorable at the same time, then you must follow the tips in this section. Each piece of advice is easy to follow for beginners and experts alike.
1. Do not keep the volume too loud
If you intend to add background music to the video, and then its volume must not distract the viewer from the video's original message. You can show the video to your family and friends to gain their input if the music is too loud or low.
2. The music must fit the video's tone
The attached music should be in sync with the video's nature. For example, you can not play a piece of sad music behind a makeup tutorial. You need to add some upbeat music to such a video.
3. Understand the variety of music in a video
There is a difference between foreground music and background audio. The foreground is loud most of the time, and the narrator is quiet while it is playing. On the other hand, the background audio is low, and you will see it playing behind a voice note or narration.
4. Use royalty-free music
If you aim to use the video for commercial purposes or upload it on social media, you must use royalty-free music. Without the appropriate license, you will be in direct breach of the copyright law, which could result in the video's removal or further penalties.
5. Add the best parts of the song
It is not necessary to use the entire song as background/foreground music of your video. You can trim the best parts of the song and add them to the video. Moreover, you can fade the music in or out depending on the video's situation.
6. Use a reliable video editing tool
If you are a beginner, using a user-friendly video editor can help you create a great video. It should enable you to access functions such as adding audio quickly. Outdated software can easily destroy the video's picture and sound quality.
Part 4. Other solutions for adding music to video with Clideo/Kapwing/VEED/Movavi/Voice2v
If you are looking for alternative programs to manage or integrate music files into a video, then check out this section of our post. We will share additional information on the top 5 other solutions to complete the said task.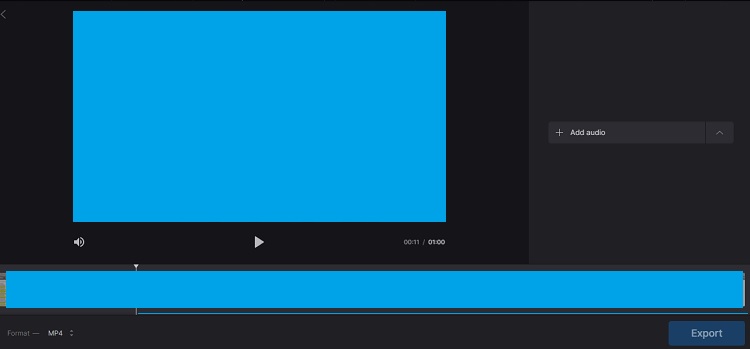 Clideo is an online platform to create new videos or edit existing ones. The tool offers numerous features such as merging various audio files into a video, managing the clip's speed, and create slideshows.
Pros
No software installation is needed to edit videos.
Cons
The monthly plan is not affordable.
Customer support is limited.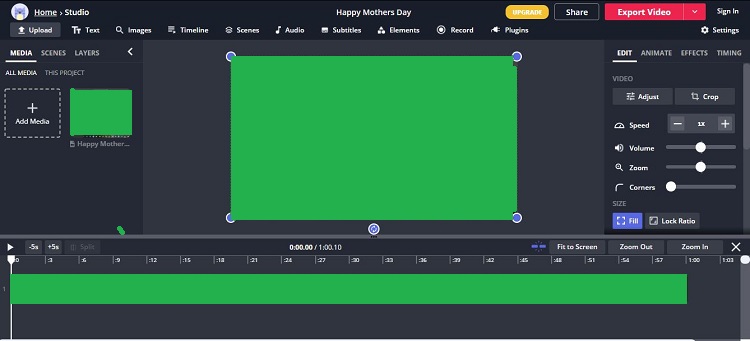 Kapwing is a smooth online editing platform that lets you manage the audio layers of an uploaded video clip. The tool offers functions such as trimming the integrated audio, managing volume, and extracting any amount of unwanted sound effects from the original video.
Pros
You can import videos from online platforms such as TikTok, YouTube, and SoundCloud.
It is cost-effective.
Cons
The interface is a bit confusing.
You can only edit a 7-minute video for free.
The upload limit is only 250MB.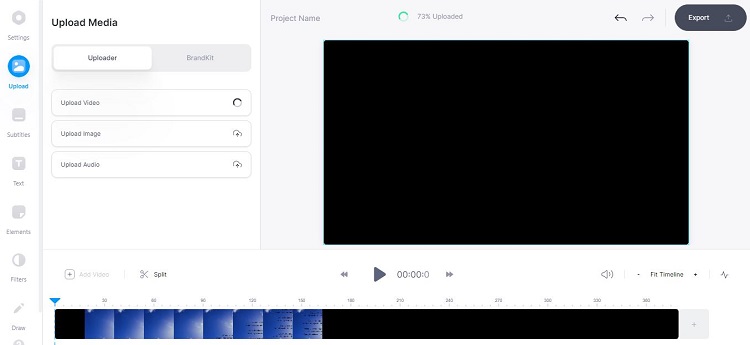 Veed is an advanced platform to create attractive music videos for social media viewers. You can apply music visualization if the video only has a limited amount of content. Other features include automatically transcribing videos for you, create looped clips, and inserting the green screen effect into the footage.
Pros
A free version is also available.
Cons
It only lets you edit a video worth 10 minutes at a time.
Customer support is not available for free version users.
The 4K export quality is only available with the Pro package.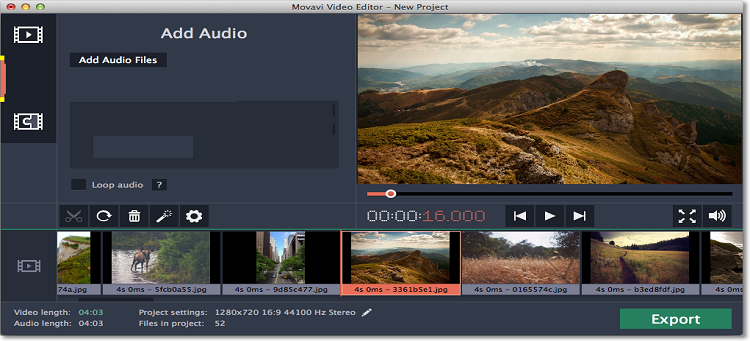 Movavi is a popular video editing tool suited for low-end systems. There are several audio-related features available on the program. You can add background music, adjust its length, and manage the volume instantly. Moreover, you can export the video in HD.
Pros
It works on both macOS and Windows systems.
Low system requirements.
Cons
Limited color settings are available.
The 1-year plan is not cheap.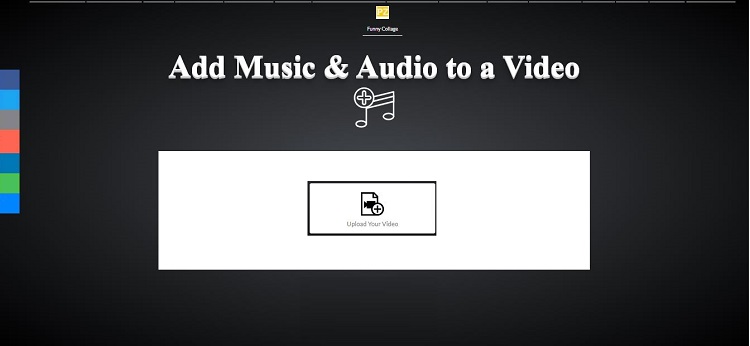 Voice2v is a useful platform to convert images, audio files, and slideshows to video. You can also add music to existing clips. Not only that, it allows you to trim the footage and lets you add various eye-catching effects to it.
Pros
Other than the online tool, a PC version of Voice2v is also available.
It supports 300+ file formats.
Cons
Ads are distracting.
Processing takes too long to finish.
Part 5. Conclusion
Every video needs some type of music attached to it, which definitely enhances the viewer's watching experience and overall mood. Moreover, it makes the video more attractive and memorable. Without any sound or music, the video will remain overly dull. However, it is vital to keeping specific things in mind while adding audio to video.
Here, we have discussed the easy-to-follow tips to add music to video online free of any cost. Furthermore, we have shared the method to use the Online UniConverter for free to add the right audio to your clip. You can share this guide amongst your peers, especially those who intend to share videos with music on social media and do not know where to begin.