Video editing is one of the most common functions that are being performed in video production. To make the video better and creative in every aspect, users use a different video editing software for fulfilling their purpose. While having a huge market for applying this concept, video editing tools are available for a huge price. On the other hand, free options lack the effective features that provide smoothness to the video. However, the market has never been left in this complicated situation. An open and fully loaded application has been introduced as a viable option for various users that usually lack in budget. The OBS screen recorder, fully known as the Open Broadcaster Software, appears as an ultimate screencasting solution with a variety of effective features.
The OBS screen recorder for PC has moved to provide features that are competitive to the paid tools, with similar efficiencies and opportunities.
Part 1. What is OBS
Open Broadcaster Software has been introduced as an open-source solution for users who seek to record and stream games and live recordings. Its architecture is impeccable while considering the other available tools where it has enabled users to work with different sources and attenuate them for the creation of a seamless broadcast. While allowing users to record videos through microphones and webcams, users can utilize the existing videos and screen captures to produce effective videos for the viewers.
OBS software is very light-weight and apprehendable software considering its basic structure. However, it offers quality and explicit performance for people having personal or professional purposes. Its structure, being cross-platform, provides a much-widened application for its users. Thus it has been not only considered as an option for screen recording but for video editing too. These features include audio mixers, source filters, power configurations, and themes.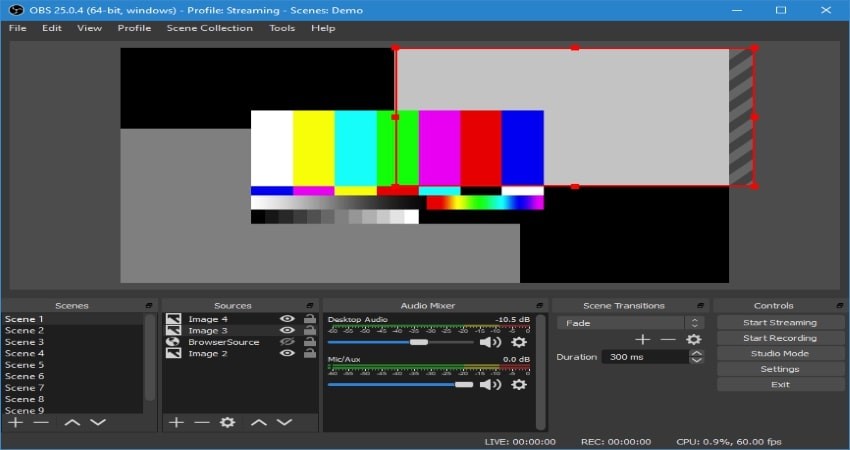 Features:
What makes users download OBS screen recorder for PC? This open-source software provides a very detailed list of video editing features that smoothens the online broadcast and make it popular among viewers. These features aren't simple single editing tools but are customizable that suit the needs of every user. Users produce dynamic streams with ease by using its real-time video and audio mixing characteristic and impressive transitions that can be switched among many scenes. Chroma keying has been considered a contemporary feature in video editing tools that is being added in various software over a certain price. To our surprise, the OBS screen recorder free download platform has made this feature online with no associated prices. This platform suits users who lookup for changing their basic video and add a few transitions and effects to beautify it. Professionals who look to develop fool-proof commercial-scaled videos can also benefit themselves with OBS software. With its advanced editing tools, this open-source platform provides an audio mixer that can filter noise suppressions and gains in the video. Its accessible configuration options provide a much-ascertained platform for adding sources and adjusting their properties with control.
Features at OBS screen recording software are everlasting. Its Studio Mode is worth appreciation for its centered approach in checking the sources and scenes before initiating broadcasting and have them adjusted or added if needed. Hotkeys are very common in this platform, providing users with the ability to set them up for every available function.
With a very detailed settings panel in its package, the easy and quick configuration of tools has been made possible that are important for broadcasting and recording. These tools are then easily viewed on the screen with its light or dark-themed interface. A lightweight screen recording tool is ensured at OBS, with maximum efficiency and high-performance compatibility. Users who use OBS screen recorder free download software can stream on websites such as YouTube Live, Facebook Live, and other contemporary streaming platforms that are commonly used by masses.
Pros and Cons:
Every software, inclusive of the video editing tools, comes with their pros and cons. Thus OBS screen recording software has its associated pros and cons. Though we have assessed OBS as a very impressive screen recording platform and have seen it as an excellent platform for broadcasting videos onto platforms such as Facebook and YouTube etc., it comes with a few drawbacks too. Before going to what this software lacks, users need to clearly observe the advantages which provide and decide whether they outperform the disadvantages. OBS offers 20 plugins for enhancing functionalities, which includes countdown implementations and server pings. This platform has no hidden payments and is open to its users. Regardless of these facts, it isn't compatible with Windows XP and doesn't link audio files as sources. Though these drawbacks do not outperform the advantages provided at OBS, they should be clearly assessed before using the platform.
Part 2. Steps to Computer Screen with OBS Screen Recorder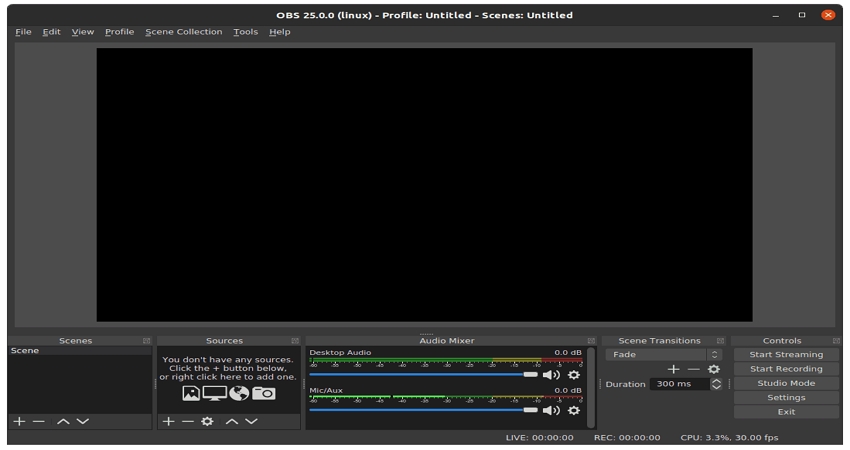 Tapping the Buttons:
When users are ready to record their screens, they have to tap the Start Recording button. For stopping, they would have to use the Stop Recording button. Users can use hotkeys after setting them up from the Settings menu.
Approaching the Recorded files:
The video that is being recorded is directly stored in the Videos folder that can be opened from Windows libraries. These files are present in .flv format. The quality, path, and format of the videos can be effectively changed at OBS. Users need to access Settings, followed by the Output section that shall provide them with these features.
Summary
There are countless video editing tools and screen recording tools that are present in the market with distinctive features. Many tools and recorders are stated in the section of the best available tools. However, most of them can be approached by paying a subscription package. OBS screen recorder came with an open-source solution and a high integration of tools and features that allowed users to create a very impressive video out of it. This article states its major features and a guide on how to use its screen recording tool for allowing users to understand its function that would make video production easier and convenient for them.