The audience loves an edited video for obvious reasons. Creative edits like cutting out imperfect scenes, merge clips, adding background music and special effects give raw footages a professional finished look that catches the eye. However, video editing also means re-encoding, which quickly translates to the loss of quality. And the last thing you want is to shoot aesthetic cinematic shots with your new drone, only to lose the quality when you put together a motion picture.
So, how to merge videos to create a stunning home movie without compromising on the high-grade quality of your videos? That's what we are going to talk about in this article. We have picked out some handy tools that can help you merge files and even mix audio with video while retaining the original quality.
Part 1: Recommend 3 Handy Tools of Merge Video Files
Whether you are an amateur at video editing or a professional movie maker, online UniConverter is your best bet to blend videos together. Wondershare UniConverter is a free and easy-to-use video editor that offers powerful editing features to merge video files into one seamless video. Supporting MP4, AVI, MOV, FLV, and all other famous video file formats, this tool can merge video without losing quality with only a few taps. Moreover, it allows you to import and export your final merged video to Dropbox, Google Drive, or share it on Facebook, YouTube, and Instagram.
How to Merge Videos into One Video | Combine Video Files together
Pros:
No quality loss
Cloud-based tool
Compatible with Windows, Mac, and Linux
A handy tool to crop and merge videos
Add audio to video
Trim tool
Cross-fade transitions
Combine multiple video files at a time
Supports 480p, 4K, 360p, 720p, and 1080p resolutions
Easy-to-use with a streamlined interface
To help you even further, here we have a detailed step-by-step guide about how to mash videos together using the online UniConverter. While the tool is handy and creative, the process is a no-brainer with only a few steps. So, let's get started!
Step 1: Begin by launching the handy online Uniconverter on your browser. Log in to your existing account or sign-up for free. Next, choose the Merge video tool and go to the merge video Depending on where you want to import your media from, click on choose files,Dropbox icon, Google Drive, or YouTube icon.
Step 2: On the next window, customize the video settings, adjust the aspect ratio, and crop the video.
Step 3: Then, from the right menu bar, tap on Add audio and simultaneously adjust the audio duration and other settings. You can also add additional video clips later on by hitting the Add files option on the top right corner.
Step 4: Once all the edits are completed, select your desired output format, and hit Merge to blend videos together.
Step 5: Finally, when your video is ready for download, choose your desired location on PC or select other options from the drop-down to save your video. And you are good to go!
With WeVideo, you can merge clips, edit, view, and share stunning videos on any computer at home, work, or on the go. It comes packed with a user-friendly interface and creative merging and splitting features to merge video clips in various ways. What's more? This handy online video creation platform does not compromise your videos' quality while securing them with cloud-based storage.
Pros:
Quick and easy-to-use
Special effects like fast and slow-motion editing
Preview window
Paste videos together with text editing
Supported resolution is 720p
Straightforward layout
Cons:
Costly subscription for advanced editing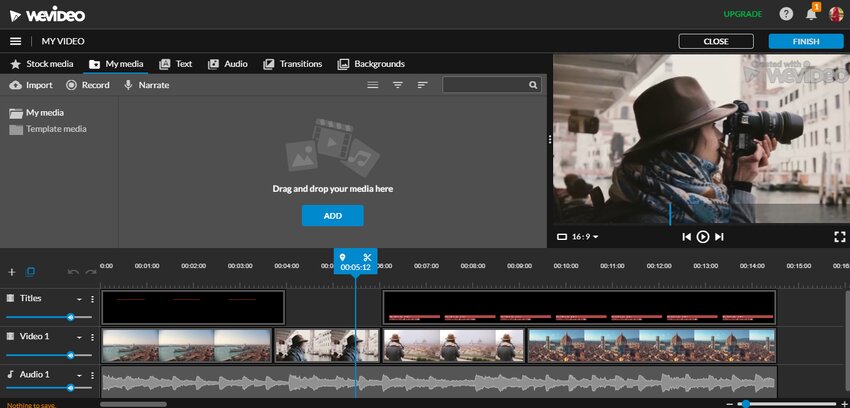 If you are looking for a beginner-level video editor to quickly and creatively attach videos together, Biteable is the way to go. This free online tool offers a suite of customization options to stitch multiple footages into a professional-looking motion picture. Users can paste videos together and add transitions like swipe up, swipe left, or dreamy cross-fade.
Pros:
Drag and drop option
Affordable
Good quality output
Merge video files
Extensive customization options
A straightforward interface
Cons:
Limitations for video editing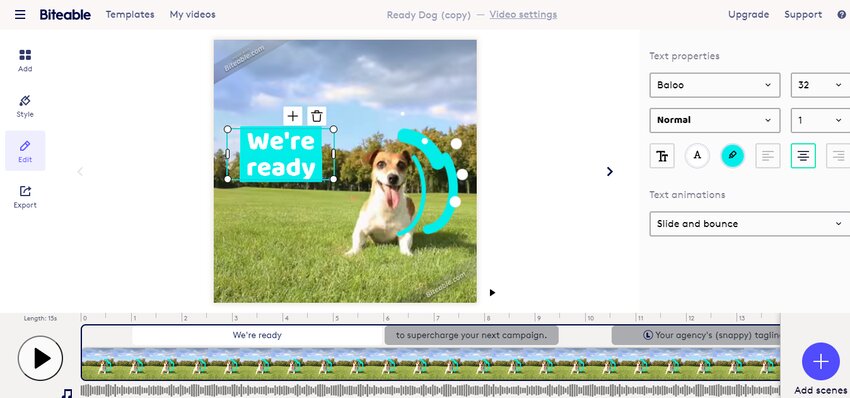 Part 2: Top 3 Merger of Mixing Audio with Video
Animoto is one of the best merge video maker suitable for all kinds of users. With Animoto, you can add your clips to pre-built templates, customize, merge, and mix audio with video to draw viewer's attention. You will love it for the free extensive music library, making it even easier to add complimenting melody to your movie. Not just that, it also allows you to upload your favorite music without the hassles of any downloads.
Pros:
Merge video without losing quality
Rich library of stock music tracks
Upload custom audio files
Supports multiple video formats
Easy drag and drop option
Quick export
Cons:
Limited rearrangement options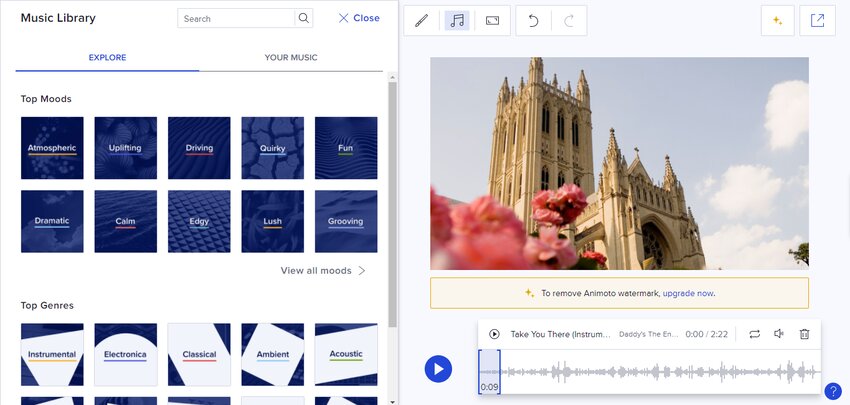 Movie Maker Online is yet another excellent choice to mix audio with video with full-featured designs for novice video editors. Totally simple-to-use, Moviemaker Online comes with a drag and drop interface, royalty-free music library, and a stock image library. In addition, you can feel free to import custom music with the upload button or add custom texts to enhance the look of your final video.
Pros:
High-quality output
Royalty-free music, photo, and video library
150+ video formats are supported
Import custom music from local files
Timelines zoom option
Customizable text and video duration
Cons:
Blocks ad-blocking plugins during the working process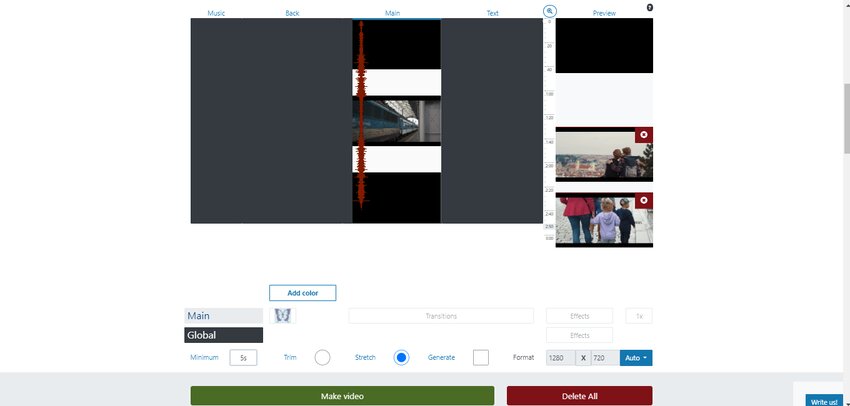 When it comes to compiling videos together online with a piece of complimenting music, Kizoa offers many editing features and a whopping big music library for free. With an upload option for custom audio files and a variety of transitional effects, it's even easier to transform raw footage into aesthetic short movies.
Pros:
Customizable aspect ratios
Extensive library of stock music tracks
A large number of animations and transitions
Crop and merge videos
High-quality export to Facebook and YouTube
Cons:
Complicated user interface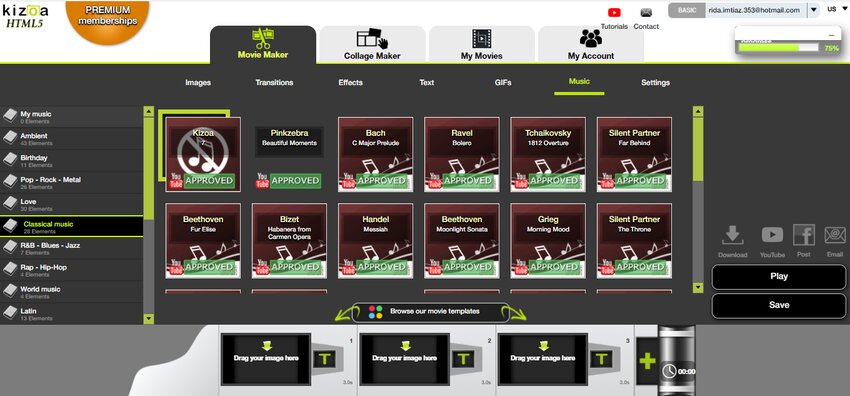 Part 3: The Best 3 Ways of Merging Photo Video
More than just a web-based photo video merger, Typito is an online video creation platform. Using this easy yet professional tool, you can effortlessly merge photo and video online into a fantastic video. Essentially, Typito can customize scenes with creative text overlays, upbeat music tracks, quirky elements, and clip videos together within no time. The best thing about this app is that it can merge clips with photos to give life to a seamless video.
Pros:
Typography
Retains original video quality while exporting
Rich music and stock photo library
Trim and Crop tool
Drag and drop interface
Supported media import formats are JPEG, PNG, MP4, and MOV
Attractive graphics
Cons:
The timeline is overwhelming to understand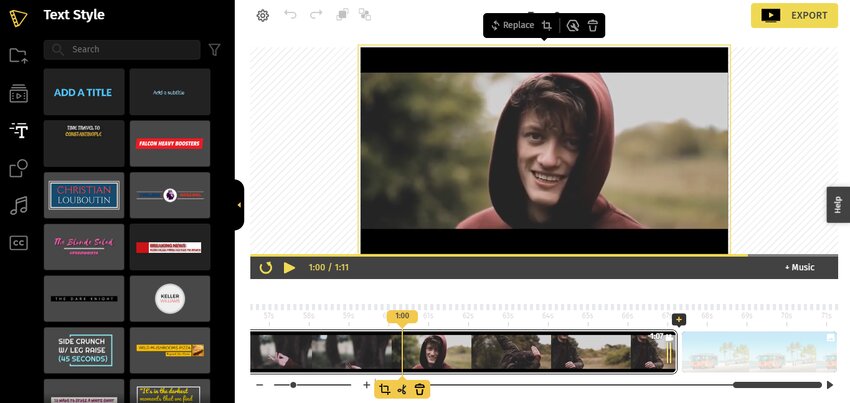 Don't have any video editing skills? No worries, because with BeeCut, anyone can design professional-level videos that stand out on social media. It includes various editing features that allow you to merge photo video in creative styles in only three simple steps. Before you merge photo and video online, BeeCut will enable you to trim, rotate, crop, and edit clips to produce eye-catching videos effortlessly.
Pros:
Supports MP4, AVI, MOV, WEBM, and other standard video formats
User-friendly interface to appeal to beginners
Available online as well as on Android and iOS
Extract audio from video
Drag and drop video merger
Video stabilization
Split, crop, rotate and combine options
Cons:
Lack of advanced editing tools

LightMV is one of the most famous video editors used to merge photo and video online. This powerful merge video maker supports 720p and 1080p resolutions to produce high-quality videos that you can share on Facebook, YouTube, Instagram, etc. You can cut, set duration, rotate, adjust volume, and combine still photos into creative videos all on the same platform. To top it all, it offers a save draft option so you can get back to your work anytime, anywhere.
Pros:
Easy and free to use
No download or install
High-resolution output
No watermark for the final video
Variety of fantastic video templates
Media library
Social sharing
Cons: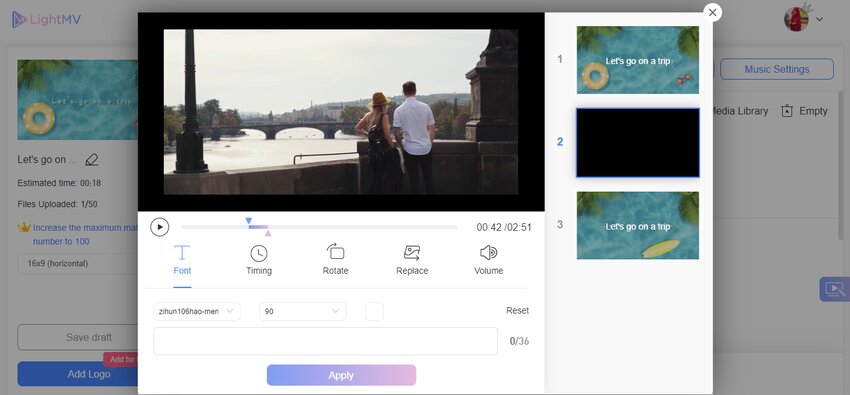 Bottom line
With technology advancing every day, media quality is also approaching newer heights. Therefore, to stay in the league, it is essential to level up your video editing game. Thankfully, handy tools like merge video makers online and offline have made it easier to create professional-looking videos even without any previous video creation experience.
Compiling videos together is relatively easy and straightforward if you have the right tool. Wondershare UniConverter is a powerful yet easy-to-use video editing software you can use to merge video without losing quality.
So, are you ready to stand out in the crowd? Happy creating!