Sometimes you may watch a professional quality video full of motions and effects on the internet and wonder what one must do to create such exciting content. However, this is not as complex as it sounds because you can practically implement your creative and innovative ideas with the invention of new applications and software.
In this article, we have provided you the best possible free video merging apps and free video merging software so you can edit your videos professionally in your comfort zone without any complexities.
Part 1: 6 Working video merger apps for free
In this part of the article, we shall provide you the best free video merging apps.
Available System: Android
AndroVid is a useful video editing app available on Google Play Store. This free-of-cost application allows you to trim, split, remove and cut to merge segments of your videos. Speaking of video merging, this free video merger app joins your videos in no time without losing the original quality. Although the unique feature of this app is its MP3 converting feature, it has not proved to be so useful yet.
This app has successfully created striking animations and slideshows through its extraordinary filters and effects, but it provides very limited audio and graphic features. The interface is not very user-friendly, which is a turn down for most of the users. The free version of AndroVid allows only a handful of features that includes very rudimentary video editing tools. However, the ad-free and paid versions are very expensive, and there are better options at this price in the market.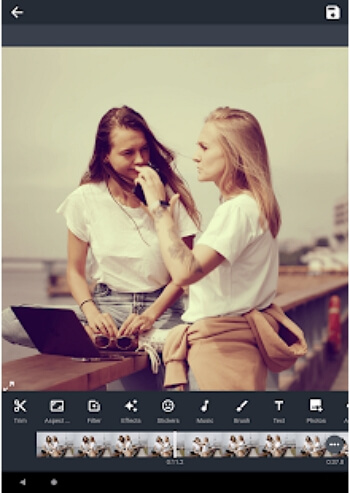 Available System: Android, iOS
FilomoraGo is a convenient video merging app that joins videos together for free without any unnecessary hassle. Although it takes quite some time to merge the videos, its smooth and efficient working makes up for that. The intuitive graphical interface, along with extraordinary video editing features, adds to its efficacious functionality.
The features include basic trimming, splitting, and rotating and PIP effects, background music options, adjusting the aspect ratio, and adding unique stickers, filters, and effects. This free video merging app has made video editing a cakewalk for beginners as well as professionals. FilmoraGo is a stupendous free app to put videos together.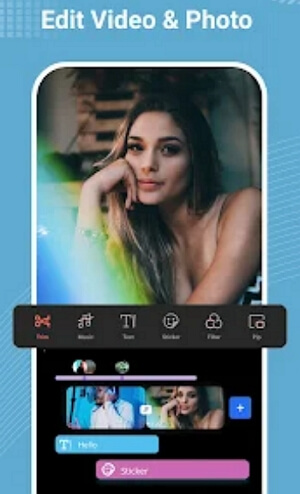 Available System: Android
Video Merge - Side By Side is a free app to combine videos available on Google Play Store. This app provides plenty of video editing features to enhance the quality and presentation of your videos. A distinctive feature of this free video merger app is merging your videos and playing them simultaneously. This will allow you to preview your merged video and see any faults in the videos while combining them.
Video Merge - Side By Side merges videos in horizontal orientation only despite the dimensions. This feature is somewhat of a con as it does not deal with vertical or any other orientation, and the user is only limited to horizontal orientations.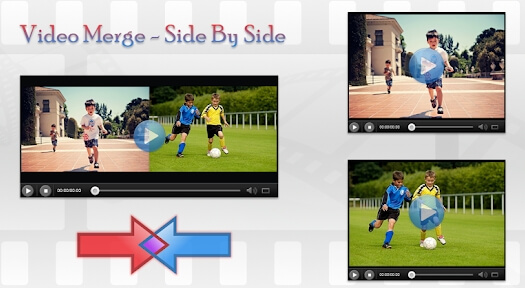 Available System: iOS
As the name says, Video Merger is one of the best free video merger app. This application was solely created for combining two videos or segments of videos. Along with basic editing tools, this app allows you to upload your edited videos on any social media platform immediately or save it in your gallery without any hassle. The main attraction for the users is its smooth functioning, as this app is free of unnecessary advertisements and watermarks.
Video Merger is a great option if you plan on merging two videos simply. However, if you're concerned with merging more than two videos and changing the video orientation, then you'll have to opt for the paid version.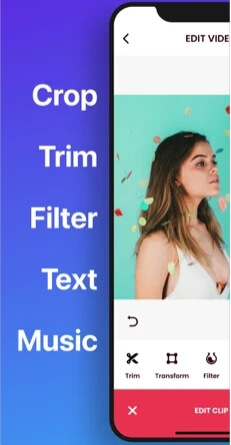 Available System: Android, iOS
Vlogit is another free app to join videos together. Wondershare Vlogit is a professional video editing app that is completely free for personal and professional use. Along with the amazing professional editing features, the Clip Editing Tool of this app allows you to split, trim, remove, cut segments of videos so you can merge them easily.
Vlogit allows you to customize your video openers, make an attractive thumbnail, combine pictures or segments of videos and add background music, sound effects, or voiceovers. No wonder Vlogit has been a great hit among the Youtubers. Even though this app has a great name yet, it often crashes while importing the videos.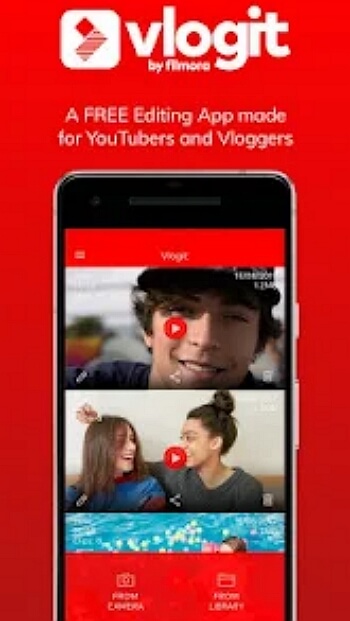 Available System: Android
LumaFusion is a professional video editor that provides the user with limitless editing tools. It allows the user to edit every bit of their video in detail, keeping the smallest details in mind. Through the Multiselect feature, the user will trim, copy and cut segments of the videos to merge them.
Despite the exemplary features LumaFsion offers, the major drawback is its price. It is one of the most expensive video editing apps, which makes it inconvenient for non-professionals. For this reason, LumaFusion is best suited for professional and commercial use only.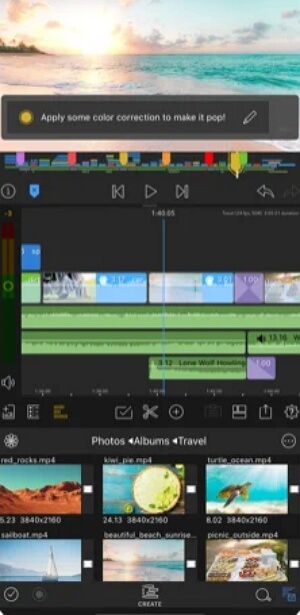 Part 2: 6 Actionable free video merging software
This part of the article shall explain to you the topmost video merging software for free.
Available System: Windows
Wondershare UniConverter is yet another amazing software to combine videos for free. This well-developed software with a clean and hassle-free interface has made it easier to navigate the features. The features are very neatly laid without any cramming or complexities, which allows the user to easily cut, trim, or split videos to merge them.
One feature that distinguishes UniConverter from other video merging software is its myriad formats to the users. This software works seamlessly with every format. However, the most functional features are paid, and you cannot access them in the free version.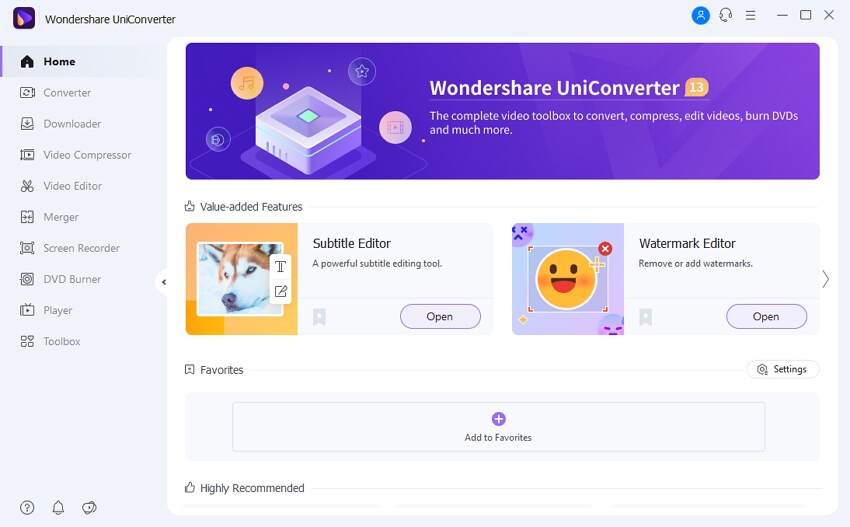 Available System: Windows, macOS
Filmora Video Editor is one of the best video merging software compatible with Windows and macOS. This all-in-one software with illimitable video editing features is convenient for both beginners and professionals. Despite plenty of features and complexities, the Instant Cutter feature of Filmora Video Editor has made it easier to merge the videos or segments in no time.
Apart from that, the amazing sound effects and transition options have attracted many users as well. The only drawback of this software is the watermark, but other than that, it is the best video joiner software that you can download for free.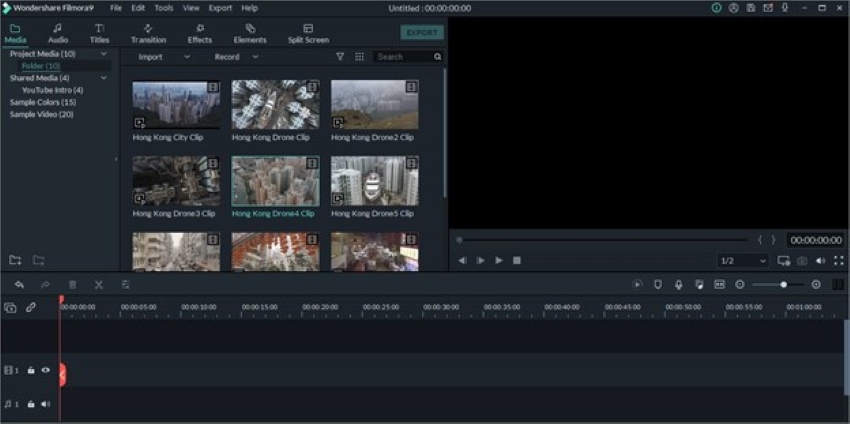 Available System: Windows, macOS, Linux
Shotcut is one of the oldest and free video joining software compatible with Windows, Linux, and macOS. Since it's quite old, its interface is not as appealing as the other software in the market but works immaculately nonetheless. This software is a great option for novices to do basic video editing consisting of various video formats.
This software does not offer a huge variety of effects and transitions, but it is a great tool for simple video editing. Similarly, for cutting, trimming, and splitting the videos to merge them, Shotcut can be of great help.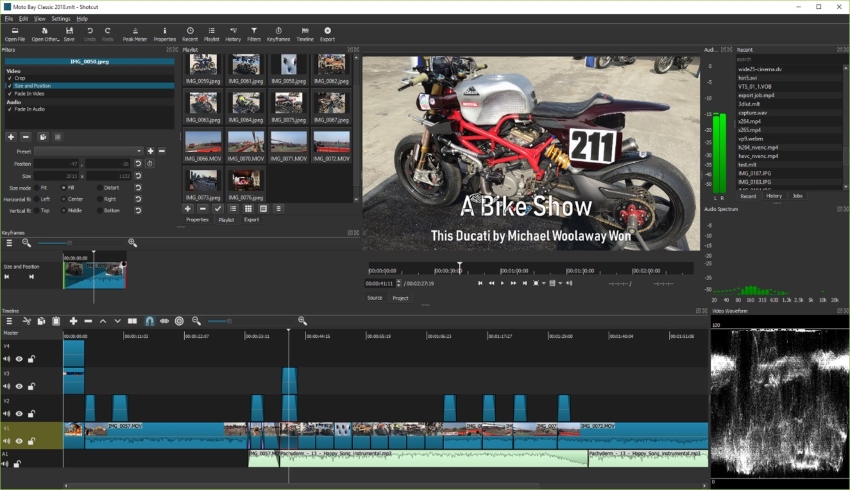 Available System: Software
Another free-of-cost video merging software is Aconvert that supports nearly all kinds of video, audio, and image formats. The key feature of this software is its batch conversion. Moreover, it supports the simplest interface, making it easier for users to cut and trim their videos to merge them.
Aconvert is a very limited software that supports videos of a maximum of 1GB only. Besides, it supports limited conversion settings, and the unnecessary adverts take up a lot the space, which frustrates the user.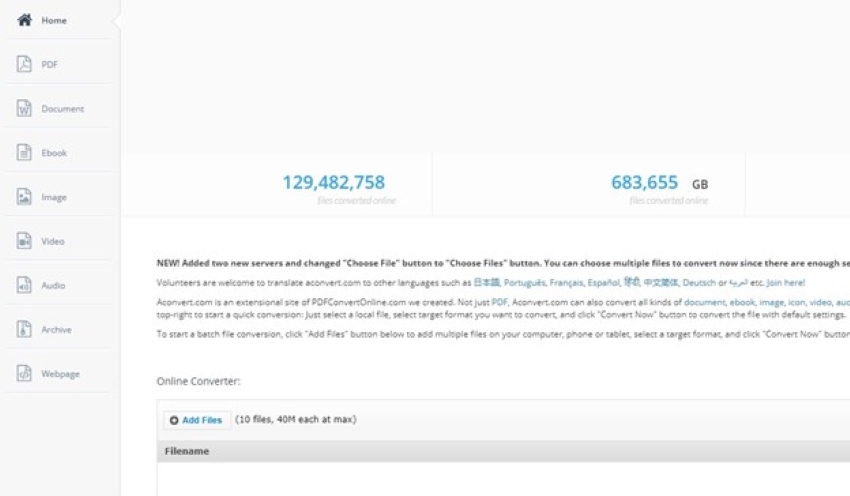 Available System: Software
FlexClip is a video editing tool that merges the videos for free. This software supports sufficient templates, effects, transitions, and stock footage libraries. FlexClip gives you full access and control over editing and converting your videos. As a result, you can cut and trim your videos to merge them and create splendid slideshows, movies, or transitions.
Through this, you can edit your videos using various other features, graphics, and motions effortlessly in no time. Even if you've lost any of your clips, FlexClip itself provides free videos, audio, or pictures for your storyboard.
FlexClip is undoubtedly a powerful video editing software but has a limited video duration. This makes it quite inconvenient for professionals, but for starters, it is a great tool.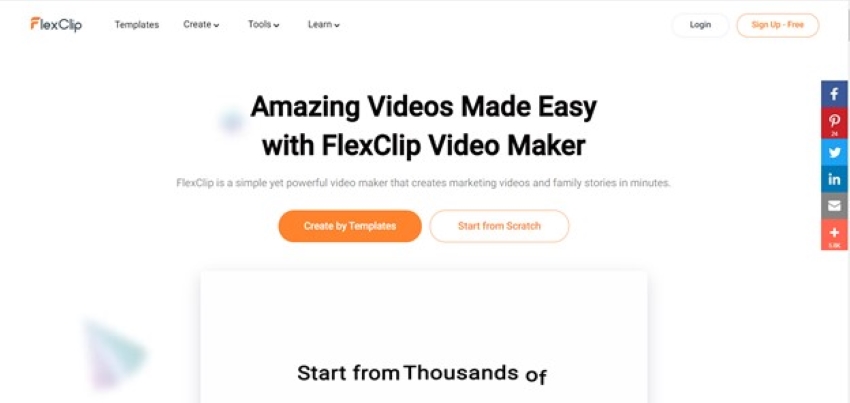 Available System: Windows
As the name suggests, Ultra Video Joiner is a video merger software that is free to download specifically for Windows. This software supports multiple formats and enables the users to combine multiple videos in no time without re-encoding.
Since it is exclusively made for combining videos, it does not support any extraordinary video editing features like other software.
Part 3: Convenient free video joiners online - Recommend!
This part of the article shall briefly explain two of the most convenient and free online video joiners.
Wondershare Online UniConverter is associated with Wondershare Uniconverter. It's a full-featured video joiner, designed with ingenuity and practicality, and comes with many features to make your experience seamless and smooth. Since it is available for free, it is accessible to everyone around the globe.
Wondershare Online UniConverter was launched to make it globally available and to save the user from wasting excessive time and load on the processor by installing it. It is a very convenient tool as it supports 1000+ formats and compresses the videos to occupy minimum space on the user's device.
Besides, this joiner is also known for its nifty and user-oriented video features. It allows the user to trim, crop, and split videos to merge them. Moreover, the user can also adjust the color and brightness of the video to deliver a fine presentation.
Step 1: Upload the desired file
Upload the videos or segments of the videos that you want to merge.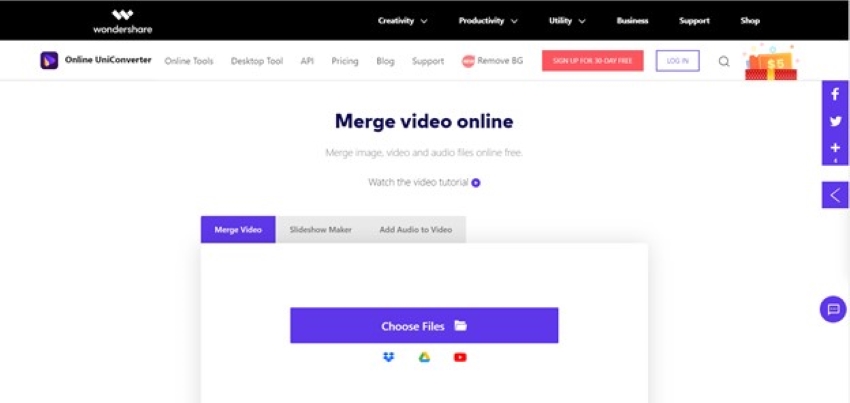 Step 2: Arrange your videos in order
The next step is to arrange your videos in your desired order. To make further changes, you can use the features on the right side of the page to edit your video.
Step 3: Download the merged videos on your device
Now you can preview the video to see any faults. If you don't find any faults, click on Download to download the merged video on your device. Else, click on Edit again to make any other changes.
Clideo Online Video Joiner is another amazing online video joiner. Apart from being very easy to use, this video joiner also gives the freedom to customize the resolution of your video, add background music of your choice, and save the video in your desired format. Even though it is online, Clideo provides strong privacy through its premium security encryption.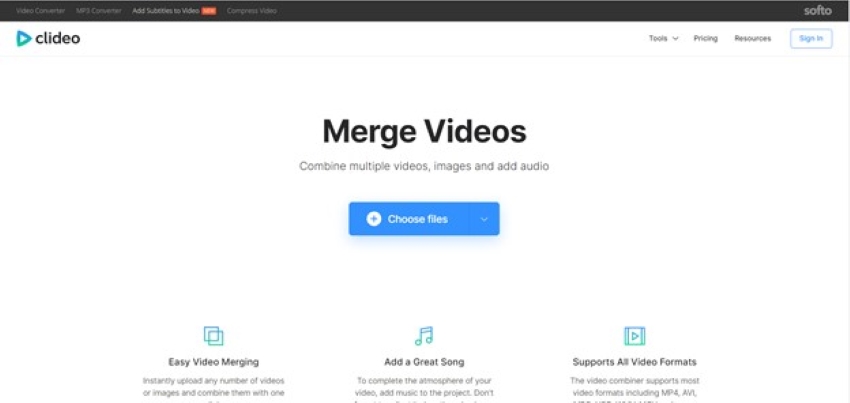 Conclusion
Video merging is a very easy process and can be done easily with any methods mentioned above. With such amazing free video merging apps and softwares, you don't need any professional skills to edit your videos. Read the article carefully to create your professional quality rousing videos with multiple effects to give the viewers an exciting experience.