To capture what is happening on your screen, good recording software is needed and there is no dearth of these free programs available. Using these software programs you can record your screen, add voiceover, edit recordings and share them. We have rounded up the best free screen recorder for you as below.
Part 1. 10 Free Screen Recording Software
Available for Windows, Mac, and Linux this is an open-source program that comes with a wide range of features. The software can professionally record your screen as real-time videos can be customized with options for editing, detailing, and, mixing. The studio mode option lets your preview the recording before you publish it to any platform. There is an audio mixer with filters like noise gate, noise suppression, and gain. If you are using a screen recording software for the first time, then you would need to spend some time to know the features and its functioning.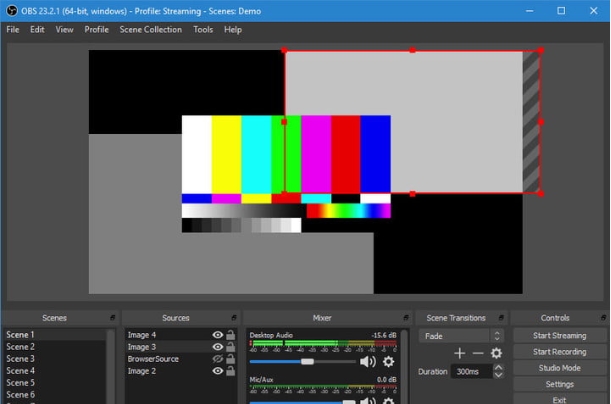 Apowersoft Free Online Screen recorder
URL: https://www.apowersoft.com/free-online-screen-recorder
This is a web-based online tool that works straight from your browser and facilitates recording the screen quickly. There is also a desktop version of the software available if you need one. The process of recording is simple where you just need to play the video or the screen, select the region, and record. The recordings can be exported to an array of formats like MP4, GIF, WMV, and others using this free recording software. Recordings can also be edited using features like adding text, callout, highlights, and others. You can even record webcam and capture the audio source as needed. If you are using the software for the first time, you need to download the launcher.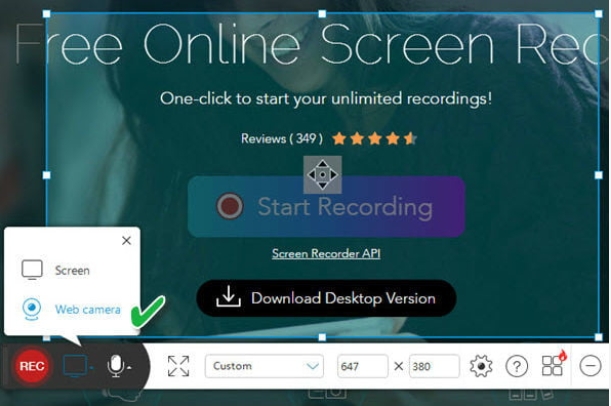 URL: https://www.flashbackrecorder.com/express/
This is free to use a Windows-based tool that allows screen recording without any time limits or watermark. The program allows the complete screen, selected area webcam, or a window as required. The recordings can be cropped and trimmed and there is also an option to export it to a YouTube account or an FTP server. Recordings can be further enhanced by adding captions, images, arrows, commentary, and music. Long recordings can be divided into small clips and the formats in which you can export the files include WMV, MP4, and AVI.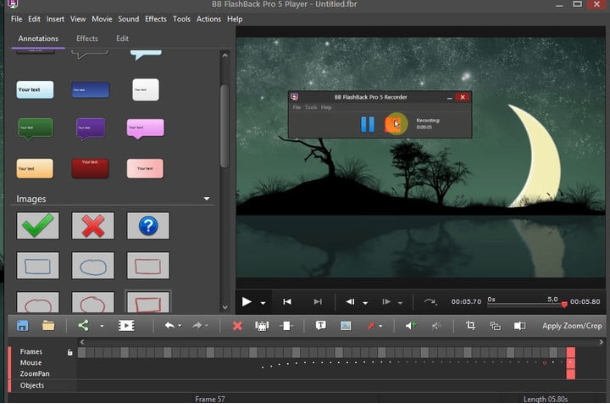 Available for Windows 7, 8.1, and 10 this is an open-source app that allows capturing screen recording as well as still screen. The recordings using the program have no watermark and you do not have to worry about any time limitations. The screen recordings can be saved as a video or as GIF files to be shared on various social media and file-sharing sites. ShareX does not support grabs and recording games in the full-screen mode. Additional features like capturing an entire webpage, identity text via OCR, and capture screen-recording as a schedule.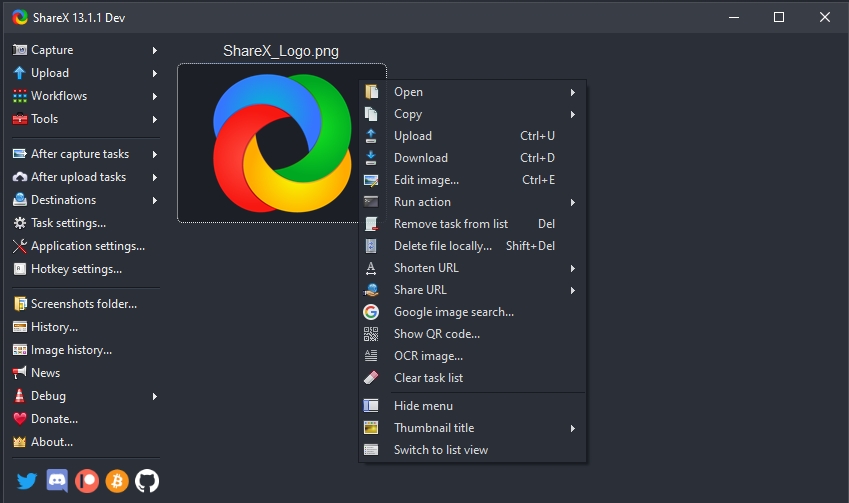 Debut Video Capture and Screen Recorder Software
URL: https://www.nchsoftware.com/capture/index.html?ref=toptenreviews-2020
This is a simple yet powerful tool that supports an array of features including screen recording. The footage from the external devices including security cameras and webcams can also be recorded using this program. You can select to record the complete screen, a selected portion, or a single window. There is an option for adding filters, own watermarks, and captions before you start the recording. Recordings can be done in MP4, AVI, FLV, MOV, and other formats without any time limits or watermark. Additional features include mouse highlighting, audio recording from the microphone and speakers, create photo snapshots, and more.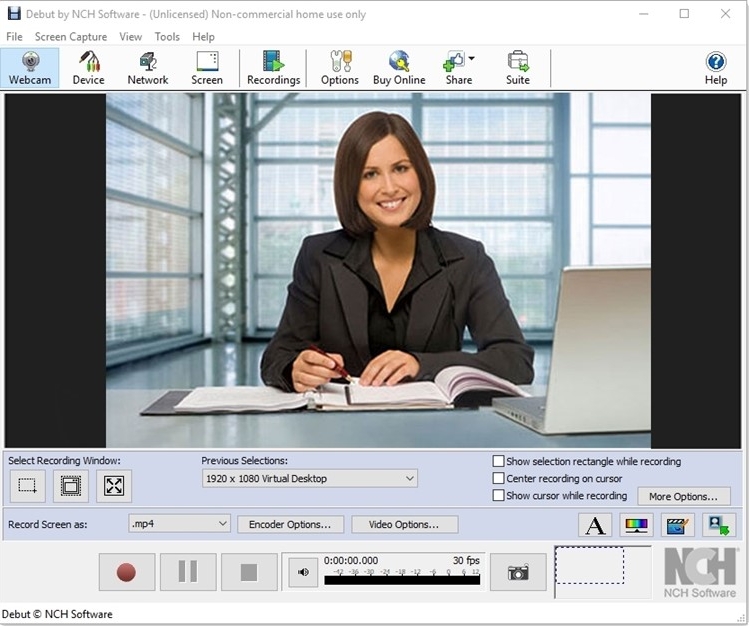 URL: https://screencast-o-matic.com/home
This is a web-based online tool that works on Windows, Mac, Android, iOS, and Chromebook for recording your screen. There is no restriction to the number of clips that can be recorded but each of these recordings can be a maximum of 15minutes. The program allows you to zoom during the recordings and option for trimming and adding captions is also there. The recordings can be shared over the YouTube and cloud storage or can be saved to the desktop. While using this screen capture software for the first time, you need to launch the free recorder.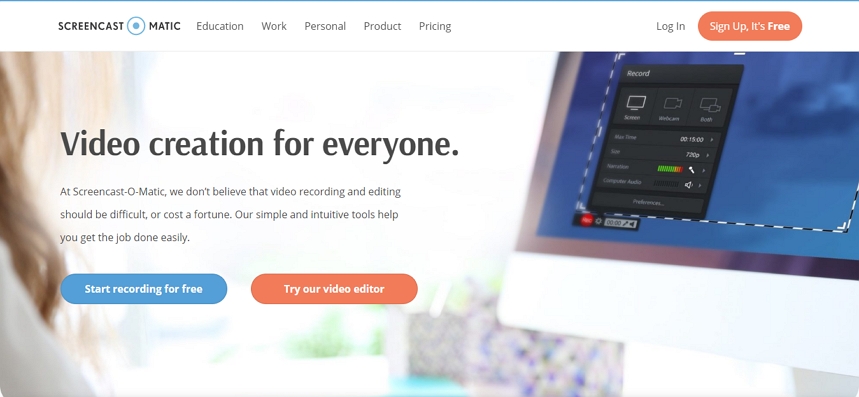 For basic screen recordings without any editing requirements, this is a good lightweight tool. The program can record the screen activities along with the audio in a simple manner. CamStudio is an open-source program that can record your screen in AVI format and has an option to create a screen-in-screen video. Small-sized videos can be created using the program and quality can be selected as required along with the custom cursor. The recordings can be converted to the SWF format if needed.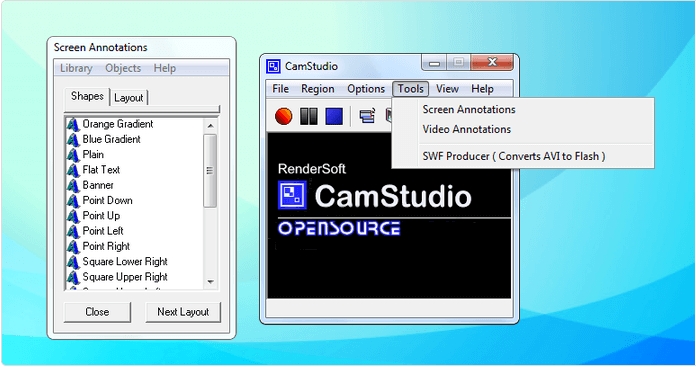 URL: https://www.ezvid.com/download
This is one of the easiest free screen recording software that is fast and simple to use. The video editor of the program lets you customize the recordings for games, browser, and desktop. You can even draw on your screen using the tool and there is an option for instant Facecam and voice synthesis. Ezvid also works as an instant slideshow maker and offers an option for video speed control.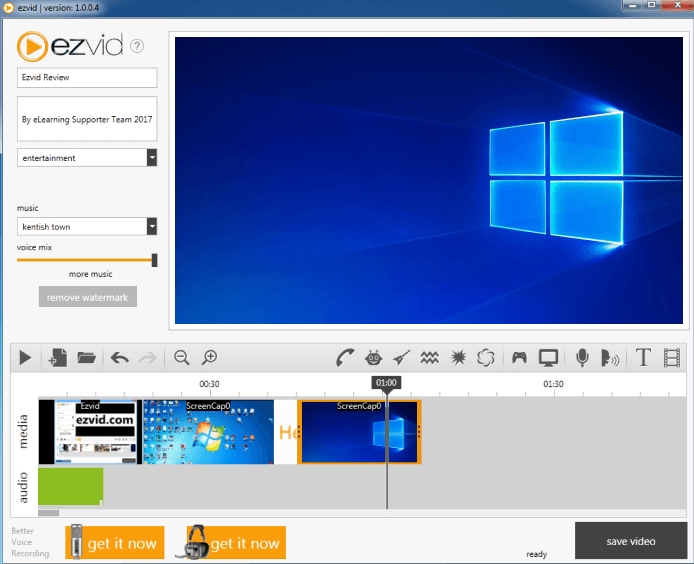 URL: https://www.bandicam.com/free-screen-recorder/
This is free screen recording software for Windows that is easy to use and allows capturing the screen as a video file or as a screenshot. You can select the screen to be recorded and use a real-time mic for audio recording and also add real-time drawing. Webcam overlays can be added using the tool along with the option to add the logos. The software offers an array of settings to be selected and the recordings come with a watermark.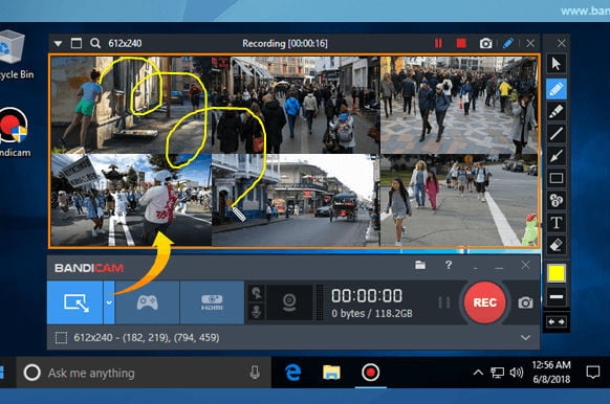 This is a perfect program if you are looking for screen recordings that are majorly based on business requirements. The screen is captured in good quality using the program and it saves to cloud storage that is protected with encryption. User-interface is simple that makes recording quick and there is an option for managing and sharing several files at a time. The free version of the program provides 2GB of free cloud storage to save your recordings.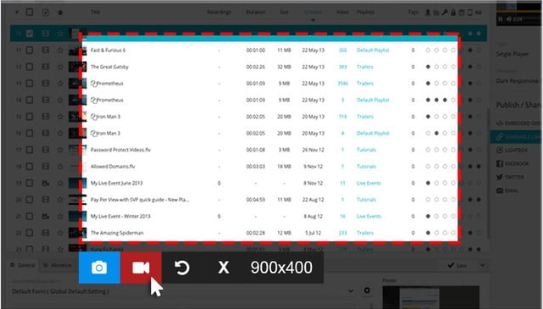 Part 2. Professional Screen Capture Software for Windows and Mac
Free recording software comes with decent features that meet your basic recording requirements. On the flip side there are several limitations of these free programs like watermark, limited format support, limited editing and advanced features, restriction to the maximum length of the recording, and more. So if you are in search of a software that helps you professionally record your screen without any limitations, Wondershare UniConverter is just an apt tool. This Windows and Mac-based software lets you record an entire screen or the selected portion in high-quality videos. You can choose the quality, frame rate, and other parameters of the videos as required. Frame rate, quality, and other video parameters can be selected along with the option to set a timer and choose shortcuts for starting and stopping the video.
The recordings can be converted to almost all popular formats as the software works as an excellent conversion tool with support to over 1000 formats. The recordings can also be transferred to your iPhone, Android, and other devices. The built-in editor of the program lets you cut, crop, trim, and edit files using other tools.
Steps to record screen using Wondershare UniConverter.
Step 1: Launch Wondershare screen recorder.
Start Wondershare UniConverter and click Screen Recorder from the left pane of the interface, click the Camera icon to start recording or click the down-facing Arrow followed by the Screen Recorder button.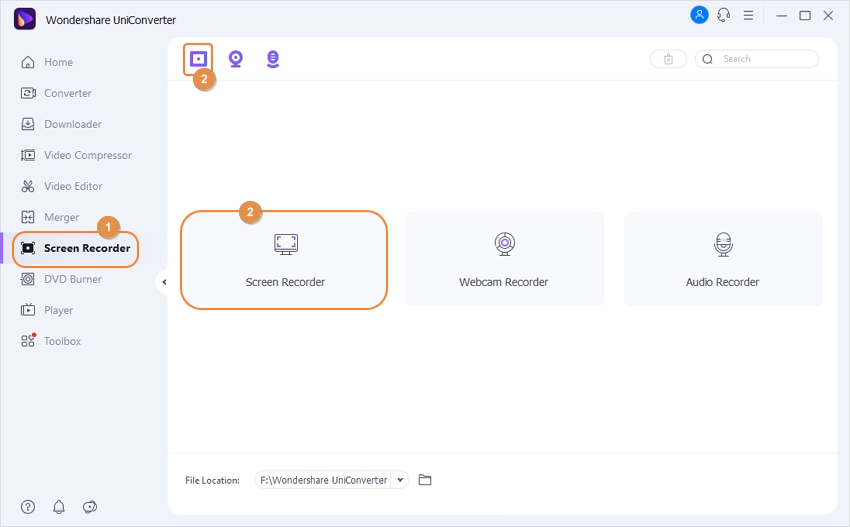 Step 2: Select the capture area and audio sources.
The interface will now have a screen recording window. You can record a specific area by moving the edges of the window or use the center Cross icon to move the frame. The exact width and height can also be selected.
The Settings icon at the right-corner will further open a drop-down menu for selecting more recording settings like location, quality, timer, and more.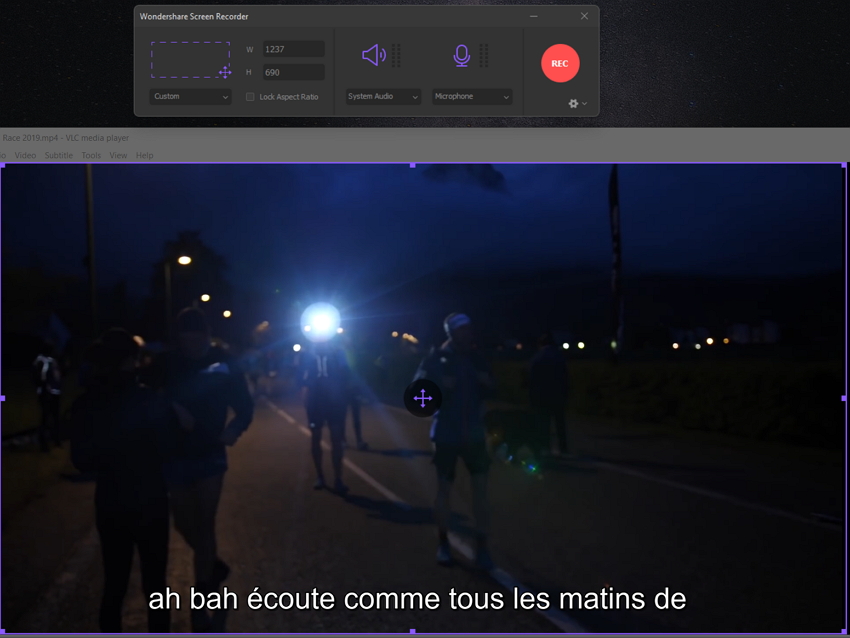 Step 3: Start recording.
Click on the red REC button and with 5 seconds of the countdown (to make you prepare for the video to be recorded) the recording will begin.

Step 4: Stop recording.
Recording can be stopped by clicking on the red Stop icon or by using the shortcut keys.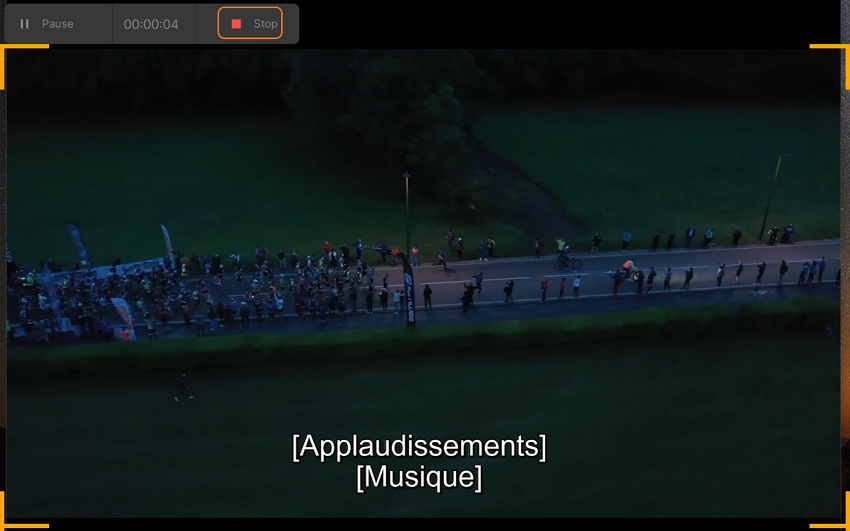 Summary
With several recording programs at your disposal, choose the one that makes your task quick and simple. For high-quality professional recordings with added features, paid tools like Wondershare UniConverter must be installed.