Converting photos into a video might seem daunting, especially if you've no past editing experience. You might think that you need high-end editing software on your laptops and desktop computers to convert images to aesthetic-looking videos— but that's not the case!
Nowadays, when it comes to creating movies with photographs and background music, you can accomplish the task even with mobile applications— making it possible in seconds. You can transform your images into animated videos or slide displays with a few taps and clicks to share your best memories with loved ones. We've compiled a list of the top 10 best Photo to Video Apps here. You can quickly and effortlessly create visually appealing music-based picture videos using these apps.
Top 1- Best Photos to Video Maker Apps for Mobile [Android & iPhone]
The following are the best photo video editing apps to make your life easier:
1. FilmoraGo
Supported OS: Android and iOS
FilmoraGo is a great alternative if you're looking for a simple video editing tool with the ability to expand your editing capabilities as you go. For Instagram, the app is ideal, but it can also produce audience-friendly videos for various other social media platforms. It's a great tool, from generating instructional films to editing action camera footage to creating viral movies for social media.
FilmoraGo is accessible for free on both iOS and Android smartphones. We tried using this program to create attractive video blogs, memes, and even bespoke films from images, and it didn't disappoint.
You can import images and videos from your device's gallery within the Filmora Go with a few taps. You can add effects, filters, and other elements, apart from simply merging photos to make a video.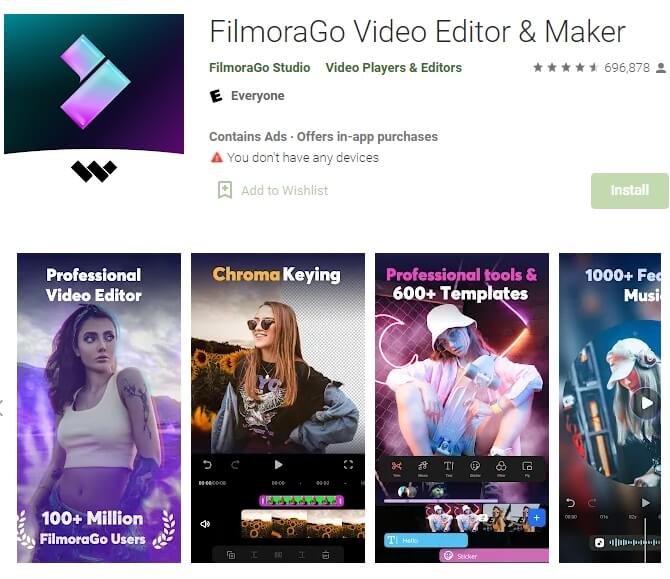 Pros
Smooth functionality
Diverse editing tool
Easy to use
Cons
In-app purchase to unlock all features
2. Magisto
Supported OS: Android and iOS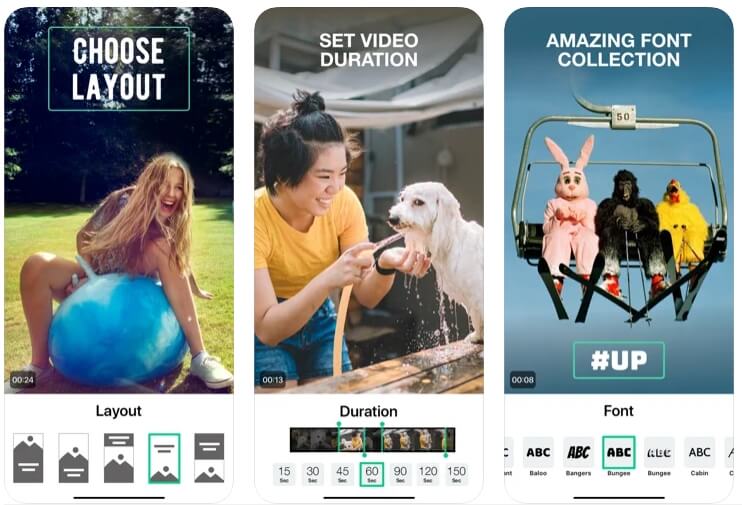 Magisto use advanced artificial intelligence to identify the most interesting bits of your recording. It cleverly employs editing methods like video stabilization, filters, object identification, effects, and auto-crop to produce mind-blowing films that outperform the usual slideshow or collage on the market.
Magisto is a personal movie editor that works around the clock to help you tell your narrative. It mixes clips, photographs, filters, music, text, and effects to help you tell your tale. Magisto also aids you with a completely automatic personalized movie, created by converting the photographs and video clips from your photo and video library.
Pros
Intelligent AI
Decent variety of video editing features
Add music to the videos
Cons
3. Google Photos
Supported OS: Android and iOS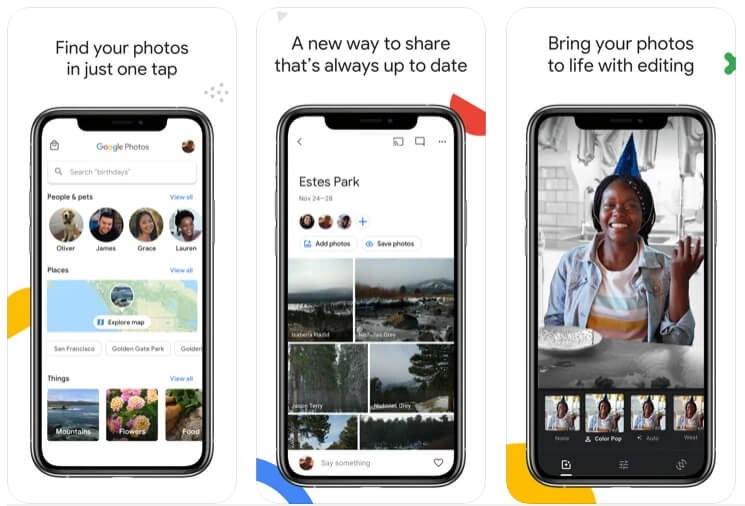 Google Photos can automatically build slideshows and animations from the images in your collection, saving you time. These slideshows are centered on significant moments or recent travels, with Google automatically picking the photographs based on information such as location.
Google Photographs will automatically search for and choose the finest photos and video clips from your collection. Additionally, the program can also add music in the background of your videos
While they were visually appealing, users could not manually pick which photographs they wanted to include in the slideshows, which is a drawback. Here's the best part: Google Photos offers a fantastic picture management interface and free limitless storage space on Google Drive.
Pros
Easy to make slideshows
User-friendly interface
Limitless storage on Google Drive
Cons
Unable to manually pick photos
4. KineMaster
Supported OS:Android and iOS
KineMaster is a simple-to-use but powerful photo video maker app that allows you to combine multiple photos into a single video. Color correction, voiceovers, background music, voice changers, and sound effects are all options for enhancing your video.
You can also reverse, trim, divide, chop, and crop films to make them seem better. Additionally, you can alter the speed for time-lapse and slow-motion effects and add filters and other effects.
It also allows you to edit and export 4K recordings and share them on various social media sites such as Facebook, YouTube, and Instagram, among others. The premium version of KineMaster is required if you want to have the watermark removed from the video you have created.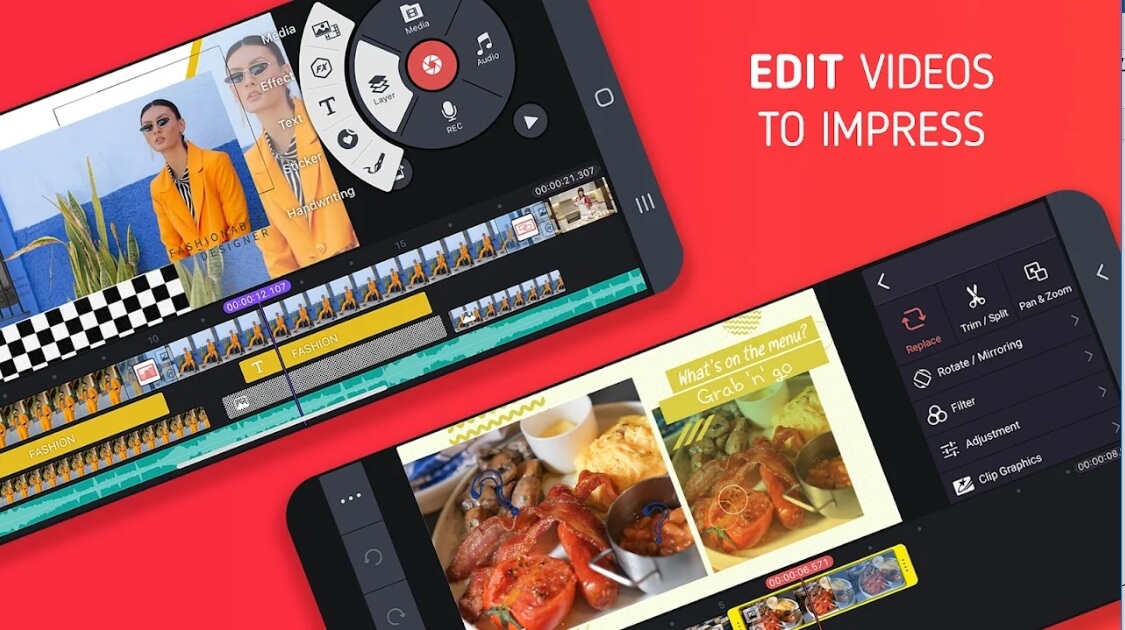 Pros
Excellent community support
Wide range of editing features
Ability to share photo videos to other social apps
Cons
Watermark on photo videos
5. Quik
Supported OS:Android and iOS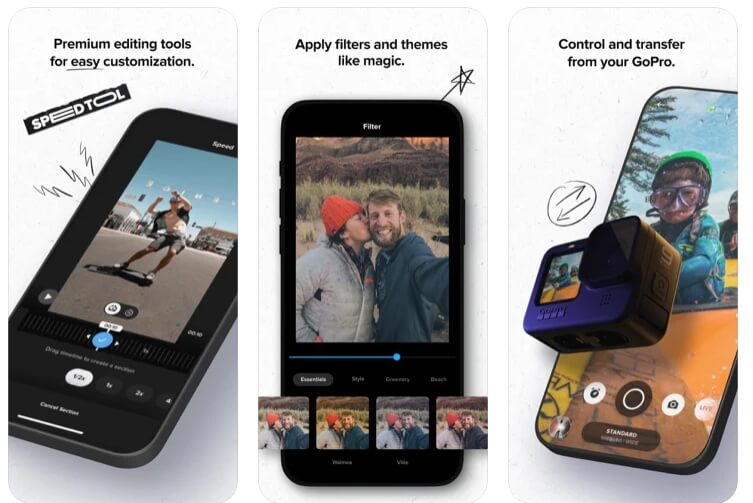 Quik is also regarded as a fantastic photo-to-video converter application. It makes it simple to upload your files (up to 200 photographs and video clips) and then use them to create a film from scratch.
Quik has 26 different themes to pick from, including transitions and images to make it simple to produce a film. Additionally, it has several options for customizing films, such as editing and rotating videos. Aside from that, you can store movies in either 1080p or 720p resolution. All in all, Quik is an app that turns pictures into videos in a breeze.
Pros
Many languages are available on the app
1080p and 720p editing available
Ability to click stills during playback
Cons
Limited updates on the app
6. Funimate
Supported OS: Android and iOS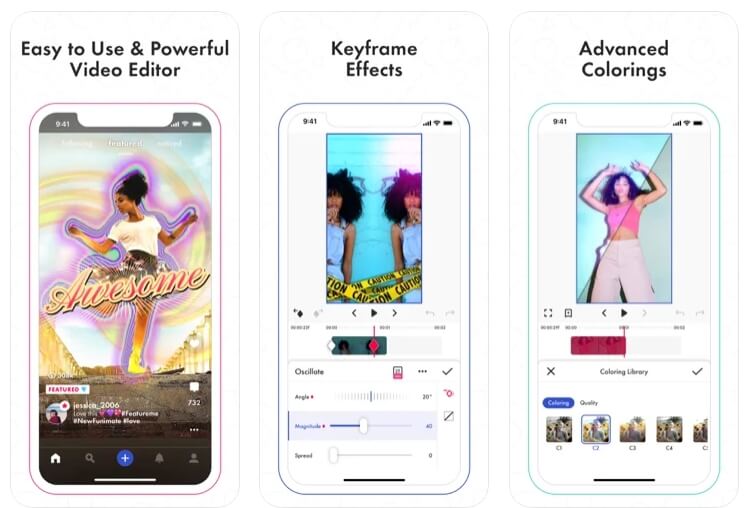 Funimate is a fantastic picture movie creation tool that allows you to create music videos, lip-sync videos, slow-motion films, and other types of videos.
It enables you to trim, combine, and clip movies, apply amazing effects, add music, text, stickers, and emojis to films, create video loops, and do various other things.
Because it advertises that it includes more than 30 video effects that you can experiment with. Because the editing procedure is really simple, it allows you to make your video more pleasant, creative, and original. You can also share your recordings with your friends and family members on social media sites such as Instagram, Facebook, and YouTube, among other places.
Pros
30 video effects on offer
A unique set of features
Intuitive user interface
Cons
Not ideal for professionals
7. Scoompa Video – Slideshow Maker and Video Editor
Supported OS:Android and iOS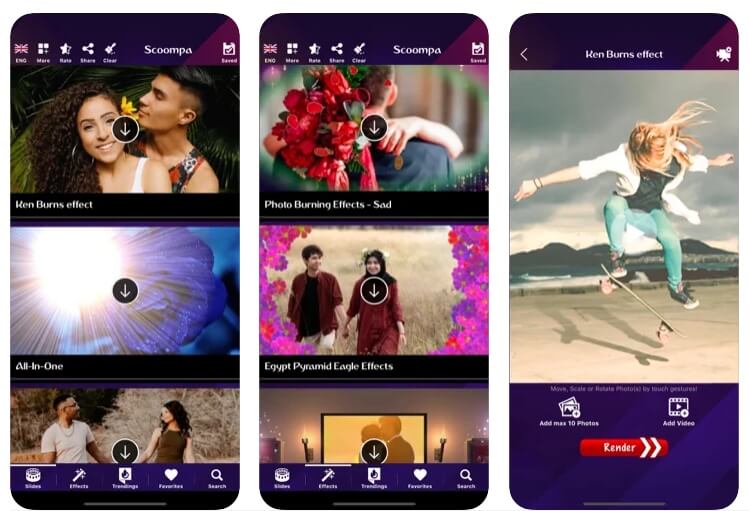 Since its release in 2011, Scoompa has been utilized by more than 85 million people. The software includes hundreds of GIF stickers, emoticons, and more to spice your images and videos.
No matter novice or experienced, photographers can get ultimate benefits from this slideshow maker. It's quick and simple to use so that you can share it on social media right away!
Even after saving, you can go back and alter the effects or animations in the video. Use filters to bring out the best in your photographs and add background music from your music library to make a slideshow. Here's new: A stunning slideshow can be created by combining several animated video frames and transition effects.
Pros
Make stunning slideshows
Several animated video frames
Multiple transition effects
Cons
Picture video editing takes a lot of time
8. VideoShow
Supported OS:Android and iOS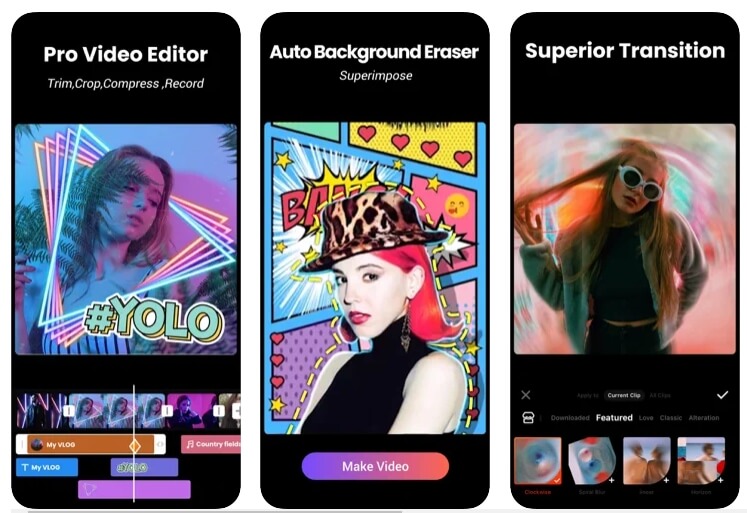 Multiple versions of VideoShow's video editing software are available. Moreover, one of the best features of VideoShow is it can export videos of any length. Themes, subtitle effects, transitions, stickers, and so on are all included here.
Clicking on the Photo Movie option on the app's main screen, we could choose the photographs and videos we wanted to use to create a video. When it comes to adding effects, it's simple and adaptable. Using VideoShow, you can choose when and how long the text will be shown. You can also modify the font and color of your text, add an outline, and even apply animations to your messages.
Pros
Easy functionality
Wide range of video editing features
Transitions, themes, effects, etc.
Cons
Won't let you work with 4K videos
9. FotoPlay
Supported OS:Android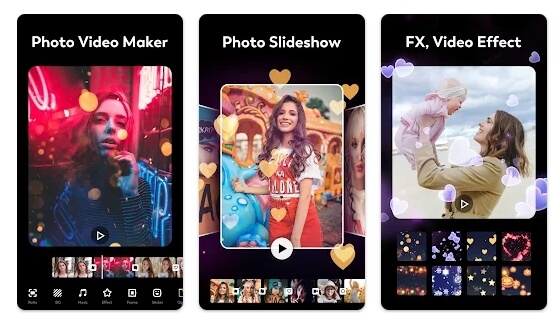 FotoPlay Video Maker allows you to combine photographs and add music to create a slideshow. Photos and videos can be combined with music, effects, and stickers with FotoPlay Video Maker.
You can edit and post your photo video on social media platforms such as TikTok, Instagram, Facebook, and Twitter using this software. FotoPlay's blur feature also provides a blurred backdrop for your photos and movies.
It's simple to use FotoPlay Movie Maker's editing tools to add music to a video, rotate and flip it, and combine several videos. Make and edit photo videos with FotoPlay and have fun!
Pros
User-friendly features
Intuitive interface
Multiple themes to work with
Cons
10. Photo Video Maker
Supported OS:Android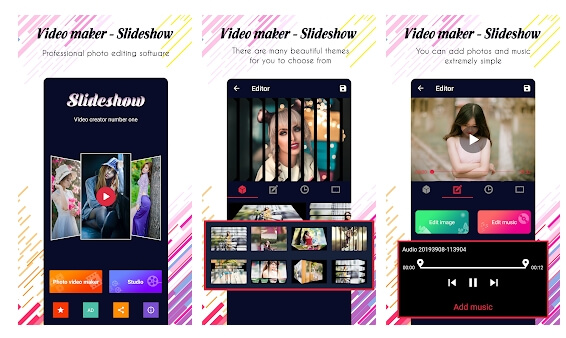 Using a picture movie maker, you have access to many tools and options that allow you to play around with your images. You can add audio and various effects, stickers, and transitions you like.
Even non-techies can create stunning movies and compilations using the app's user-friendly interface and limitless picture storage. Thanks to its built-in image improvement and filtering tools, you might edit the photographs for your slideshows or film directly in the program.
You have complete control over the look and feel of your films, from the length of time each image remains on display to the addition of a frame if desired.
Pros
Stunning sets of themes of work with
Easy to create slideshows
Variety of stickers, effects, transitions, etc.
Cons
Not the most user-friendly interface
Bonus Tip: Create a Video from Photos without an App
Thanks to video slideshow maker from Media.io, which allows you to customize the look of your films by including various effects, music, themes, and more. Using this free slideshow maker online, you can quickly and effortlessly turn your digital photos into moving movies— and that too without any prior experience.
You have complete creative control over the slideshow's soundtrack. Any files you have posted to the site are deleted twenty-four hours after doing so. It lets you combine still images and video recordings into a single presentation in just three easy steps.
Here's the best part: You can export the video in multiple formats to be shared on any social media platform with your loved ones. This list of export formats includes MOV, MPEG-4, MP3, 3GP, MKV, and WMV. Media.io Slideshow Maker also allows you to save your finished work in various aspect ratios— which is a bonus.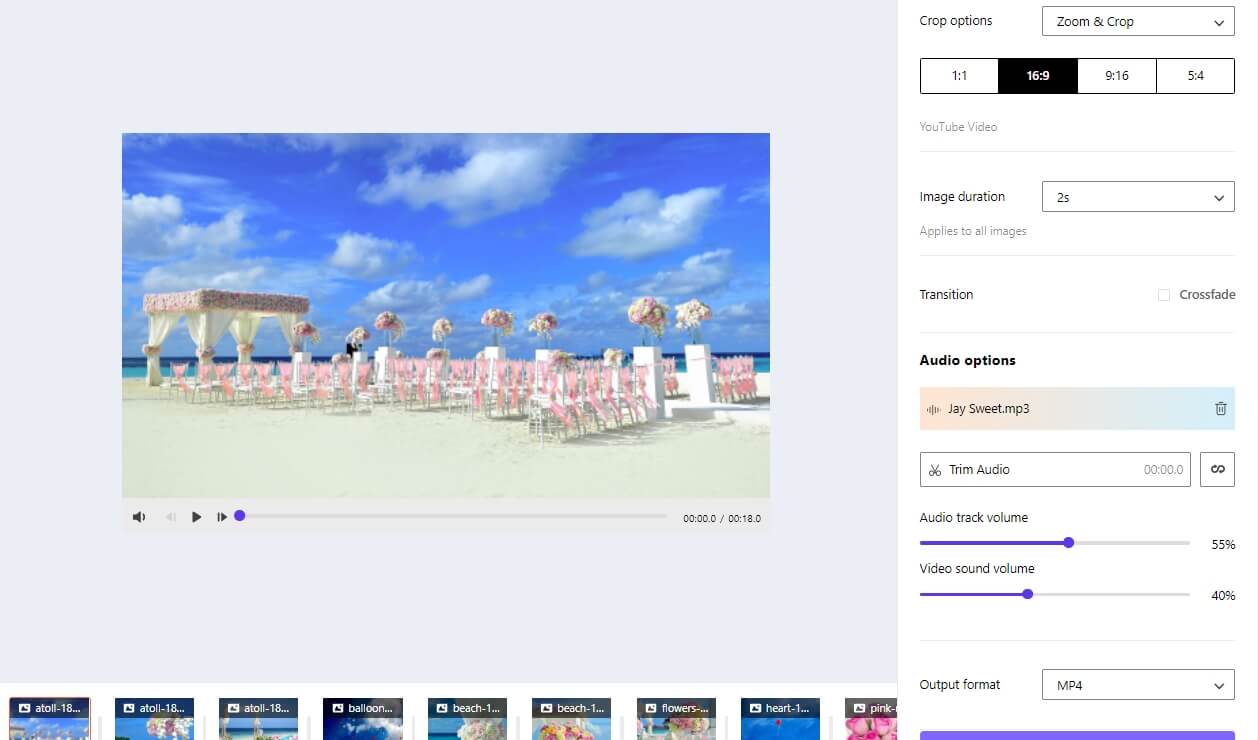 Benefits of Using Media.io:
A three-step procedure
Multiple exporting formats
Add music, effects, transitions, etc. easily
Available online (don't need to download it)
Conclusion
Photo video editors mentioned above are equipped with a wide range of functions, accessibility to a music/video collection, and the ability to export finalized work in high definition. You can seamlessly convert images to video clips on your smartphone with a few taps and clicks.
One can utilize Media.io to create short movies or FilmoraGo to create professional-looking presentations that seem like they were shot in a movie theatre. Make your pick depending on the requirements you have.