Audible.com or Audible store is the most popular website for digital audiobooks. Their store has a ton of audiobooks in various genres for audiobook fans all over the world. But you can only get those files in the AAX format there, which is mostly compatible with Apple devices. So you need to know how to convert AAX to MP3 to solve this problem.
Usually, people face the problem with their Android or iOS mobile phones that follow the standard media player with MP3 extension files. So, in this article, we are going to share the knowledge of best AAX to MP3 converter to convert AAX to MP3 online and offline quickly and free.
Part 1. How to Convert AAX to MP3 on Mac/Windows
There are various ways to convert AAX to MP3 on Mac/Windows computers. We have listed 2 of the best tools below and the guideline for using them without any hassle.
Convert AAX to MP3 with Wondershare UniConverter
You should remember that not all the software applications can read and convert the .aax format. It is the reason that Wondershare UniConverter is the most trusted and recommended video converter for Mac and Windows users. It allows converting AAX to MP3 files with a 30 times faster conversion rate as compared to other software. It is compatible with 1000+ file formats used in the industry without compromising any quality. There are so many unique and advanced features available in this tool. On the other hand, it is effortless to handle by any kind of user.
Support Platform: Windows and Mac
Wondershare UniConverter
· It allows users to convert videos with full HD quality, highest speed, and supports various formats, including AAX.
· It can also convert videos for many devices, including iPhone, Android, iPad, HD TV, Apple TV, VR, Xbox, PSP, Insta360, etc. and more.
· It has a very intelligent video recognizing system that detects videos instantly from external devices.
· Batch conversion of videos to different formats is possible simultaneously.
· It will allow you to merge multiple videos into a single video easily.
· It has pre-set customizable formats, time scheduler, lossless conversion, and simple interface.
· It has a simple but advanced video editor that will help you to make videos more interesting.
Steps on how to convert AAX to MP3 with Wondershare Uniconverter
Step 1. Launch Wondershare Video Converter and Add an AAX File
Install Wondershare UniConverter into your computer first, open the converter, and select the files that you want to convert in the MP3 format. You can either click on the Add Files button or directly drag and drop the files.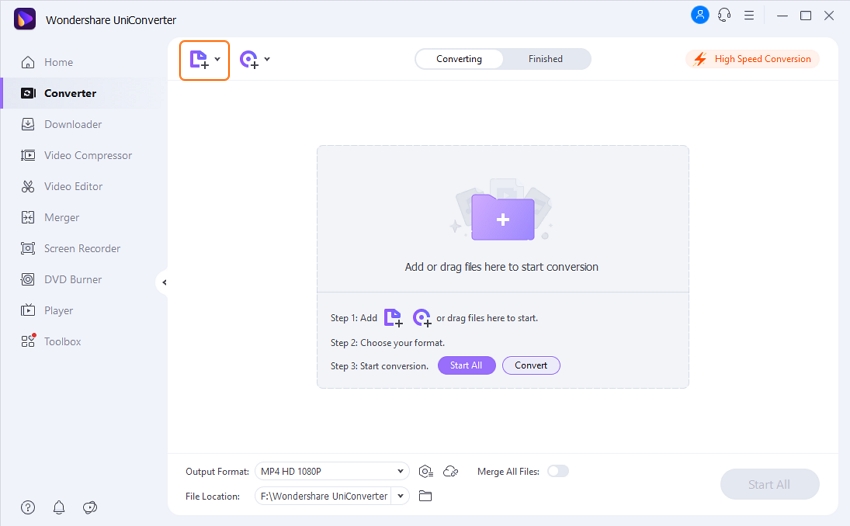 Step 2. Choose Output Format
Then select the MP3 format option just like the below image to convert the AAX file. First, click on the Output Format button to choose MP3 as output format, then click on Audio and select MP3 and High-Quality option.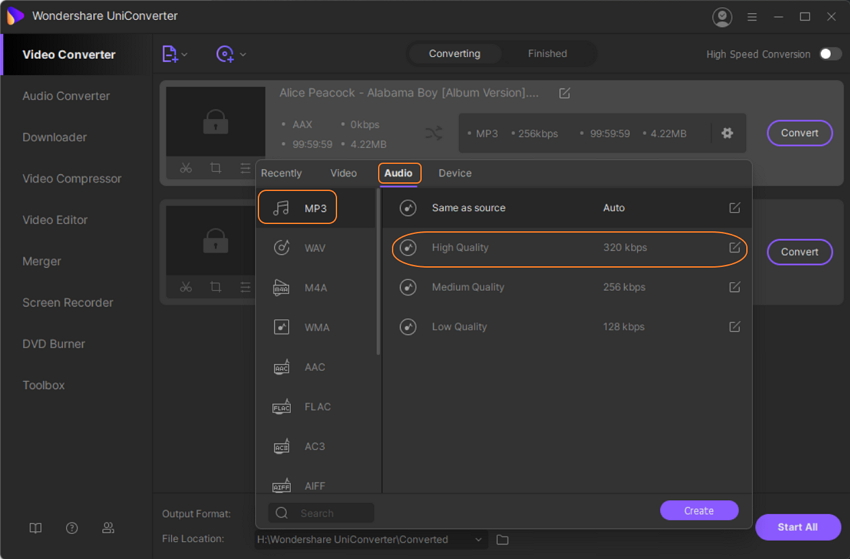 Step 3. Convert AAX to MP3
At last, select on the Start All button. Once the files are converted, you can find them from the Output option available at the end.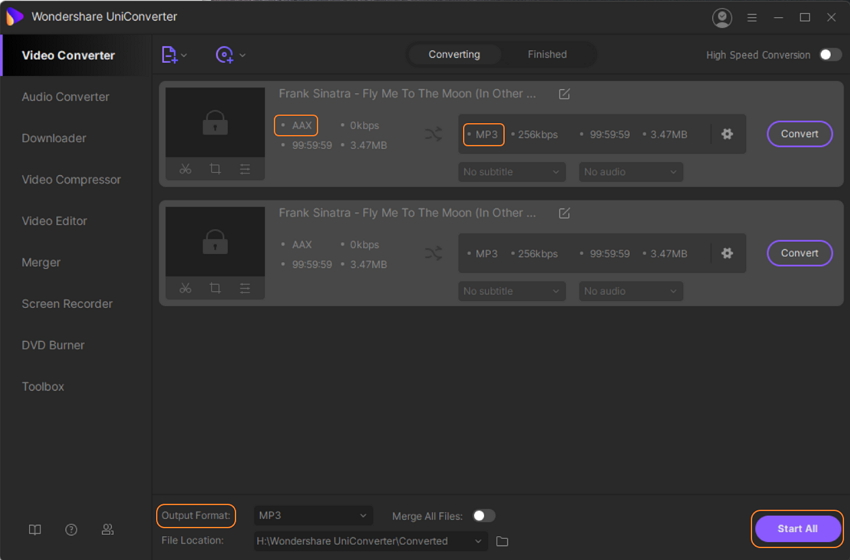 Convert AAX to MP3 with Epubor Audible Converter
Another quick tool to convert AAX to MP3 is Epubor Audible Converter. To convert Audible AAX to MP3, you need to remove the Audible DRM firstly. Epubor Audible Converter lets you split audible books in time, by chapter or into segments. Epubor Audible Converter can work at 60X speed to convert AAX files to MP3.
Steps on how to convert AAX to MP3 files with Epubor Audible Converter
Step 1: Install and open the Epubor Audible Converter, Click on the Add option to add audible books you want to convert.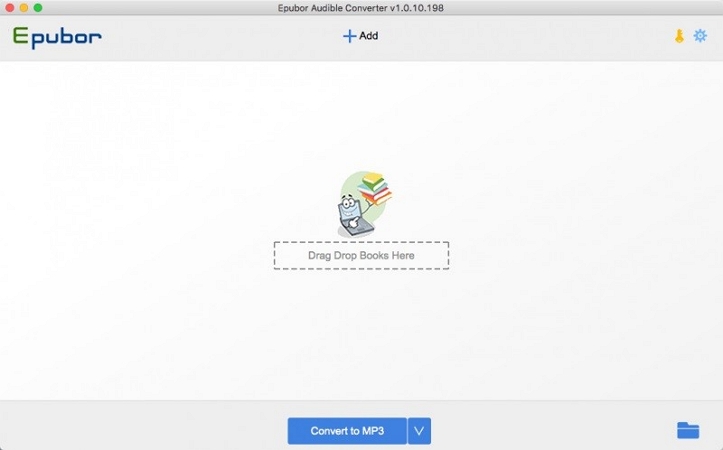 Step 2: If you want to split audiobooks into chapters, then click on the Options icon. A new window to Split will open.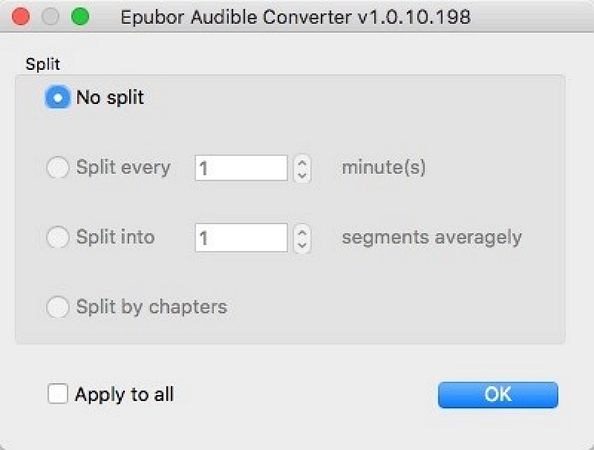 Step 3: Now, after adding the AAX files, click on the Convert to MP3 button to remove the DRM, and your file will be converted to MP3.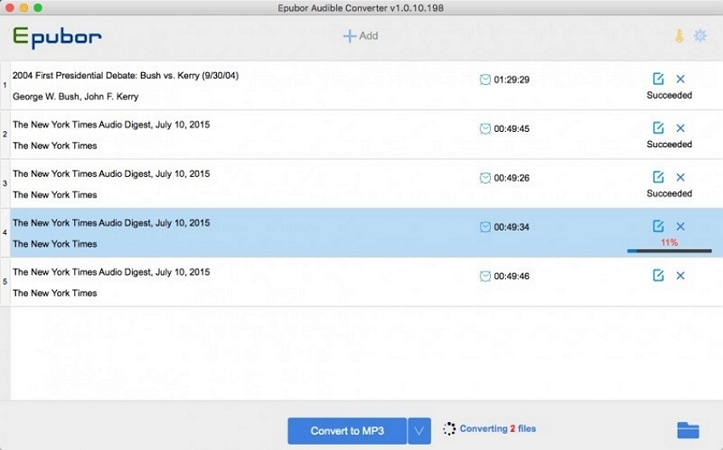 Part 2. How to Convert AAX to MP3 Online for Free
Another way to convert AAX to MP3 is by using the online converter. Here, we are going to discuss the simple steps with the help of screenshots on how to convert AAX to MP3 online for free, using the audio converting tool of https://www.aconvert.com/.
Step 1: Prepare the audiobook with extension .aax to your computer.
Step 2: Choose and click on the format for conversion from the below-mentioned formats. You can convert in MP3, WAV, OGG, M4A, etc.
Step 3: Now, choose files from your system. You also have the option to select from Local file, Google Drive, Online file, or Dropbox.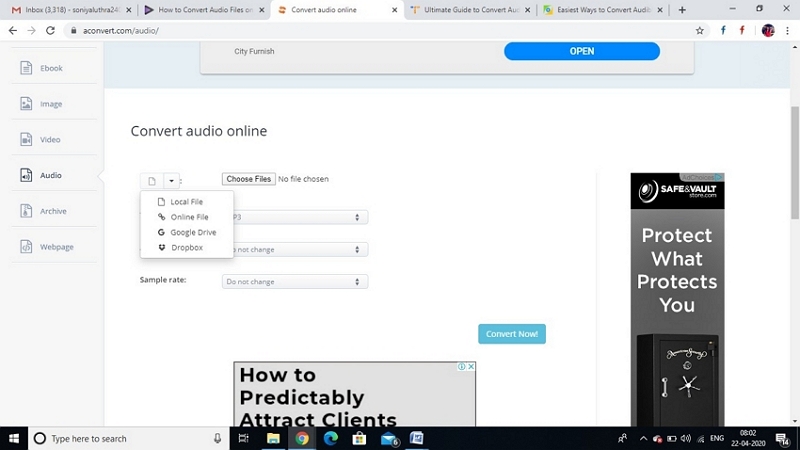 Note: Video and audio file size can be up to 200M.
Step 4: After choosing the desired files, click on Convert Now
Step 5: Within a few seconds, the AAX audio will be converted to MP3. Once the conversion completes, it will show as the output file.
Step 6: Download and enjoy the converted MP3 file.
Part 3. External Information about AAX Files
What is an AAX File?
The AAX file is an audio file format used by audio-based products such as audiobooks, TV programs, movies, audible magazines, newspapers, etc.
Advantages:
Supported by many devices such as Apple's iPods, Amazon Kindle, Microsoft Zune, etc.
Premium audio quality
Disadvantages:
To play the audiobook, the user must have an audible account and pay the subscription fee.
Digital rights management (DRM) protection
AAX VS MP3
Wondering which format will suit better to your needs? Size, sound, and music quality are the main elements that influence your audio experience. MP3 is a standard and popular audio format, especially for storage and streaming purposes, whereas AAX is the successor of the MP3 format.
MP3 format comes with a file extension of .mp3 and compatible with almost any device or OS without any restrictions. AAX comes with the file extension of .aax and can be played mostly with Apple devices (iPhone, iTunes, iPod, etc.) with DRM protection.
The biggest disadvantage users' face with AAX File is DRM copyright protection. Such protection restricts to play files in any other audible format.
But every problem has a solution. Similarly, there is a solution for DRM removal. The most common solution to remove DRM from audiobooks is to covert the AAX files to MP3 or any other format. These converted files allow you to play them on any device without any restrictions.
Part 4. Online UniConverter - Free Online Video & Audio Converter
Online UniConverter is the most recommended video & audio converter free online tool. It does not support to convert AAX Files(Wondershare UniConverter does), but it supports to convert many other popular formats at the fast speed, like MP3, MP4, WAV, MOV, 3GP, AVI, and others.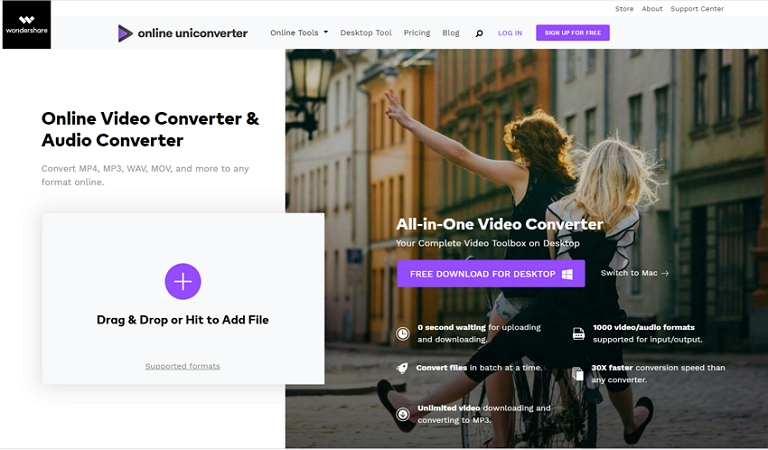 The best part about the Online UniConverter is that you don't have to download the converter in your system. Instead, you can simply upload the file directly, and your file will be converted quickly in your desired audio format.
Moreover, the software is very simple and manageable to use for beginners with its easy-to-follow instruction guidelines.
The Advantages of Online UniConverter:
Convert your audio files in a super-fast and efficient manner.
Convert not only the audio files but also videos, images, etc.
Maintain the high quality intact during conversion.
No downloading and installing in your system required - directly drag & drop files.
Available for free.
Summary
As you know now, there are many ways to convert AAX to MP3 files easily. You can follow all the ways from this article and get all your AAX files converted to MP3 format without any problem. Though all of these ways are easy to handle, the best and safest way to convert AAX to MP3 on Mac/Windows is by using Wondershare UniConverter.