To convert your VHS tapes into a DVD on your own VCR to DVD converters works as the best solution. You can either use VCR and a DVD converter separately or go for a combo device. The VHS tapes inserted into the VCR unit can be easily converted to a DVD using the DVD converter. To help you convert VCR to DVD, devices from several companies are available.
Part 1. Top 6 VCR tape to DVD converters
We have shortlisted the best devices to convert VCR tapes to a DVD and the list of the top 6 is given below.
Funai Combination VCR and DVD Recorder (ZV427FX4)
This is one of the popularly used devices that facilitate converting VHS tapes to a DVD with support to DVD-R and DVD-RW formats. The device supports conversion from DVD to VHS as well but the content should not be copy-protected. The unit does not come with a tuner and thus you would need an external one. High-quality video and audio content recording are supported as the device comes with an HDMI cable. Additional features include 4-head Hi-Fi Stereo, 8 hours of recording, one-touch recording, and others.

Sanyo FWZV475F DVD Recorder/VCR Combo
This DVD recorder can record your VHS tapes in DVD-R and DVD-RW discs that are capable of playing on the majority of the DVD players. Using this combo device you can not only record VHS tapes but play them as well. You can record VHS to DVD as well as DVD to VHS if required. There is a built-in tuner in the device and it also features a progressive scan using the component video outputs and HDMI.

Samsung DVD-VR375 DVD Recorder - VCR Combination
This combo unit from Samsung is capable of recording your VHS tapes to 5 recordable formats which include DVD-R/DVD-RW/DVD+R/+RW and DVD-RAM. The DVD playing side of the unit can also play the Divx files and comes with component and HDMI video outputs that can upscale the output. The unit comes with composite and iLink video inputs. Besides playback, you can also play your VHS tapes using this device. An external tuner will be needed if you want to record the TV programs using the device.

Toshiba D-VR600 Tunerless VCR Combo
This DVD VCR combo unit from Toshiba is a highly rated one owing to its long list of features. The device has a feature where you can use DVD playback and VHS Record to watch the DVD while your TV program is being recorded. The JPEG Viewer 3 feature of the device further allows you to watch the pictures on your TV set. User-friendly controls with the option to DVD playback during the recording make this device popular among the users.

Sony SLV-D300P DVD/VHS Recorder
With two-way dubbing this combo unit from Sony allows you to convert VHS to DVD and vice versa as well. There are several formats supported by the device for the recording and these include -R/-RW, +R/+RW. Additional features include title DVD bookmarking, rename, chapter creation, playlist, replacing title thumbnail, and bi-directional dubbing. Not only recording of VHS, the unit can also play the files in several formats like MP3, VCD, Kodak Pic, DV Devices, and JPEG. Support to 1080p input upconversion, the highest quality playback is guaranteed.

Magnavox DV200MW8 DVD Recorder/VCR Combo
This combo unit works as a DVD player/recorder and VHS recorder with a simple and quick one-touch recording. The device comes with different VCR video heads that also includes Dolby Digital Recording. Recording of up to 12 programs at a time is supported so that you do not miss any of your favorites. To enjoy the excellent sound there is theater surround sound and virtual surround sound system.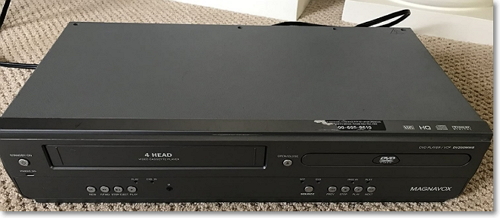 Part 2. Convert VCR to digital using Wondershare UniConverter
Once you have converted your VHS tapes into a DVD using any one of the above or other devices, converting them to a digital format can be quickly done using the professional Wondershare UniConverter software. This software can convert your DVD content into an array of video formats including MP4, MOV, M4V, and several others. Device-specific conversion is also supported by the program. The built-in editor of the software further assists with video customization. So if you want to convert VCR to digital, Wondershare UniConverter is just the right tool to use.
Wondershare UniConverter
· The primary function of UniConverter is conversion. Users get to convert various file types like images, videos, and audios.
· Lets users perform minor editing to videos that your video files are displayed in the best desirable manner.
· You can screen record activities being performed on the computer screen. This feature is helpful especially when creating tutorials.
· Wondershare UniConverter is equipped to burn contents in various optical media storage devices.
Steps to use Wondershare UniConverter to convert VHS converted DVD to digital
Step 1: Insert the DVD into your computer and launch the Wondershare UniConverter software. On the Convert tab, expand + Load DVD button and select the inserted DVD from the list. From the dialog window, select All Movies option and click on the OK button.
Step 2: The videos on the DVD will be added to the software interface. At the top-right corner, open the drop-down menu at Convert all files to: tab and from the Video tab, select the desired digital format. You can also select the device-specific format from the Device section.
Step 3: Choose the desktop location to save the converted file at the Output tab and finally click on the Convert All button. The files will be converted to the digital format and from the software interface, it can be managed from the Converted tab.
Summary
Several combo units are mentioned above which you can use to convert your VHS tapes into a DVD on your own. These discs can be further converted into a digital format using the professional Wondershare software. The combo units can be purchased online or from the local store while the software can be installed from the official site of Wondershare.