Help!How to Convert RW2 Files?
RW2 being a raw and unprocessed image file format from the camera is not compatible opening with players, devices, and editing programs. So to open and edit these unprocessed images converting it to a more widely accepted format like JPG is required. Using a professional tool, you can convert RW2 to JPG in an effortless manner with added features.
Part 1. Free Ways to Convert RW2 to JPG Online
Online tools can also be considered for basic RW2 to JPG image conversion. These programs do not require any software installation and are free to use. Popular online RW2 to JPG converter are listed below.
Online UniConverter support converts RW2 to JPG feature. Before you start the conversion, you also could adjust the photo size. The output formats have JPG, PNG, TIFF, and BMP. Depend on your needed to convert images here.
---
URL: https://www.freeconvert.com/rw2-to-jpg
This is an online conversion program that allows converting multiple RW2 files to JPG format. The tool is free to use and need no installation or registration. With a simple interface, the program converts your images in decent quality and the maximum supported file size is 200MB. After the conversion process, the files can be downloaded individually to your PC or can also be downloaded in a ZIP archive format.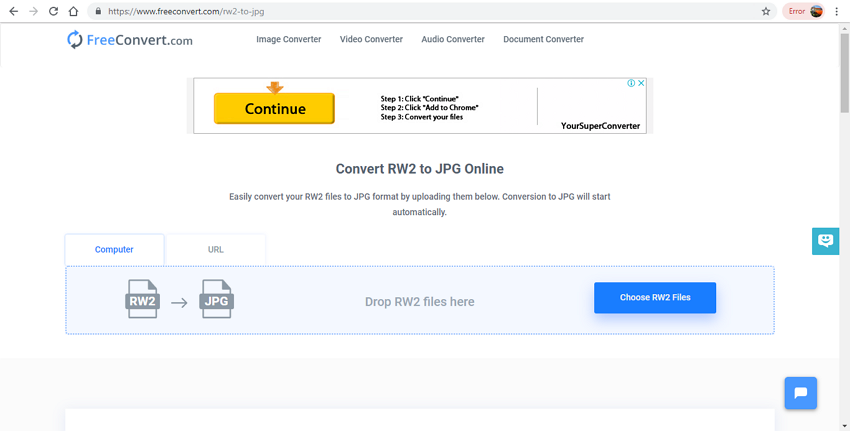 URL: https://www.coolutils.com/online/RW2-to-JPG
Using this free online tool your RW2 images can be converted to JPG and other image formats like BMP, ICO, PNG, PDF, TIFF, and GIF format. The interface of the program allows browsing and adding local files to be converted. Option for file resizing by changing the width and height is there. If you need, you can also rotate the images using the program.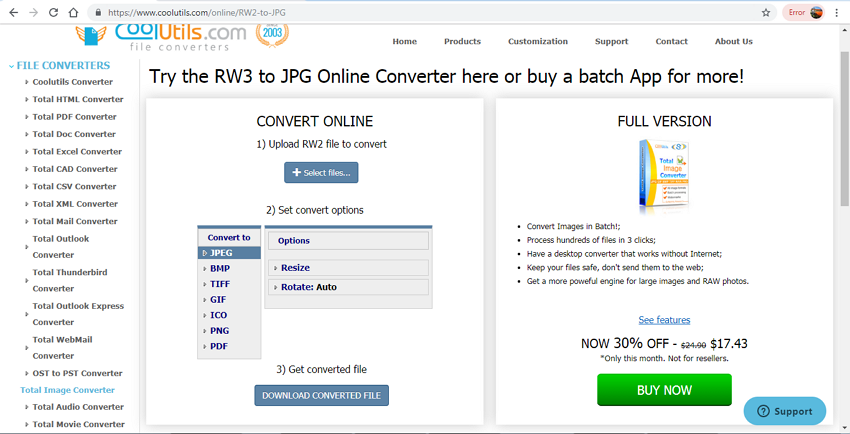 URL: https://www.iloveimg.com/convert-to-jpg/raw-to-jpg/rw2-to-jpg
Your RW2 images on the computer, Google Drive, and Dropbox can be converted to JPG in decent quality using this online conversion tool. With a simple interface, the conversion process requires you to load the files to be converted and choose the target format. The processed files are downloaded to your PC after the process completion. The tool also allows you to save the converted images to Dropbox and Google Drive. Option to share the converted file link and the QR code is also there.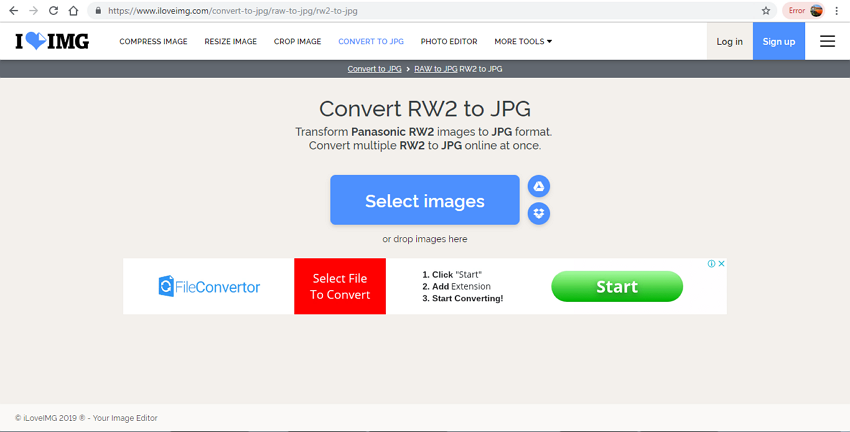 URL: https://www.onlineconverter.com/panasonic-raw-to-jpg
This is a widely used online conversion tool that supports a wide range of file types and formats including RW2 to JPG. Online and local computer files can be added to the tool for the conversion in a simple manner. The maximum supported file size is 200MB. Using Online Converter, you can also change the file size and select the file quality. The converted files can be downloaded to your PC.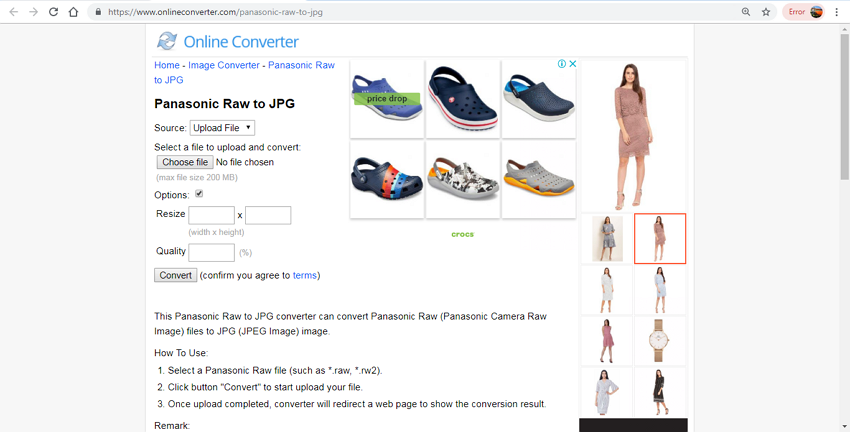 URL: https://raw.pics.io/
Image files in an array of formats like RW2, PNG, CR2, PEF, RAW, JPG, RAF, and others can be converted to desired formats using this online tool. The program supports adding multiple files for conversion and facilitates editing its size, quality, and density. A number of editing features like cropping, rotation, and others are also supported by the tool. Converted files can be easily saved to your PC.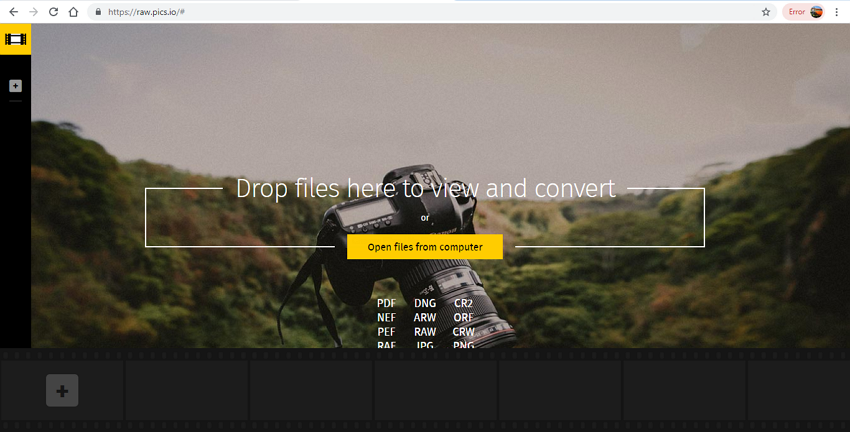 Part 2. Best Way to Convert RW2 to JPG in Batch
Wondershare UniConverter is professional desktop software that allows conversion of all popular image and video formats. The program once installed on your Windows or Mac system allows batch converting your image files including RW2 in a quick and effortless manner. With the built-in editor of the software, you can crop, add watermark, change brightness, contrast, and the saturation of the file. Option to change the image size by editing its width and height is also there. The conversion of image file takes place without compromising on the original file quality.
Wondershare UniConverter
· Support batch processing of RW2 to JPG conversion.
· Convert image to over 1000 formats, including JPG, PNG, BMP, TIFF, GIF, and others.
· Convert RW2 to JPG or specific devices formats without any trouble.
· Transfer converted RW2 files from PC/Mac to external devices easily via a USB cable.
· Versatile toolbox combines Image Converter, GIF maker, video compressor and screen recorder, and others.
Guide to convert RW2 to JPG using Wondershare UniConverter
Step 1: Launch Wondershare RW2 to JPG converter
Download and install the Wondershare UniConverter software on your PC by following the simple and quick instructions as they appear. The download link of the software is available on the official site page.
Step 2: Import RW2 images
Choose the Toolbox tab from the main software interface and select the Image Converter option. A new pop-up window opens from where click on the +Add Images option or on the +sign to browse and load RW2 files. Multiple files for batch processing can be added.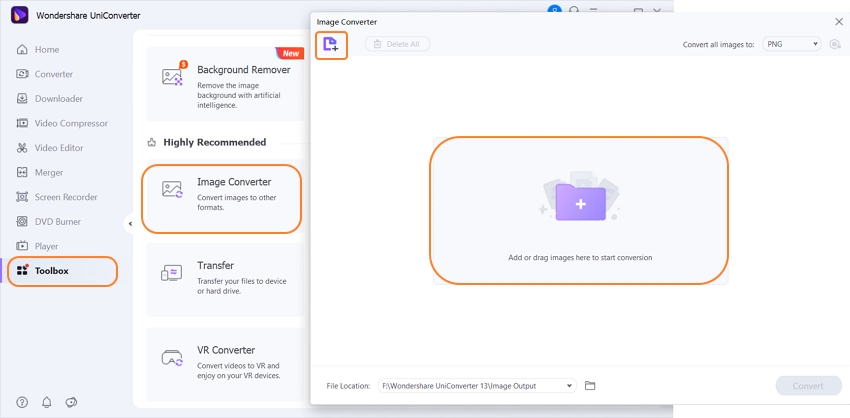 Step 3: Choose JPG as target format
On the top-right corner of the software interface, open drop-down options at Convert all images to: tab and choose JPG format. Click on the settings icon to change the file size.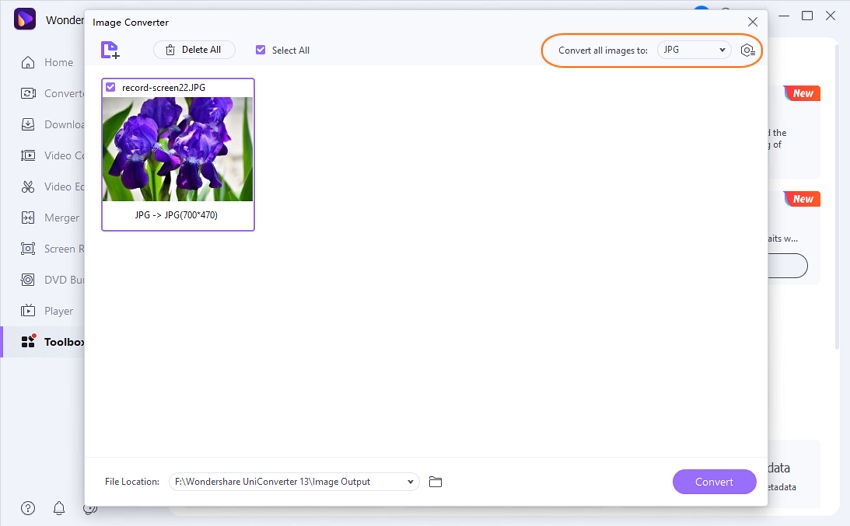 Step 4: Convert RW2 to JPG
The location on PC where you want to save the processed files can be selected at the File Location tab. Finally, click on the Convert button to start converting the added RW2 images to JPG format.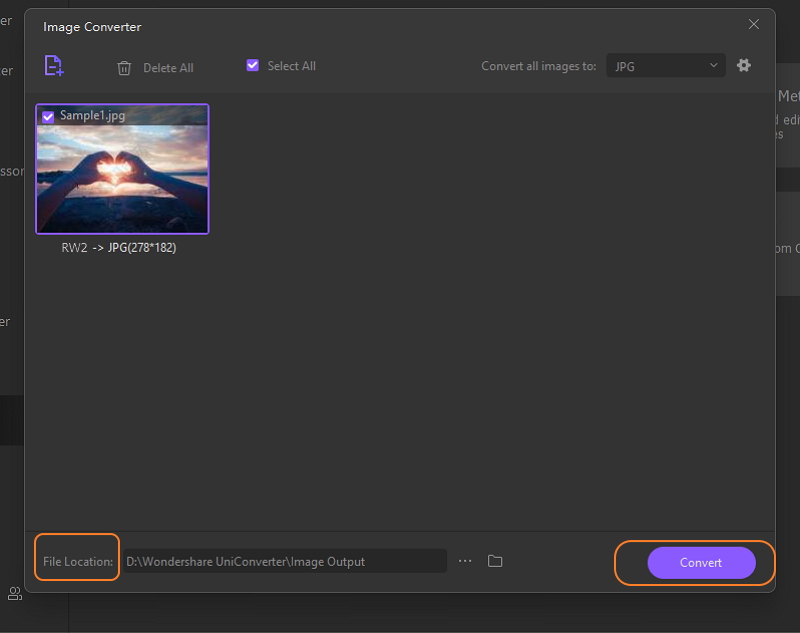 Advantages of using Wondershare UniConverter
This is simple to use software that facilitates image conversion in just a few steps. Being professional desktop software, once installed on your PC, there is no internet requirement or dependency for the conversion.
Wide range of image formats including RW2 is supported by the software for conversion to popular formats.
With the built-in editor of the software, you can crop, rotate, add watermark, change the size, and adjust the brightness, contrast, and saturation of the RW2 files before converting it to JPG and other formats.
Free download to see more functions.
Part 3. Extended Knowledge of RW2
a. What is RW2?
With .rw2 extension, an RW2 is a RAW image file that is created by Panasonic digital cameras like Lumix AG-GH4, Lumix DMC-GX85, and others. These files are basically unprocessed images or the RAW raster images which are captured by the camera sensor. The format is majorly used for storing high-quality images.
b. How to Open RW2 Files?
RW2 images can be opened using a number of free as well as paid editing programs. Some of the free tools include IrfanView, RawTherapee, FastStone Image Viewer and others. Popularly used paid programs include ACD Systems Canvas, FastRawViewer, Adobe Photoshop Elements, and others.
If you want to access and open the RW2 files on your Windows system, some of the popular programs are File Viewer Plus, ACD Systems Canvas X 2019, IrfanView, and a few others. In Windows 7 and Windows Vista, the RW2 files can also be opened using the default photo viewer- the LUMIX RAW Codec. On your Mac system, the files can be opened using Adobe DNG Converter, MacPhun ColorStrokes, XnView MP, and Adobe Photoshop Elements 2019.
Converting RW2 to JPG is simple and pocket-friendly, but for high-quality conversion with added features, we recommend to use a professional tool like Wondershare UniConverter.