The RAF basically belongs to the RAW format of family and thus it cannot be opened by your smartphones or a computer. Thus to make these files accessible with your phones and computer system resizing, editing, and other functions, converting it to a more compatible format like JPG is required. Using online or desktop software you can convert RAF to JPG format.
Part 1. Free Online Converters for RAF to JPG Conversion
Converting your RAF files to JPG format can be done without any software installation using an online tool. These converter programs work from the browser and support basic conversion features. Know about the top 5 online tools for converting RAF to JPG below.
URL: https://www.media.io/image-converter.html
Online UniConverter is one of Wondershare produce produces. It is an all-in-one online tool for an image, video, and audio. You could drop and drop or hit the + sign to upload your file to online UniConverter. Here you could simply try its features to convert RAF to JPG.
---
URL: https://www.iloveimg.com/convert-to-jpg/raw-to-jpg/raf-to-jpg
This is an online conversion tool that allows converting your RAF files to JPG format. In addition to local files, you can also load them from your Google Drive or Dropbox account. Multiple files can be added and converted using the tool. A simple interface and quick conversion make the software popular among the users. After the conversion, you can download the file to your PC or cloud storage as required. The QR code of the converted file is also available for its download. You can even share an online link of the converted file when needed.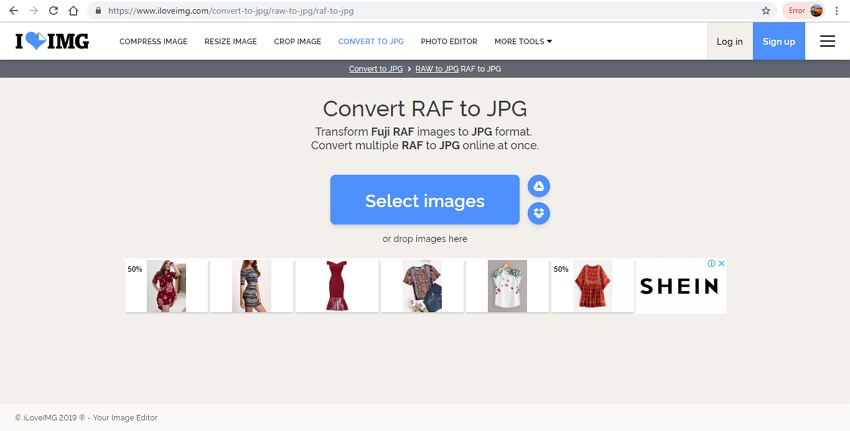 URL: https://convertio.co/raf-jpg/
This is a popular online conversion tool that needs no installation or registration. RAF files can be added to the interface for conversion to JPG and other formats. The files can also be imported from Google Drive, Dropbox and through a URL in case of online files. Using the tool, two concurrent conversions can be processed at a time. Upon conversion, the processed JPG files can be saved to your PC and can also be saved to your cloud storage accounts.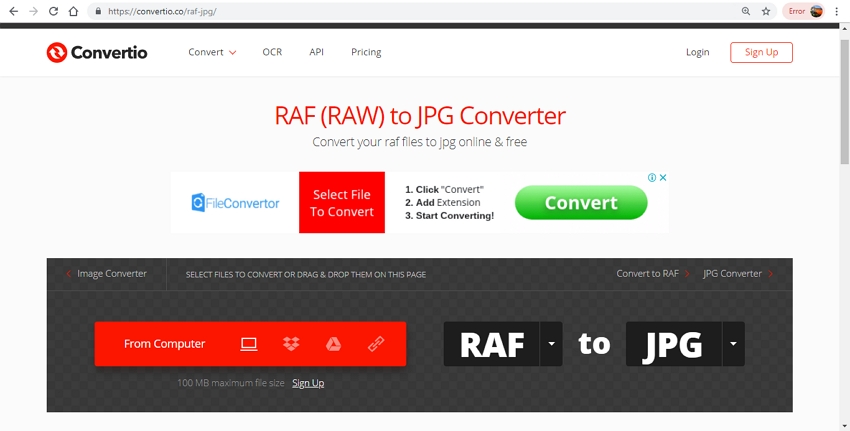 URL: https://www.zamzar.com/convert/raf-to-jpg/
Zamzar is a widely used online tool that is simple to use and facilitates conversion between an array of file types and formats including RAF to JPG. The program works straight from your system browser window and needs no installation. You simply need to add the RAF file and choose the target format from the given options. Once the process is complete you can get the link of the processed file on the interface. If needed, the processed files can also be sent to your mail id.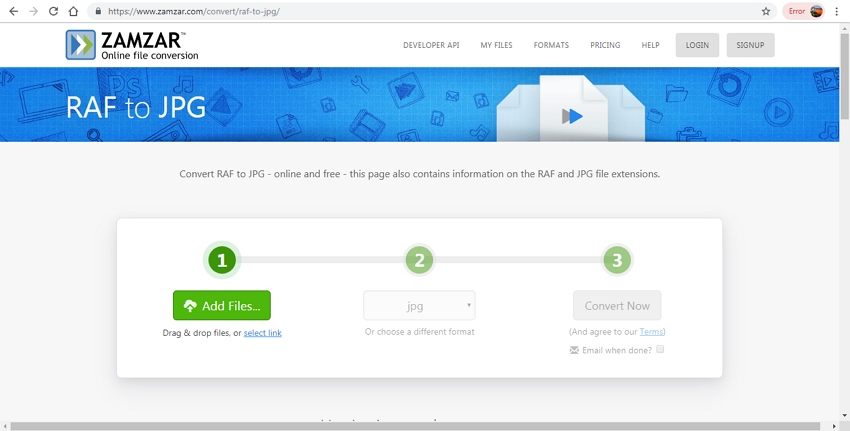 URL: https://image.online-convert.com/convert/raf-to-jpg
Using OnlineConvert, RAF files can be converted to JPG format in decent quality. Local, online, and files on cloud storage can be added to the interface. No software installation or registration is needed as files can be converted using OnlineConvert from the browser window. File customization can be done using the tool by changing its size, quality, and dpi. You can also enhance the files or crop them if required. The program also has an option to save the conversion settings. Converted files can be downloaded from the interface.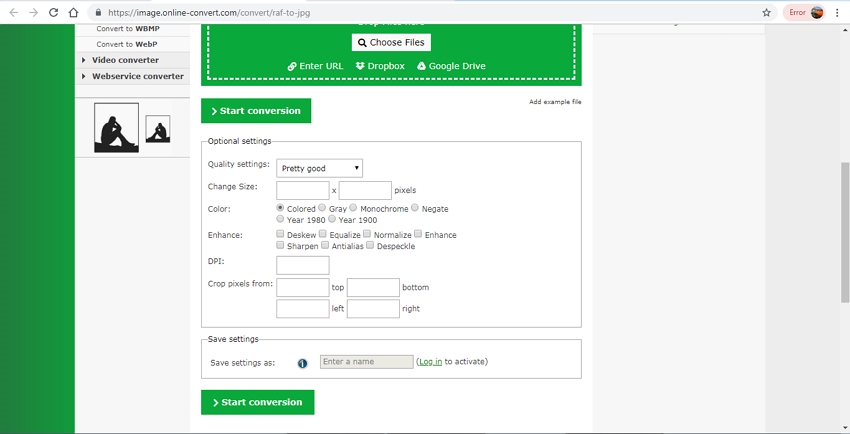 URL: https://www.freefileconvert.com/raf-jpg
With FreeFileConvert, RAF files from your PC, cloud, and link can be added for conversion to JPG and other popular formats. Up to 5 files with a combined size of 300MB can be added to the program at a time. The software works directly from the browser and features a simple interface where you just need to add the files and choose the target format.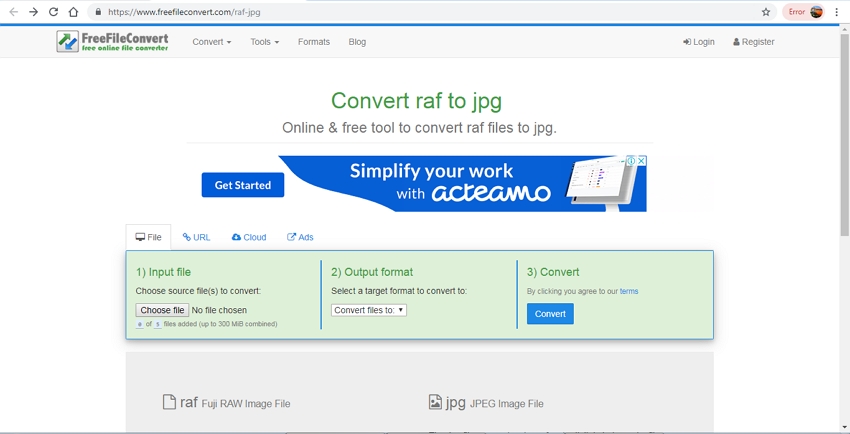 Part 2. Famous Software for Convert RAF to JPG
Wondershare UniConverter is powerful software that offers an array of functions including image format conversion. Using the software on your Windows or Mac, RAF files can be converted to JPG and other image file formats like BMP, TIFF, and PNG. A number of file editing options are also supported by the software like rotating the image, cropping the size, adjusting the brightness, saturation, and contrast of the image. Image file size can also be adjusted by choosing customized height and width. Batch processing to convert multiple files at a time is also supported by the software.
Wondershare UniConverter
· Support batch processing of image conversion.
· Convert pictures to over 1000 formats, including JPG, PNG, BMP, TIFF, GIF, and others.
· Convert photo to JPG or specific devices formats without any trouble.
· Transfer converted files from PC/Mac to external devices easily via a USB cable.
· Versatile toolbox combines Image Converter, GIF maker, video compressor and screen recorder, and others.
Guide to Convert RAF to JPG Using Wondershare UniConverter
Step 1: Launch Wondershare RAF to JPG Converter and Add RAF Files
Run the UniConverter software on your PC. From the Toolbox section, select the Image Converter option. A new pop-up window will where you need to add the RAF files by clicking on the +sign. Alternatively, you can also click on the +Add Images button to import the files to be converted.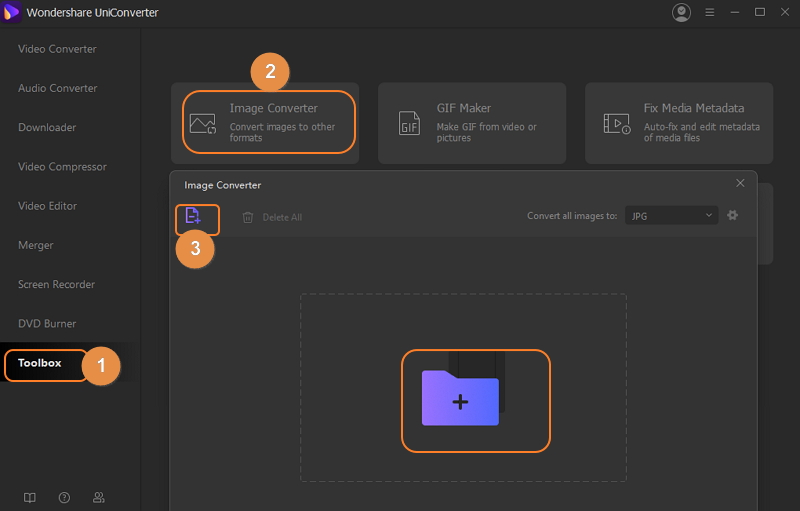 Step 2: Choose JPG as the Target Format
The added images can be seen on the interface of the software. At the top-right corner, open the drop-down menu to Convert all images to: tab and select JPG as the target format.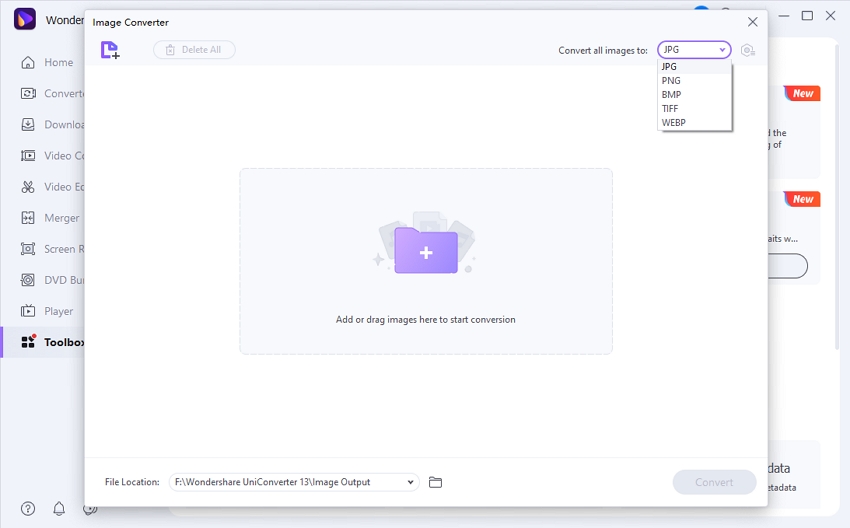 Step 3: Adjust File Quality
The software provides an option for file customization with features like crop, watermark, and others. These functions can be processed by clicking on one of the editing icons under the added image thumbnail. To change the file size and pixels individually of the added images, click on the settings icon under the thumbnail image.
For editing and selecting the file size of all the added images, click on the settings icon present on the top-right corner. From the Quality Setting window, choose the desired height and width of the output file. Click on the OK to confirm.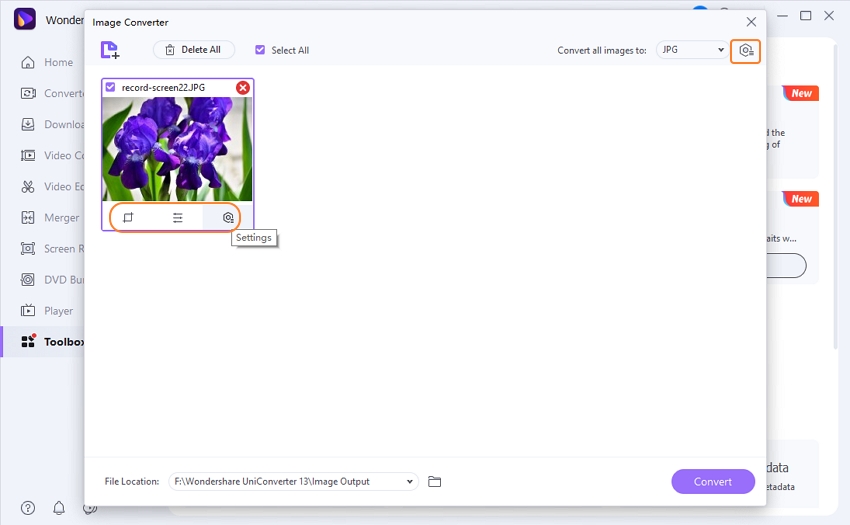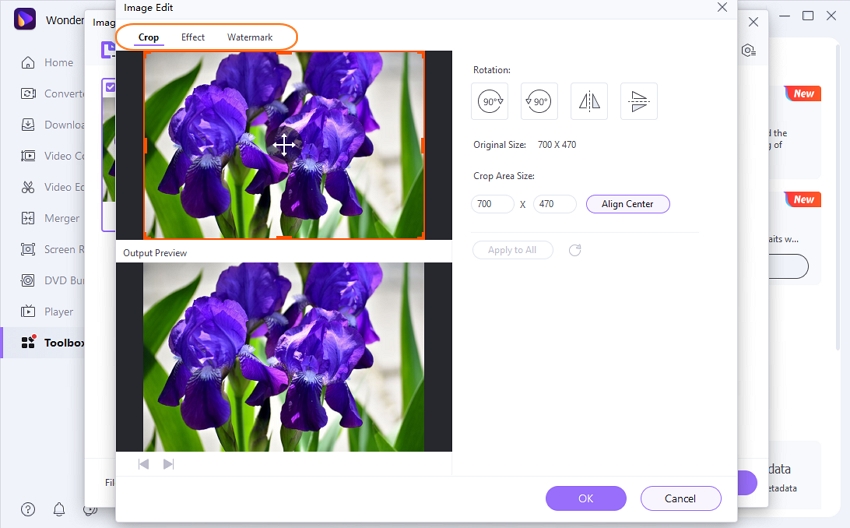 Step 4: Convert RAF to JPG
Choose the destination folder to save the processed files. Click on the Convert button to start the process.
If you're interested in Wondershare UniConverter, free download to take a look.
Part 3: Extended Knowledge of RAF
a. What is RAF format
Developed by Fujifilm, RAF is a digital image format that stores the unprocessed pictures captured from the Fuji digital camera. Since these files are not processed, they cannot be opened by a photo editing tool and cannot be printed as well. Basically, these RAF files work as analogous negative that has the information that is needed to make an image. RAF file is one of the members of the RAW formats.
b. Pros and Cons of RAF format
There are a number of pros and cons associated with the RAF format.
| Pros | Cons |
| --- | --- |
| The format is considered as one providing the best image quality. | Not accessible by the players and devices. |
| The RAF format uses the lossless compression. | The format requires an extra effort for file processing. |
| The format features wide color gamut and offers maximum proximity to the real image. | RAF files are very large in size and thus not easy to save and share. |
| With RAF format, there are ample of options for file editing. | An additional conversion utility is required to make these files accessible to other players, programs, and devices. |
| | The file is slow to read as well as write from and to the memory card. |
Online converters can be used to convert RAF files to JPG format in a basic manner. For high-quality output files with additional features, we recommend using professional software like Wondershare UniConverter.