PSD files are mainly used in the Photoshop because these files can contain layers and it can also store so many things not just the image files. Photoshop uses PSD format files to edit the images using layers and mostly used by professionals. If you want then you can convert PNG to PSD format using the PNG to PSD converter websites and desktop programs. Here we will share some of the best online tools that can help you to convert your files very quickly.
Part 1: Useful Converter for PNG to PSD
URL: https://onlineconvertfree.com/convert/psd/
Online Convert Free is a PNG to PSD format converter online website that enables you to convert the images in your needed format directly using the browser. Online convert Free is a free service so you can use it to PNG to PSD without paying anything. There are some paid versions of the website also available that allows you to convert any file without any restriction.
Benefits:
It supports converting audio, video, documents and some other types of files for free.
Browser based converter so there is no need of any installation.
Drawbacks:
Unable to convert files when you are offline.
The final converted files quality is not good.
How to Convert PNG to PSD using Online Convert Free Website
Step 1. Firstly, browse the URL which we have shared above and then click the Choose Files button. You can select multiple files here for conversion because it supports converting files in batch.
Step 2. After adding PNG file hit Convert button. This will lead to start the PNG to PSD conversion.
Step 3. After converting PNG to PSD you will now able to download the files on your computer. Finally scroll down the website and click the Download button to save converted PSD on your system.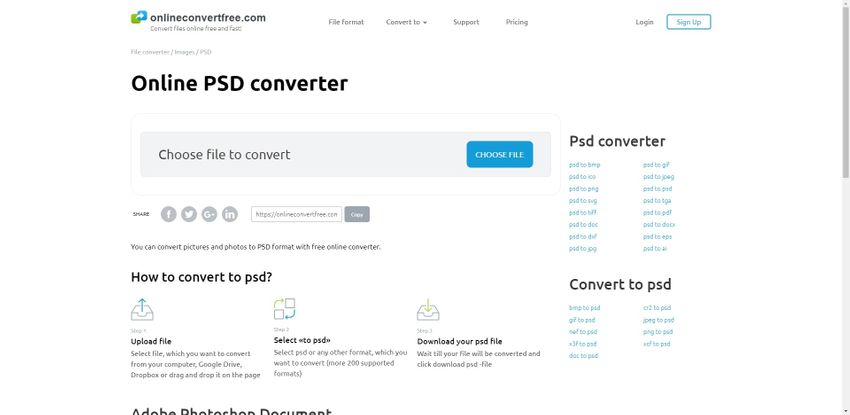 URL: https://convertimage.net/convert-a-picture/to-psd/?s=png-to-psd
Convert Image is free online converter which lets you convert the PSD to PNG file format for free of charge. This online converter supports various number of image file format to convert from one format to another without doing any effort. There is no issue of operating system while using this website as it supports online conversion using the browser directly.
Benefits:
Online browser based web application for conversion of files without worrying about the installation.
It supports various input and output format for images.
Drawbacks:
It won't be able to convert the files in batch.
Speed of converting files is not good.
How to Convert PNG to PSD using Convert Image?
Step 1. Browse the website first in any browser on your computer and then select the output format from the list under Choose the picture output format.
Step 2. After choosing the PSD as your output format click the Select Your Image button and choose PNG image from the computer. Now agree the terms and conditions of the website.
Step 3. Once you are ready you need to hit the Convert this image button for starting the conversion of your files.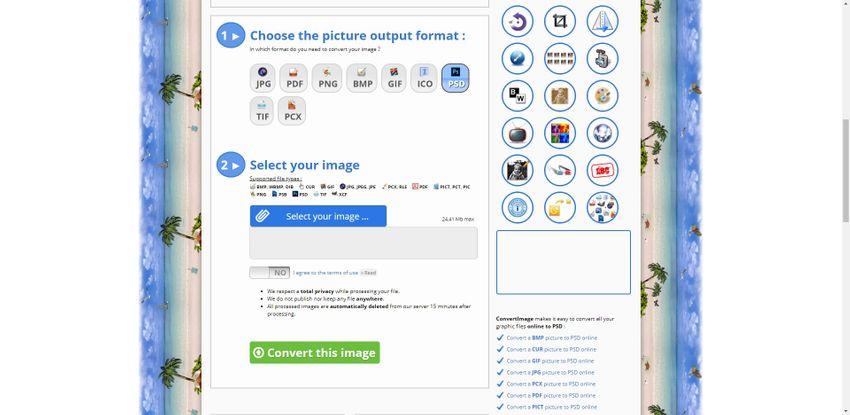 URL: https://convertio.co/png-psd/
Convertio is another online web app that enables you to convert PNG to PSD format to edit photos using Photoshop. This website is easy to use and offers some paid plans as well for its users. Using the paid plans of website you can convert any type of file without any limitation of file size or number of files per day. The website offers mainly all types of files converters.
Benefits:
The website supports PNG to PSD conversion with ease.
This is easy to use as compared to other websites.
Drawbacks:
Sometimes you may need to wait long time because of the slow conversion speed of website.
It is not able to convert multiple files together.
How to Convert PNG to PSD format using Convertio
Step 1. First of all, open the website URL and look for the image converter then select PNG as input format and PSD as output. Now click on the From Computer button and select PNG file from the system.
Step 2. After adding your files, you need to click Convert button and then the website will automatically upload the files and start conversion of PNG to PSD.
Step 3. After conversion of image it will provide you a Download button to download the converted file. Hit this button to save it offline on your computer.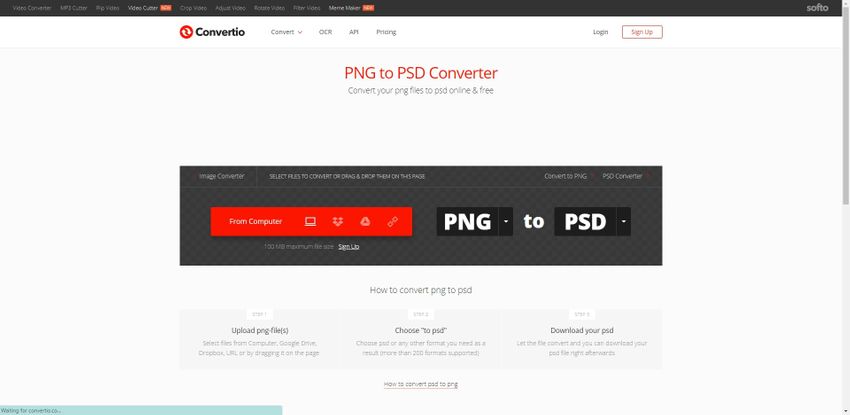 URL: https://www.aconvert.com/image/png-to-psd/
AConvert website is also an online tool which helps users to quickly convert PNG to PSD using your browser. AConvert is free to use website and works online so you can easily convert all your files without installing any software. While using this online converter you need to make sure that you have a good internet because to upload files for conversion and download them after conversion you need internet connection. Without internet this is not possible to use this website.
Benefits:
AConvert is easy to use and you easily find all the converters listed at one place.
Allows you to change size, crop, merge and resize images.
Drawbacks:
You may face issue of slower conversion speed.
Shows too many ads while conversion.
How to Convert PNG File to PSD using AConvert
Step 1. Launch your browser and then open the URL of the website then click Browse option and select PNG image to convert in PSD format from computer. Alternatively, you can also select files from URL, Google Drive or Dropbox accounts.
Step 2. Click the Convert Now option button after selecting the PNG image. It will start uploading and converting the photos automatically.
Step 3. Now look under conversion results. There you will file will be ready to download. Click the Download icon and save the PSD on the system.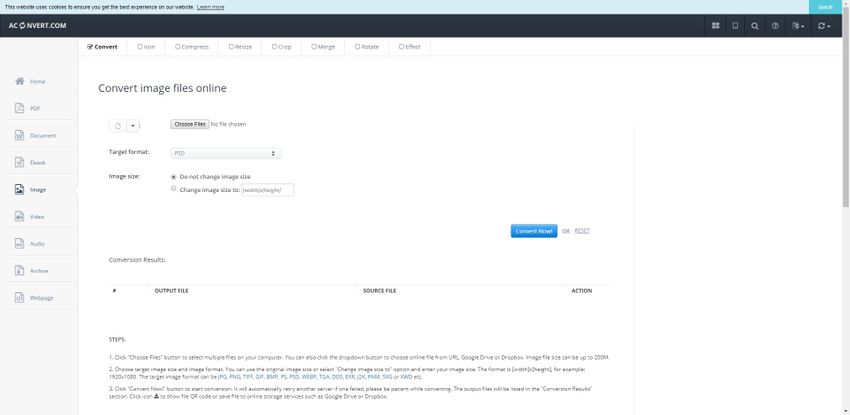 URL: https://cloudconvert.com/png-to-psd
Cloud Convert website is a very powerful online image converter that can not only convert images but also convert any type of file to any format of your need. This website supports about 218 formats related to audio, video, images, documents, webpage etc. You can use near about any type of converter on this website to convert any file.
Benefits:
It allows you to convert any format file to any format including PNG to PSD.
There are many different types of converters offered by websites for free.
Drawbacks:
Paid plans of the website are very costly.
You may face so many limitations while conversion.
How to Convert PNG to PSD with Cloud Convert
Step 1. Browse cloud convert in Mozilla, chrome or any other browser then click Select Files. A popup will be there on your screen now. Select the PNG files from the system using this popup.
Step 2. After selecting files look at the lower right side and click Start Conversion. This will upload the file and start conversion automatically.
Step 3. After completing the conversion website will offer you a download link. You can click on Download button to start saving it on your computer. That's it.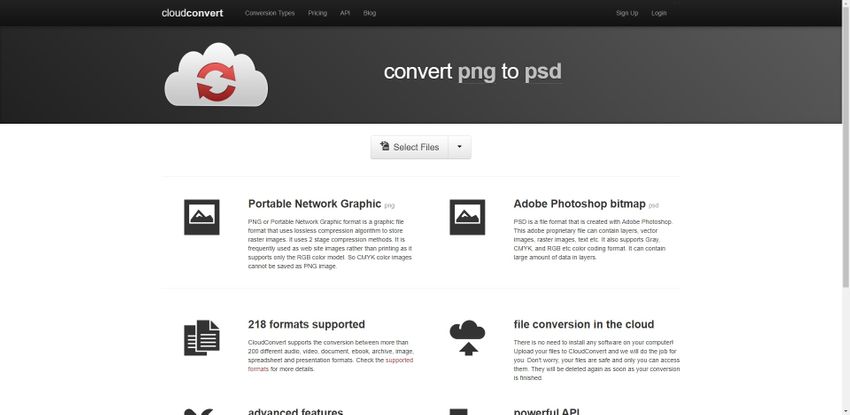 Part 2: More Information on PSD Files
a. What is PSD?
PSD file format is created and managed by Adobe Photoshop officially. These files are superb because it can contain layers, raster images, vector images, text etc. in a single file. The PSD files also support RGB, Gray and CMYK color coding. These files can contain big size data in the layers which is not possible in general formats such as JPG and PNG. PSD is also a default format for saving images in the Photoshop but Photoshop also offers you to export images in other formats.
b. How to Open a PSD File?
You can usually open PSD files in Photoshop only, but now a day there are many other third-party software and online websites available which allows you to view content in the PSD files by converting or viewing them online. The main programs for editing and opening the PSD files are Adobe Photoshop Elements and Adobe Photoshop.
If you need to open the PSD files without spending anything, then you can use GIMP which is open-source software that allows you to view and edit PSD files. Paint.net, IrfanView, and PSD Viewer online website is also good option for opening PSD files.
Part 3: 5 Best Ways to Open PSD without Photoshop
URL: https://www.google.com/drive/
Google Drive is a mighty cloud storage service offered by Google to store your files on the cloud. This service is provided by free of cost and allows you to store up to 15 GB of data without spending anything. Google Drive supports a variety of image and other format files, including the PSD format. It encourages opening the PSD files as well. If you have a PSD file and unable to open it using the photo viewer of the windows computer, you can sync your files with Google Drive. Open them directly using it without any installation of PSD format viewer of Photoshop. You can access Google Drive to view files using any of your favorite browsers, but there is no compatibility of layers.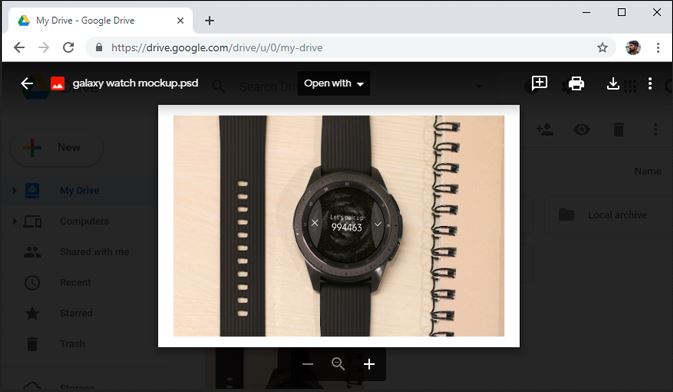 URL: https://www.photopea.com/
Photopea is an online website where you can view all your files just by using your browser. Here you need to browse the site using the URL shared above and then click the file and then click open to browse PSD files from your system hard drive. You can also do some changes to your PSD files with this website. The interface of the site is the same as Photoshop.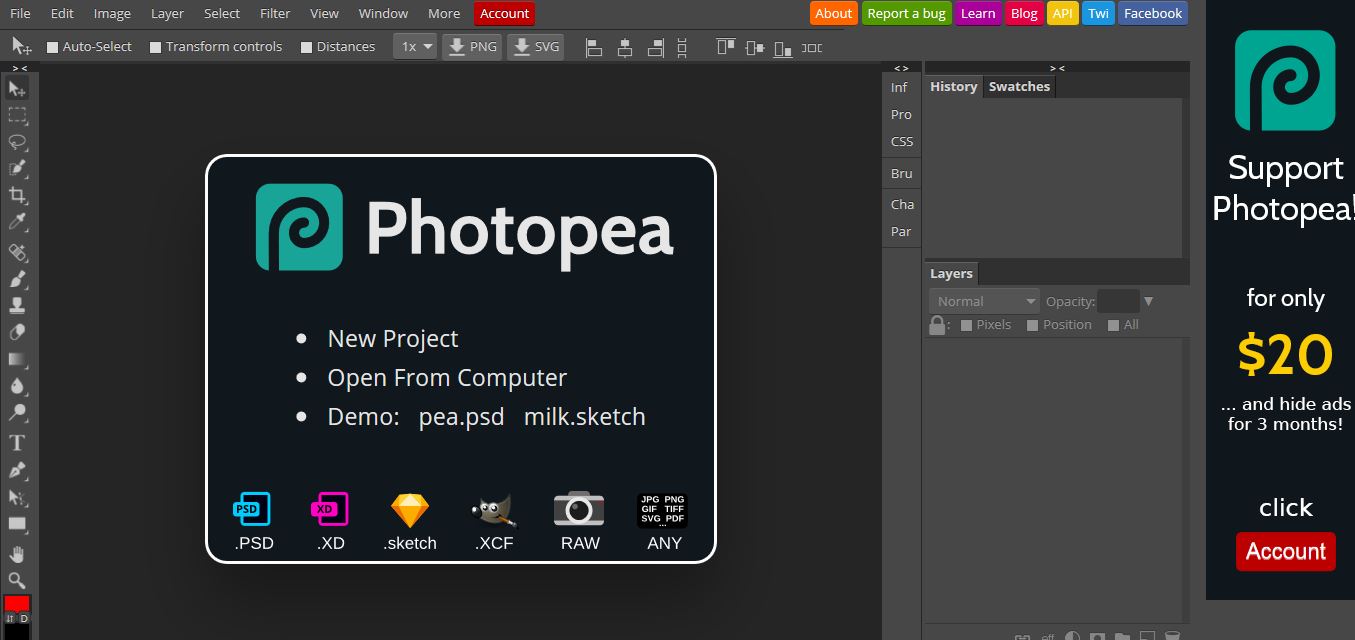 URL: https://www.artweaver.de/en
Arweaver is desktop software that enables users to open the PSD files on the desktop. This software is easy to use and not only handle the PSD files to view but also allows users to edit PSD files. You can do all fundamental to advanced level changes using this software. It also supports layers so you won't face any problem in doing operations related to the PSD files.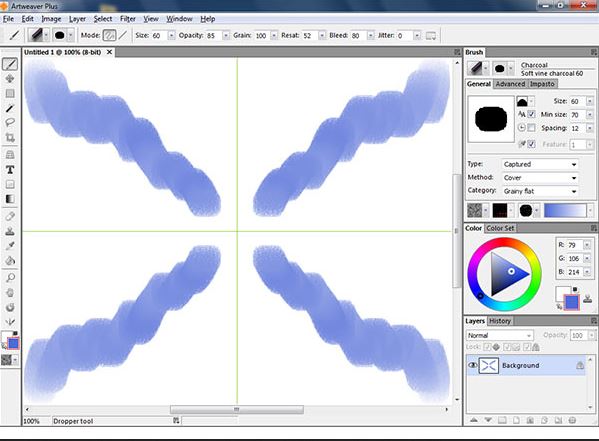 Gimp is alternative software for the windows computers to open and view the PSD files. This software enables users to edit photos as well. Using this desktop software, you can easily see and edit files without spending anything. This is a free program, and another good part is that this is open source, so you don't have any restriction on using the program for any purpose.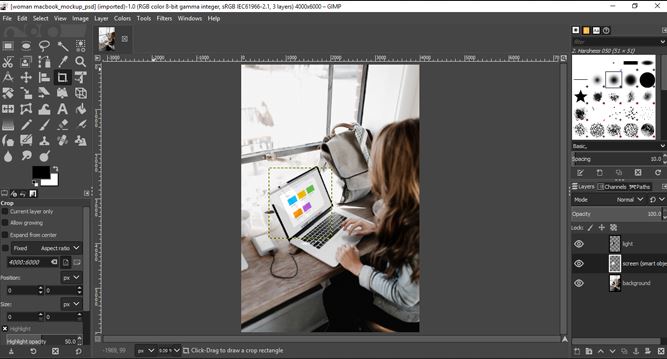 Summary
We hope the list we have shared about converting PNG to PSD suits you correctly and you can you're your work done with ease. Using the above PNG to PSD converter websites, you can easily save images in any other format. These websites are easy to use, and it fulfills all your conversion needs without any installation. These websites also offer several different types of converters so you can convert video, documents, audio, archive, and other files.
If you are looking for an image converter application, UniConverter could be the best choice for you. Easy to use, fast conversion, and keep it in high-quality.
Wondershare UniConverter
· Support batch processing of photo conversion.
· Convert PNG image to JPG, BMP, TIFF, GIF, and others.
· Convert specific devices formats without any trouble.
· Transfer converted files from PC/Mac to external devices easily via a USB cable.
· Versatile toolbox combines Image Converter, GIF maker, video compressor and screen recorder, and others.