GIF is regularly getting popular now a day because these files are tiny in size as compared to video but plays just like a video. GIF files are used by several websites to show their products, which help them to reduce the uploading size and faster loading of video. People use GIF files to share content on social media as well to create beautiful stories. Users combine several photos of one place and post them on social media with special effects. There are many programs and apps available to help you in converting PNG files in GIF format. Here we will learn about how to convert PNG to GIF animation using the PNG to GIF converter free online and desktop software.
Part 1: How to Make GIF from PNG Online Free
Online UniConverter - Best Free Online PNG to GIF Converter
URL: https://www.media.io/image-to-gif.html
Online UniConverter is an multiple media tool which can convert video, audio, and image files easily. You can also make a GIF from PNG file easily without any watermarks or ads. Just drag and drop your PNG pictures to the page and change the settings to create your PNG antimated GIFs, picture or text watermarks can also be added easily.
Advantages:
Free to use without any watermarks or ads.
Add watermark to GIF in text or image format easily.
Customized settings with real-time preview.
Disadvantages:
5 times/day conversions limitation for non-registration users.
Try PNG to GIF conversion easy and free from here.
[没有发现file]
URL: https://ezgif.com/apng-to-gif
EZgif converts PNG a GIF format that can be shard online on YouTube and Facebook websites. It quickly converts PNG, JPG, TIFF and several other formats files to the GIF without doing any installation. This is easy to use, and the best part is that this is free of cost service. This is an image related tool, so it also offers you to resize, crop, and optimize GIF files. After creating PNG, a GIF, it allows you to download it in a zipped folder.
Advantages:
This is free of cost website.
Allows you to do several operations related to the GIF files.
Disadvantages:
Works online so you can't convert files without internet.
You can only upload up to 6mb size PNG files.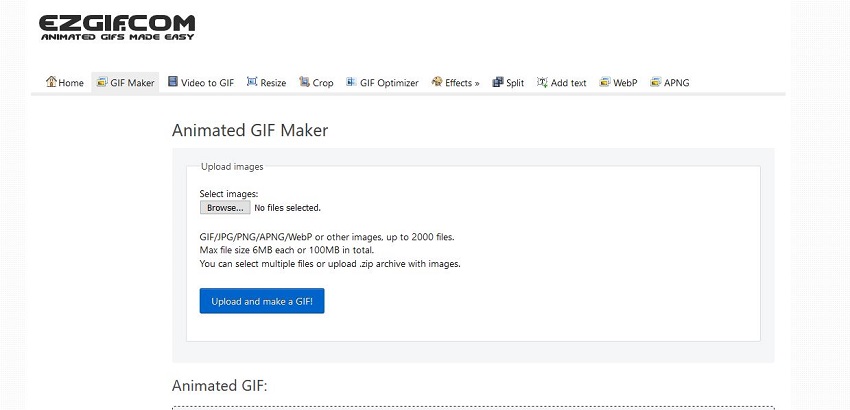 URL: https://www.zamzar.com/convert/png-to-gif/
Zamzar website is another forceful and ancient files conversion website. It enables you to convert PNG to GIF online without any installation in batch. You can upload any number of files up to a few MB for conversion. This is a free website, but to remove limitations of size and number of files conversion you need to go for the pro version. Including images, this website also works on converting audio, video, archive, documents, and several other types of files.
Advantages:
It supports PNG to GIF online and several other types of files conversion.
Easy to use the website.
Disadvantages:
The speed of converting files is very slow.
It is not possible to convert big size files.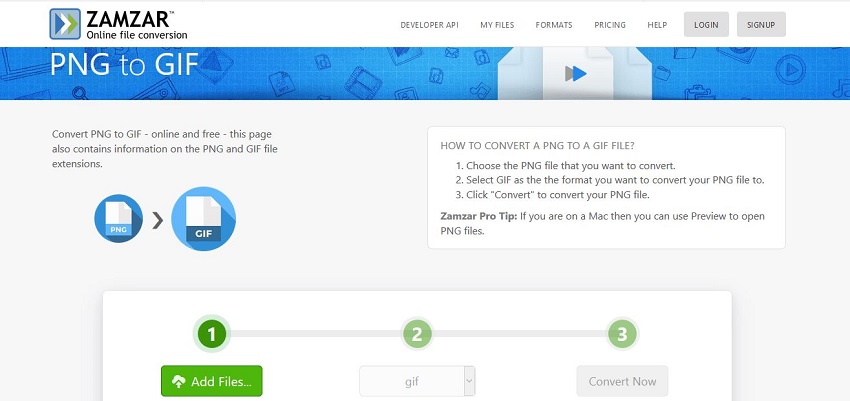 URL: https://onlinepngtools.com/convert-png-to-gif
Online PNG Tools website is another solution for converting the files online instead of downloading the software. This PNG to GIF converter website mainly offers the tools related to PNG format images. The site provides users over 15 different types of tools related to PNG files such as grayscale PNG, pixelate PNG, add text, flip PNG, add a border and generate random PNG, etc. These tools help you to do several tasks related to PNG files.
Advantages:
This website quickly makes a GIF from PNG format images.
Several tools are there for PNG files operations.
Disadvantages:
It mainly supports PNG format so you can only make GIF from PNG.
You can't convert the JPG or other format images in GIF or other formats.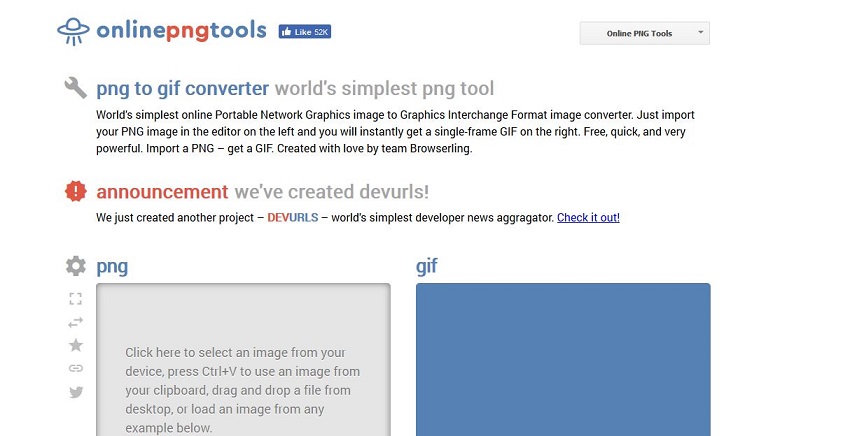 URL: https://www.onlineconverter.com/png-to-gif
Online Converter is much more than a simple PNG to GIF animation maker website. This site offers you to convert near about any kind of file from the one format to another format of your choice. There are several other image formats supported by a website which helps users to quickly convert audio, video, or any different kind of file in the needed forms. It also works online so you can access browser website directly in the browser and then converts the files.
Advantages:
You can add several PNG files together and create a single GIF file.
Enables you to resize the images as well.
Disadvantages:
The website gets crashed while adding files.
The conversion speed is very slow sometimes.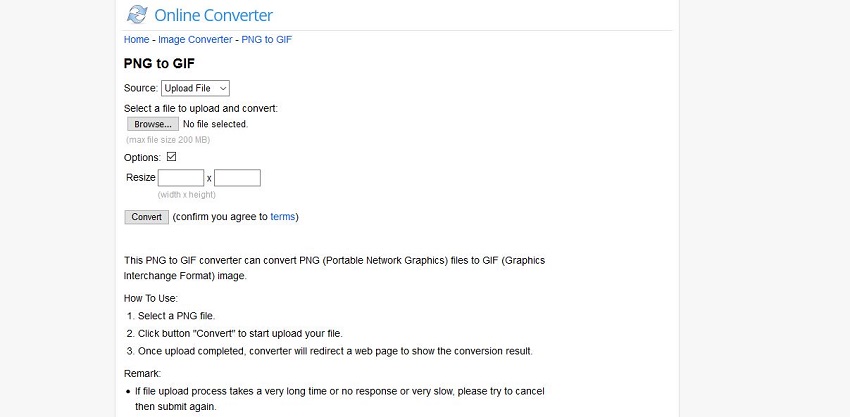 URL: https://convertio.co/png-gif/
Another excellent website to make GIF from PNG is Convertio. This one is also a straightforward tool which works online. It works to convert YouTube, vine and any other website videos in the GIF format. You can access it in the chrome, Mozilla, Safari or any different browser. There are several different types of formats supported by the website which turns your files in several other forms or your choice. It enables you to choose PNG to turn in GIF from Google drive, Dropbox, URL, or computer.
Advantages:
It is beneficial in converting near about any kind of format file.
Quickly works while converting images.
Disadvantages:
Sometimes converts files in very slow speed.
It is not able to convert files in batch.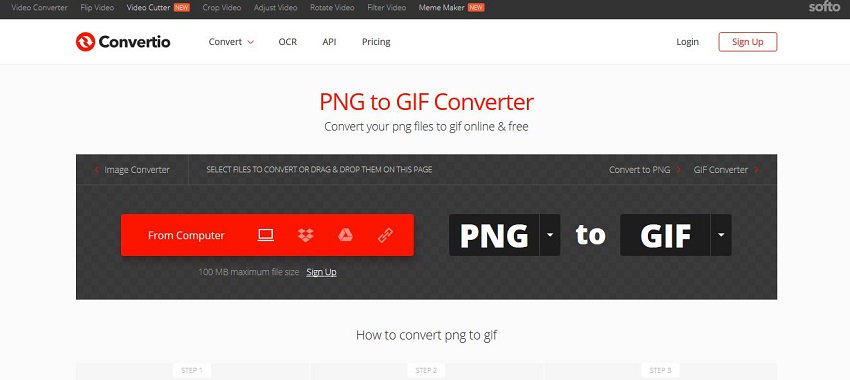 Part 2: Simple Software for PNG to GIF Maker
Wondershare UniConverter program is the best and great PNG to GIF converter software available for the windows and Mac computers. This PNG to GIF maker program is fully compatible with all versions of Mac and windows, so there is no issue of browser compatibility. This program is very fast in the conversion of files because it works offline so you won't face any problem of internet connectivity. The software allows you to quickly make PNG a GIF in the batch as well instead of converting files one by one.
Wondershare UniConverter
· It supports conversion of near about all kinds of multimedia files and supports over 1000 formats.
· Editing the video allows users to beautify the videos with special effects.
· It converts your files by the 30x faster speed in batch. It also supports downloading videos from over 10000 video hosting websites.
· Transferring the video enables users to transfer files from computer to Android or iPhone. While moving to the iPhone, it works without using iTunes.
· Turn animated PNG to GIF with ease and converts other image format files to GIF as well.
How to Create GIF from PNG with Wondershare UniConverter
Step 1. Firstly, download, install and run the program on your computer, and then you will be there on the main interface of the software.
Step 2. Click Toolbox from the main interface then hit "GIF Maker."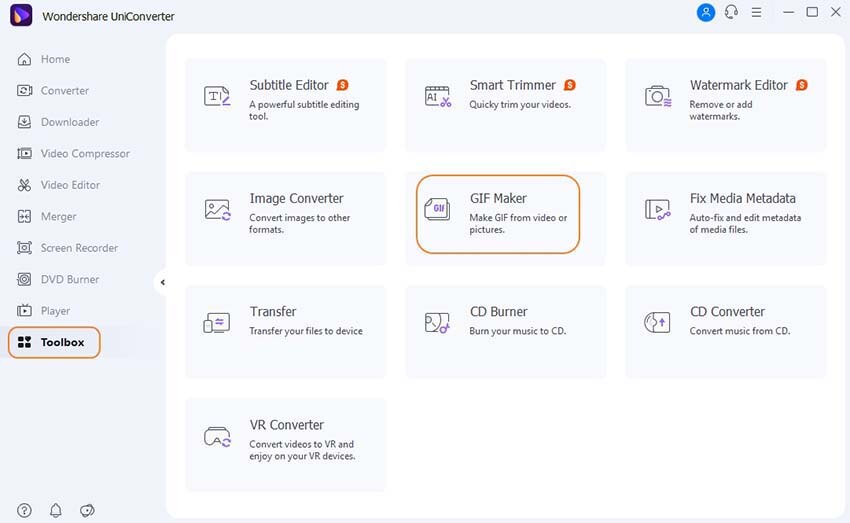 Step 3. In the GIF maker tool, you will see Video to GIF and Photo to GIF tabs. Now click on "Photo to GIF" then click Add Files option. Now in the popup choose PNG images from system hard drive.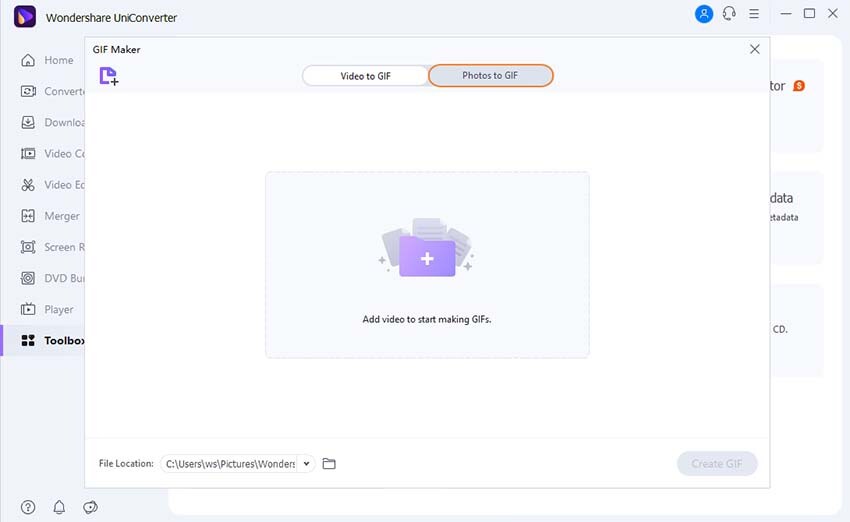 Step 4. Once you have selected all images and added in the interface then hit Create GIF button. Now PNG to GIF converter will convert all your PNG images in GIF format in few seconds only.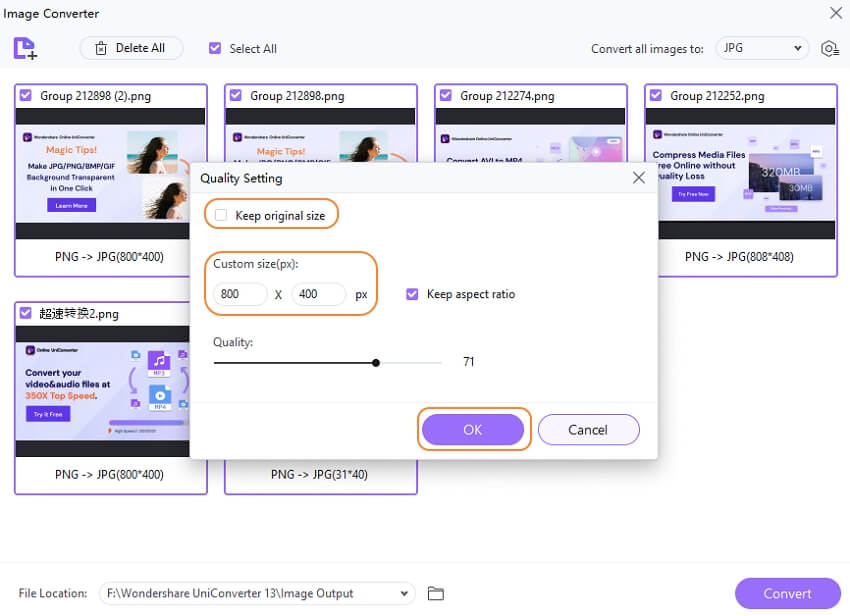 Do you want to try Wondershare UniConverter? Here is the way you could free download Windows or Mac version.
Summary
Well, we hope now we have fulfilled your PNG to GIF converter need. We have listed a few tools only because still there are so many other websites and appliances also available to convert your images in GIF format. But, these are the most reliable and powerful tools. If you are still confused in using the online websites, then you can try the Wondershare UniConverter. This is not just a program to make GIF from PNG but also offers you a complete multimedia toolkit which is usually not available in any desktop program.