This article enlists techniques that are useful for converting JPG images to Video format i.e., MP4 for users of all kind. There are multiple online tools, as well as desktop software. JPG or Joint Photographic Experts Group.
Part 1. Turn JPG to Video Online Ways
URL: https://imagetovideo.com/
It is one of free online convertor available for converting images to a video. You can perform multiple operations while creating video. They offer converting images, audio, text to images along with powerful features like letting you add logo, music, transition, cartooning affects to your video. To convert Image to Video, you just need to upload files without need of signing up and in few clicks your video is created. You can upload 30 images at a time.
Pros:
User-friendly.
Allows multiple functions/operations while creating videos.
Free to use.
Don't require Signing up.
Con:
Require good internet connection and sometimes reload a lot.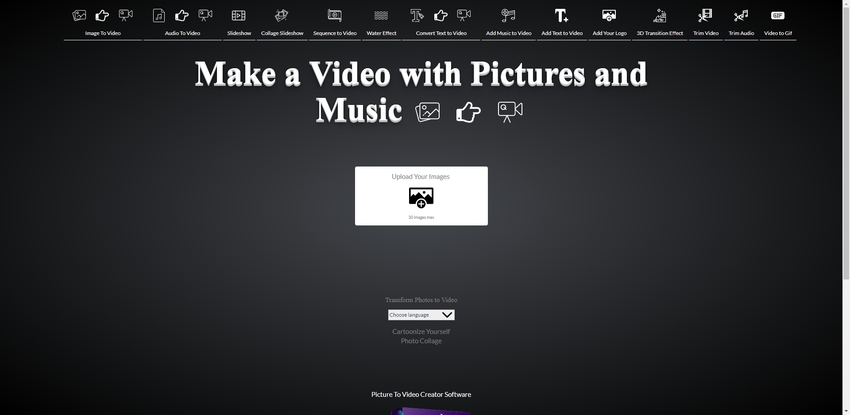 URL: https://lightmv.com/
LightMV is another online cloud-based tool for creating awesome videos online. The site is colorful and has eye-catching UI. The site offers templates for different occasions. The site is extremely user-friendly and offers tutorials and guide for creating videos including different apps like Whatsapp. In simple clicks, your photos are transformed into professional videos. You can share on different SNS accounts as well. You also have option of editing a video with creation tools. You select template, upload images and produce. In few simple steps you are ready to go.
Pros:
User-friendly.
Free.
Provides templates for your video or event.
Good for people looking for tools for creating visual content for social media.
Con:
Few templates are free. Most of the templates are premium.
Requires Sign Up/Sign In.
Templates takes time loading and require good internet connection.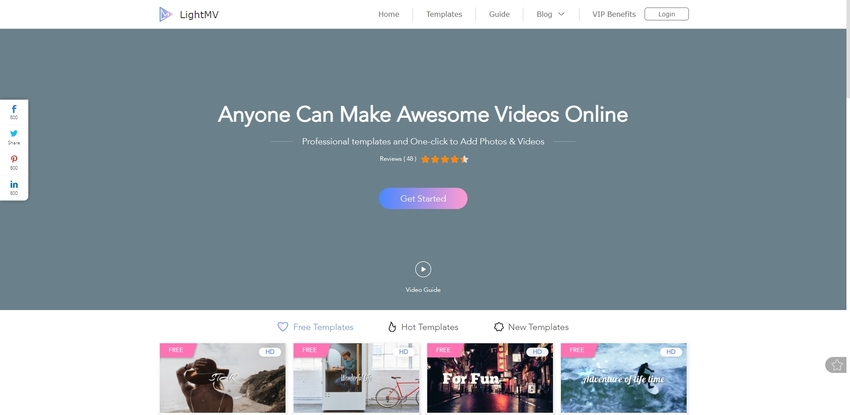 URL: http://www.mp3care.com/photo-to-video.aspx
Mp3Care is an online application that lets you create slideshow video of images. The image formats supported are JPG, BMP, PNG and GIF. You can upload maximum 20 files. The interface is simple and self-describing. The site also provides tutorials and blogs. It also lets you set time for each image.
Pros:
Simple Interface.
Let's you set time transition for each image.
Con:
One input file can be uploaded at a time.
Drag and drop doesn't work.
Audio file can't be added.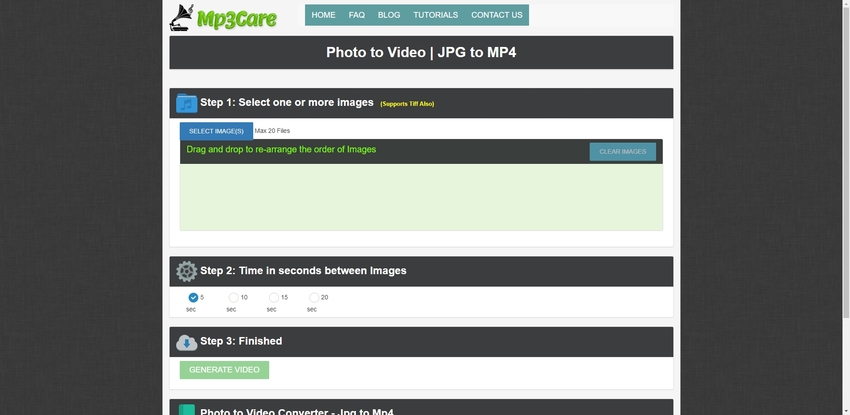 URL: https://animoto.com/
Animoto is a premium tool that lets you create your own videos and storyboards or animations. They provide solutions for different businesses, education and family. The site offers trial for a limited period. Templates are provided for creating videos and learning curve is nearly zero meaning the site is great for the beginners. You can also set quality of your video and share it to multiple platforms.
Pros:
Easy to use tool.
Provides storyboarding options.
Allows music and photo manipulations.
Let's you download and share your video.
Allows you to convert your video to multiple quality formats.
Con:
Requires registration.
Premium.
Watermark will be removed only if you pay for it.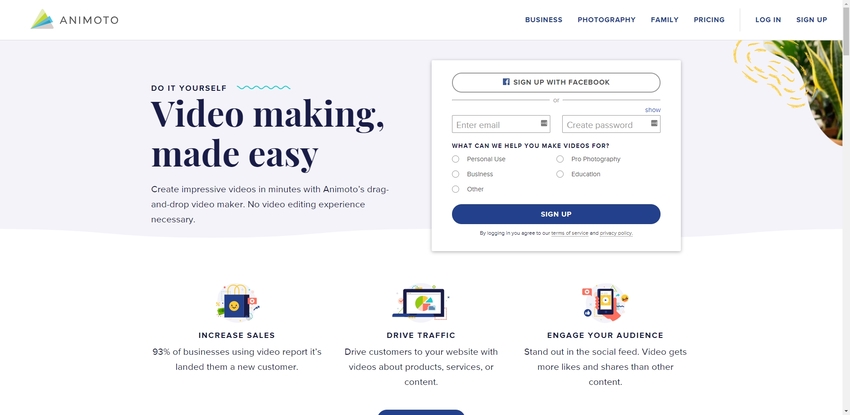 URL: https://spark.adobe.com/about
Adobe Spark is a cross-platform tools that provide solution for visual contents for websites or social sites. The tool is for non-designers or non-technical users who want to dive-into creating amazing videos and one-page websites. The tool provides three tools Spark Posts, Spark Video and Spark Pages. The site also offers premium membership for businesses.
Pros:
Best option for beginners.
Provide solution for non-designer and lets you create one-page website (portfolio websites).
Many templates to offer.
Good for people looking for tools for creating visual content for social media.
Cross platform.
Con:
Require Sign Up/Sign In.
Navigate to many pages before video converting window open.
Video length is 30 sec.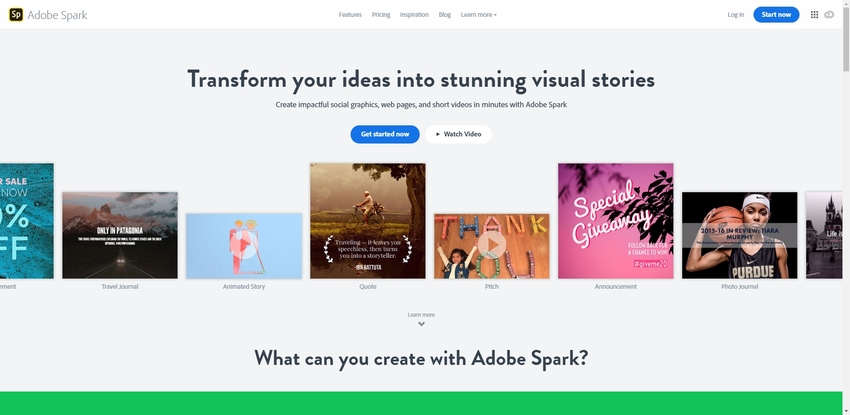 Part 2: More Stable Tool for Convert JPEG to Video-Movavi Video Editor
Movavi provides extensive range of softwares related to multimedia programs for e.g. Video Converter, Screen Recorder, Photo Editor, Slideshow Software etc. Movavi Video Editor is one of the most versatile software that lets you create videos and screencast. It's a full-fledged tool that lets you customize your videos according to your liking by supporting large no of formats, different effects just like in Hollywood movies, editing video and audio and much more.
URL: https://www.movavi.com/videoeditor/
Pros:
Offline software.
Easy to use.
Provides variety of functions.
Simple Interface.
Documentation and user guide available.
Con:
Premium.
Watermark appears in trial version and needs to be registered to remove watermark and access advanced features.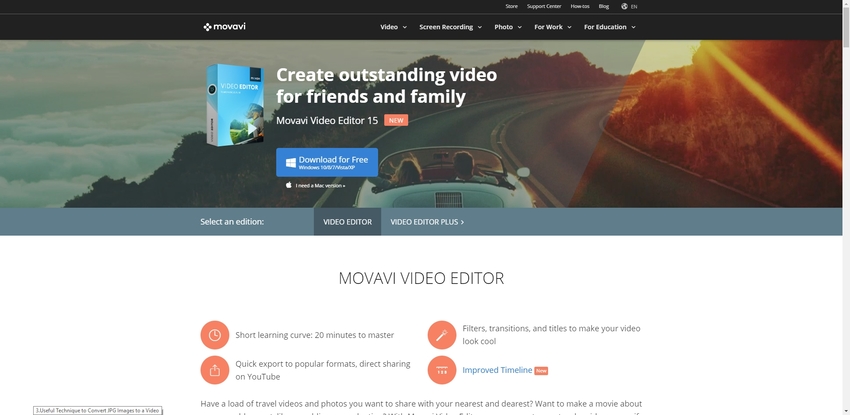 Summary
Slideshow videos are used by many social media pages, educators, business users for presentations or wedding albums. To convert Images to a slideshow, Powerful Tools are required which wont compromise the quality of image or give astounding visual effect to your slideshow. Many online and offline tools are available for converting images to slideshow videos. Desktop software are preferred for long-term use and are reliable, but these are mostly premium software. Movavi Video editor is great tool for converting, editing, creating videos from Images the only drawback being pricy which isn't problem for professionals. Online tools can also convert images to video but many of these are also pricy and some which are free aren't reliable and often don't work as site don't load. For longtime use or for business needs, desktop software is preferred.
If you're looking for another application to edit and convert your video, image, and audio, Wondershare UniConverter is your better choice. It supports Windows and Mac system. Download and try it.
Wondershare UniConverter
· Support batch processing of conversion.
· Convert video, image, and audio to over 1000 formats.
· Convert specific devices formats without any trouble.
· Transfer convert files from PC/Mac to external devices easily via a USB cable.
· Versatile toolbox combines Image Converter, GIF maker, video compressor and screen recorder, and others.