Essentially, PSD is an image file extension created by Adobe Photoshop. It is a layered image used to save data. It may include file info, layer mask, annotation, keywords, image layers, as well as other elements specific to Photoshop. PSD majorly used by professionals skilled at graphics. Comparably, JPG is an image file format used for images, photography, digital photos, and images displayed online. It is a generally accessible formats by any computer, mobile device, tablet, etc. Converting JPG to PSD file format will make your image file accessible and open with Adobe Photoshop software to make further image editings. Here are a 5 free, quick, and easy-to-use online JPG to PSD converters for you to pick. Read on!
Part 1: Top 5 popular online JPG to PSD converters
The internet is littered with myriads of online JPG to PSD converter. For the purpose of this article, we will only be highlighting 5 of these online converters. These includes;
URL: https://convertio.co/jpg-psd/
Convertio is a free online JPG to PSD converter with a user-friendly user interface. The process of conversion is in three basic steps i.e. user chooses the JPG file to be converted by dragging and dropping the file or posting the URL link on the page, select the intended file to be converted which in this case is 'PSD', and then download the converted file. Convertio allows a file size of as large as 100MB.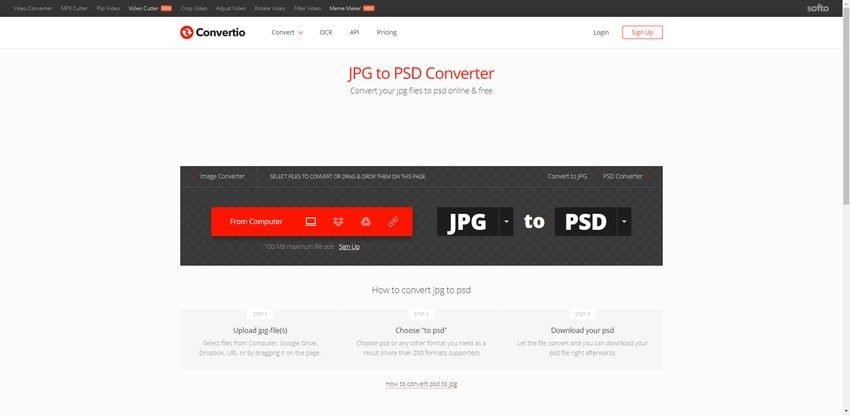 URL: https://www.aconvert.com/image/jpg-to-psd/
Aconvert.com is a free online JPG to PSD converter. User-friendly and permits file size of as large as 200MB. To convert JPG to PSD files, single or multiple files can be uploaded or select file from external file storage like Google Drive. Select the intended image size and format by choosing the 'Change image size' option. Then click the button 'Convert Now' to commence conversion process. The conversion process commences automatically, when conversion process is complete, the result of the conversion is listed. You can save file to your device or any chosen online storage of choice. Offers file resize options and it is free. It has the option of downloading file to an online storage service or displaying a QR code.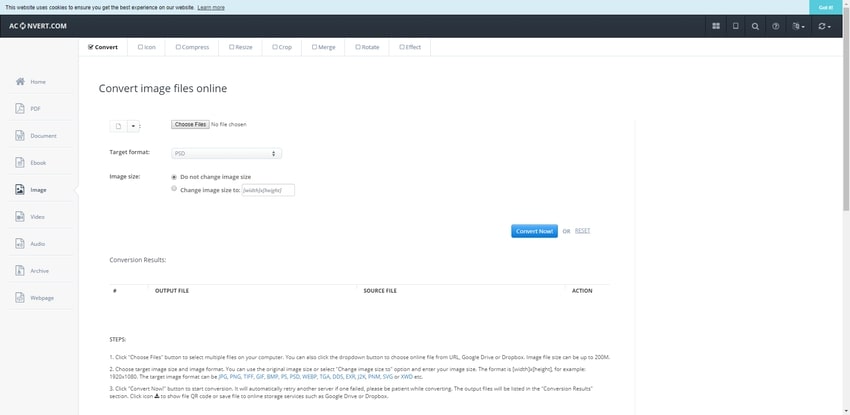 URL: https://convertimage.net/
This free online graphic file converter and photo editor. The website can easily convert photos online without any software. The website converts images online from JPG to PSD and some other formats. Asides conversion, this online tool can compress pictures, reverse images, straighten out an image. ConvertImage claims to maintain total privacy when converting user's file. None of the file converted on their platform has been published anywhere. Images are deleted automatically from the server. The server routinely deletes files from its server 15 minutes after use.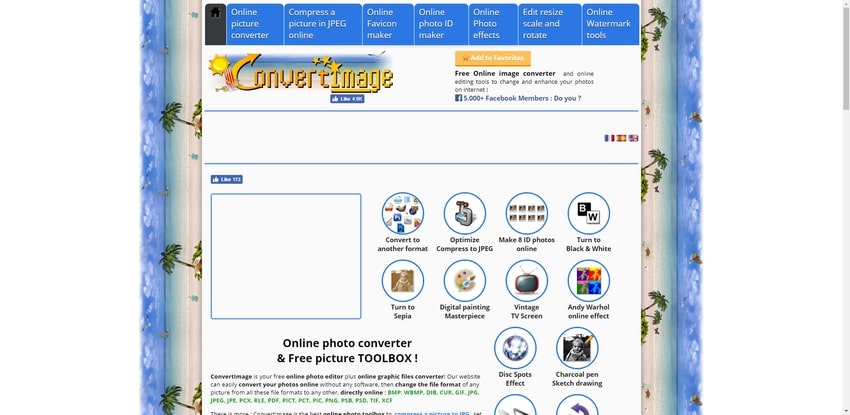 URL: https://cloudconvert.com/jpg-to-psd
Cloud convert is a free and user-friendly online tool. User can upload files to the online JPG to PSD converter and the job gets done. The files are assured to be safe and accessible to user. Upon conversion completion, the files will be deleted from the server. Cloud convert supports folder monitoring as well as batch converting. Cloud convert API provides the full functionality making it possible to use the conversion services in either Android or iOS devices.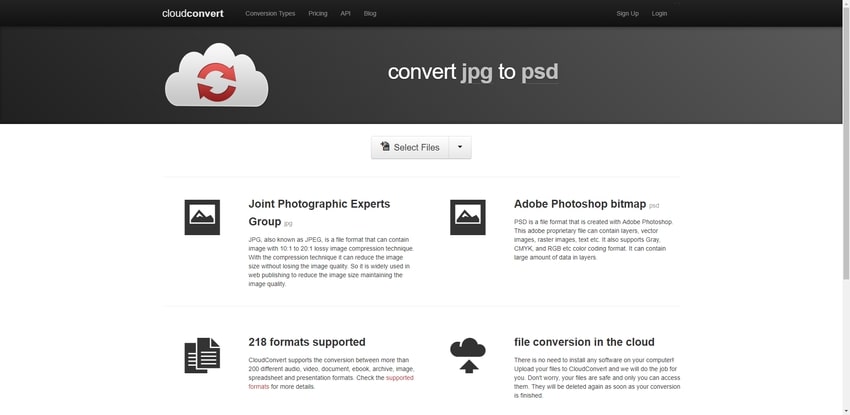 URL: https://www.freefileconvert.com/dcm-jpg
Free file converter is an online file converter that supports JPG to PSD file conversion. As the name implies, it is a free online JPG to PSD converter and user-friendly. Allows multiple or batch conversion of file of up to 300MB in size. It does not convert large files larger than 300 MB as well as raw files. Conversion can be easily done in three easy ways to get the intended converted output.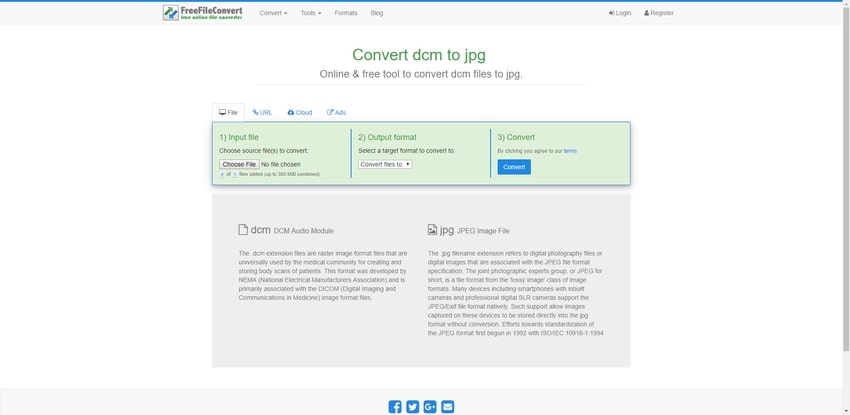 Part 2. Stretched info: how to easily use Adobe Photoshop to convert JPG to PSD
You may not know a surprising fact that Adobe Photoshop can be served as a helpful JPG to PSD converter software. Converting JPG to PSD via Adobe Photoshop as a graphic artist makes it quite easy to make changes to the digital photography to fit the intended design the user is going with. The easiest and most convenient method of converting JPG to PSD offline is using the supporting software, Adobe Photoshop. Below are the simple steps to convert JPG to PSD without losing quality.
Step 1. Open the JPG image file with Adobe Photoshop: Launch the Adobe Photoshop Software on your device or computer. Click on Open File to upload the JPG image file.
Step 2. Click on File > Save As..> Select: To convert JPG to PSD, click on file again, this time click on the Save As button to save the image as PSD format.
Step 3. Save the converted PSD file to your desired folder.
Summary
convert jpg to psd online

In summary, converting photography images in JPG format to PSD file with layers can now be easily done via several online converting tools. In the article, we highlighted 5 best online JPG to PSD converters. Professional graphic artists who use digital photography images in any of their design projects makes use of Adobe Photoshop is a layered image file where its default format is used by Photoshop to save data. It may include file info, layer mask, annotation, keywords, image layers, as well as other elements specific to Photoshop. Therefore, sometimes unavoidably, you may need a handy image converter to assist to converter JPG to PSD online without difficult. This is exactly the aim of this blog. Hope it helpful for you guys!

If you are looking for a JPG converter for Windows/Mac, you can also try Wondershare UniConverter. One of the useful JPG image converters. Fast conversion and download will leave you a good impression.

Wondershare UniConverter
· Support batch photo to JPG conversion.
· Convert JPG images to JPG, PNG, BMP, TIFF, GIF, and other image formats.
· Convert picture to JPG or specific devices formats without any trouble.
· Transfer converted files from PC/Mac to external devices easily via a USB cable.
· Versatile toolbox combines Image Converter, GIF maker, video compressor and screen recorder, and others.