The need for converting JPG images into PNG format arises in several situations like when you want a transparent background, clearer and less pixilated images, and others. Compatibility can also be one of the reasons for file conversion. To help you convert JPG to PNG below listed are various methods along with more information about the image formats.
Part 1. Convert JPG to PNG Online without Installation
If you are looking to get your images JPG in PNG format without installing any software, online tools work as the best choice. These programs can be used from the browser interface for easily converting your files. Below listed are the top tools to change JPG to PNG online.
URL: https://www.media.io/image-converter.html
Online UniConverter is a web-based online tool for you to convert and compress pictures, videos, and audio files for free. There is a free trial area below, and you just need to upload or drag and drop your JPG image file to the function area, select the PNG as the target format, then click the Convert button to start the JPG to PNG conversion.
---
URL: https://jpg2png.com/
Using this online tool, a maximum of 20 images within 50MB can be added to the program for conversion to PNG format. The added files are automatically uploaded and converted which can be then downloaded to your system.
Pros:
Supports adding up to 20 files at a time.
Added files are automatically uploaded and converted.
Simple interface.
Con:
50MB is the maximum supported file size.
The converted file needs to be downloaded.
The site comes with ads.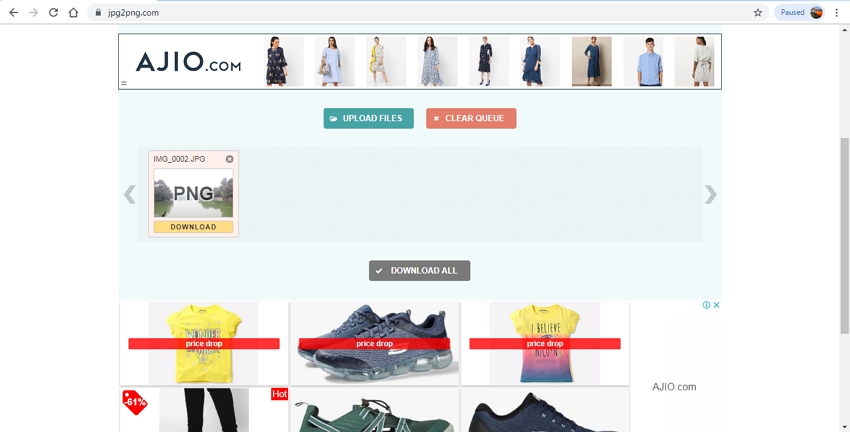 URL: https://onlinepngtools.com/convert-jpg-to-png
This online conversion tool allows converting your JPG images to PNG format and also save them to the clipboard if needed. PNG transparency and the mask can also be selected as needed and the site also provides a preview of the output file.
Pros:
Free software with a simple interface.
Option to save the images to the clipboard.
Preview of the output file available.
Option to choose PNG file transparency.
Con:
Only one file at a time can be processed.
Internet dependency.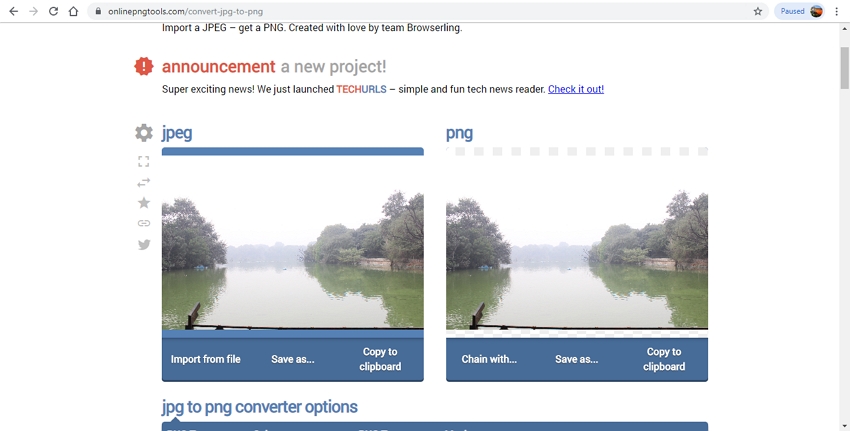 URL: https://www.browserling.com/tools/jpg-to-png
Your images from JPG to PNG format can be converted simply and quickly using this browser-based tool. You need to add the file to be processed and choose to turn it, and the processed file is automatically downloaded to your system.
Pros:
Free software that works from the browser interface.
No ads on the site.
Converted image is automatically downloaded to your computer.
Con:
No support for batch-processed.
No option for file editing.
Dependency on network availability.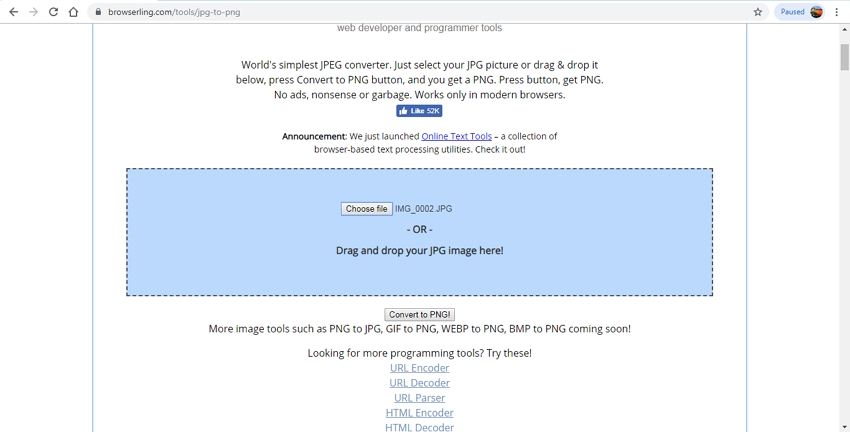 URL: https://image.online-convert.com/convert-to-png
This online conversion tool supports multiple files and formats including JPG to PNG conversion. Local, online, as well as cloud files, can be added to the interface for the process along with editing options.
Pros:
Allows adding jpg files from the computer, URL, Google Drive, and Dropbox.
Option to change the file quality, size, and color available.
Facilitates cropping the images if needed.
Conversion settings can be saved.
Con:
Only one file at a time can be converted.
The processed file needs to be downloaded.
The site comes with ads.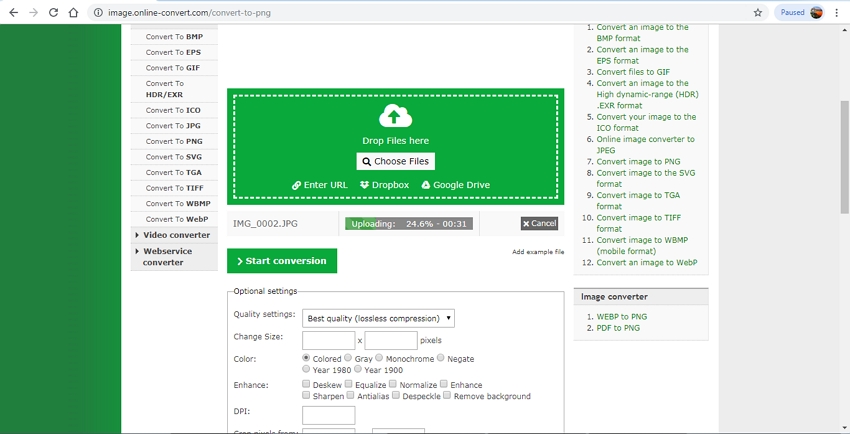 URL: https://www.onlineconverter.com/jpg-to-png
Use this tool for converting JPG to PNG in a hassle-free manner. Local and online files up to 200MB can be added to the program at a time. Option for file resizing is also available.
Pros:
Allows adding local as well as online images for the conversion.
Option for file resizing available.
User-friendly interface.
Con:
The maximum supported file size is 200MB.
No batch processing support.
Ads on the site.
Download processed files.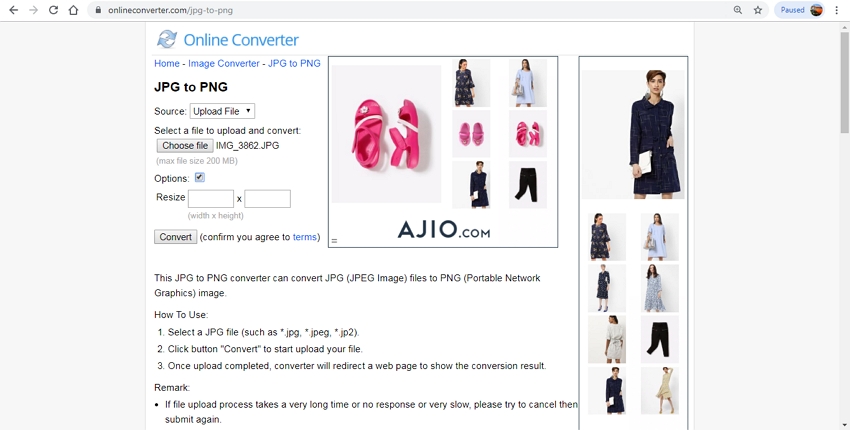 Part 2. Wondershare UniConverter- Best tool to tune JPG to PNG
If you are looking for a JPG to PNG converter software that is simple and fast to use and ensures high-quality files, Wondershare UniConverter is just the right choice. This desktop-based program can be installed on your Windows or Mac system and allows image conversion between JPG, PNG, BMP, and TIFF format. Multiple files can be processed at a time, and there is also an option to edit the output image size and the quality. In addition to image conversion, the software supports multiple other functions like video conversion, video recording and download, compression, transfer, and others.
Wondershare UniConverter
· Wondershare UniConverter is the easiest software to convert images just a few seconds.
· Convert picture to the most basic image format, such as JPG, PNG, BMP, TIFF, and GIF.
· Convert picture to JPG format or specific devices formats without any trouble.
· With the software, you can download videos from over 10000 video sharing websites, or you can also record the videos or system screen.
· Using UniConverter Toolbox function, includes convert images, create GIF, burn CD, rip CD, cast to TV, and fix Meta tags with just a few clicks.
Steps on How to Convert JPG to PNG using Wondershare UniConverter
Step 1. Launch Wondershare JPG to PNG Transparent Converter
Download, install and run the Wondershare UniConverter software on your system. The main interface like the below image will appear as the program opens.
Step 2. Load JPG Images
On the main interface select the Toolbox section and then click on the Image Converter option. A new pop-up window will open, where you can add the JPG images by clicking on the +sign or + Add Image button. Multiple images for batch conversion can be added.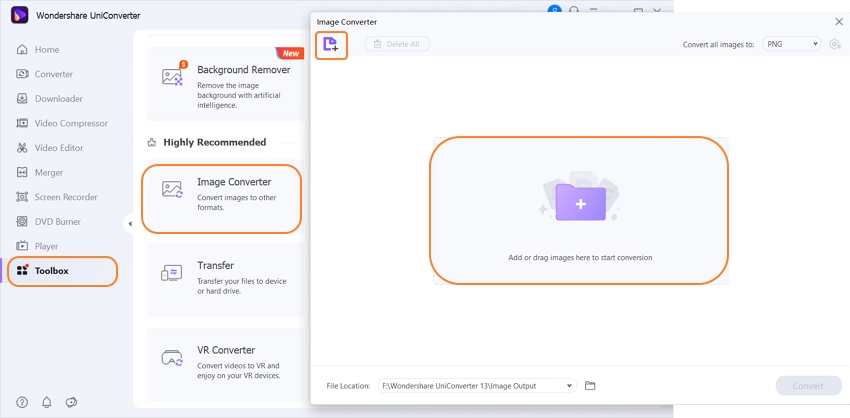 Step 3. Choose the PNG as Target Format
To convert all the added images, click on the Select All box. Next, at Convert all images to: section, choose PNG as the desired target format from the available options.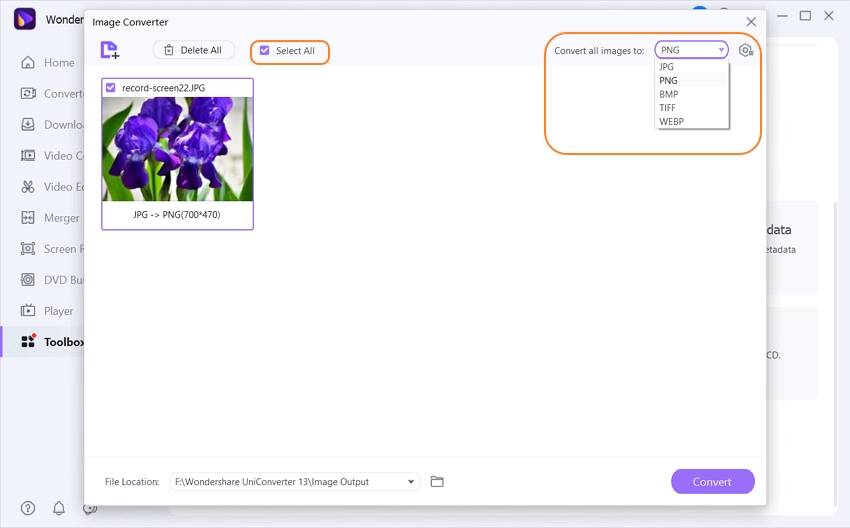 Step 4. Convert JPG to PNG Transparent Image
The desktop location to save the converted files can be browsed and selected at the File Location tab. Finally, click on the Convert button to start the image conversion process.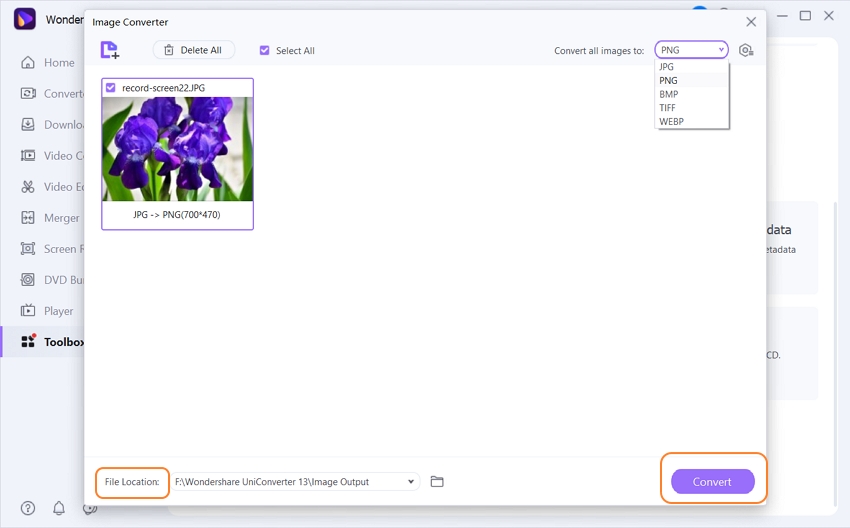 If you want to convert multiple JPG images at one time, Wondershare UniConverter is your best choice. Upload, convert and download fast in convert batch images.
Part 3. JPG and PNG Information
a. What are JPG and PNG Format
JPG: Developed by Joint Photographic Expert Group, JPG is a lossy compressed image file format that facilitates storing images in a smaller size, and it used as a standard format for the pictures by the photographers. The form is a popular choice over the internet, owing to its compressed nature. JPG files can be compressed anywhere from 2:1 to 100:1 ratio as needed.
PNG: Standing for Portable Network Graphics, the format was mainly developed as an alternative to GIF to overcome its limitation. The format is now popularly used for web graphics and other images. This is a lossless format that also supports transparency and is ideal when you want to store the line drawings, iconic graphics, texts, and similar files.
b. Difference Between JPG and PNG:
JPG and PNG, both are image file formats, and the difference between them lies in their compression methods and purpose and use. JPG is a lossy format whereas PNG is a lossless image format. Moreover, PNG supports transparent background feature which JPG does not.
c. Choosing Between JPG and PNG Image Format
Considering the number of files, storage space, optimization process, and other factors, you can choose between JPG and PNG format. In a nutshell, JPG is an apt format for the photographers for images and also for internet as its compression method reduce the size and thus allowing more images within less space.
PNG, on the other hand, is best for images that require a transparent background, more detailing, line graphics, and iconic images.
So no more doubts on how to make JPG to PNG when you know multiple tools to take care of your conversion process. Necessary conversion of small-sized files can be done using online tools while for various files and advanced features, install Wondershare UniConverter.