JPG, PNG, and BMP images formats are very common and well-known images formats which are used by users to store images on their computer and mobiles. These images formats are very good to store images in good quality every format has its own profit and loss of storing images. There are many other images formats are available to store the images but these are used widely by billions of users. In this article, we will share the different about between JPG, PNG, and BMP formats and some easy ways about converting JPG, PNG, and BMP formats to other image formats.
Part 1: Detailed Information about JPG PNG and BMP
a. JPG Image Format
The JPG format is the most common and very popular image format over the internet. JPG format files can be opened very easily on most any device. JPG format stands for joint picture motion group. It supports near about 16.7 millions of colors and photographers prefer this format to store their images. These format files are very small in size as compared to the other format because the files are tightly compressed in this format.
b. PNG Image Format
PNG format is also an image format which is most common and used by millions of people for storing the images. This image format is also known as the alternative to the GIF image format which is mostly used to post small clips on the social media sites. PNG format can handle the transparency of images more than the GIF format. PNG format usually supports the 8-bit color system but it can also be increased to the 24 bits.
c. BMP Image Format
BMP files format is another format which is commonly used in the operating system. BMP format files are very large in size because it doesn't allow the compression of images. You can only compress the photos if they are saved in the JPG or PNG formats. These format files are used for the graphics files in the Windows operating system.
d. Which One to Use and Some Scenes to be Used?
This is very important to use the files according to the current situation of using images such as sharing on social media, sharing with friends of storing on your computer. You can use the JPG PNG BMP files according to the needs discussed below.
If you want to share the images over the web such as Facebook, Twitter or other websites then the JPG format is best one for you because it is very small in size as compared to the others. There is the only issue is that images in this format are lower in the quality as compared to the others.
PNG format can be used when you need transparency in your images and good for making the best quality screenshots.
BMP format is very good to use for the images of windows programs but this is not good for personal use.
Part 2: Top 5 Converters for Free
URL: https://www.reduceimages.com/
Reduce Images is an online converter website where you can easily convert the formats of images. The name of this site says it's about reducing the size of images but you can also use this website to convert the photos formats. There is an option offered by the website which allows users to send the converted images in the mail as well. This website can maintain the originality of images even after compressing the size of photos.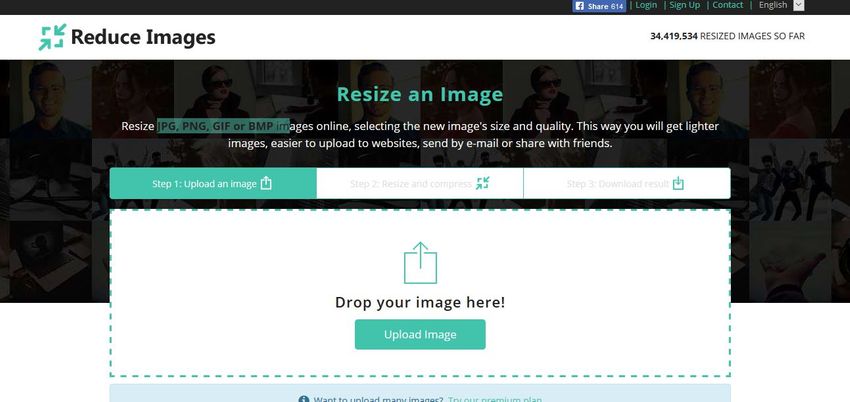 URL: https://www.online-convert.com/
Online Converter website is another good option for you that enable users to convert the audio, video and other files in different formats including the photos. You can convert the images in any format of your choice with ease without doing any effort. This website supports mainly all types of files conversions such as EBook, archive, device, web service, hash, etc.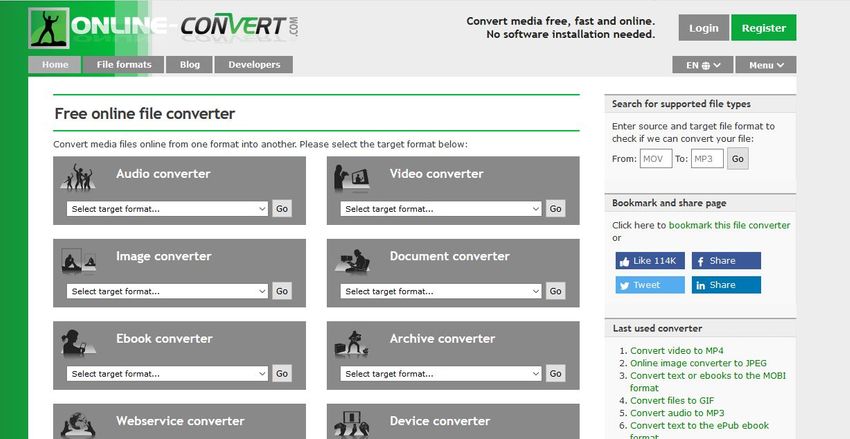 URL: https://www.onlineconverter.com/
Online Converter is a very simple and easy to use website where users can quickly convert JPG, PNG, and BMP image format files to other formats of their choice. You can also convert the other image format files to JPG, PNG, and BMP formats with the website. There are so many conversion tools offered on the website such as unit, video, audio, image, document, and EBook. These all converters are offered for free of cost and works totally in your browser.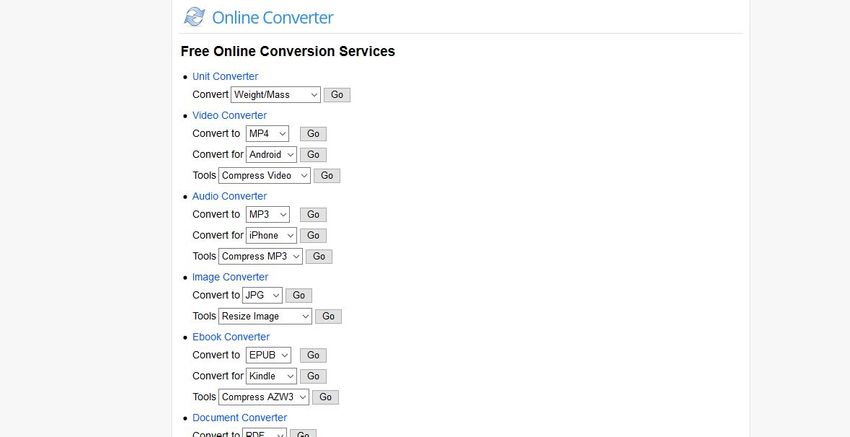 URL: https://www.aconvert.com/image/
AConvert is another web application that offers users multiple options for converting photos such as compress, edit, icon, merge, rotate, crop and add a special effect. Including the editing options, it also allows you to convert the photos in near about any of your needed image formats. There is an option offered to convert webpage. Using this feature, you can simply browser-based webpages in the PNG, JPG, and PDF formats. This option is usually not offered in the online converter websites.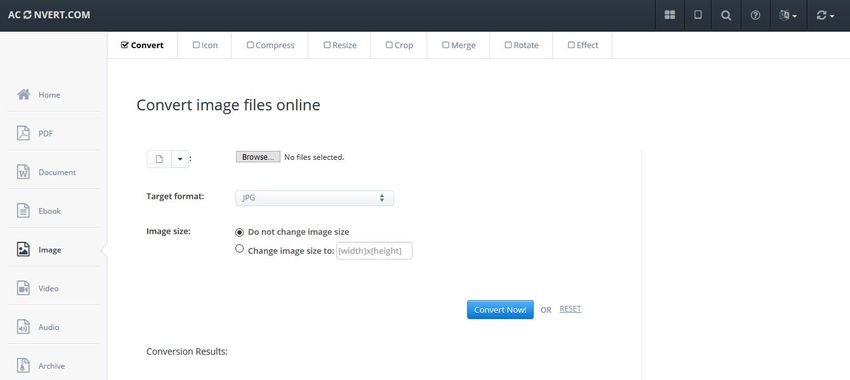 URL: https://online-converting.com/image/
Online Converting is also a nice option for the users to convert JPG, PNG, and BMP image format to their needed one. This website is new over the internet but gaining so much popularity due to their offered features. The top features of this website are vector image converter, image converter, audio converter, video converter, archive converter, EBook converter, and SVG optimization, etc. These all services are offered for free but this website shows ads while using the website so it may be irritating for you while converting the files.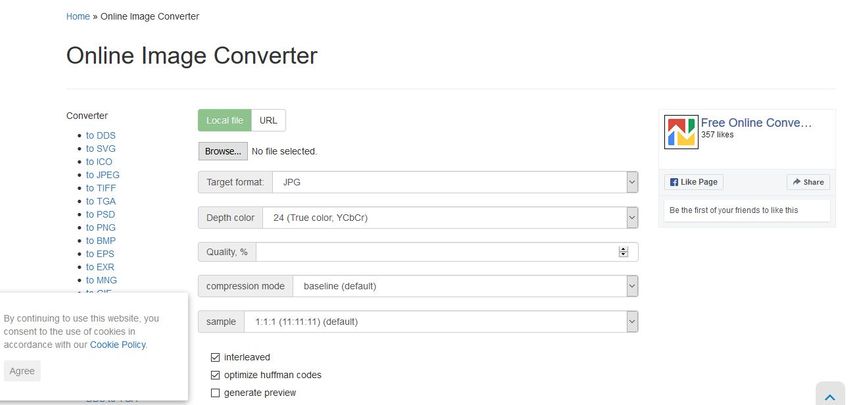 Summary
Well, this is the information about JPG PNG BMP formats and how to convert them in the other formats. Using these online websites, you can now easily convert mostly all types of files online. These websites work in your browser and fully supports Chrome, Mozilla and other browsers. You just need to have a good internet connection to get your files converted in the needed formats.
UniConverter could convert to JPG, PNG, BMP, and other image formats. Want to know more? Please check the below.
Wondershare UniConverter
· Support batch processing of pictures conversion.
· Convert images to over 1000 formats, including JPG, PNG, BMP, TIFF, GIF, and others.
· Convert photo to JPG or specific devices formats without any trouble.
· Transfer converted files from PC/Mac to external devices easily via a USB cable.
· Versatile toolbox combines Image Converter, GIF maker, video compressor and screen recorder, and others.