GIFs are exciting clips that attract the attention of many with its quirkiness and attention-grabbing image in motion with added filters, stickers, captions or texts. GIFs are used for several purposes, e.g., educational, promotional as well as marketing purposes. Notwithstanding, there are cases where viewers would love to have the GIF in pictures rather than images in motion. There are myriads of online and free software that can be used to convert GIF to picture. Nowadays, humans are bombarded with millions of information at once resulting in the issue of short attention span, with GIFs, you can improve your attentiveness and understand the information being passed.
Part 1. Online Converter to Convert GIF to Images
URL: https://www.media.io/image-converter.html
Pros:
It supports the most common image file conversion.
Free to use, easy to navigate.
It allows uploading several image files at a time.
---
URL: https://ezgif.com/gif-to-sprite
EZGIF this free online converter has beautiful features and tools that can give life to your GIF, therefore making it easy to convert GIF to pictures. In the EZGIF, you can convert GIF to images as well as add filters to your GIF or images, includes Nashville, Vignette, Lomo, and Gotham. Besides, the user can change image colors and change color with transparency. There is also the feature to reverse, rotate, and transform GIFs. All users need to do is in three simple and easy steps to convert GIF to images is to upload GIF or paste URL (maximum size permitted is 35MB), add, and click on convert to begin the conversion process.
Pros:
It is for free to use.
Beginner-friendly and simple to navigate.
Con:
Limited file size upload, maximum file allowed is 35MB.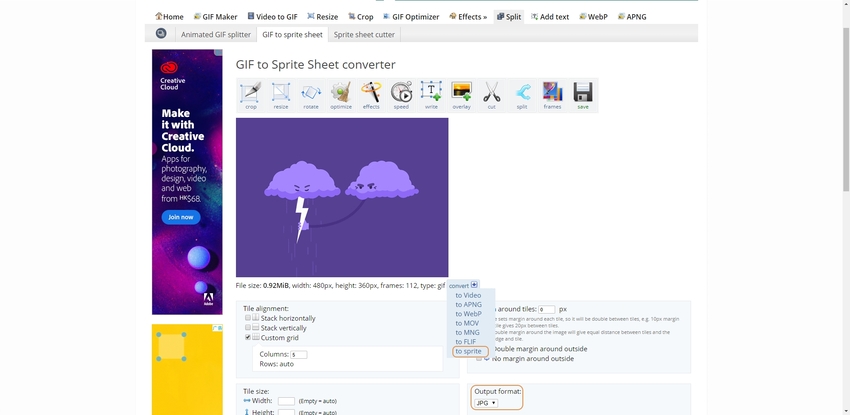 URL: https://www.browserling.com/tools/gif-to-jpg
Browserling is another free online GIF tool, which is mostly referred to as the most straightforward tool to convert GIF to pictures. It avails user with lots of other features that may be useful, e.g., password tool, encryption tool, image tool, web tools, amongst many others. What's the more exciting thing is all these are free to use. The website is designed for user's utmost convenience and interaction, hence its multiple features on the site. The online tool is void of ads and any annoying pop-ups. However, it works only with modern browsers.
Pros:
It contains about 12 tools that makes it easier for newbies and professionals.
It can convert to multiple image formats based on preference.
Con:
Only works with modern browsers.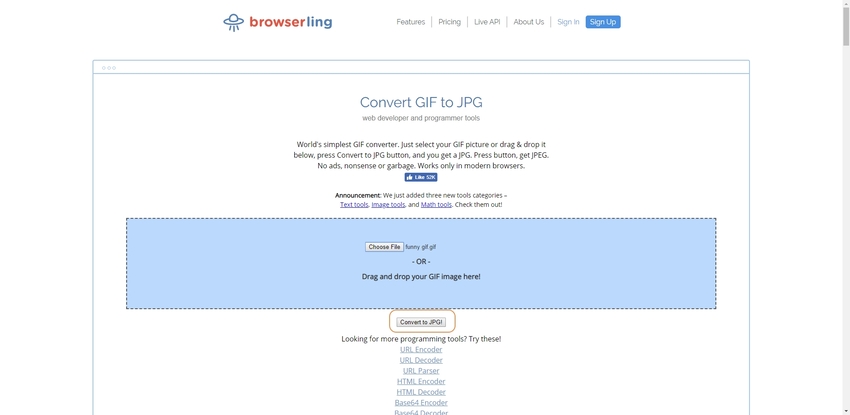 URL: https://www.iloveimg.com/convert-to-jpg/gif-to-jpg
Need to post creative and attractive contents for your social media page or blog? This tool is a fantastic website that can be of great help. Not only does it convert GIF to pictures for free, but it also offers impressive other features, e.g. editing and creating memes. For maintaining the copyright of your image, you can add watermark to you GIF, videos, and images prior to sharing it on preferred platforms.
Pros:
Create memes and allows editing options.
Offers the option of adding watermark to GIFs, videos, or images.
Con:
Limited image convert formats.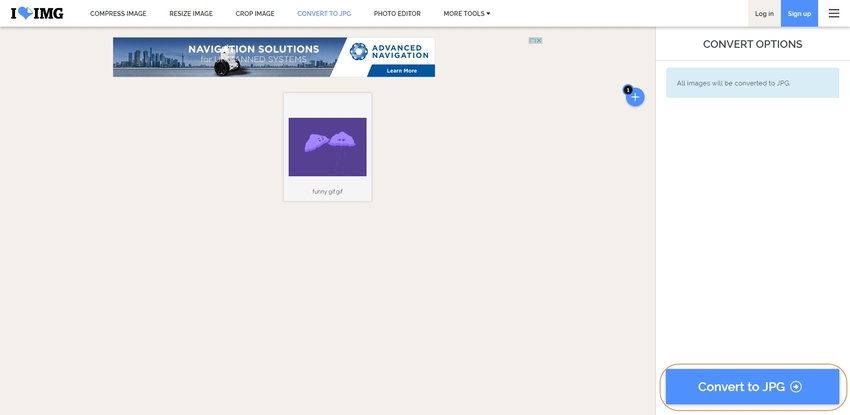 URL: https://onlinepngtools.com/convert-gif-to-png
ONLINE PNG TOOLS is known as the world's most straightforward GIF animation to PNG image converter. All the user needs to do is upload or paste URL of GIF, edit and convert the GIF to pictures in the editor on the left, leaving you with a PNG frame on the right. The tool is quick, free, effective, and powerful. In just simple, easy steps, you import GIF and get your converted image.
Pros:
Free access and use.
It supports the most common image format convert.
Con:
Only support convert GIF to PNG file.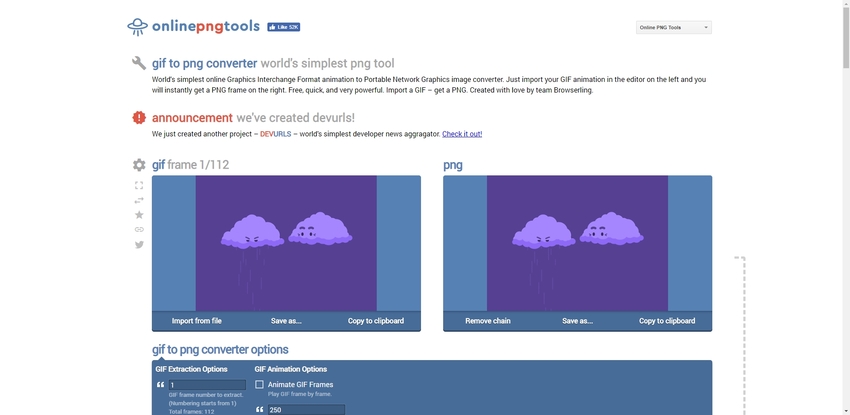 URL: https://www.zamzar.com/convert/gif-to-jpg/
ZAMZAR is explicitly created for high-speed and quality conversion such as converting GIF to pictures in JPG as well as to thousands of other translations. If you need a converting tool to save any GIF file without compromising on quality, then ZAMZAR is your plug. In addition to these fantastic features, it converts big video files at a breakneck speed which is a significant point for making use of this online tool.
Pros:
Zamzar can convert infinite number of files for free daily.
Zamzar can download and convert the video as large as 2GB five times its speed.
Con:
Zamzar requires login in to have access to its full features.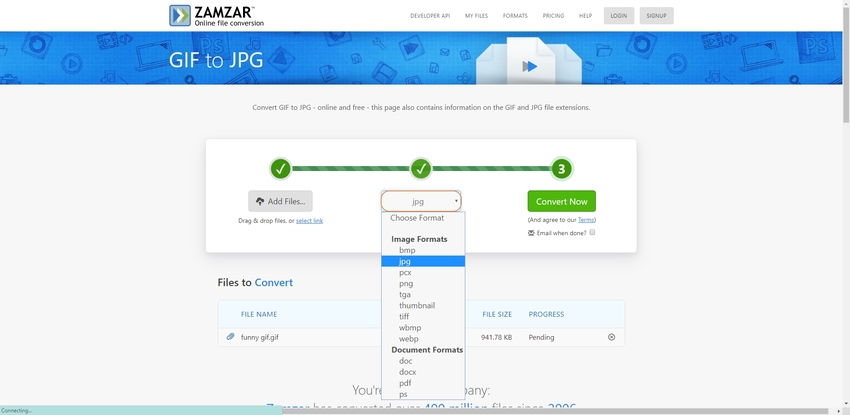 URL: https://www.onlineconverter.com/gif-to-jpg
Online Converter can convert Graphics Interchange Format to JPG image. In just three easy steps, the user can select, save, and download the image, and the converter will redirect a web page that shows the conversion result. The tool offers multiple conversion tools of choice, and it does not support protected or encrypted image files.
Pros:
Free access and beginner friendly.
You could use other features in Online Converter.
Con:
Encrypted and protected image files are not supported.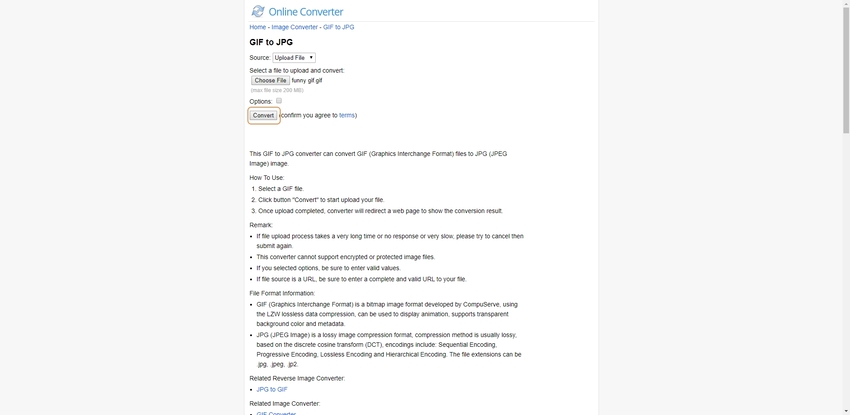 Part 2. Offline to Convert Animated GIF to Picture
Wondershare UniConverter is an offline GIF-making tool helps the user add effects to GIF without leaving watermark of the software (your brand's watermark can be added). It is a great tool used by many creatives because of its stress-free video editor for video sharing platforms like YouTube and social media platforms like Facebook, Twitter, etc. This tool helps you upload GIF from your smartphone and also transfers the edited GIF to your smart device. Wondershare Uniconverter free both offline and online, all you need is to upload, edit, and export. Also, it avails the user with an integrated search engine for easy access to your most preferred videos online — several ranges of editing options, i.e., cropping and trimming, then exports to several resolutions and formats.
Wondershare UniConverter
· Multifunctional: UniConverter is an all-in-one package, and it supports video, image, audio convert, compress, and edit.
· Accessible Advanced Features: it avails user with an integrated search engine for easy access to your most preferred videos online.
· Several ranges of editing options i.e. rotating and trimming and exports to several resolutions and formats.
· Flexible to use.
· Watermark incentive is optional.
Step by Step Method on How to Convert GIF to Image
Step 1. Open Image Converter Option from Wondershare UniConverter
Launch Wondershare Uniconverter, then go to Toolbox at the top of the UniConverter and click on Image Converter option.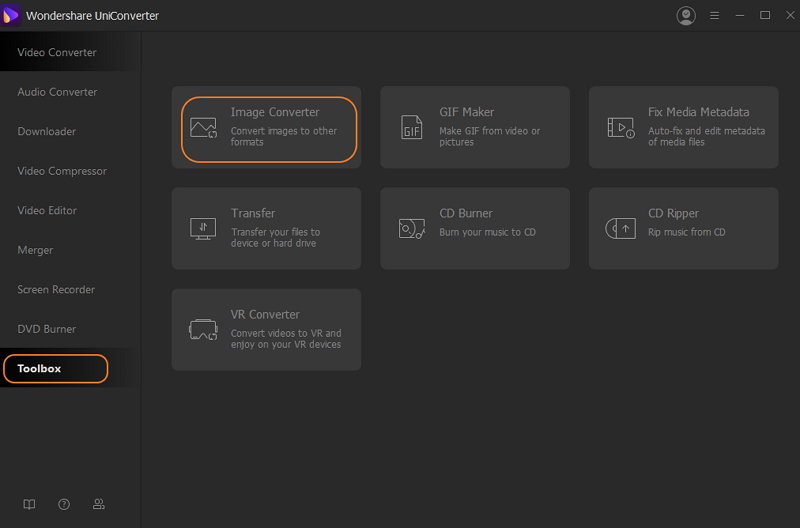 Step 2. Drag or Drop GIF or Add GIF File to UniConverter
A new window Image Converter appears, the click on the big + or + Add Images button to choose the GIF files you want to convert. Alternatively, just drag and drop, also multiple pictures can be added at the same time. Once you have added the images, make use of any of the thumbnails that fits the purpose of your edit.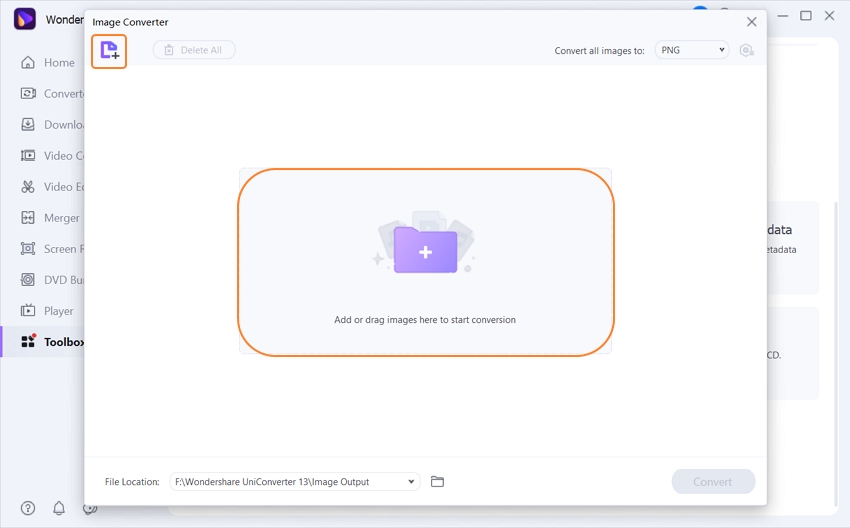 Step 3. Select the Image Output Format
Upon selecting the GIF file of choice, you could change the image output format to JPG, PNG, TIFF, and BMP. After choosing the image form, click on the Convert button to start to convert GIF to images. Conversion process commences, then you have your images converted in seconds.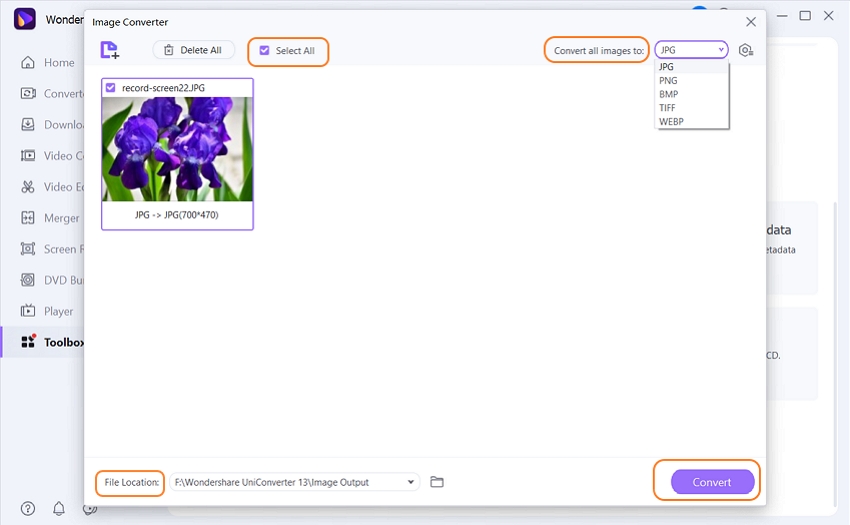 Wondershare UniConverter supports GIF convert pictures, pictures or videos convert to GIF. If you want to create a funny GIF, try UniConverter now.
Part 3. 2 Best Ways to Download GIF Pictures
URL: https://giphy.com/explore/free-download
GIPHY is a fantastic website where you can create, upload, and download funny GIFs at your fingertips. User can search for different types of GIFs that best suits their mood or reaction using #-hashtags as keywords to categorize the GIF. Users get PNG loop videos and memes by searching with keywords.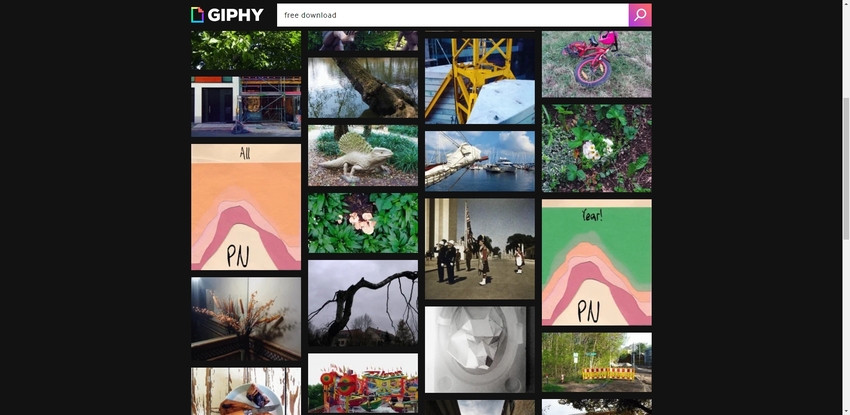 URL: https://tenor.com/
Asides being welcomed by multiple exciting GIFs; you have the option of knowing what GIF is currently trending by percentage. You also have the option of uploading your funny memes to the platform. You can also search for befitting memes and GIFs for your newsletter, blog post, or any of your social media platforms to convey mood and expression.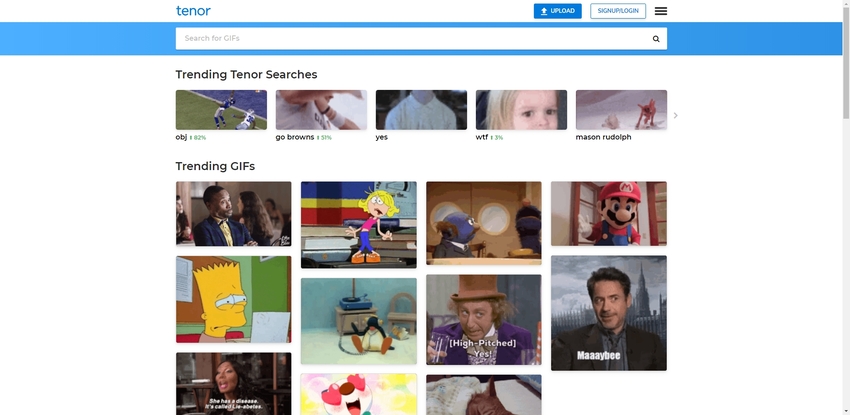 Summary
You know that feeling you get when you just seen a GIF, and you are trying to convey an exact mood from a GIF, you can convert GIF to pictures offline or online with Wondershare Uniconverter having the best features for free and can be accessed offline. There are also online tools highlighted with different unique features; we've picked out best of the best for you to select the tool that best fits your exact preference. You can also have access to millions of funny memes and reaction GIFs at Tenor or Giphy.