GIF animations on the websites are exciting and fascinating, but it also increases the loading time of the site and uses more bandwidth. To use GIF animations without increasing the site loading time, compression is an ideal solution. So if you are looking for ways on how to make a GIF smaller, enlisted below are the best tricks and tools.
Part 1. Top 5 Online GIF Optimizer-You Won't Disappoint
Several online gif optimizer tools are available that facilitate reducing your file size in decent quality. Working from the browser window, these programs need no registration or installation. Below listed are the best tools to minimize gif size online.
URL: https://ezgif.com/optimize
Using this online program, GIF images from the system or through utilizing a URL can be added to the interface for the process. JPG and PNG files are also supported by the tool, and the maximum supported size is 35 MB. The program allows selecting the lossy GIF, choose the drop frames, choose the color reduction, and transparency. Option to choose the compression level is also there. The optimized GIF file can be downloaded to PC after the process is complete.
Benefits:
Supports adding GIF, JPG, and PNG for the optimization.
Multiple file optimization options available.
Simple interface.
Drawbacks:
Internet-dependent.
35 MB is the maximum supported size.
The processed file needs to be downloaded.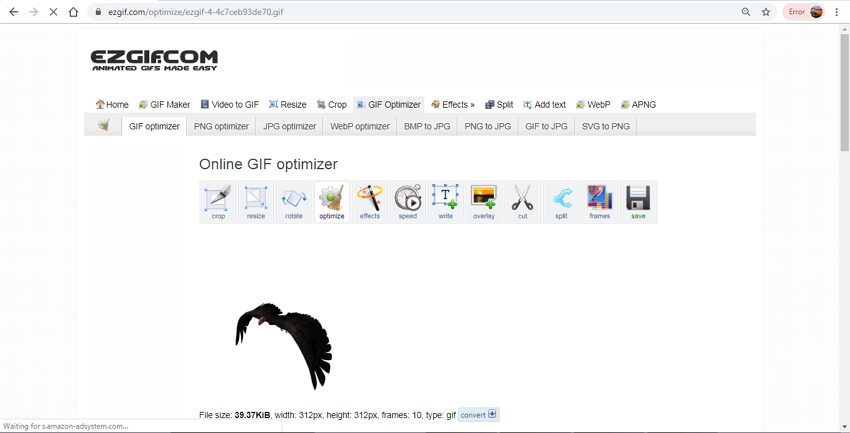 URL: http://gifgifs.com/optimizer/
Using this tool, you can change GIF size simply and quickly. Working straight from your browser, the program allows adding local or online GIF images for optimization. Once the file is added, you can choose the compression type, color reduction, and other parameters. The tool optimizes the file automatically with the best settings. Option for file cropping, reversing, rotating, adding text, and resizing are also available. Comparing of the images pre and post-process is also available.
Benefits:
Optimize the GIF file automatically.
Result and source file can be compared using the tool.
Drawbacks:
No option for batch processing.
Optimization settings cannot be selected.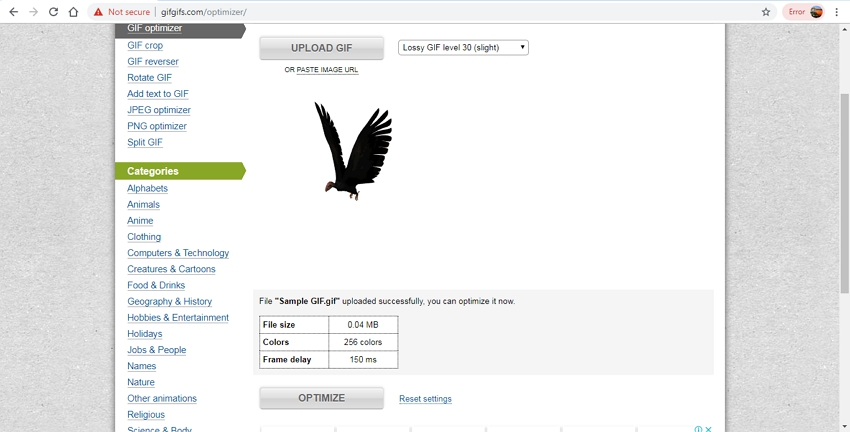 URL: https://gifcompressor.com/
To compress animated GIF quickly, this works as a great tool. The program allows adding up to 20 files at a time with a size of up to 50MB. The files, once added, are automatically compressed using the best settings. Once compressed, you can either download each file individually or all of them together in a ZIP archive.
Benefits:
Support batch processing of 20 files at a time.
Compressed files can be downloaded as a single file or all as a ZIP archive.
Drawbacks:
50MB is the maximum supported size for the files.
No option to choose the compression settings.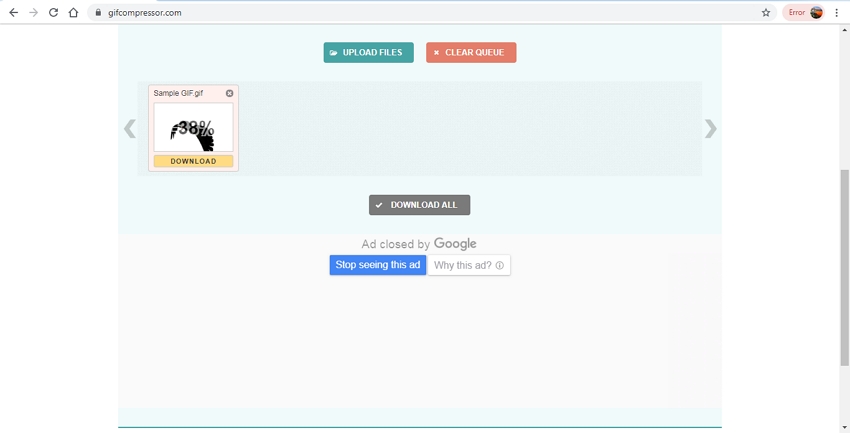 URL: https://shortpixel.com/online-image-compression
This is another excellent tool to optimize animated GIF files. This free to use program facilitates adding up to 50 files at a time with a maximum size of 10MB. You can choose to optimize using lossy, glossy, or lossless compression. The files once added are optimized automatically and post-process, you can download them to your system as well as compare with the source file.
Benefits:
Multiple files up to 50 can be added at a time.
Allows to choose from Lossy, Lossless, and Glossy compression method.
Drawbacks:
The maximum allowed file size is 10MB.
Optimization settings can be selected.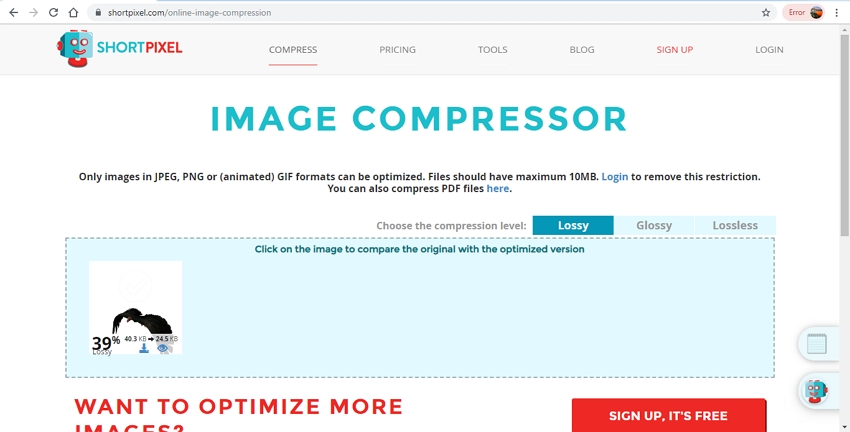 URL: https://www.iloveimg.com/compress-image/compress-gif
Compress GIF size using this browser-based free to use tool in a simple manner. Files on your system, Dropbox, and Google Drive can be added to the interface. The added images are optimized using the best quality and file-size ratio by the program. After the process is complete the processed file is automatically downloaded to your computer. Option to save the file to your cloud storage or share its download link or scan QR code is also there. The interface also shows the percentage by which your new file is smaller as compared to the original image.
Benefits:
This GIF shortener allows adding multiple files at a time.
Compressed images are automatically downloaded to your PC.
Option to save the processed files to the cloud storage.
Drawbacks:
Compression settings are selected automatically and cannot be selected or changed.
Internet dependency.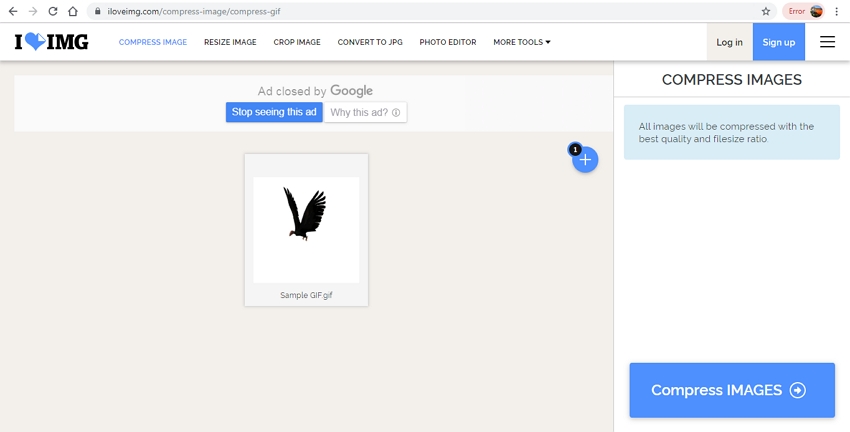 Part 2. Using Giffing Tool to make your GIF smaller
Giffing is a popular program to create as well as compress GIF files in good quality. The tool is available for download on all popularly used versions of the Windows system. The program has a user-friendly interface and supports an array of functions. Using the program, you can optimize the file and resize and alter its payback speed. Masking out of repeated pixels and repeating colors are done automatically by the software. With a variety of customization options available, Giffing allows compression, optimization, recording, and other features of high quality.
Pros:
Reduce GIF file and perform an array of other GIF related functions in a quick manner.
The tool is responsive to every pixel.
Con:
Available for download only on Windows system.
The interface comes with a lot of settings.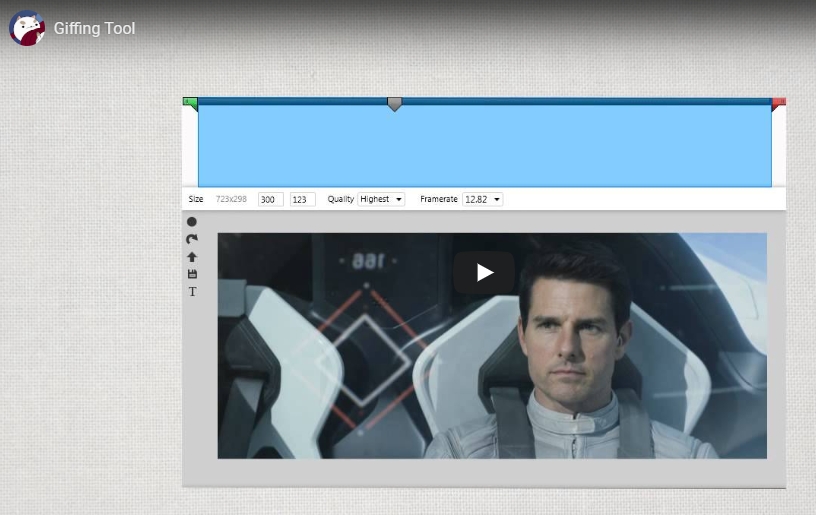 Summary
So if you are looking for options on how to change GIF size, above listed are some of the best tools in the category. Use a desktop program or an online tool as per your requirements for reducing GIF size.
Wondershare UniConverter
· Wondershare UniConverter allows convert video and picutures to GIF.
· It supports convert animated GIF to JPG, BMP, PNG, and TIFF format.
· It allows you to transfer images and videos from computer to iPhone or Android mobiles without using iTunes.
· Using UniConverter Toolbox function, includes convert images, create GIF, burn CD, rip CD, cast to TV, and fix Meta tags with just a few clicks.
· Wondershare UniConverter allows you to burn video and other media files to DVD as well.