The definition of GIF files says that it only supports a series of images to play them as a video. This is true that GIF files don't support audio music. Sometimes when you post any GIF file on social media, then you may need to add audio to show the genre of video. The only way to add audio to GIF is that you need to convert the GIF files in other video formats such as MP4, MKV, etc. In this article, we will learn about how to make a GIF with sound by converting them in the video formats.
Part 1: Is It Possible to Make a GIF with Sound?
If we go according to the actual definition of GIF files, then it is not possible to play audio with GIF because GIF files don't support audio. Video files can store the image, subtitles, and video data in a single file, whereas GIF file format can only save a series of images with text. The best option to create GIF with sound is that you need to convert the GIF file in the video format such as MP4 and MKV. Then you can enjoy GIF with music.
After converting your files, you need to add music manually because when you only save then file then you will have the data in only the MP4 format, but still audio sound will not be there. If you add music to the MP4 file, then the GIF will play with music.
Part 2: Online Free Converter---Convert GIF to Video Format
GIF2mp4, as the name of the website, implies that this website converts GIF format files to the MP4 format and then you can add sound to these files. Saving the files using this website is very simple, and the interface of the website is also simple, so you can do all your conversions without making any effort. Just by following 3 steps you can convert GIF to MP4 format with the help of this website.
Pros:
The website supports to convert GIF to MP4 for free of cost without any installation on your computer.
The website is super easy to use, and you won't face any issue in add sound to GIF even if you are not a technical person.
Con:
It only supports up to 50 MB of files so you can't upload files more than this size.
You can't download then files directly after conversion, so you have to enter your Email id to get the converted files.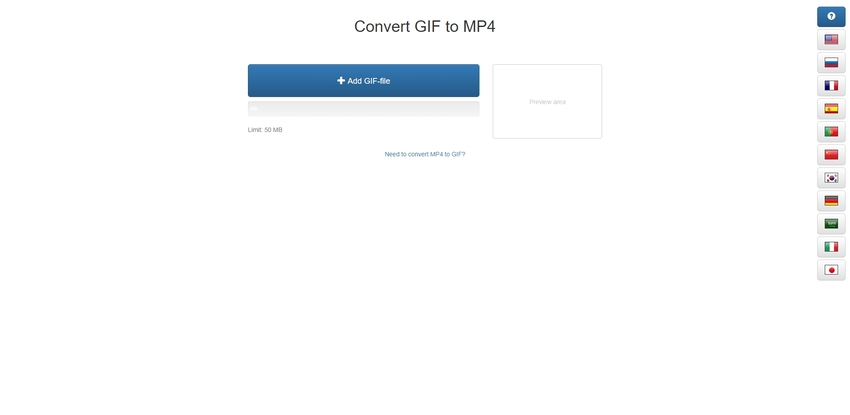 URL: https://cloudconvert.com/gif-to-mp4
Cloud Convert website is also a lovely option to add audio to GIF format files. This website converts the files in MP4 format online without any installation on the computer. The site is not only capable of turning the GIF to MP4, but also you can convert audio, video, images, archive, documents, and many other types of files in the needed formats with ease. The website works online, and you can do all your conversions online without any installation on your system.
Pros:
It converts GIF to MP4 so you can make a GIF with sound.
This is easy to use the website and supports converting several different types of files.
Con:
It is not able to convert the files offline without internet.
There is a limit on the size of files conversion.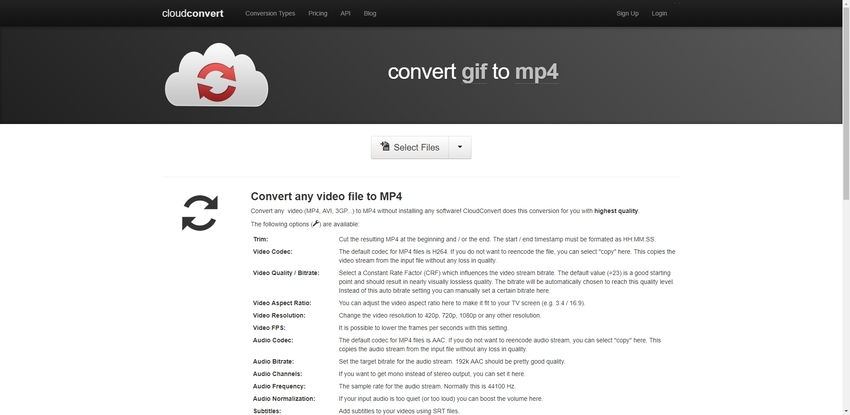 GIF to MP4 format is another option that enables you to convert GIF in the MP4 format. This converter website also works online without any installation. This is mainly developed convert GIF to MP4 to add sound to GIF format files so you can't do any other types of conversion with it. The better part of the website is that it supports conversion of files in batch so you can upload several files together and download them after conversion.
Pros:
You can convert files from GIF to MP4 format for free of cost.
It supports conversion of files in batch.
Con:
It only supports conversion of GIF to MP4 on this.
This is not possible to convert files without a good internet connection.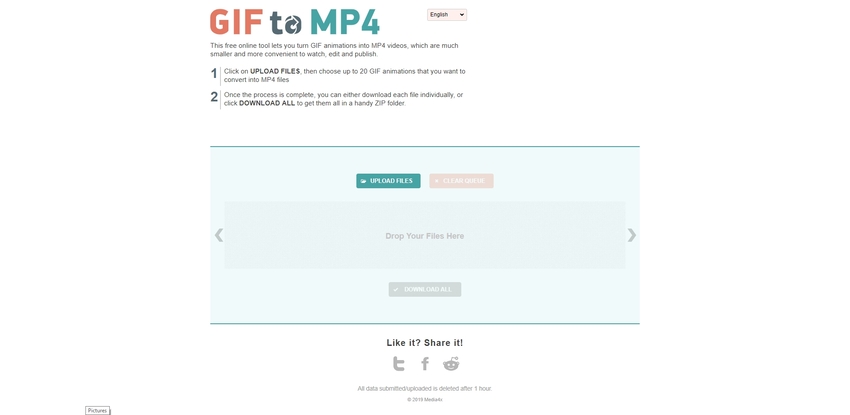 URL: https://convertio.co/gif-mp4/
Convertio is another online GIF to MP4 converter which allows users to convert GIF to MP4 format, and then they can create GIF with sound. This website is also easy to use and saves the files at a faster speed without any software installation. Convertio website also offers you paid pricing plans where you can convert unlimited files without any limitations issue. There are some other converters also provided by a website such as audio, video, presentation, EBook, archive, etc.
Pros:
This website is totally free of cost available.
Convert files online without any installation.
Con:
Unable to product final results in high quality.
Sometimes website get hang while converting files and it keep loading files.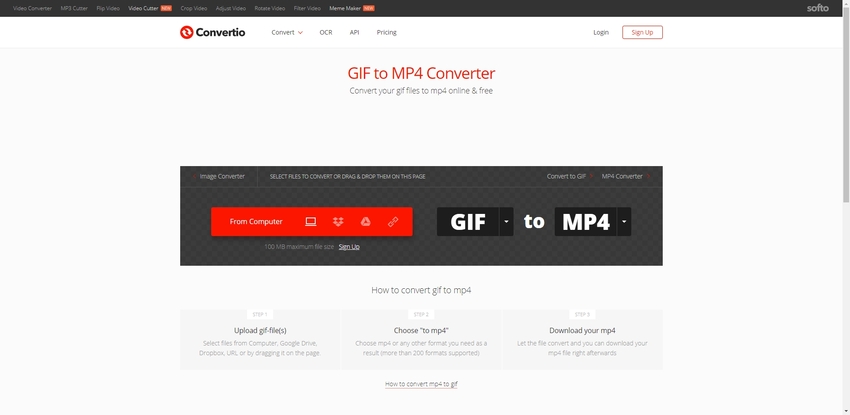 URL: https://video.online-convert.com/convert/gif-to-mp4
Online Convert is a mighty and old converter website which fully supports converting audio, video, document, EBooks, and mostly all kinds of other files. This website also enables you to choose data for conversion from Google Drive, Dropbox, and URL of video or photos. Online Convert website offers you to do several settings before converting your data such as preset, file size, bitrate, audio quality, cut video, and some more settings.
Pros:
Not only a converter but also allows you to necessary settings to the files before converting them.
It is easy to use and convert the files faster.
Con:
It only supports conversion of files online so you can't use it without the internet.
Speed of converting big files is very slow.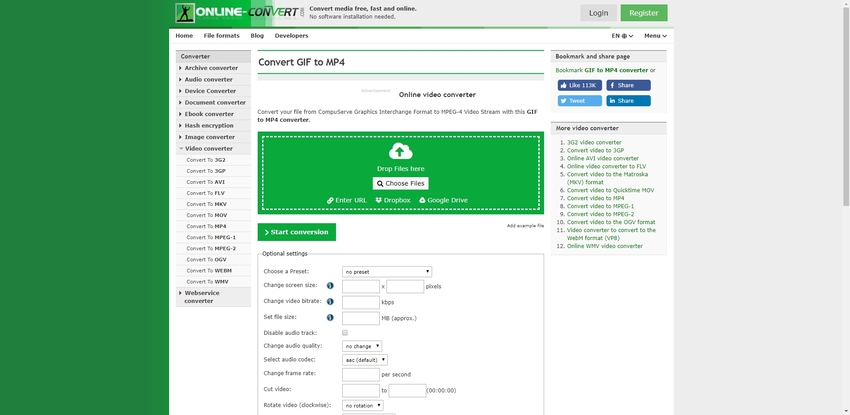 Summary
These are the way which can help you about how to make a GIF with sound without much effort. As we already told you that there is not any way to add music to the GIF image so you can convert the files first and then add any music of your choice to these files. Some websites are also available there which can directly add audio to the GIF and then convert in MP4 format such Kapwing.
Wondershare UniConverter could use photos and videos convert to GIF, you could choose either way to create a GIF by yourself.Free download now, try it.
Wondershare UniConverter
· Support batch processing of photos/videos to GIF conversion.
· Convert Animated format to JPG, PNG, BMP, TIFF, GIF, and others.
· Convert to GIF or specific devices formats without any trouble.
· Transfer converted image files from PC/Mac to external devices easily via a USB cable.
· Versatile toolbox combines Image Converter, GIF maker, video compressor and screen recorder, and others.