A GIF does a million and one things when it comes to conveying information within seconds, i.e., moods, expressions, thoughts can be captured in a 5 seconds GIF. Anyone can add effects, such as adding a filter, frame, and border, add a face to GIF online. It is smooth and seamlessly. Nowadays, many of us have the issue of short attention span, with GIFs you can improve how communication of message and quick comprehension be on the increase especially for marketing and education purposes, e.g., ad campaigns, and funny memes. A good GIF should not lack its dynamism and quirkiness. Read through this article to fully comprehend ways to design funny GIF by adding effects to GIF, e.g., filters as well as adding pictures to GIF online. Thus, we figured browsing the internet on ways to make funny GIF can be tiresome, so we took the honor to bring to you the two best ways to design funny GIF.
Part 1. How to Customize Your Own Animated GIF
URL: https://ezgif.com/effects
EZGIF contains impressive features that can help people to create an incredible and funny GIF. By allowing the user to add lots of features to improve the user create funny GIF. With EZGIF, user can add a filter to GIF, change colors of an image, and replace the color with transparency. Also, people could reverse, rotate, and transform GIFs. All user needs to do is in three simple steps to customize your GIF. For example, upload your GIF or paste URL (maximum size permitted is 35MB), add effects, and your GIF process according to your selected result.
Pros:
Free online tool.
Simple interface to learn how to use. Easy to navigate.
Supports multiple formats, such as GIF, JPG, PNG, BMP, WebP, APNG, FLIF, MNG.
Con:
It is only allowed 35 MB file size to upload.
It has ads on the side of the site.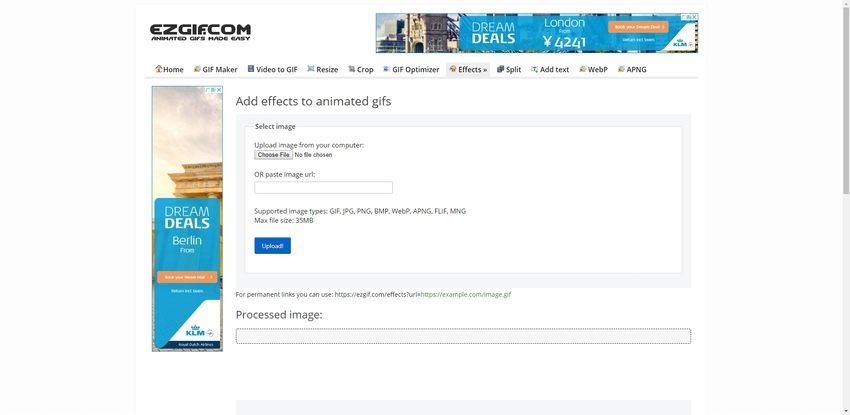 URL: https://www132.lunapic.com/editor/?action=border#
This free online tool can customize and animate GIF based on user's preference. In simple steps, you can add filters, add borders, as well as add frame to GIFs. You only need to upload files, there's also the option of uploading multiple files. To add border, upload the file of choice, select tile background or preferred border color, border thickness or 3D border if preferred. Below the dialogue box, you can preview the changes to your desired preference, and if edited to satisfaction, click on Apply button.
Pros:
Easy access and free to use.
Easy to navigate/ beginner-friendly.
Can be shared directly to other social networks e.g. Pinterest.
Con:
Limited editing features.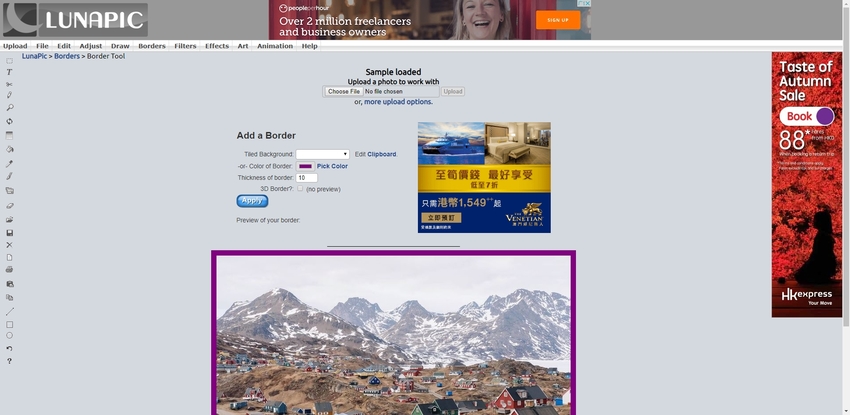 URL: https://www.gifntext.com/
GIFNTEXT with a simple user interface, and it has the edit features where user can add text in various fonts and colors to their GIFs. It also supports crop, moving images, draw over GIF. It allows the user to upload pictures or GIFs of up to 100MB for editing.
Pros:
Extremely easy to navigate due to its simple interface.
Multiple features of text and GIF customization.
Con:
Maximum file size upload is 100MB.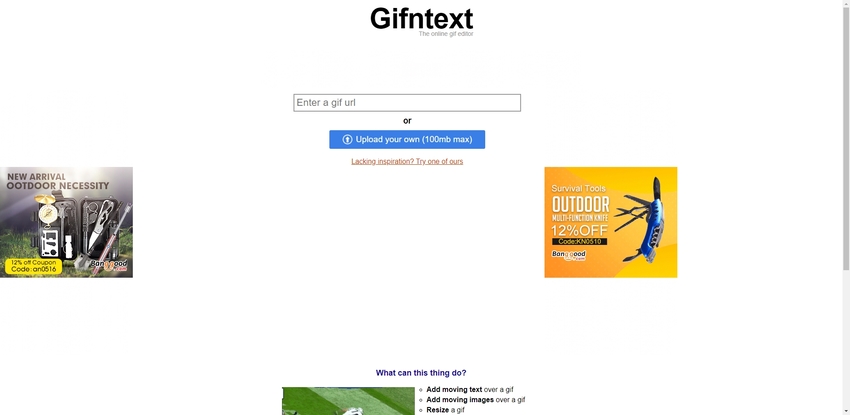 URL: https://gifs.com/add-effects-gif
GIFs provide the user with tons of effects that can be added to their GIF, e.g., stickers, captions, filters, black & white effects, padding, and others. Only three steps, you can create your funny GIF. People could paste Youtube, Instagram, and other URL links to GIFs or upload from the computer. Secondly, edit their unique GIF. The last step is to create and share to their social media.
Pros:
Most effects available to use.
Create GIF memes with just a single click.
Con:
Requires registering to use the platform.
Some features have to pay.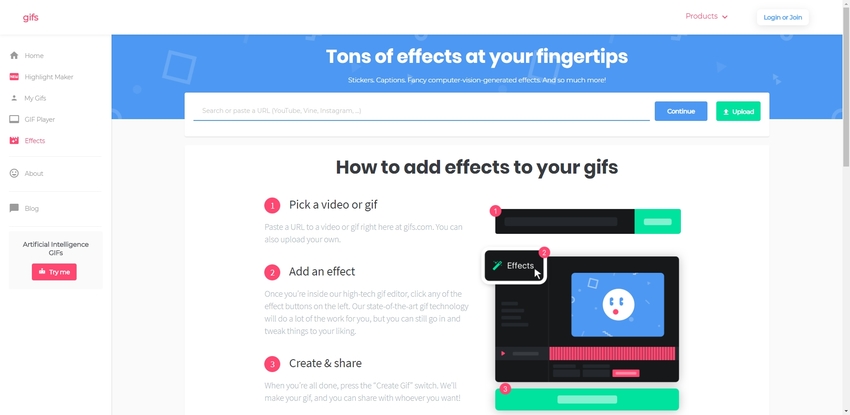 Part 2. GIF Maker for Adjusting Your Special GIF
Easy GIF Animator Software is said to be one of the best GIF animators for Windows devices. It creates and edits funny animated GIF images like an expert. Easy GIF animator is an amazingly powerful GIF editor which is mostly used in creating animated GIF videos, pictures, buttons, as well as banners. Besides, Easy GIF animator software has advanced editing features such as high image quality, web optimization, animation effects, etc. Most importantly, it is straightforward to navigate for beginners. Unlike other apps listed in this article, Easy GIF Animator is not free, and it allows a 30 –day free trial after which it costs $29.65.
https://www.easygifanimator.net/
Features:
The user interface is straightforward to comprehend and to navigate. Animation frames are displayed on the left side.
Easily create and edit animated clips from video files.
Easily resize entire animation without compromising on quality.
User can easily create cool text animation effects.
Permits user to access images on the web by searching keywords.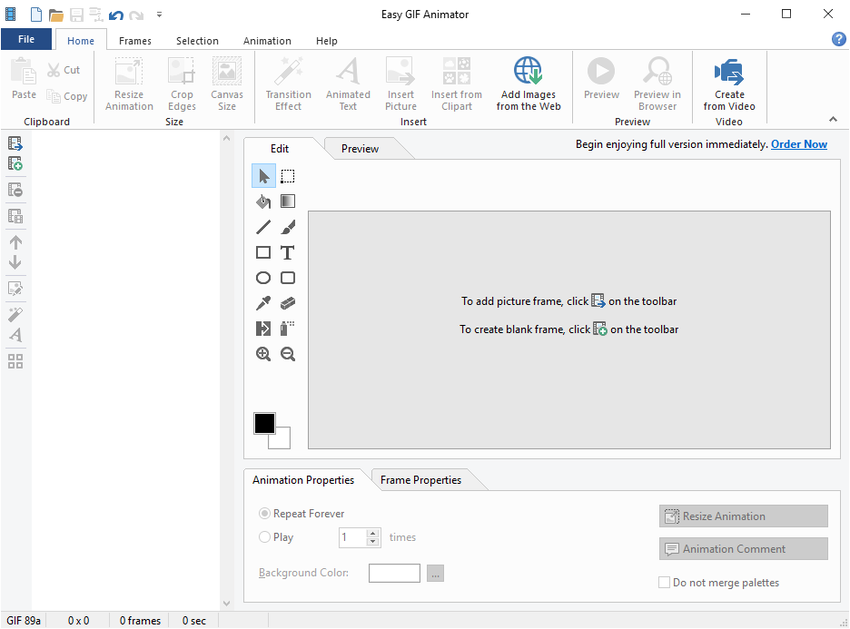 Summary
5-10 seconds of funny GIFs are much more interesting than having to read multiple lines of sentences addressing either popular culture or for educational or marketing purposes. These eye-catchy short GIFs convey moods, thoughts, and expression better and sharper. This article is well articulated to provide anyone from newbies to professionals how to add effects, filters, borders to GIFs with free online tools.
Wondershare UniConverter
· Wondershare UniConverter is the easiest software to convert,edit, and compress images.
· You can download videos from over 10000 video sharing websites, or you can also record the videos or system screen.
· It allows you to transfer videos/pictures from computer to iPhone or Android mobiles without using iTunes.
· Using UniConverter Toolbox function, includes Convert Images, Create GIF, Burn CD, Rip CD, Cast to TV, and Fix Meta Tags with just a few clicks.
· Wondershare UniConverter allows you to Burn Video and other media files to DVD as well.