In this day and age, online video cropping software makes it easier to realize the best cropping effect for MP4 videos. For users who enjoy recording videos and posting online especially vloggers and online tutors, you would be let into the secret of having almost if not flawless videos which are achieved by some of the best easy-to-use online free cropping tools to edit raw videos.
An ideal video cropping editor accepts any encoded or formatted video as input and has additional features of trimming, cropping, cutting, and editing videos in just several clicks. User can crop original MP4 videos on windows and also crop MP4 videos on Mac with initial output, edit videos at turbo speed, easy to navigate and accessed by the beginners with little to no knowledge about video editing. Also, a stellar video cropping software should have other useful functions like video resizing, compressing, publishing, as well as adjusting. Here you will read up on the top best free online video cropping software for Mac, Windows, iPad, and iPhone users and also online croppers that crop out, trim, and merge videos with zero stress.
Part 1: Best Cropper Software for Mac
The internet and the World Wide Web is littered with many free software applications that make video tool for Windows and Mac easy to access to crop videos. Below are three of the best free online video cropping software packages for Windows and Mac.
URL: https://www.apple.com/imovie/
iMovie is a free cropping software for impeccable video editing which is available on all MacOS X devices. Therefore, it is free. iMovie is compatible with all iOS devices e.g. iPhone, iPad, and iPod touch. iMovie allows users to perform a lot of functions while importing videos and pictures to use's MacBook using USB or FireWire interface. Video clips of about 4k can as well be edited to add effects like music, filters, etc. iMovie also comes with high end feature like audio editing.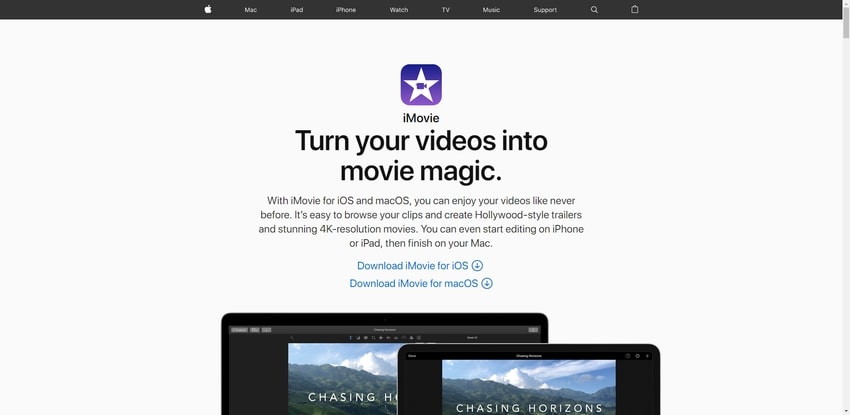 URL: https://www.media.io/video-converter-desktop.html
Wodershare UniConverter is a video cropping software could help crop videos without having a watermark incentive. It is an excellent tool for vloggers as it works as the stress-free video editor for social platforms like YouTube. This seamless tool helps you upload videos from your smartphone and also transfers the edited video to your smart device. Wondershare UniConverter also has a free online video editor tool. It is an all-in-one package, just upload, crop, and export. It avails user with an integrated search engine for easy access to your most preferred videos online — several ranges of editing options, i.e., cropping and trimming then exports to several resolutions and formats.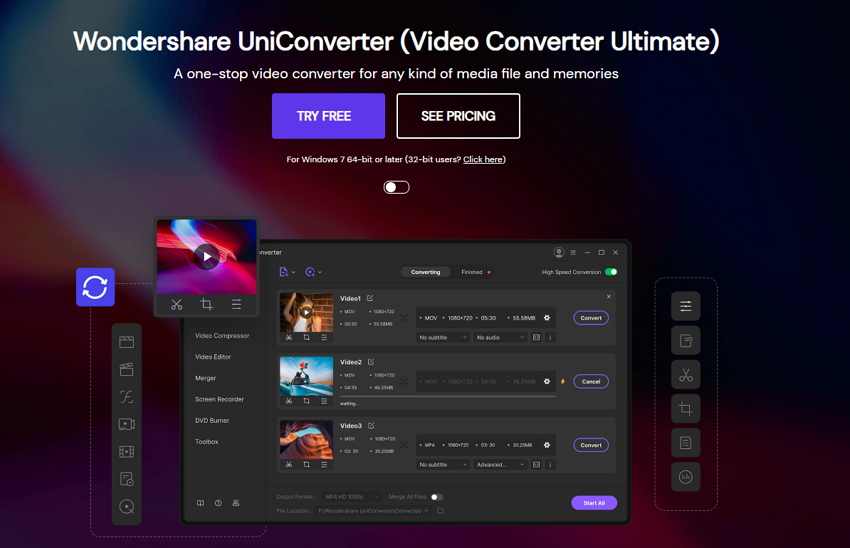 Wondershare UniConverter
· Wondershare UniConverter is the easiest to use software that can edit video.
· With the software, you can download videos from over 10000 video sharing websites, or you can also record the videos or system screen.
· It allows you to transfer videos from computer to iPhone or Android mobiles without using iTunes.
· Using software toolkit, you can convert images, create GIF, burn CD, rip CD, cast to TV, and fix Meta tags with just a few clicks.
· Wondershare UniConverter allows you to burn video and other media files to DVD as well.
Part 2: Best Cropping Tool for Windows
Windows OS users can also enjoy unlimited access to powerful online video editor with useful features. Here are three of the best cropping tool for Windows Operating System.
URL: https://www.microsoft.com/en-us/p/movie-maker-10-tell-your-story/9mvfq4lmz6c9?activetab=pivot%3Aoverviewtab)
Movie Maker 10 has a free and pro version (paid) app that helps crop video clips. It also has features like transition effects, background music, and text caption. This simple and affordable or free app helps crop video clips, supports standard media formats e.g., MKV, MP3, WAV, and M4A. The app also enables adding text slides and captions with over 30 stylish fonts, photo enhancement filters, transition effects, etc. This video crop tool also helps with Windows 10; it also features settings that enables adjusting the audio volume for video clips as well as background music.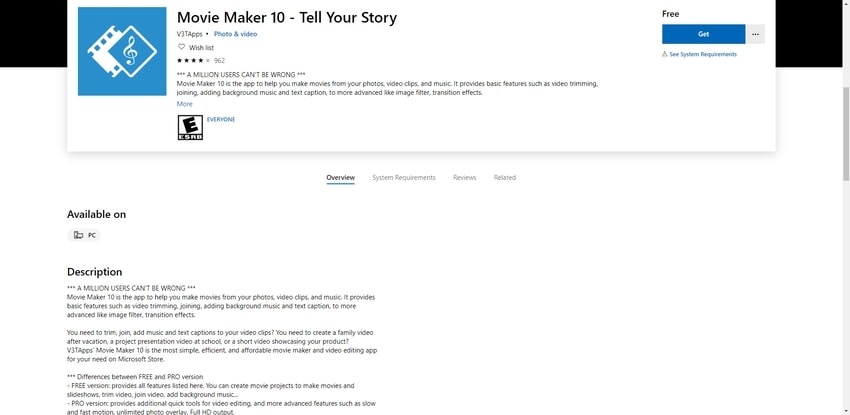 URL: https://www.videolan.org/vlc/features.html
VideoLAN is a free video crop editing tool for windows. VideoLAN doubles as a project and a non-profit organization. The online free video editing software is safe and secure to use as it is free from user tracking, ads as well as spyware. It also supports all OS, plays, and edits all video formats, and supports advanced control and advanced features. It also supports subtitle synchronization, video, and audio filters.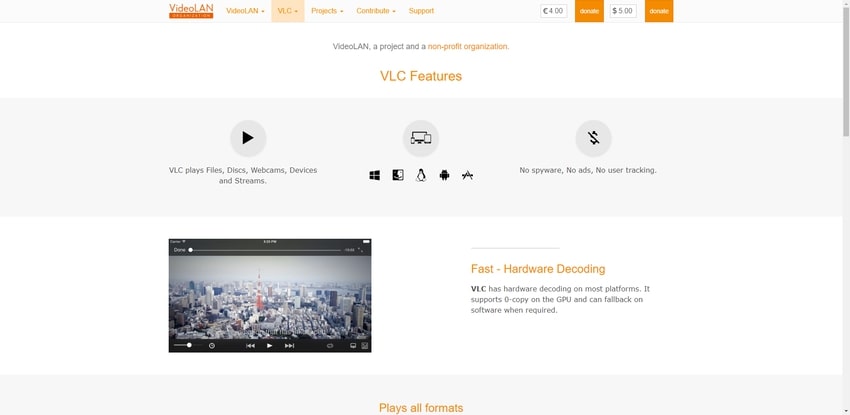 Adobe Video Cutting Tools
URL: https://www.adobe.com/creativecloud/tools/cut-video.html
This Adobe creative cloud editing tools can help crop videos efficiently and promptly either on a desktop or on a smartphone. User can crop, smooth, and blend video clips; the user can quickly extract needed clips using the smart and powerful editing instructions. User has access to lots of video cropping tools, i.e., Adobe Premiere Rush (easy on-the-go video cropping and editing tool), Adobe Premiere Pro, Adobe After Effect, Adobe Spark Video.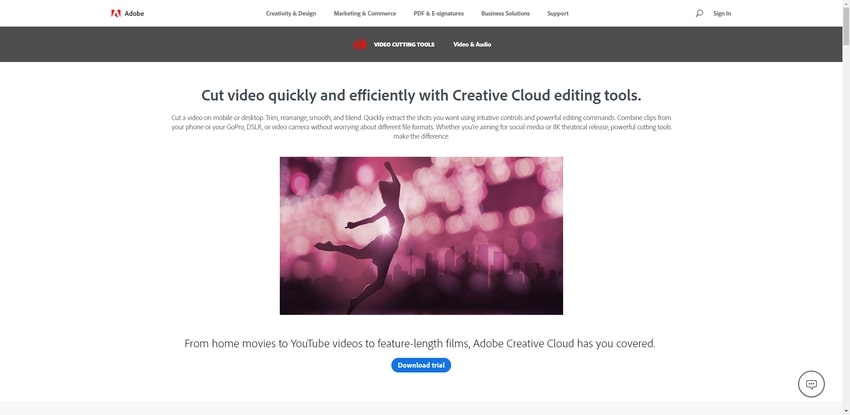 Part 3: Free Online Crop Video Tool for Any Browser
The best thing about internet and the World Wide Web is its flexibility and zero restrictions. We picked out three of the best free online crop mp3 video tool for any browser. These includes;
URL: https://www.media.io/video-editor.html
Online UniConverter is a free online video cropping tool to help crop as well as mirror, trim, adjust, and rotate videos without watermark. It is a great tool for vloggers, online tutors, and presentations as it works as the stress-free video editor for social platforms like YouTube. This seamless tool helps you upload videos from your smartphone and also transfers the edited video to your smart device.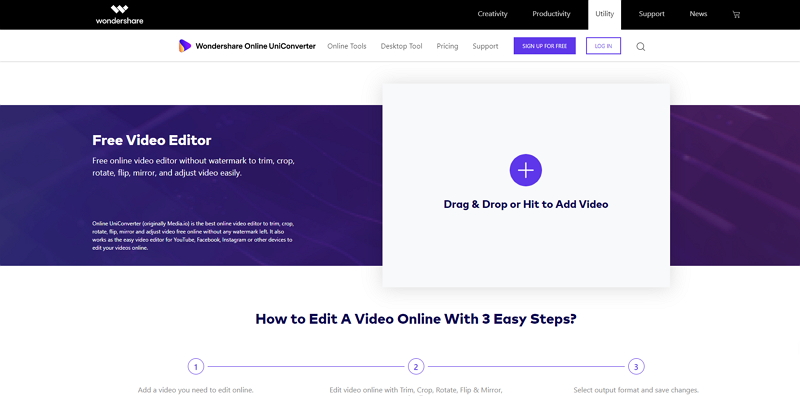 URL: https://clideo.com/crop-video
Clideo is an online free video crop software that crops video online. User can upload videos by drag and drop or merely uploading videos online via Google drive, dropbox, and other external online video storage. Videos can be converted in 3 easy steps, i.e., upload, crop MP4 video, and save or download result.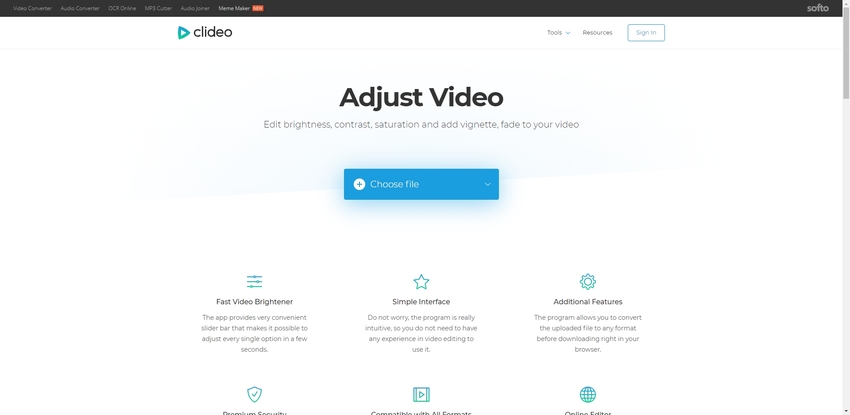 URL: https://online-video-cutter.com/
This online tool has a simple user interface that makes it easy for beginners to navigate and crop videos online easily. It is a safe and secure online video editing platform. Online video cutter also supports all video format.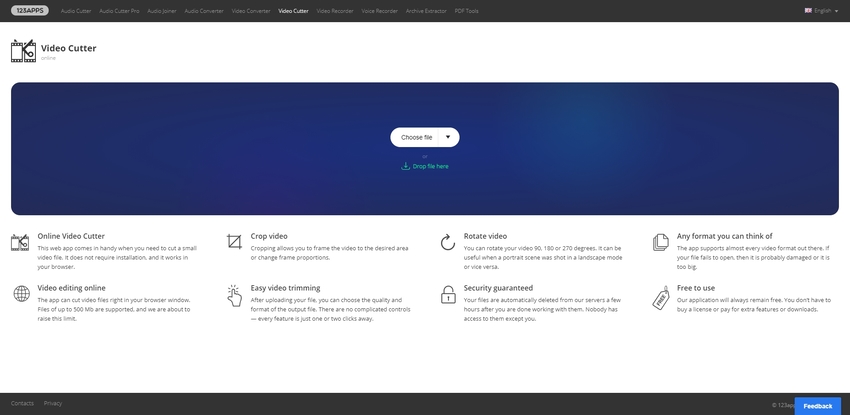 Video editing is no longer rocket science, any beginner or newbie can upload MP4 video, crop using any of the best cropping tools for Windows or Mac OS. Enjoy simple and smooth editing experience with zero frustration. Get your tapes rolling and your recordings on.