Today, there are hundreds of game recording software . You'll get them in a variety of sizes, functions, and subscriptions (paid and free). However, not a single one can do it all correctly. The ideal recording software should capture your screen perfectly as you continue playing. And if it can offer inbuilt editing functions, the better for you. So, keep reading to know the best game recording software of 2020.
OBS Studio is a lightweight game recording app for Windows, macOS 10.13+, and Linux. It's simple to download and use as you only have to click the "plus" button to capture your gaming screen. That aside, this free, open-source app allows you to capture multiple sources, including images, text, home screens, browser windows, and more. It also offers an intuitive audio mixer with unique filters like noise suppression, gain, and noise gate. And, you can easily rearrange the layout for a high-level view.
Pros:
Lightweight app.
Simple to use.
Several customization options.
Cons:
MacOS 10.13 or later only.
No timeline editing.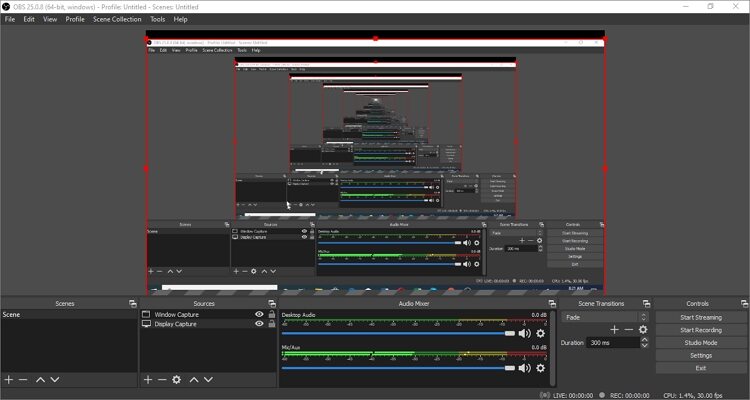 If you have GeForce Graphics already installed on your computer, this is the best screen recorder for your needs. It boasts of unique features that make it stand out from the crowd. It can easily record and share gameplay screenshots and live video streams from your Facebook or YouTube account. It can also record long videos at an impressive 4K with 6fps. Surprisingly, this tool can professionally capture 15-second GIFs as well and upload it to Facebook, Google, or Weibo. Overall, it's one of the best on this list.
Pros:
Free to use.
No watermarks.
Has instant replay feature.
Cons:
Not for beginners.
Only for Nvidia GPUs.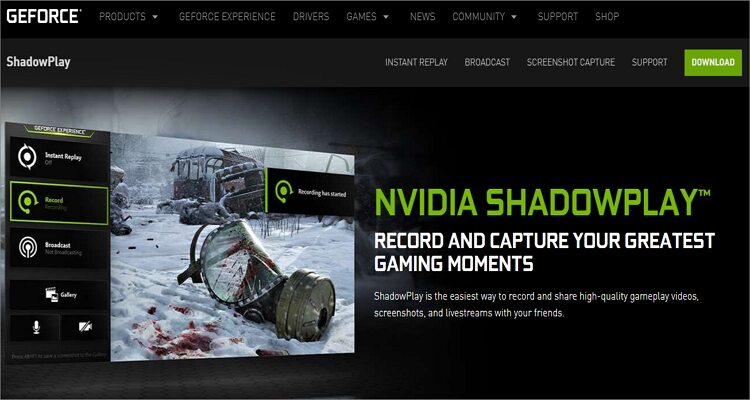 Action! is another excellent game recorder for Windows. It's simple to use and supports real-time recording with high definition quality. Unlike most of its competitors here, this app will also find the perfect game configuration easily, making it an excellent app for experts and beginners. Additionally, this gaming software supports several video formats, including AVI and MP4. However, you must subscribe to unlock all its features. Definitely worth the money!
Pros:
User-friendly UI.
Supports multiple video formats.
Records videos in HD.
Cons:
Non-customizable frame rate.
Not a free app.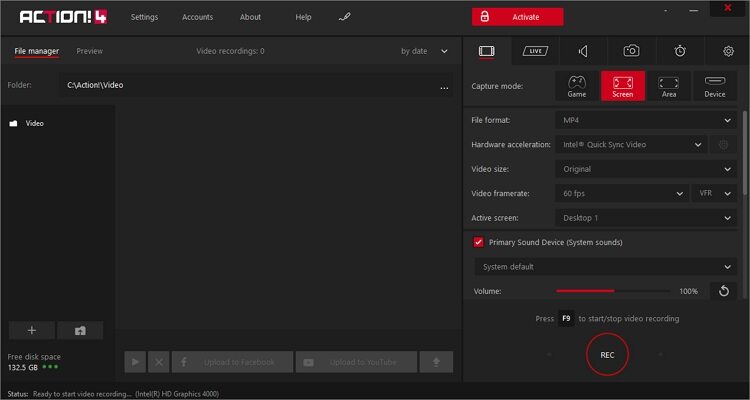 Screencast-O-Matic is a professional screen recorder for Windows, macOS, and Linux computers. It's free, simple to use, and can record video games directly from your browser. Screen-O-Matic will capture your screen and start recording with minimal hassle. But before recording, it allows you to crop the screen, giving you the much-needed perfection. You can also trim the start/end of your video to chop off unwanted parts. Moreover, it allows you to draw while recording screen concurrently.
Pros:
A free, open-source app.
Add captions and music to your recordings.
Compatible with multiple OS platforms.
Cons:
The free version is limited.
Requires internet connection.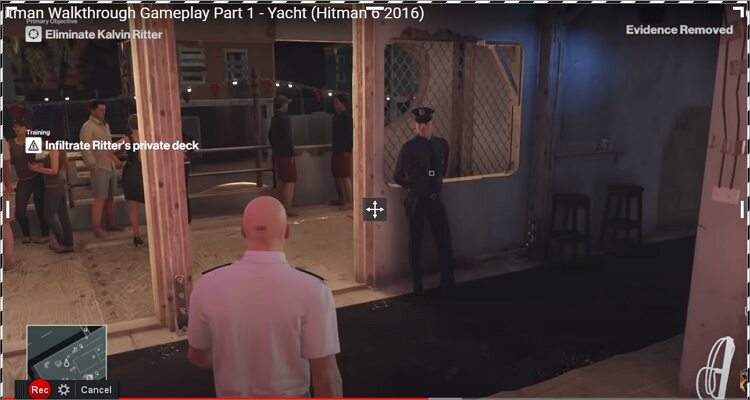 With ShareX, you can do multiple functions on your Windows computer easily. One, it offers a free screen capture tool for taking still images of your full desktop screen or a small portion of the window. Two, ShareX is capable of capturing full-screen videos as well as small parts of the screen. Also, it allows users to annotate and edit images with markup and image editing tools. And lastly, you can share and publish files on platforms like YouTube, Facebook, and more.
Pros:
Robust editing tools.
Excellent file sharing options.
Easy to set up and use.
Cons:
Average video quality.
Only for Windows.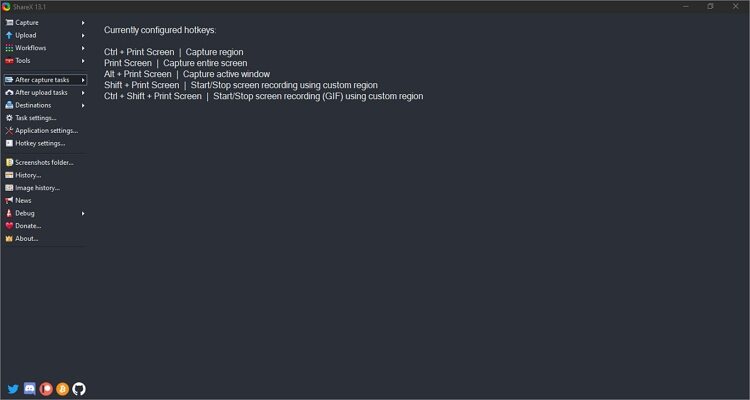 Debut Video Capture Software is a free screen recorder for Windows PCs. It's simple to download and install, as it only takes around 7MB of your storage space. Having said that, Debut Video Capture Software will record videos from webcam, computer screen, gameplay, web browsers, and even external devices. Also, it can record videos in FLV, MP4, MOV, AVI, and other standard formats. Even juicier, you can edit your videos by resizing, changing the frame rate, adjusting resolution, and more.
Pros:
Lightweight app.
Supports multiple video formats.
Excellent editing options.
Cons:
Limited free version.
Only for Windows.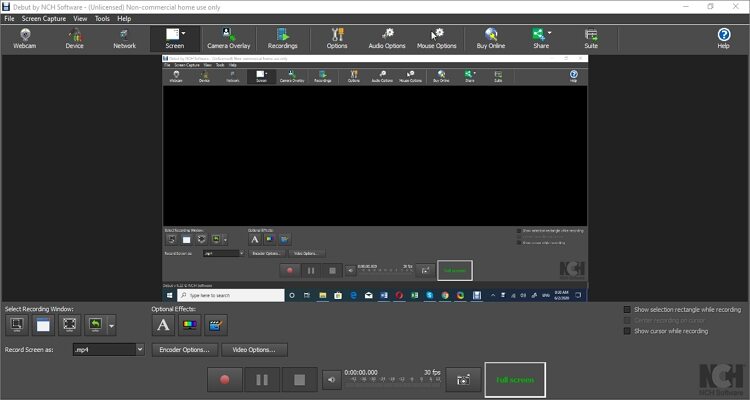 Although you will, first of all, need to install a launcher on your computer, this online app will record your screen with zero limits. It can record multiple screen activities, including video games, live video calls, live chats, and more. Also, the flexible screen design allows you to record video and audio simultaneously. And of course, you can export screen captures in MOV, MP4, VOB, ASF, MPEG, and GIF.
Pros:
Export videos in multiple formats.
Simple to use.
Save and share easily.
Cons:
Requires internet connection.
Limited editing options.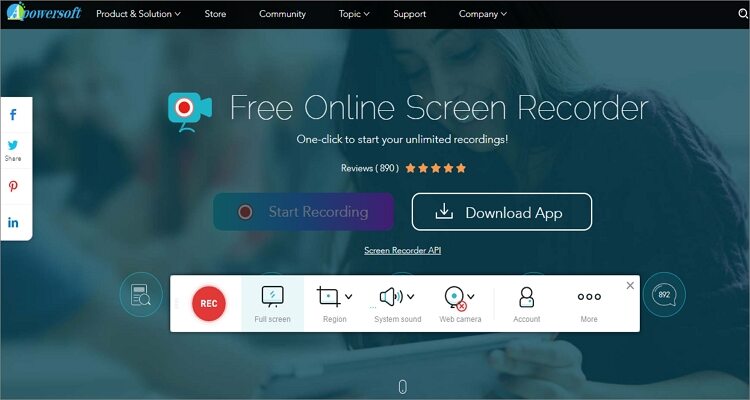 Gecata by Movavi is a straightforward game recording software that offers excellent screen capturing service for as little as $1. It records gameplay screens in real-time HD and offers lots of editing features. You can also capture gameplay screens at up to 60 fps, and choose your recording style and video format. And because it's an online tool, you don't need to install anything on your computer to use it. However, you must part with $25.95 to unlock the full version features.
Pros:
Records HD videos.
Supports multiple video formats.
Free trial version available.
Cons:
The free version has watermarks.
Only for PCs.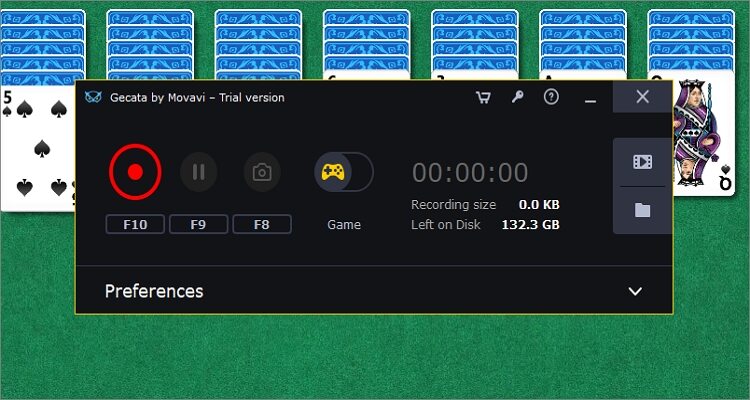 Wondershare Filmora is arguably the best game recording software for Mac and Windows. Here, you can create high-quality video tutorials, product reviews, and more. It can record screens up to an impressive 120 fps, which is the highest on this list. Also, Wondershare Filmora allows you to edit your recordings by converting, cutting, applying effects, and so much more. And of course, you should exploit the robust image and audio editors as well.
Pros:
Records up to 120 fps.
Supports multiple video formats.
Fast processing.
Cons:
Not beginner-friendly.
Substantial file size.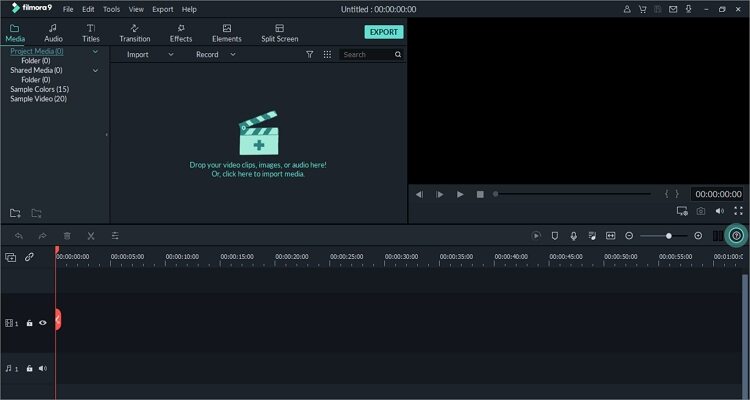 Closing the best ten is Bandicam, which meets all the threshold required from recording software. With Bandicam, you'll capture your computer screen with HD quality outputs. It can also capture screens in 2D and 3D qualities. Also, the interface is pretty straightforward to navigate for both beginners and pros. And to add the icing on the cake, Bandicam can record videos from external devices on your PC.
Pros:
Adds mouse effect.
Supports video compression.
Unlimited recording duration.
Cons:
No online streaming.
Limited trial version.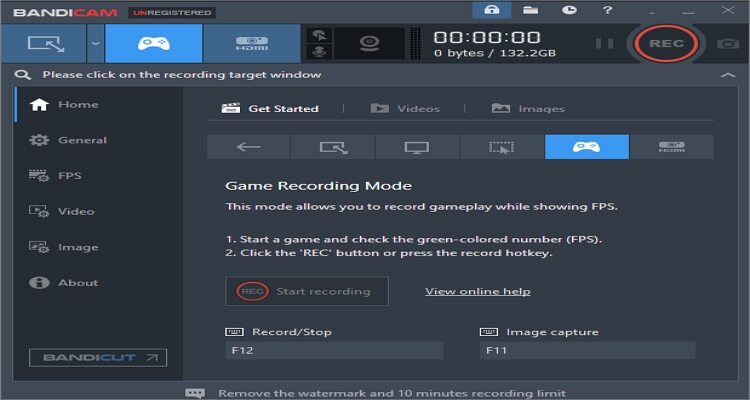 If you're a greenhorn who is looking for more experience in the video streaming and editing space, ZSplit Broadcaster is tailor-made for you. It is straightforward to install and use, plus it offers excellent features for creating streams to YouTube, Facebook, or even Twitch. It also allows you to craft your own unique titles and tags for a smoother search. Further, their helpful community will make you feel right at home.
Pros:
Super-easy to use.
Allows you to create titles and tags.
Affordable licensing deals.
Cons:
Lack of enough customizations.
Slows down your games.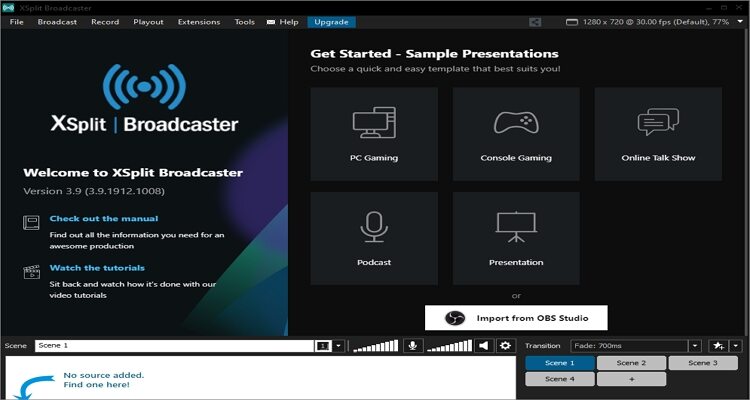 If you're using any Windows version, you can also try Dxtory. It's simple to install and use, although you'll need to buy a license first to use it. Quickly moving forward, ExKode Dxtory is compatible with standard GPUs like DirectX 12, DirectX 9, Vulkan, OpenGL, and more. After running it, you can go ahead and capture screen with lossless quality and at very high speeds. Also, you can record more than two audio sources simultaneously and save them independently to AVI files. Another thing, you can save screenshots to TGA, PNG, JPEG, BMP, etc.
Pros:
Simple to use.
Compatible with most GPUs.
High-speed recordings.
Cons:
Only for Windows.
Supports AVI video format only.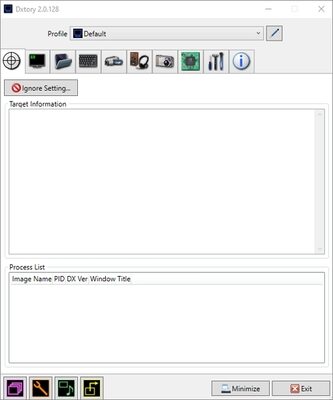 D3DGear is undoubtedly one of the most straightforward game recording software currently. That's because it will automatically start recording your game once you launch the app and press the "f8" hotkey. Unlike other tools, it doesn't slow down your game's performance and allows you to produce CFR (Constant Frame Rate) movie. And yes, you can live stream games to Twitch, Facebook, Hitbox, or even YouTube.
Pros:
Supports several image formats.
Advanced 3D technology.
Has "Push-to-Talk" feature.
Cons:
No browser recording.
Can't set custom frame rates.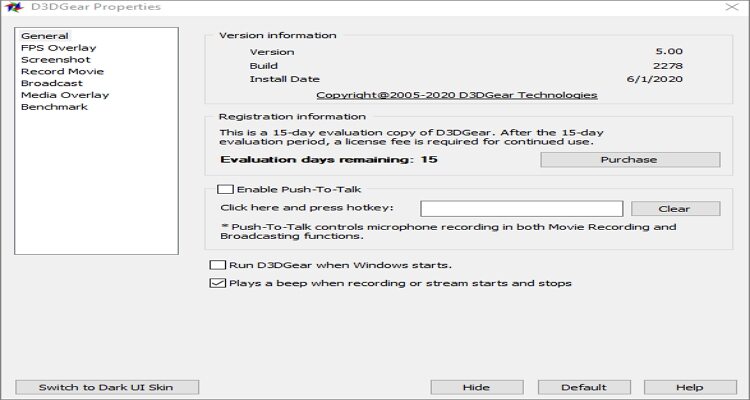 Some will argue that I have saved the best for the last, which is understandable. With Wondershare UniConverter, it doesn't matter what is your skill level because it's excellent for everyone. It's simple to use and offers a plethora of features, screen recorder included. When recording a video game screen, it allows you to preset the custom frame size, quality, duration, and even record audios. And after recording, you can use it to cut, apply captions, compress, convert, and upload to Vimeo or YouTube. It's a 10/10 for this robust app.
Pros:
Simple to use.
Excellent customization tools.
Directly upload videos to YouTube/Vimeo.
Cons: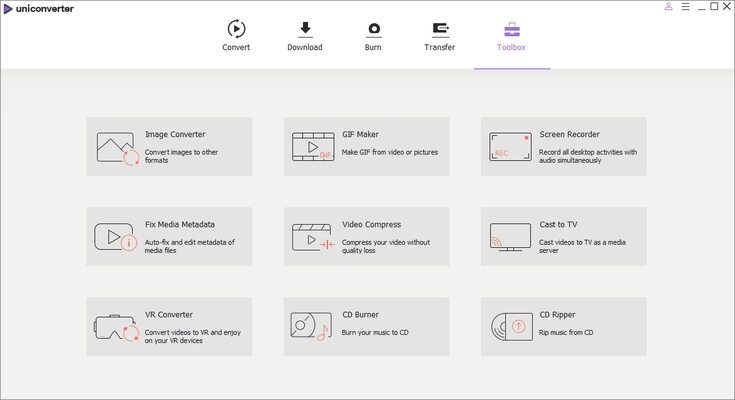 Conclusion
With these powerful game recording software, you can record any moment of your video game on any computer OS. Also, they offer extensive customization options to help you make professional recordings. And as usual, feel free to tell us your favorite screen recording app.