In this golden age, more people and companies are starting podcasts. Although recording in a studio will give you a fun experience and high-quality output, this method can be expensive and time-consuming. Luckily, there are tens of podcast recording software to help you out. So, let's take a detailed look at the eleven best options.
Hindenburg Journalist is a free and subscription-based app for accomplished podcasters and professional journalists to record audio. On top of allowing to make brand new podcasts, Hindenburg can also upload and edit sound files regardless of the channel, size, or format. You can use the Voice Profiler EQs to balance the highs and lows of your recordings effectively. You can even apply crossfade effects, adjust volume, and more.
Pros:
Simple to use.
Multiple audio format support.
Automatic EQ generation.
Cons:
Subscriptions start at $95.
Only essential sound editing functions.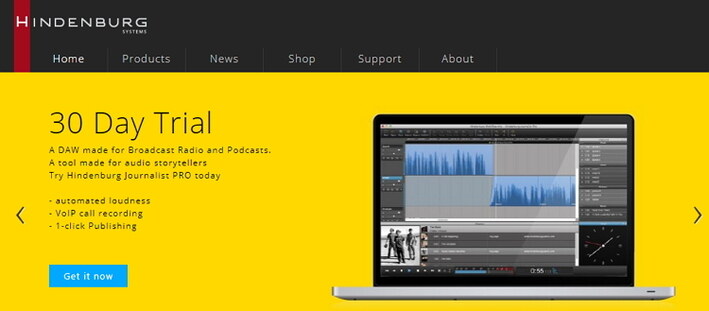 Alitu is a web-based podcast creator with a $28 monthly subscription. Here, it's super-duper easy to make podcasts, thanks to its straightforward audio editing tools. Just add your sound files, and Alitu will start editing them with all ID3 tags intact. Also, users can record sounds directly on the app, before proceeding to post them on Libsyn, Blubrry, Podbean, and many other podcast hosting platforms. For the price, however, we'd expect more audio recording and editing options.
Pros:
Straightforward platform.
Multiple audio format support.
Can export podcast to podcast-hosting platforms.
Cons:
Quite expensive.
Limited editing functions.

ACID Xpress is a multitrack audio editor that allows you to record, edit, and mix sound files. Instead of hitting keys on your virtual keyboard, Acid Xpress lets to combine loops and samples of guitar riffs, drum beats, vocals, and other music snippets to make original music. With it, you can create any music genre and then share it with friends and family. There's also a set of play, pause, and stop buttons for previewing your songs effectively.
Pros:
Excelling loop functions.
Simple to use.
Supports multiple music genres.
Cons:
Creates music in WAV and MP3 formats only.
Records a track at a time.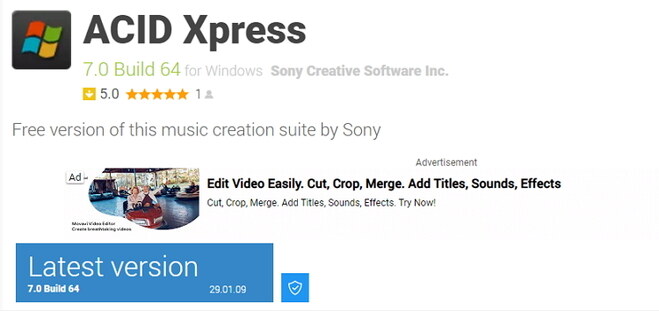 Garageband is a popular audio editing app among iOS and Mac users. It offers podcasters an intuitive interface to play around with a wide range of features. You can record sounds in 250+ tracks and then share them to SoundCloud. Additionally, the DAW (digital audio workstation) will allow you to mix and master audio files quickly. What's more, Garageband features visual EQ with up to eight color-coded bands. Not to forget that it's cheaper than most software here.
Pros:
Advanced audio editing functions.
Several file-sharing options.
Affordable option.
Cons:
Not for pros.
Not compatible with PC.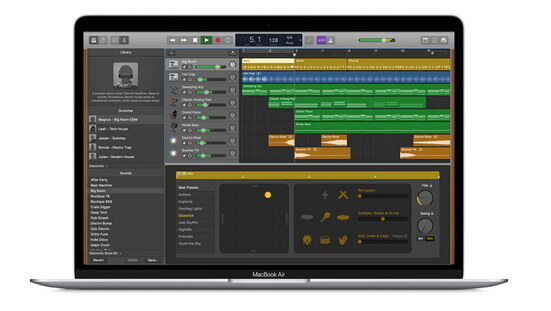 Adobe Audition is one of the best podcast recording software on this list. It boasts of several sound recording and editing functions that are simple to use for professionals and beginners alike. In fact, you won't even think twice about paying the $19.99/month subscription. Better still, the Adobe Audition also doubles up as a DAW, though it's too limited in terms of music composition tools.
Pros:
Useful visualization tools.
Nice stereo waveform editor.
Strong noise-reduction tools.
Cons:
Lacks MIDI support.
Expensive monthly subscription.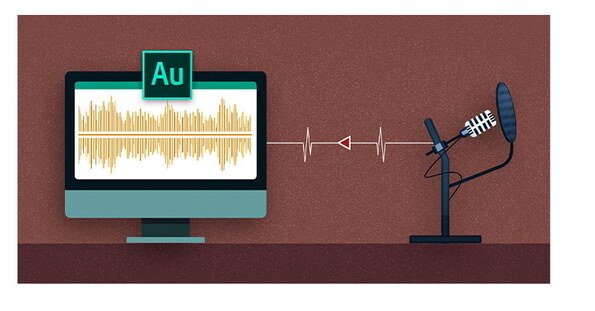 Audacity is an excellent podcast-making software for macOS, Linux, and Windows. Although the interface is a bit outdated and complicated, you won't pay a dime to use Audacity. It can easily record sound using its inbuilt microphone before editing them accordingly. You can also import local audio files if you like. After that, Audacity allows you to cut, merge, convert, change channels, adjust bitrate, and more. However, the lack of podcast exporting function is a severe drawback.
Pros:
Free to use.
Excellent audio recording and editing functions.
Supports most audio formats.
Cons:
Outdated UI.
Basic audio editing functions.

Wondershare Filmora is an elegant video editor for PCs and Macs. It comes with a well-arranged interface, making it easy to use for casual and novice users alike. On the main window, you can create and edit audio projects in the timeline with ease. It can manipulate audio by converting, cutting, changing the sampling rate, applying effects, and more. Oh, lest I also forget the vast array of video editing functions.
Pros:
Easy to learn and use.
Supports most audio formats.
Edits videos accordingly.
Cons:
No storyboard editing.
Paid subscription.

If you're operating a small recording studio, Reaper is an excellent option for you. With this Cockos-developed DAW, you'll have a flexible feature set and stability with unrivaled visual appeal. To start recording tracks, just press the red button and hit the master Record button. After that, you can set monitoring effects, which will come in handy, especially if you want to monitor reverbs on your earphones as you record. It supports formats such as AU, DirectX, VST, JS, and VST3.
Pros:
Multichannel sound recording and mixing.
Extremely fast.
Heavily customizable.
Cons:
No inbuilt loops or instruments.
A bit complicated for beginners.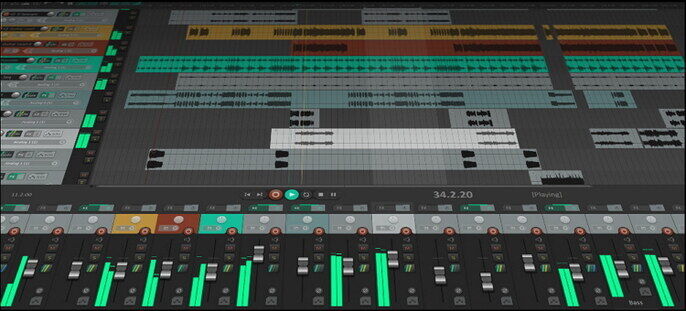 Although Fission is only available on Macs, it's still a worthy mention in this competitive list. It's simple, elegant, and offers excellent podcast editing functions. That aside, Fission can transcode between most audio formats, split them up, change sound volume, and more. To add on that, Fission can directly upload audio files from iTunes before editing. And after editing sounds successfully, this podcast recording software will export it to MP3, AAC, FLAC, AIFF, or WAV formats.
Pros:
Multiple format support.
Simple to use.
Excellent audio editing functions.
Cons: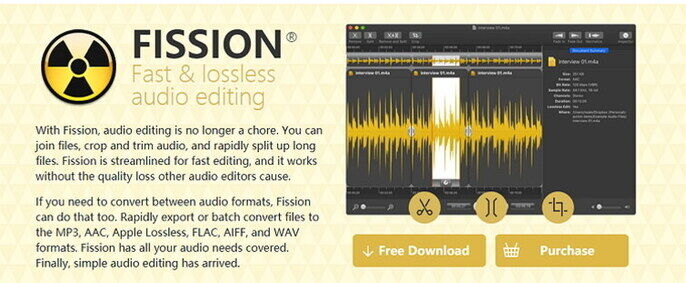 TwistedWave is a robust sound editing software for Mac, iOS, and online. Although it lacks multitrack editing functionality, TwistedWave makes up for that with a substantial collection of features. It can undo and redo instantly, apply crossfade effects, filter audio frequencies, and more. Also, it supports typical sound formats like CAF, AAC, MP3, AIFF, and WAV. And with a $10 monthly subscription, I find TwistedWave to be a reasonable investment.
Pros:
Easy to learn and use.
Available online.
Flexible input/output options.
Cons:
No multitrack recording.
No Windows or Android app.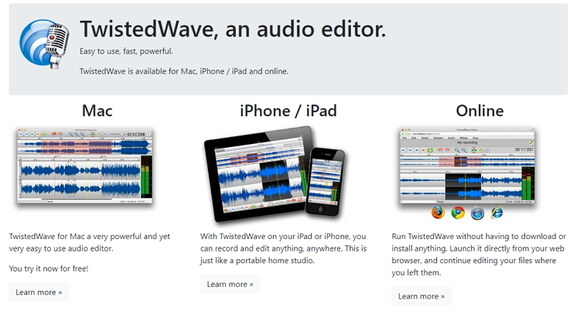 WaveLab is a nicely-arranged audio editing and mastering app with a myriad of file manipulation tools. After clicking the Create Podcast button, the app will direct you on how to easily manipulate podcast info like title, photos, and URL address. You can also add up to two EQ effects per song. However, the Pro Version is pretty expensive, with a $500+ price tag.
Pros:
Well-arranged interface.
Great editing tools.
Super-fast.
Cons:
Records three audios per session.
Not for beginners.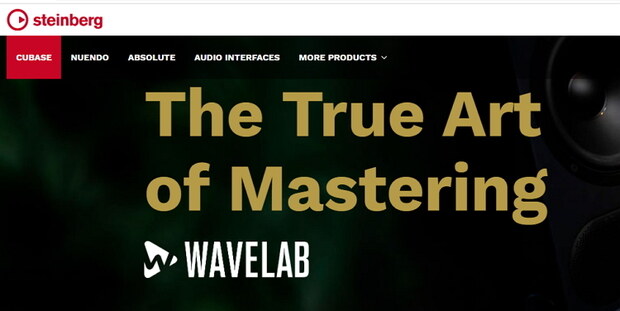 Conclusion
All the podcast recording software tools on this listicle are excellent. However, if you have a small budget, you can choose free options such as Audacity and Wondershare Filmora. Simply put, the price doesn't necessarily reflect quality.