Videos are now the most commonly used medium to convey your message or engage with the audience. It is also a great way to boost your social media account. Merging videos can kick it all up a notch by rendering the merged video more attractive. But, how to combine videos online?
Fortunately, there are a multitude of online video joiner tools that you can use without needing any editing expertise. In this article, we will show you the ultimate list of some of the best tools available online. So, read ahead and take your pick.
Part 1: Recommend the best 6 tools to combine videos online
The web is filled with numerous tools that allow users to combine videos online. However, not all of these online video joiner tools are reliable or safe. Here, we have rounded up a list of some of the best tools to help you combine videos online with ease.
Let's dive in.
The first on our list is an amazing and one-stop-shop for all your edits. Online UniConverter is an excellent online video joiner. With no need for download or registration, Online UniConverter is hassle-free. Using this tool, users can merge video files online without any limitations and numerous additional features that make this the best choice. Apart from being a great video compiler online, UniConverter also features several other tools to convert videos from one format to another, compress, resize an image, and much more.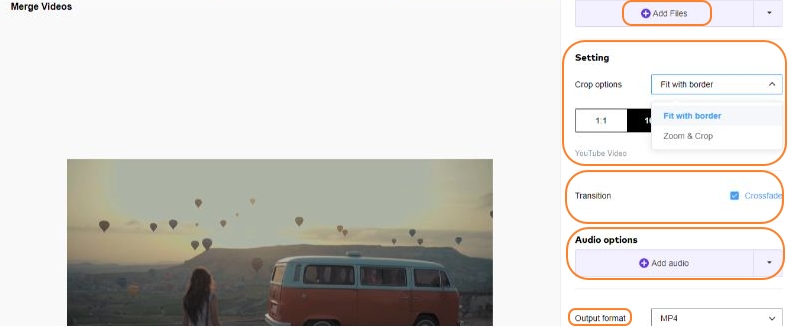 Price:
Pros:
Multiple aspect ratio templates
No watermark added
Import and export from Google Drive, Dropbox, Local storage
Add audio
Drag and drop interface
Crop video and resize
Apply crossfade transition
Multiple video formats supported
Compress or edit videos with one-click tools
Cons:
Some professional advanced editing features are limited
Flex Clip is a wonderful all-in-one video editor that comes packed with great editing tools. This online video joiner has a highly intuitive user interface that makes the process seamless. Using Flex Clip, you can stitch multiple clips together and add professional-grade effects for a truly outstanding video. Without any subscription, you can create stunning videos with fully customized text and titles. However, you will need to sign up for a free account to access the online video joiner.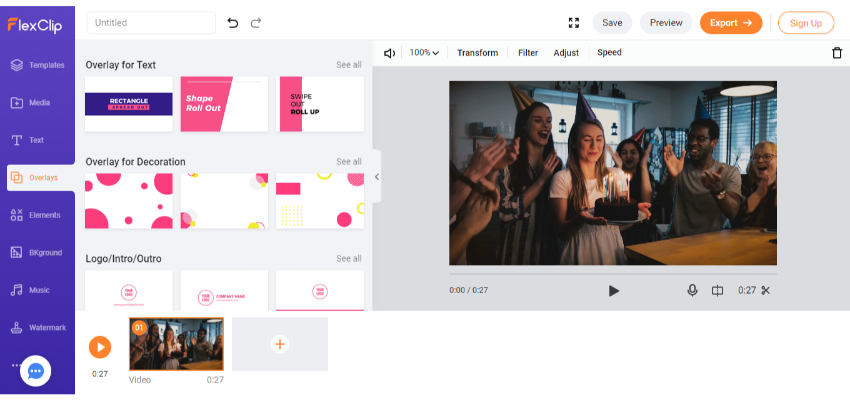 Price:
Pros:
Multiple output video resolutions supported
Rich stock library of videos and audios
Customized brand watermark and logo can be added
Striking customizable and dynamic text templates available
Multiple aspect ratios supported
Animated elements like shapes, arrows, speech bubbles, etc
Text overlays and intro/outro preset
Add cinematic filters or adjust the playback speed
Cons:
Clips longer than one minute cannot be uploaded
Account sign in required
Kapwing is yet another wonderful tool to combine videos online. With an easy drag and drop interface, even beginners can start creating impressive videos right away. As Kapwing supports a wide range of video formats, it is a very versatile video compiler online, allowing users to import media from a variety of sources.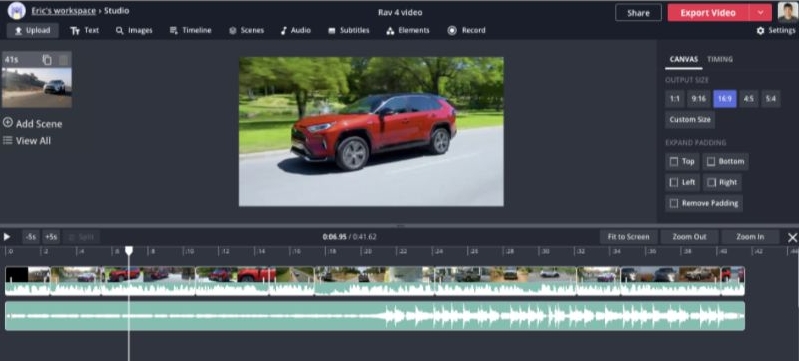 Price:
Pros:
User-friendly interface
Several aspect ratio templates available
Multiple tracks timeline
Catchy text templates
Add subtitles and personalize
Add music to video
Special effects and elements can be added
Export in HD quality
No watermark added
Collaboration with multiple people in real-time to edit together
Cons:
Biteable is a very easy-to-use online video joiner that has a highly intuitive interface. With this tool, you can not only combine videos online but also refine them by adjusting various settings and adding effects. You can easily rearrange the videos in the timeline by dragging and dropping and even add background audio to compliment the video. Multiple audio adjusting features also make this online video joiner one of the best available tools.
Price:
$19 per month (Individual creator)
$49 per month (Professional)
Pros:
Multiple transition styles
Customizable text templates
Share directly to social media
Select a video size (16:9, 1:1, etc)
Trim footages
Add background audio, adjust volume or add fade in or fade out
Apply text animation and personalize font color, size, style
User-friendly interface
Shared editing and high-quality export
Cons:
Not many advanced features
Another feature-packed video compiler online is video. This is a great tool that can be used to combine videos online and add other effects for a visually appealing outcome. With a multi-track timeline and tons of stock media available, it is easy to merge video files online and add exciting music to enhance the outcome. With this online video joiner, you can easily personalize your videos by adding voiceovers or catchy titles to make the video more engaging.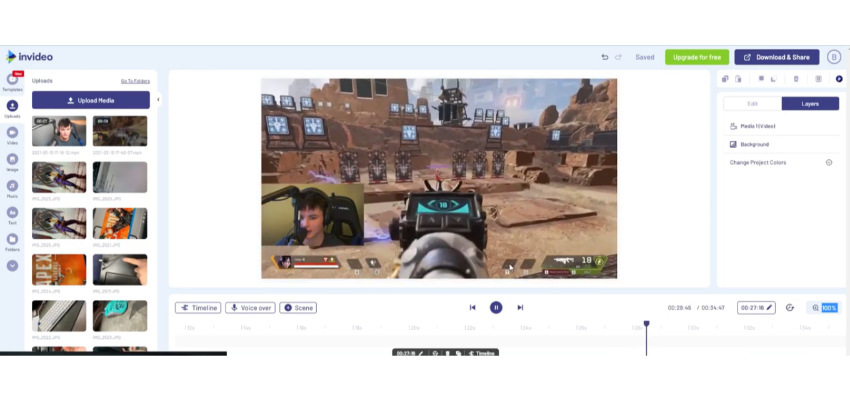 Price:
$15 per month (Business)
$30 per month (Unlimited)
Pros:
No watermark added
Huge variety of attractive video templates
Massive media stock library
High-resolution export
Cloud storage and shared editing enabled
Numerous transition styles
Add audio from music library
Record and add voiceover
Add background color to the video
Cons:
Exporting is a slow process
Depending on your usage, Wevideo offers a multitude of plans with various benefits. With Wevideo, you can merge video online and also add special effects to make the video stand out. Due to its user-friendly interface, no prior editing experience is required as the process is effortless. Impressive videos can be created with absolute ease on Wevideo, making it a wonderful video compiler online.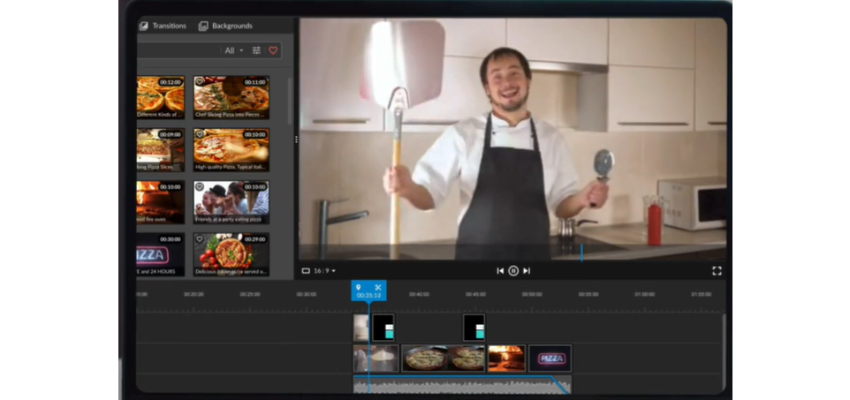 Price:
$4.99 per month (Power)
$7.99 per month (Unlimited)
$19.99 per month (Professional)
$36.99 per month (Business)
Pros:
Shared video editing
Multiple video templates
Choose video resolution
Green-screen effect
Numerous video formats supported
Layered video editing
Rich royalty-free stock library
Available on a wide range of devices
Square, vertical, horizontal aspect ratios
Dynamic transition styles
Easy to use
Cons:
Limited advanced editing features
Part 2: People also ask -- How can I merge subtitles with video online?
If you want to combine videos online and also add subtitles to make it more engaging, you can use an amazing tool, Wondershare UniConverter.
The desktop version of Wondershare UniConverter comes loaded with numerous conversion and editing tools for creating outstanding videos. Whether you want to compress any video or convert it to a different format, UniConverter has you covered. It supports more than 1000 video and audio formats. Working at 30 times faster speed, this tool provides you with a quick and easy way to edit and create stunning videos. Trim, cut, crop, rotate or merge the clips as you like.
What's more, Wondershare UniConverter does not compromise the quality of the videos and allows export in high quality. It allows users to combine videos online and also features screen recording. You can choose to record the full-screen, customized screen or your webcam, with or without audio. So, the creative possibilities are endless while working on Wondershare UniConverter.
Using Wondershare UniConverter is super easy, owing to its intuitive interface. You can easily use its subtitle editor to customize and add subtitles to your videos. Wondershare allows full customization of the subtitles, enabling users to create highly personalized videos.
Here is a simple step-by-step guide on merging and adding subtitles:
Step 1. Download and launch Wondershare UniConverter on your desktop. In the Toolbox tab, choose Subtitle Editor. Import the video you want to add subtitle to.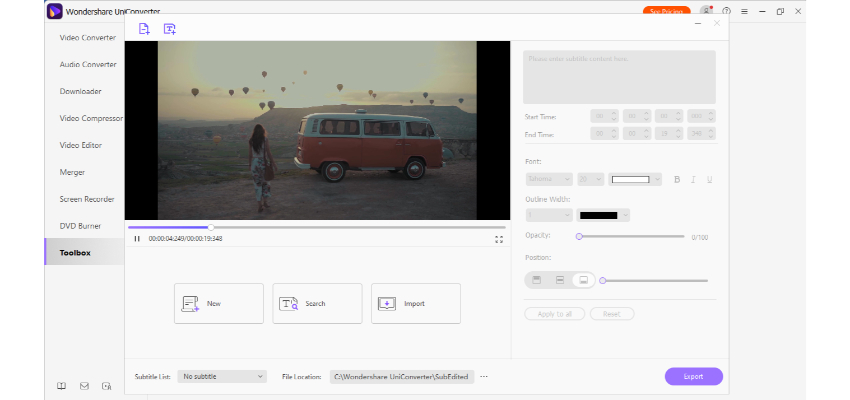 Step 2. After importing, you can choose to create subtitles by clicking on New, Search online, or Import from local storage. Click on New and write the text in the subtitle box. You can customize the text font size, style, color, opacity, and much more. The position of the subtitle can also be adjusted.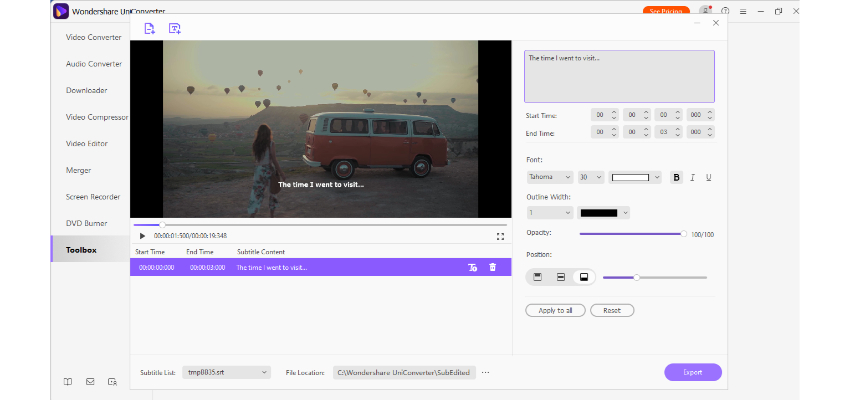 Step 3. To specify the timing of the subtitle, you can play the video from the point you want it to appear and pause it when it should disappear. Click on the T logo on the subtitle banner to add more subtitles. You can also delete any subtitle just by clicking the delete icon on any banner.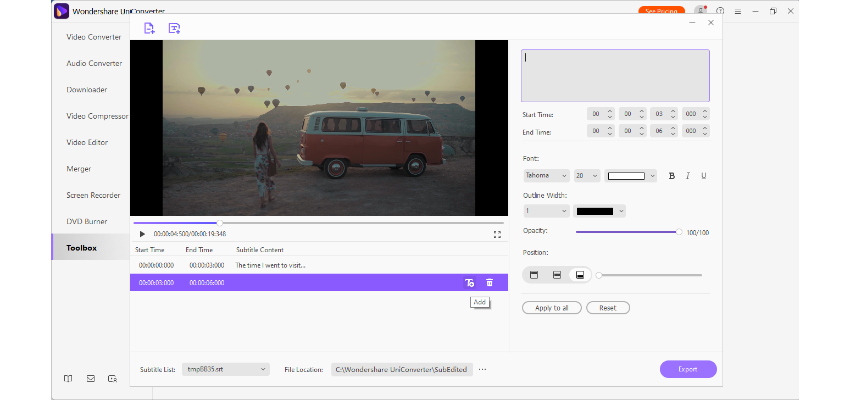 Conclusion
Now, you know the best tools to combine videos online. Finally, you can combine videos online with precision and ease, thanks to the variety of online video joiner tools available. You can instantly start merging videos using the free merge online video tool or subscribe to a more advanced tool to combine videos online.
With Wondershare UniConverter, you can take your video editing game to the next level. So, go on to create exceptional videos without any hassle. Just choose an online video joiner that best fits your preferences and start creating impressive videos in no time.
Are you ready?