Video editing is an integral part of the post-production as proper editing creates crisp videos that grab the attention of the viewers. So if you have MP4 videos that you want to edit efficiently, you are on the right page. Several paid and free MP4 editor tools are available with an array of supported functions. To help you with your search, listed below are the best MP4 editor programs.
Part 1. Online Free Video Editor for MP4 Editing: Super Easy to Use
When it comes to a simple interface and pocket-friendly tools, online programs are the best choice. While using these tools, you do not have to worry about any software download or installation as they work from the browser window. These free programs come with a simple interface and support basic features. Know about the top MP4 editor online tools below.
URL: https://www.aconvert.com/video/split/
With AConvert MP4 videos can be added to the program interface for trimming it into a smaller file. The files to be processed can be added from the computer, Google Drive, Dropbox, and through a link in case of online files. Once the file is added, you need to mention the start time and the duration for which the video needs to be trimmed. The processed video can be downloaded from the interface. In addition to MP4, other formats like MKV, MOV, WebM, and others are also supported.
Pros:
Supports multiple file-formats for processing.
Videos can be added from the computer, link, and cloud storage using this easy MP4 editor.
Con:
Site comes with ads.
Only one file at a time can be processed.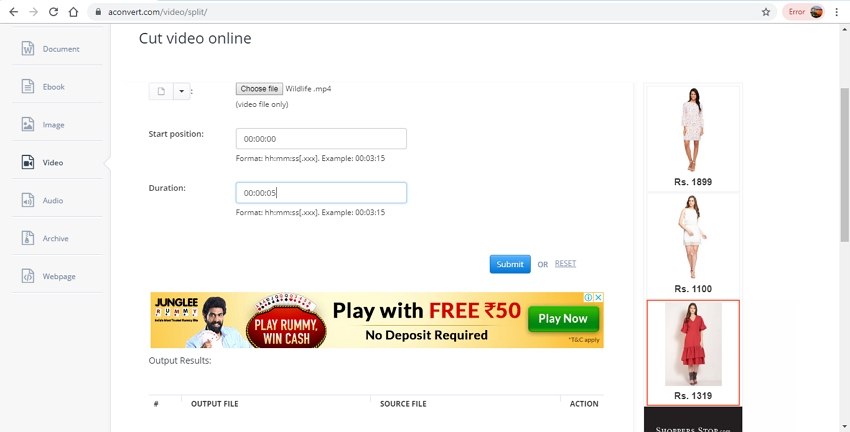 URL: https://ezgif.com/cut-video
This is an online program that supports multiple video editing features like cutting, cropping, reversing, rotating, and others. Local as well as online files through their URL can be added to the program interface for the process. After the file is added, uploaded, and processed, it can be downloaded from the interface itself. The program is apt for amateurs as well as professional editors.
Pros:
Supports multiple editing functions like cropping, cutting, reversing, and others.
MP4 and other popular video formats are supported.
Con:
Internet dependence.
Slow processing speed.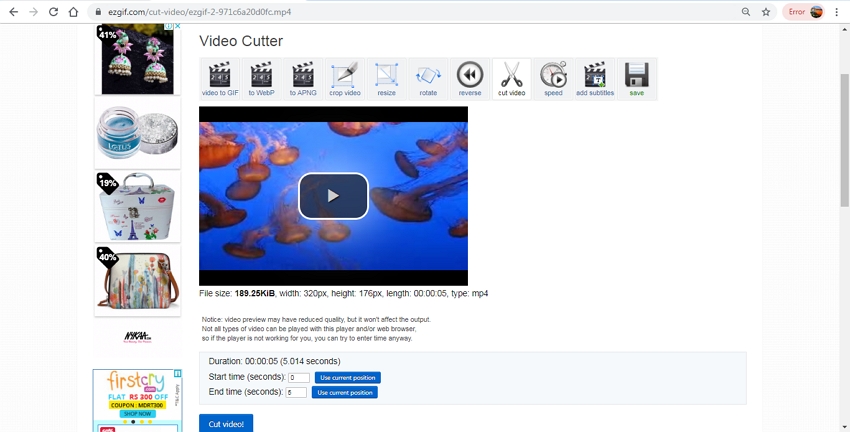 URL: https://www.media.io/video-editor.html
Earlier known as Media.io, this is a popularly used online video editing tool that supports an array of formats including MP4, MOV, M4V, and others for file processing. You can trim, crop, adjust the brightness/contrast/saturation, rotate, and flip the added file. Option for file conversion to other popular video formats is also there. Upon processing the output file can be downloaded from the interface.
Pros:
This best free MP4 editor supports multiple file editing options.
File conversion to other formats also supported.
Con:
No option for batch processing.
Processed file needs to be downloaded.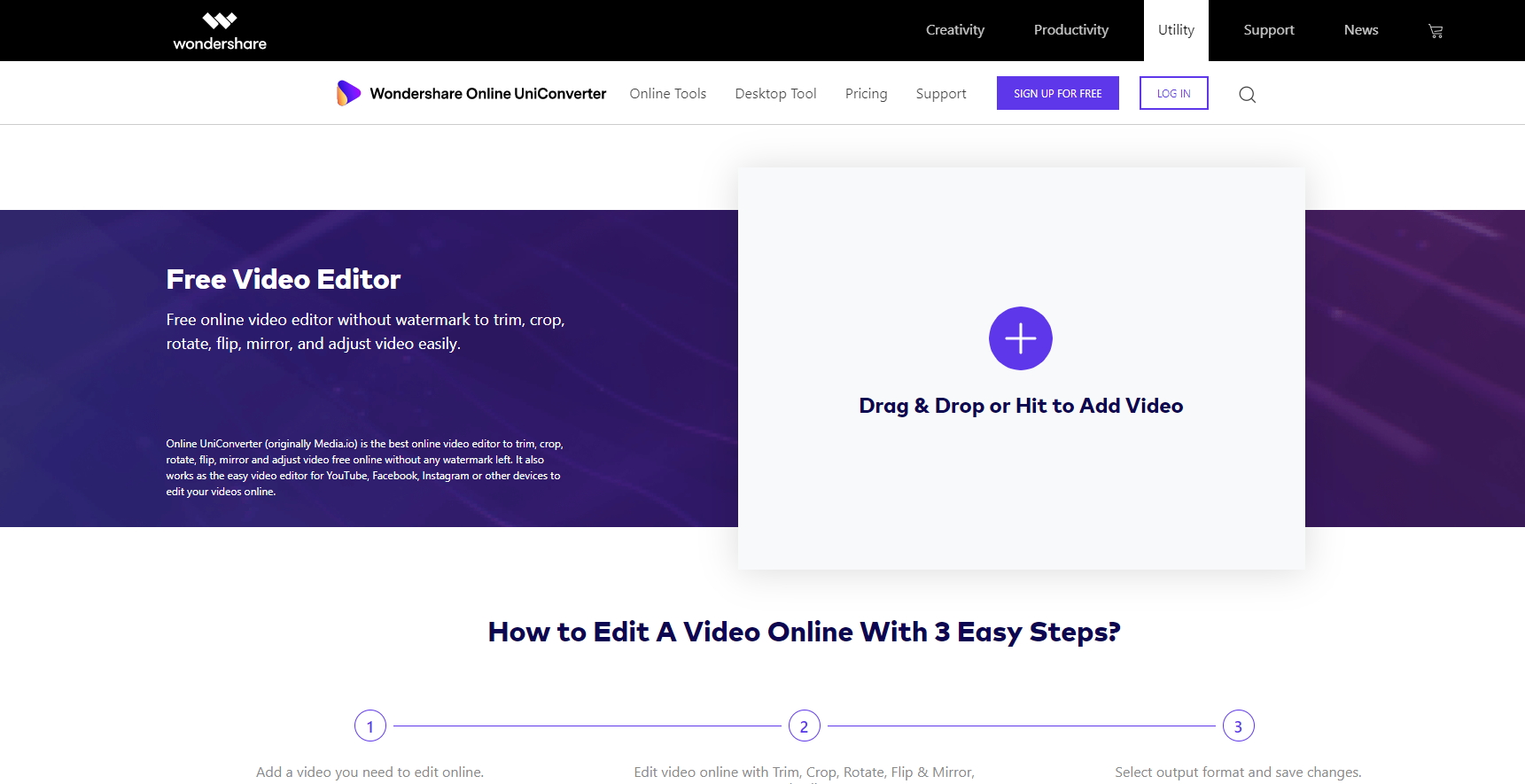 URL: https://www.kapwing.com/trim-video
With this free and simple tool, online as well as local files in an array of format can be cut and trimmed into a shorter file as needed. Once the file is added and uploaded, you can use the markers as well as the timestamps for selecting the video part to be trimmed. The interface provides the link for downloading the processed file.
Pros:
Multiple cuts can be added to the file as needed.
Simple and easy to understand interface.
Con:
Single file processing supported by this basic MP4 editor.
Only supports the trimming functions.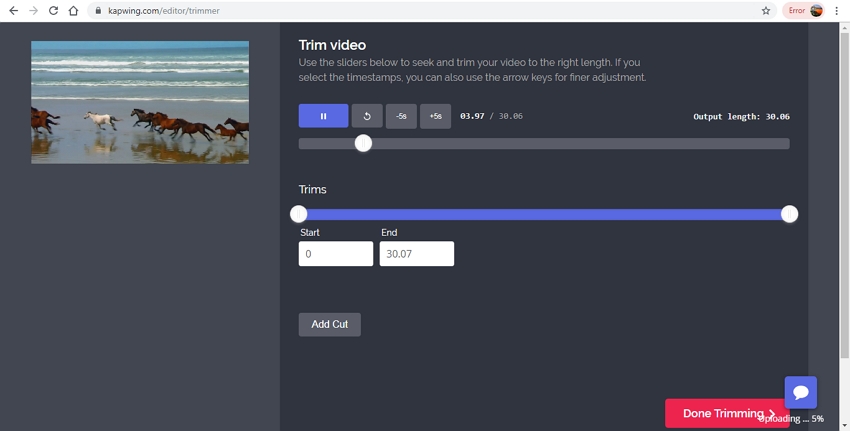 URL: https://clideo.com/cut-video
Cut your videos on the computer, link, Google Drive, or Dropbox using Clideo online tool that comes with a simple interface and quick processing. The file once added can be trimmed by specifying the time or moving the slider. Fade in and fade out options for the file is also available. The target format can be changed from the available supported options.
Pros:
Add files from Google Drive, Dropbox, Computer, and link using this MP4 clip editor.
Convert the added files to other formats.
Con:
Dependence on internet connectivity for the functioning.
No additional features besides video cutting.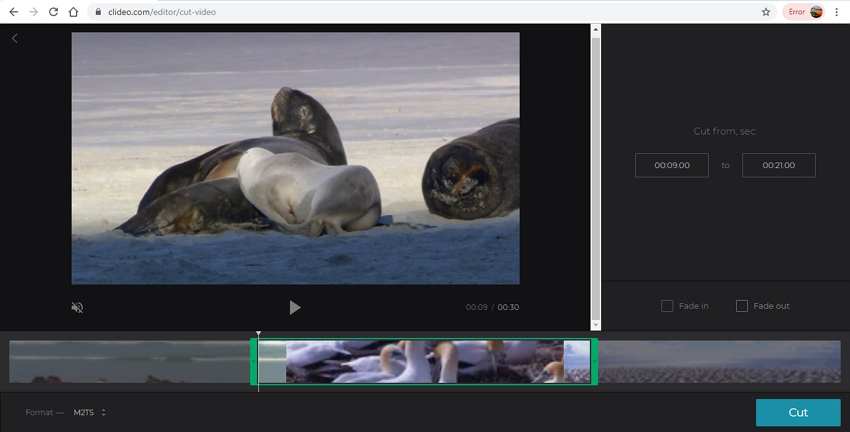 URL: https://online-video-cutter.com
With this online tool, multiple video editing functions can be performed like cropping, rotating, and cutting is supported. Maximum of 500MB videos can be uploaded at a time for the process. The files can be added from the cloud, link, or the local system. With a self-explanatory interface, the program is easy to use. All popular video formats can be added to the tool for the editing purpose.
Pros:
Supports all popular video formats.
An array of editing functions supported.
Con:
Maximum supported file size is 500 MB.
No option for batch editing.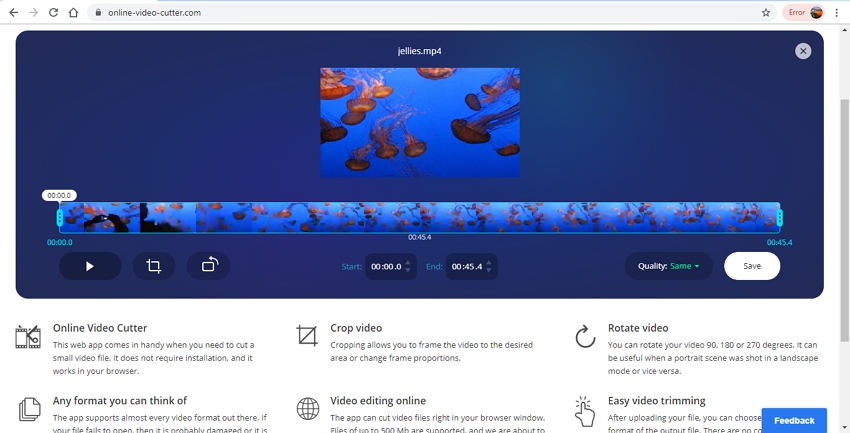 URL: https://clipchamp.com/en/video-editor
This online video editing tool requires sign-up after which files in MP4 and other formats can be added in several ways. You can add text, logo, background, and even split the video as needed. After the settings are done, the video can be exported in different resolutions like 480p, 720p, and 1080p as required. The processed file can be downloaded to your system or can also be shared on Google Drive.
Pros:
Multiple video editing functions supported.
This Windows MP4 editor allows exporting videos in different resolutions.
Con:
No option for multiple file processing.
Need a sign-up for the program to access a work.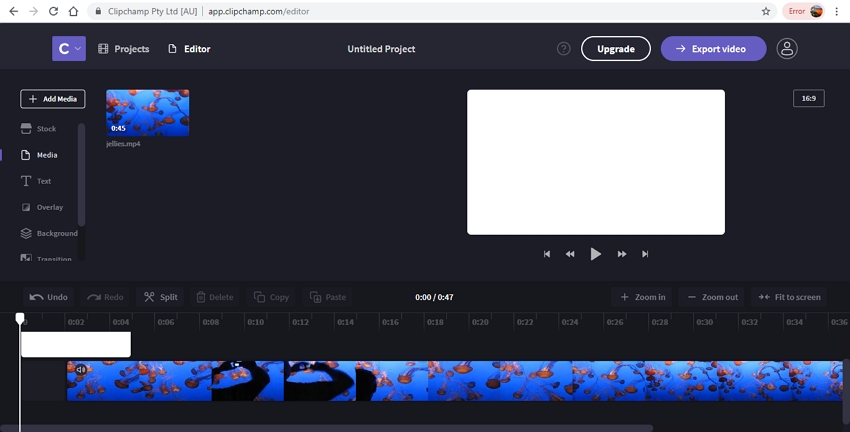 Part 2. Using Multifunctional Software to Edit MP4 Files in Windows & Mac
If you are looking for the best MP4 editing software windows 10 and Mac system, Wondershare UniConverter works as an ideal choice. This multi-functional video toolbox supports an array of features to look after all your videos related needs including video editing. In addition to MP4, almost all popularly used video formats are supported by the software. Once downloaded and installed, Wondershare UniConverter results in high quality processed files in no time.
Wondershare UniConverter
· Supports all popular video formats including MP4, MKV, MPV, M4V, and others.
· File conversion between 1000 and more formats supported.
· Built-in video editor supports an array of functions including trimming, cropping, adding effects, adding watermark, and others.
· Supports video download and recording from over 10,000 sites.
· Allows video compression without losing quality.
Pros:
Once installed the program works independently without any dependence on internet connectivity.
Supports batch processing for editing multiple files at a time.
Lossless quality editing at super-fast speed.
Steps to Edit MP4 Videos using Wondershare UniConverter
Step 1: Load MP4 Videos to the Software
Run the Wondershare UniConverter software on your system and load the local MP4 videos by clicking on the +Add Files button from the Convert Tab. Files can be dragged and dropped as well. Multiple files for batch processing can be added.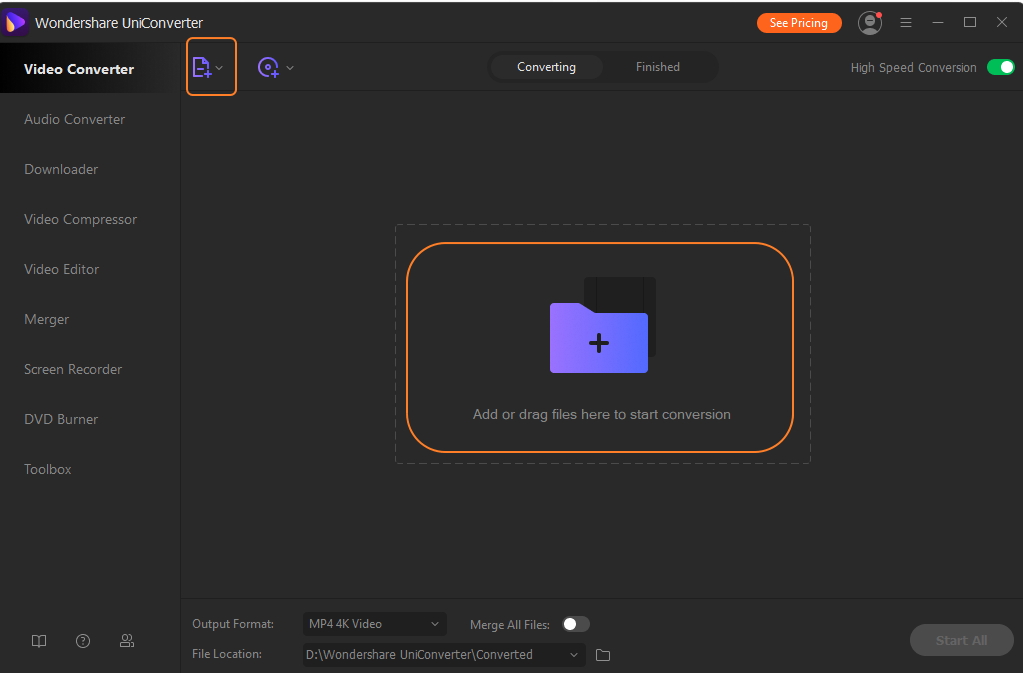 Step 2: Edit MP4 Videos
Under the added thumbnail videos, the editing icons for Cut, Crop, and Effect are present. Click on the desired icon and a new Settings window will open. From the pop-up window make the needed changes and click on the OK to confirm the same.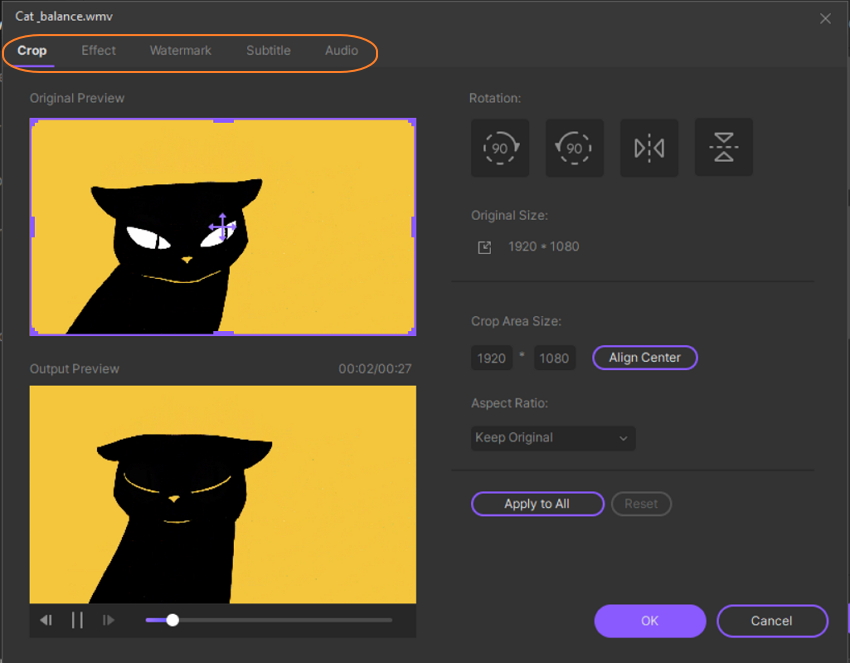 Step 3: Choose the Target Format
Expand the drop-down options at Output Format tab on the top-right corner to choose the target format from the Video list. The device-specific format can also be selected. Also, select the file resolution.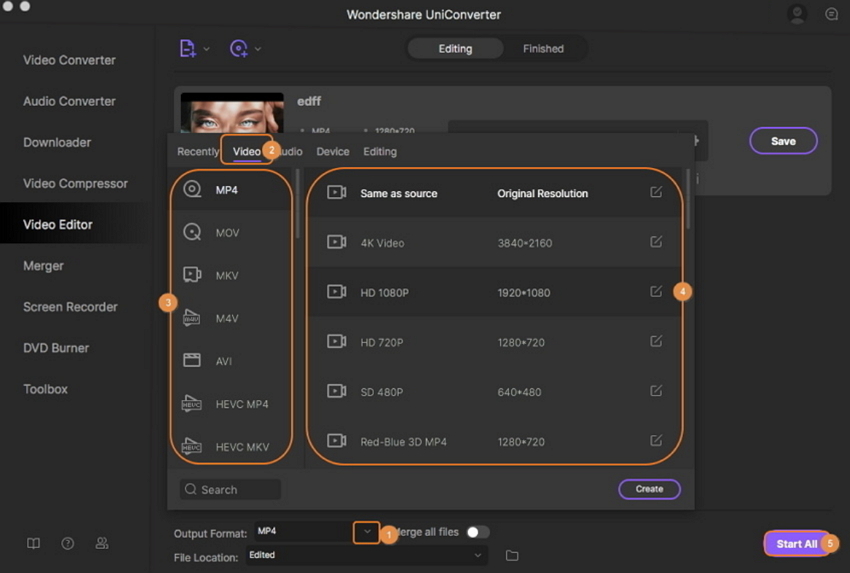 Step 4: Edit and Convert MP4 Video
Finally clicking on the Start All button will start the editing and file conversion process. On your system, the files can be located from the location selected at the Output tab. The Finished tab the interface can be used to view and manage the processed files.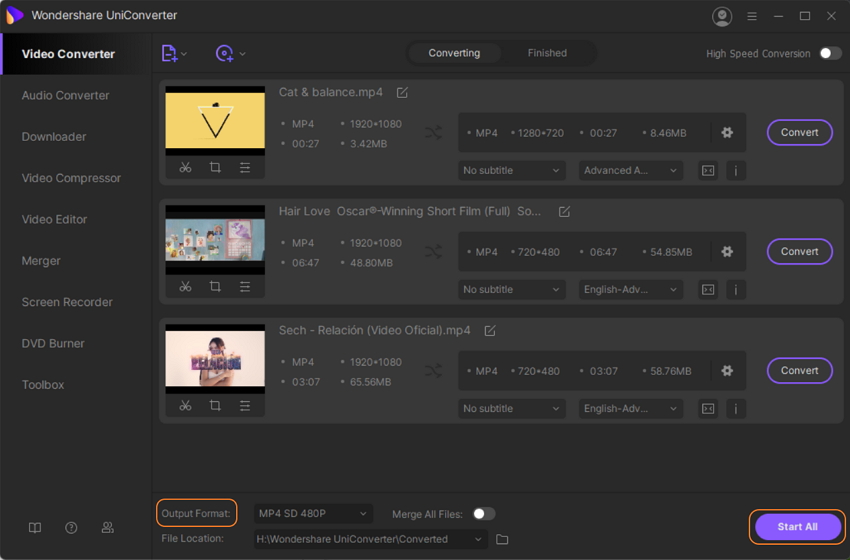 Owing to simple, quick, and lossless quality process, Wondershare can be considered as the best MP4 editor for Mac and Windows system.
Above listed are various online and professional software to take care of your MP4 video editing needs. For basic processing, online tools can be considered but for high quality, advanced features use Wondershare UniConverter.