A VOB (Video Object) file is a video container format for DVD media. Therefore, you'll likely get VOB videos after ripping open a DVD. However, sometimes you may want to merge VOB files before burning them to DVD or saving them on a local file. Fortunately, there are hundreds of programs out there to help you join VOB files. But as you may already know, these programs come with varying features and capabilities. That's why I decided to do all the digging work to bring you these VOB mergers. Let's talk VOB!
Part 1: Top 3 proven online tools to merge VOB files for free [Recommended!]
Let's start by discussing the best online tools to merge VOB files with lossless quality. Here they are: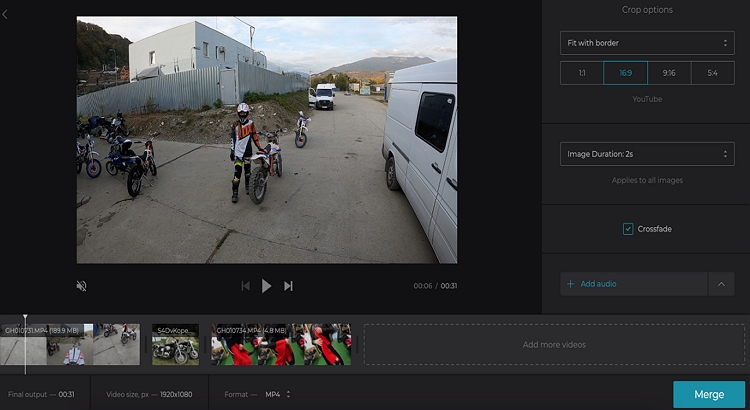 Clideo is a VOB merger designed to merge multiple video files without losing quality. With it, you can merge VOB files up to 500MB without paying a coin. After uploading VOB clips successfully, Clideo lets you edit them further by cropping, adding audio, applying crossfade effects, and changing the aspect ratio before joining. Additionally, you can export merged VOB clips to MP4, MOV, MKV, M2TS, and other digital video formats. Just note that the upload speed can be slow.
Pros:
Simple, ad-free user interface.
It supports most video formats.
Adjust video settings before merging.
Cons:
Slow upload process.
Limited file size.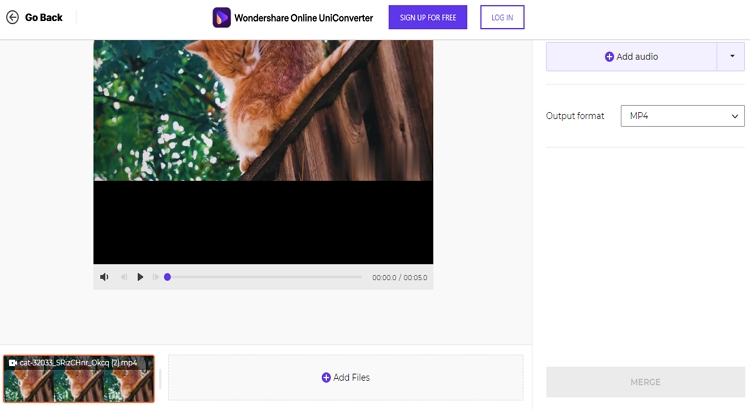 Like Clideo, Online UniConverter is an excellent VOB combiner that runs smoothly on all updated HTML5 browser apps. Here, you can upload and merge more than 1,000 file formats, including VOB, MOV, MTS, M2TS, FLV, and more. After adding VOB clips on the combiner, you can crop, adjust the aspect ratio, add audio, and apply transition effects. As expected, users can also choose a new target format before merging VOB files with lossless quality. And lest I forget, it comes with a wealth of other video editing tools.
Pros:
Simple, ad-free user interface.
It supports 1,000+ formats.
Multiple file editing tools.
Cons:
100MB maximum upload limit.
Nothing else.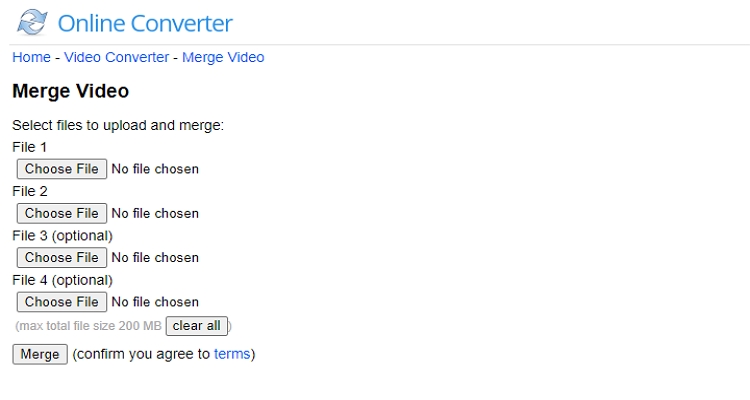 Lastly, use Online Converter to combine VOB files anywhere on any internet-connected device. On this ad-supported website, you can merge up to four VOB files and total file size of 200MB. In addition to VOB, this free software can also merge other file formats like 3GP, MTS, FLV, WebM, MP4, and more. Unfortunately, that's about it, as Online Converter doesn't support file editing before merging.
Pros:
Free to use.
It's compatible with multiple video formats.
Combine up to four VOB files.
Cons:
Annoying adverts.
It supports a total file size of 200MB.
Part 2: 5 best VOB merger softwares for Windows/Mac to know
Online VOB combiners are good. However, they are pretty limited in terms of functionality and efficiency. Even worse, users need a reliable internet connection to merge and convert videos quickly. So, if you're looking to merge bigger files with better results, check these five desktop options:
Wondershare UniConverter is the perfect media editing software for beginners and seasoned editors. It's compatible with Mac/Windows operating systems and features a straightforward user interface with tools to match. For example, the video merging tool allows users to merge multiple video files before trimming with precision. Also, users can edit the video encoder, bitrate, and resolution before exporting the merged VOB files to MP4, MOV, MTS, 3GP, and so on.
Wondershare UniConverter – Best VOB Merger
It supports 1,000+ file formats, including VOB, MTS, M2TS, MP4, etc.
Rip copy-protected DVDs and merge VOB files.
Trim VOV files with precision before merging.
Download VOB videos from 10,000+ video-hosting websites.
24/7 professional customer support.
Merge VOB files on macOS 10.9+ and Windows 10/8.7.
Below are the easy steps to combine VOB files on Wondershare UniConverter:
Step 1. Launch the VOB merger tool.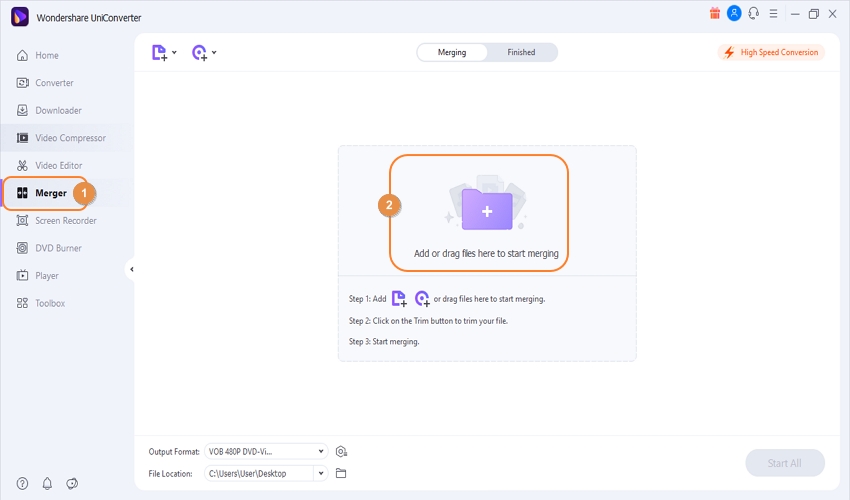 Install and run Wondershare UniConverter on your Mac/Win computer, then press the Merger tab on the left menu bar. Now go ahead and drag-n-drop your VOB clips on the workspace. Alternatively, click Add Files to open File Explorer and upload local DVD videos. Plus, you can tap the Load DVD button to add VOB from an inserted DVD.
Step 2. Trim videos (optional).
As said before, UniConverter lets users trim and split videos before merging. To do that, press the Trim button next to the added video to open the trimming window. Now drag the trimming handles on the timeline to reduce the playback duration. Another way is to choose an area to start cutting and press Cut, then do the same for the endpoint. Now select the two unwanted video sections and delete them.
Step 3. Convert and save the video.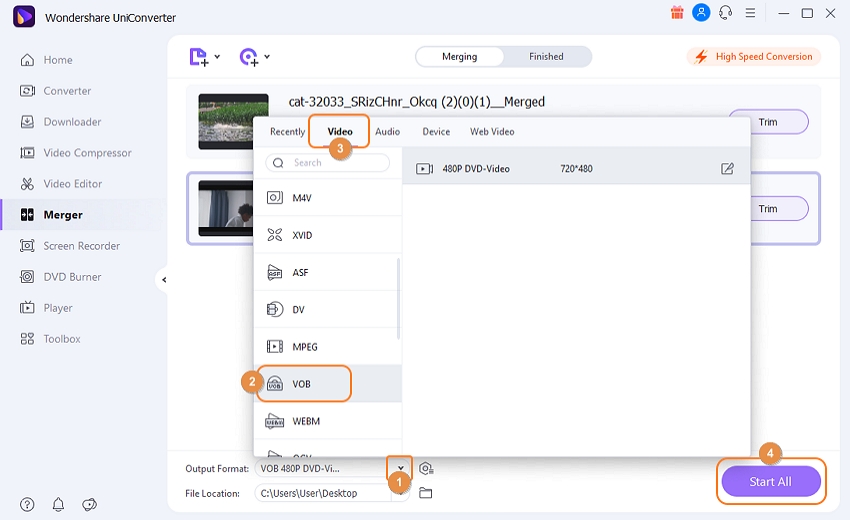 Last but not least, click the Output Format field, tap Video, and choose VOB as the output video format. Then, go to File Location and set a folder path. Lastly, click the Start All button to start merging your VOB videos without sacrificing quality. Enjoy!
Handbrake is a free, open-source software that boasts multiple essential video editing tools. This software is compatible with Mac, Windows, and Linux and allows users to upload various video formats before encoding to MP4 or M4V. So, let's cut to the chase and discuss some simple steps on how to merge VOB videos on Mac/Win with Handbrake.
Step 1. Install and run Handbrake on your PC and then drag and drop your VOB files on the main user interface. Or, click the Folder (Batch Scan) button under the Source Selection section to open local VOB folders. Remember, you can add up to ten VOB files.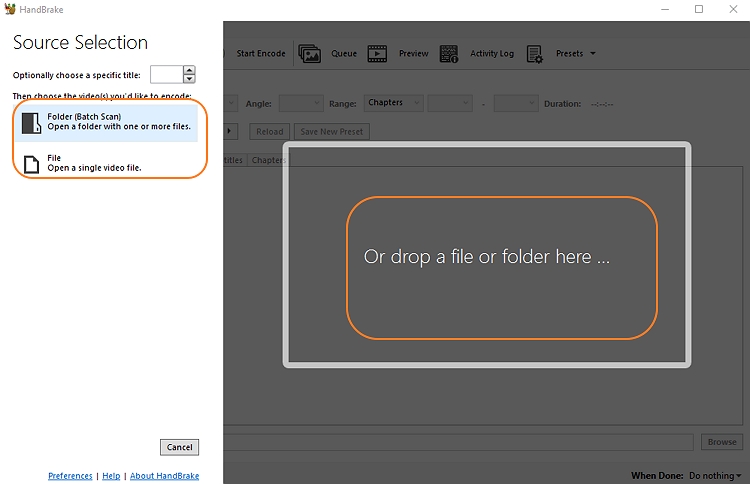 Step 2. Before merging VOB files on Handbrake, go ahead and customize the file dimensions, codec, frame rate, quality, and more. This will make the output video look more attractive to watch.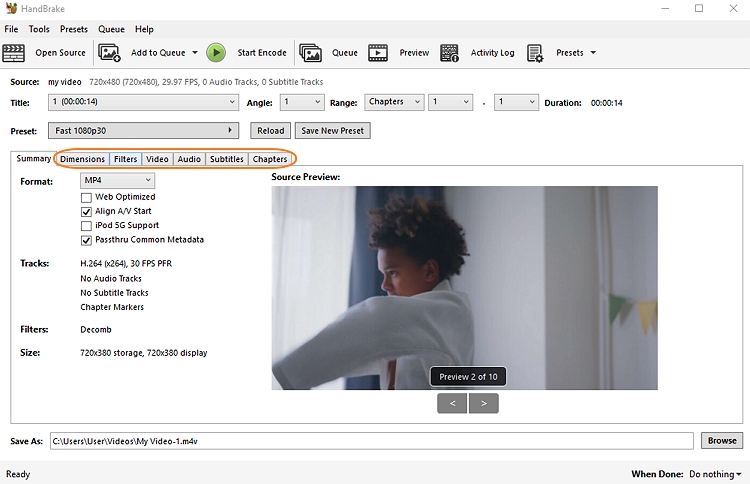 Step 3. Now click Browse and set the folder path for the merged video. Finish up by clicking the Start Encode button. That's it!
I'm sure you don't need much introduction to VLC. For those in the dark, VLC is arguably the best free, open-source multimedia player out there. With it, you can open almost any video and audio format. But that's not all; VLC is also an excellent VOB combiner for Mac, Windows, and Linux. In addition to that, users can convert, trim, stream, and record high-quality videos. Below are the steps to merge VOB on VLC:
Step 1. Install and run VLC and then tap Media before choosing the Open Multiple Files option. You'll see a pop-up Open Media window.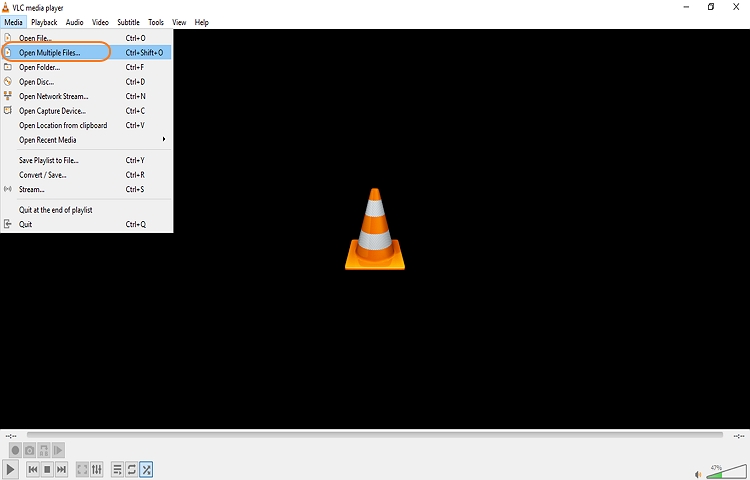 Step 2. Next, click the Add button to open your local folders and upload the VOB files to merge. Again, add as many as you want.
Step 3. Now go to the Play drop-down menu at the bottom of the window and choose the Convert option. A Convert window will launch immediately.
Step 4. Choose an output format before clicking the Start button. That's how to merge VOB files on VLC quickly and easily.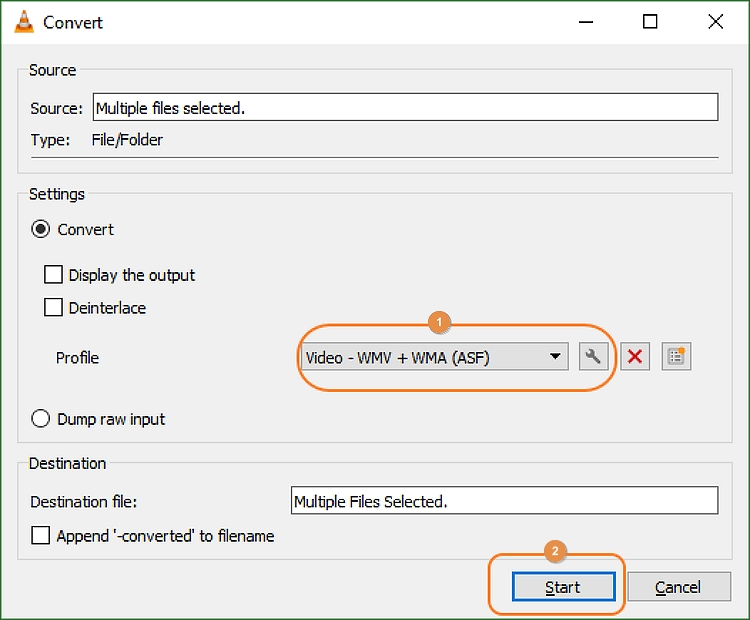 Wondershare Filmora is the perfect video editing tool for experienced editors. It's compatible with both Mac and Windows and features a host of tools to exploit. For example, Filmora can merge multiple VOB files without quality loss. Before exporting the video, Filmora allows you to customize it with beautiful transitions, background audio, texts, motion effects, and so much more. And yes, you can trim and export the video to multiple presets. Here are the steps:
Step 1. Install and run Filmora X on your PC and then tap the New Project button. Now click Import to upload your VOB files. Alternatively, drag and drop your VOB files on the workspace.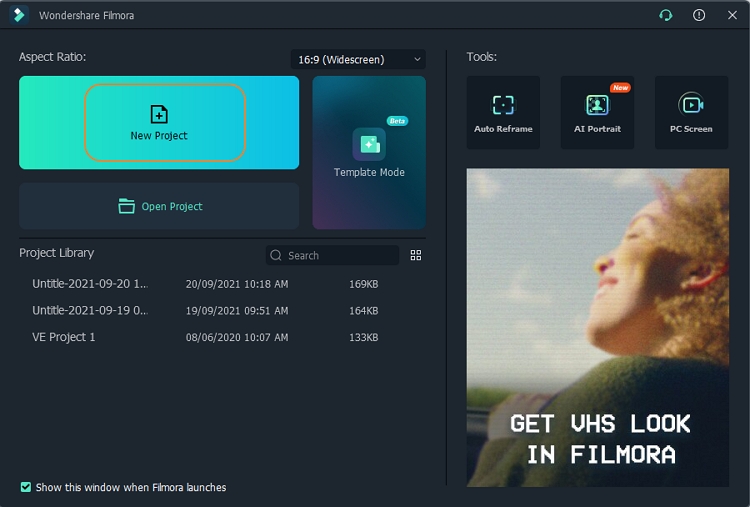 Step 2. Next, drag the media files to the timeline next to each other. After that, click the Transitions button and select a transition effect to add between the clips. To do that, drag and place the transition effect between the videos.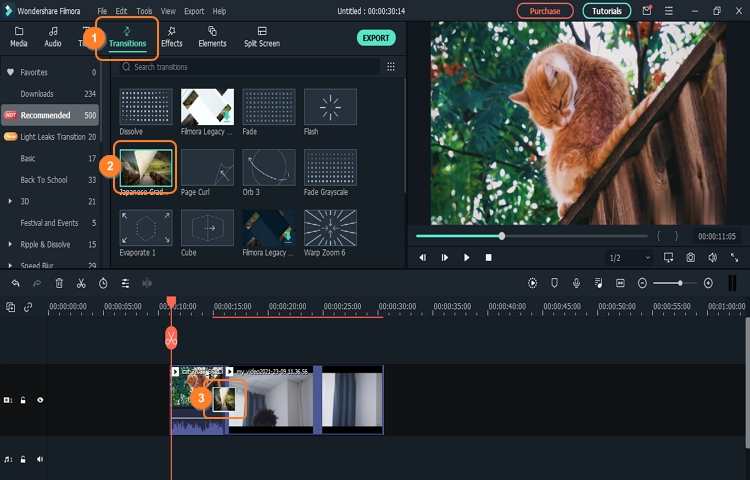 Step 3. Finally, click the Export button to merge VOB files with beautiful transition effects. That was simple, right?
DVDFab Video Converter is a fast video converter that supports all standard video and audio formats. Under the hood, it hides a non-linear editor for cutting, merging, cropping, rotating, adjusting brightness, and so much more. Even better, new users get a free 30-day trial period. Let's learn how to merge VOB with DVDFab Video Converter.
Step 1. Download, install, and run DVDFab on your PC and then click the Converter tab. Now drag-n-drop your VOB videos on the interface to upload them.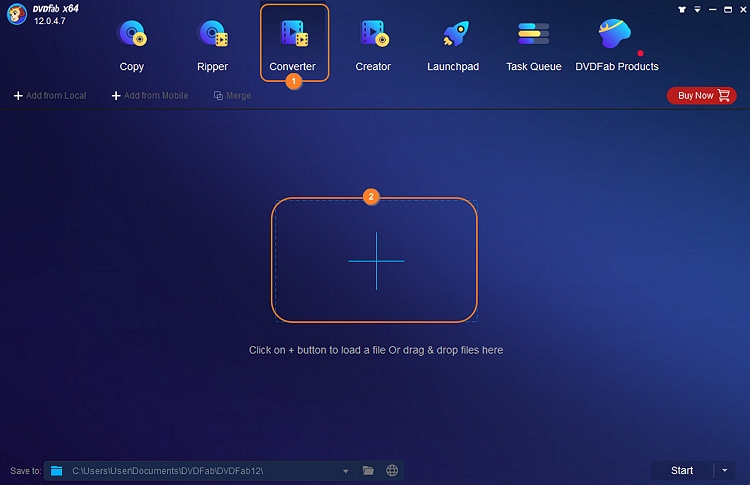 Step 2. Choose a video output format and codec. For instance, choose MP4 as the format.
Step 3. Click the Merge icon at the top and then press Ok. To wrap up the VOB merging process, click Start at the bottom-right corner of the window.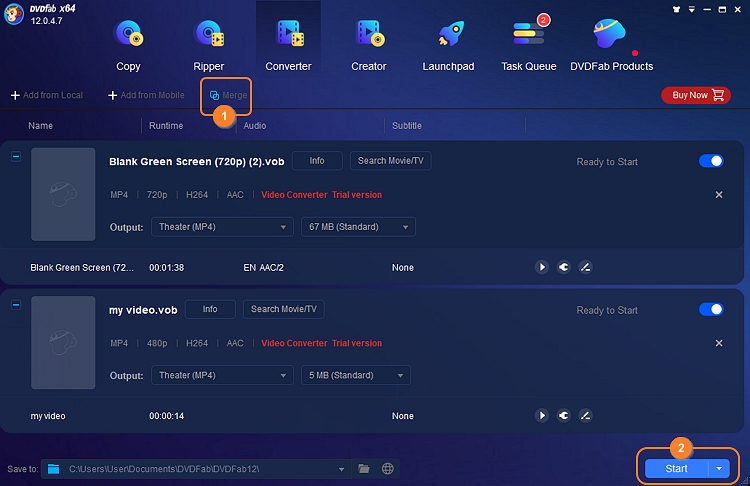 Part 3: Extensive knowledge: How to convert the merged VOB files to MP4 for free
In this section, we'll discuss the best online tool to help you convert the merged VOB to MP4 for free on iPhone, Android, Windows, or Mac. With Online UniConverter, you can convert between all video formats without compromising the quality. It supports 1,000+ file formats, including VOB, FLV, MTS, 3GP, and many others. Before converting, you can preset the encoder, frame rate, bitrate, and resolution. Even more convenient, you can upload VOB files directly from cloud storage.
Below is how to convert VOB to MP4 using Wondershare Online UniConverter:
Step 1. Use your favorite web browser to open Online UniConverter on your phone or desktop. Then, click Online Tools before choosing the Video Converter option.
Step 2. Now click the drop-down menu beside the Convert label and choose VOB. Then, choose MP4 on the to drop-down list.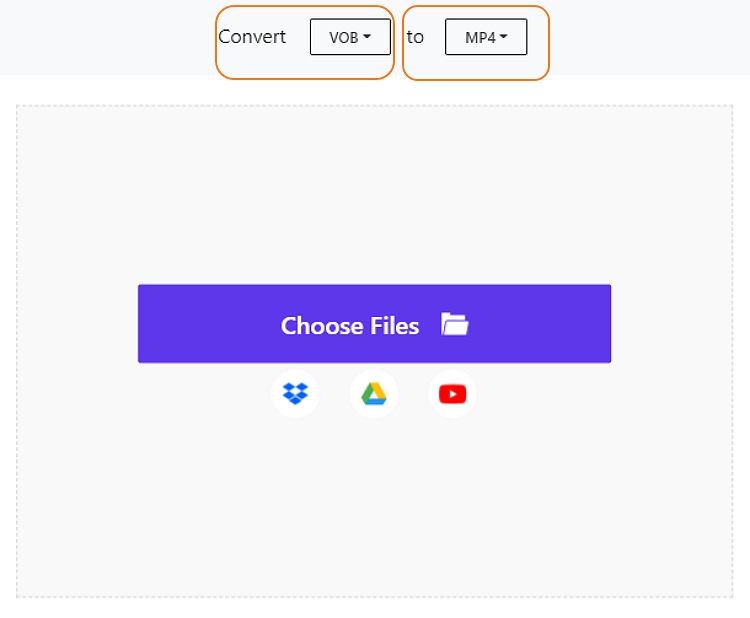 Step 3. After that, click Choose Files to open your local storage and upload the merged VOB file. Then, click the Settings button to change the resolution, bitrate, frame rate, and encoder. Interestingly, it supports 4K conversions.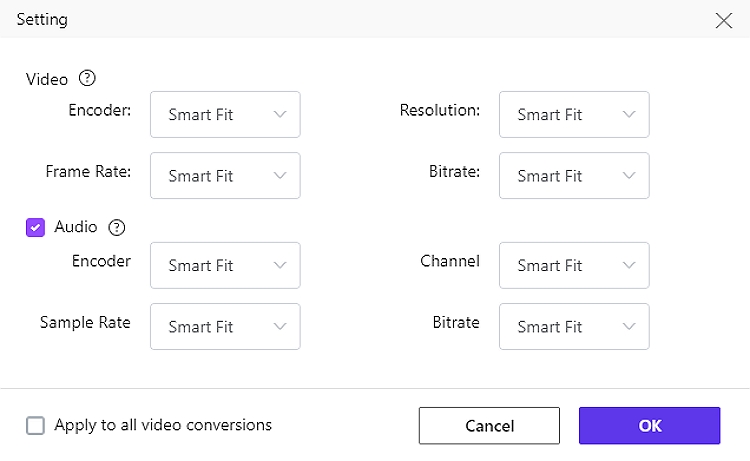 Step 4. Lastly, click the Convert button to start encoding VOB to MP4 with lossless quality.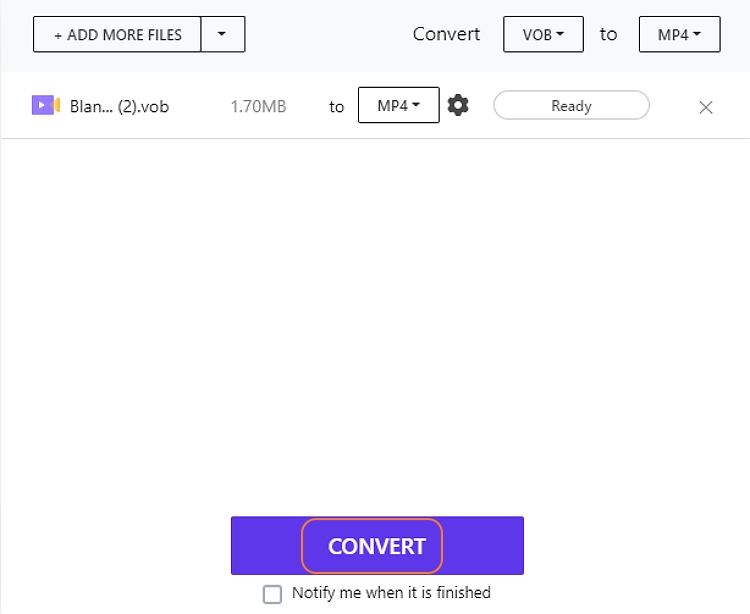 Conclusion
Now you know how to merge VOB files on mobile and desktops. From the options above, I recommend Wondershare UniConverter because it comes with a host of editing tools apart from a VOB merger. You can also check out Filmora X, although beginners might find it to be a bit of an overkill. And of course, use Online UniConverter to convert and edit videos anywhere, anytime.