Images need some extra editing to render them more exciting and engaging. One way is to merge photos online into a more attractive video. You can do that by using a video editor or a simple tool that allows you to combine photos online.
Despite the fact that you can use a video editor to merge images, it can be a bit complicated. So, it is beneficial to use a tool that allows photo stitching online without requiring any downloading, making the process hassle-free and quick.
For your ease, we have rounded up the best tools available to merge images online. Read ahead and take your pick to merge photos to video online and boost your fan following.
Part 1: Recommend 5 tools to combine photos online
On the web, you are bound to find countless apps that allow you to combine photos online. But some tools take preference over others as not all of these offer extra tools and editing features needed to enhance the video. This is why we have listed the top 5 tools to merge photos online effortlessly and quickly.
Let's dive in.
The first tool on our list is available to merge photos online and make advanced edits to enhance the ultimate video. It offers a variety of attractive templates that can be customized the way you want. This tool also offers some striking special effects to make stunning videos. You can also add your brand's logo after you merge photo to video online. This easy-to-use tool is perfect for creating short highlights of your products or a quick memory recap of a major event. Text or words can be added to make the content more engaging and get your point through to the audience. Better yet, add audio as background music or apply the Water Effect. Although the tool is free, you will have to create an account. Plus, you are limited to merge only 30 images. But still, this tool will help you merge photos online effortlessly as it offers a very simple interface.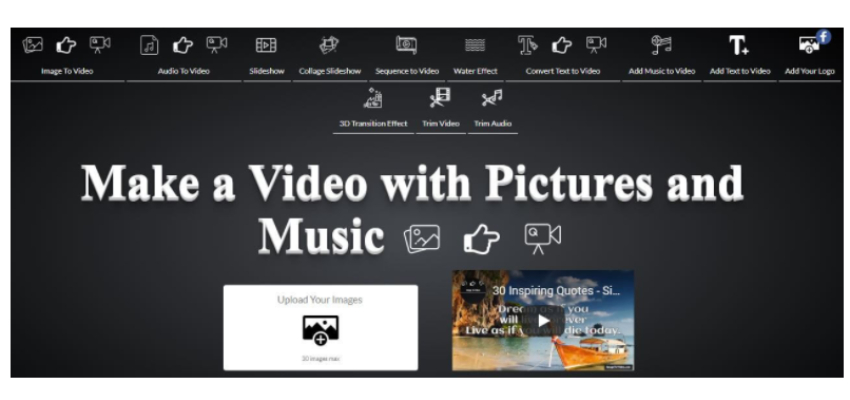 Pholody is an excellent tool to combine photos online and sync them with the perfect music. On Pholody, you can add countless images to merge them in a video. In addition, you can add music from your device or add the YouTube URL to extract it from there. After importing, you can adjust the merged images to sync beautifully with the beats of the music. There is also an Auto-Make option to make it easier. Plus, Pholody supports high-quality export up to 1080p. This tool also features templates to help you merge images online for a stunning output video. If you sign in for a free account on Pholody, you can even upload the final video directly to your social media accounts.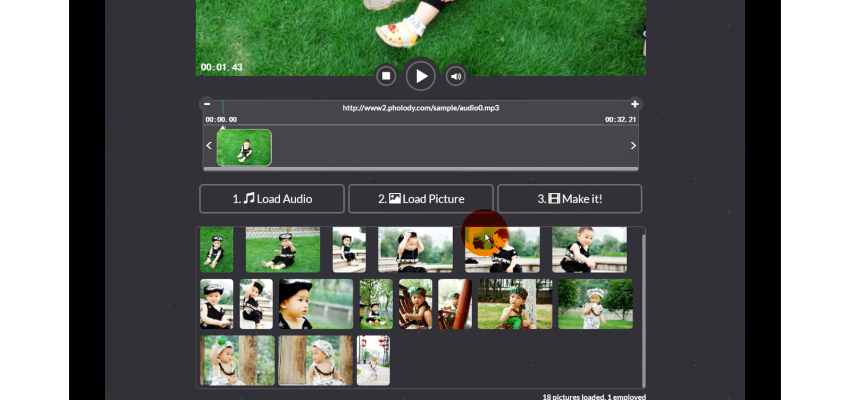 If you are looking for an easy-to-use tool that lets you merge photos online and also allows adding other effects to enhance the video, Kizoa is your best bet. With Kizoa, you can not only merge photo to video online; you can use the other customizable features in the app to render your video more interesting and engaging. This tool offers a wide range of special effects to make your final video more cinematic. There are numerous dynamic transitions also available. You can also add GIFs to your video. Audio can be added to make the video more engaging. A decent music library is available at Kizoa, but you can also choose to import music of your choice. Kizoa also allows you to directly export the video to YouTube or Facebook or save it locally.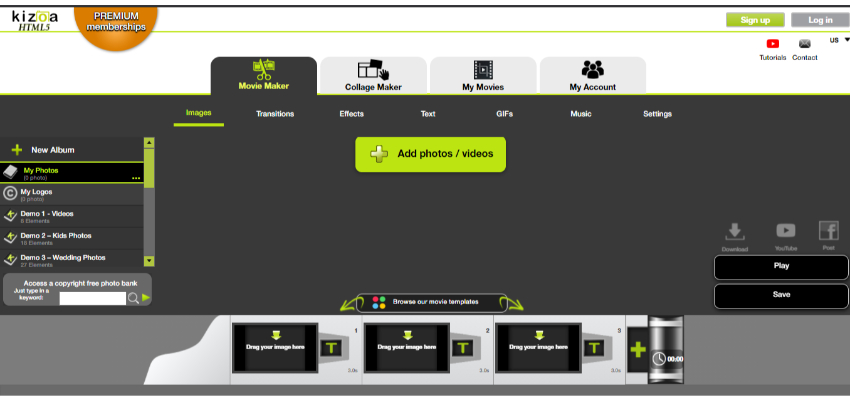 Adobe Spark is a simple tool but comes loaded with advanced editing features to help you merge photos online and create a beautiful slideshow. The free version, however, only gives you limited editing tools to work with. But the premium version offers endless creative possibilities. You can choose to start from scratch or use an existing template and customize it to your liking. Presets and attractive layouts are also available for quick editing. Moreover, you can easily merge images online and complement them with a voiceover right from the Adobe Spark tool. Add music from the Adobe library or import your own. You can even select the split-screen effect for a more interesting video.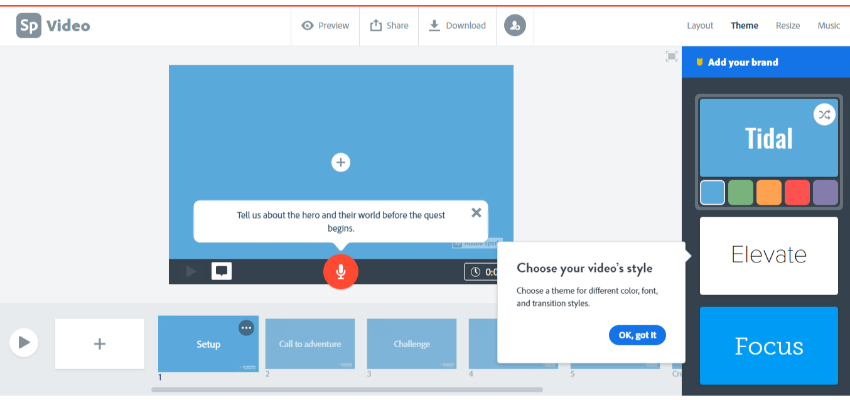 An amazing and very creative tool for photo stitching online is Wave Video. This tool has a multitude of editing options that let users refine the video to perfection. Merging multiple images into a single seamless and interesting video is rendered effortless with Wave Video. It offers various layout options so you can choose an aspect ratio that best fits your preference. You can also add animated shapes, stickers, and logos to make the video visually appealing. Wave Video also offers a rich stock library providing free and high-quality images. With this tool, you can also add subtitles or captions and customize them as you like. A range of music files are also available at Wave Video. So, you can easily merge photos online and enhance the video with these amazing editing tools.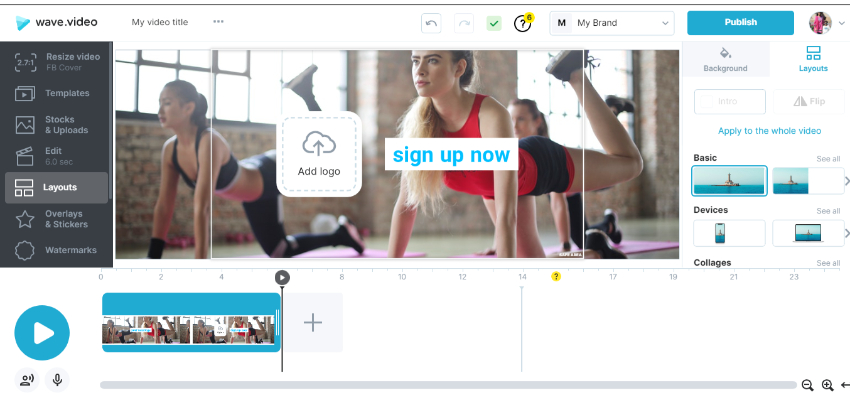 Part 2: How do I combine photo and video online?
If you are looking for the best tool to merge photos online, our recommendation is the Online UniConverter. This is an exceptional tool and one that is comprehensive.
With Online UniConverter, you can easily combine photos online and make further customizations owing to the tons of features that this tool offers. Photo stitching online is both seamless and quick through this tool. You can merge as many images as you like and create a stunning slideshow of your memories. You can further enhance the resultant video by adding audio of your choice by importing it from local storage.
In addition, Online UniConveter is renowned for working at 30 times faster speed than any other converter out there. Plus, it supports a wide range of input and output media formats, making it a very versatile tool for photo stitching online. Depending on your need and preference, you can choose from different output resolutions that are supported. Online UniConverter also features many other editing tools like video compressor and converter, GIF maker, image resizer, and much more. It allows saving the video in high quality, and you can even upload it directly to Google Drive or Dropbox.
Apart from featuring a huge range of editing perks, Online UniConverter is also very intuitive to use. Here is a step-by-step guide on how to combine photo and video online in a few easy steps.
Step 1. Open Online UniConverter on your browser through this URL https://www.media.io/merge-video.html or directly click the below Choose Files button. Or, click on the various icons like Dropbox, Google Drive, or YouTube to import pictures from there.
Step 2. It will take a few seconds to import the media. After that, the editing window will appear. You can add more images by clicking on Add Files or Crop the image according to the desired aspect ratio. To make the merging look more seamless and attractive, you can even add a transition effect. UniConverter also allows adding audio by importing from local storage.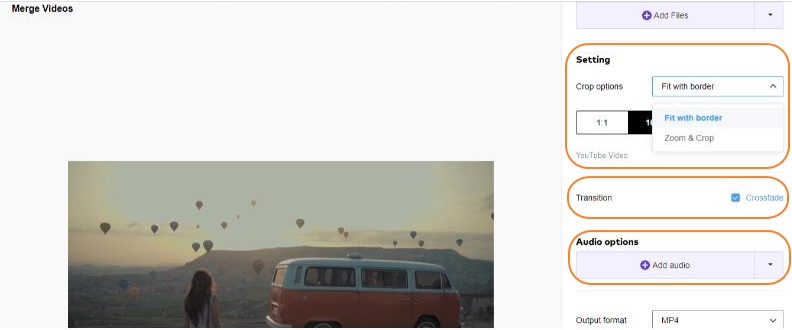 Step 3. Next, you can drag and rearrange the order of the pictures in the timeline. You can also add more media by clicking on Add Files directly in the timeline. Once all settings have been adjusted, click on Merge.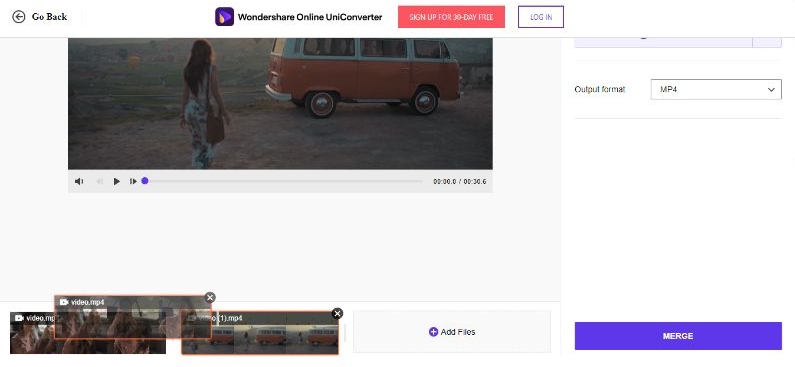 Step 4. Now, you can watch a final preview. After you merge photos online, you can decide to make more edits by clicking on More Tools. Or, you can download the video to your local storage, Dropbox, or Google Drive.

Conclusion
Finally, the secret is out. You now have access to the top tools to merge photos online. No more worries about editing expertise or the hassle of using sophisticated tools. Just take your pick from the above-mentioned tools that are easily accessible from your browser.
With the right tool at your disposal, you can effortlessly merge images online to create videos that can wow your audience. And Online UniConverter is one such tool that offers you a comprehensive list of editing features for creating professional-grade videos.
So, go on and combine photos online to impress your fans, family, and friends. Good luck!