Video sound is one of the most important aspects of making motion pictures. It ensures that your message is put across instantly. When the video sound is too low, your audience may experience challenges in hearing and understanding your message. Therefore, you need to make video sound louder when required so that you or the characters can be heard appropriately. Wondershare Uniconverter is the best tool to make video sound louder. This application makes the process short and easy to understand.
Part 1. How to Increase Sound Volume in Wondershare UniConverter
The versatile media converter, Wondershare UniConverter, comes with built-in media tools that enable you to manipulate your videos to suit your taste. Aside from editing, it can download video files from many websites online and also record screen activity. You may move this media to your Android and iOS devices at any moment, as well. Since it is an excellent video converter, UniConverter supports more than a thousand media formats. It also has a high speed that makes video processing extremely fast and delivers superior quality output. Generally, Wondershare UniConverter has everything you require to make your videos perfect for your course.
Wondershare UniConverter
· It comes with a video editor that makes your videos stand out by cropping, applying effects, adding watermarks, captions, and subtitles, and trimming.
· It can compress the videos as well to make their sizes smaller so that they conveniently fit in your Android and iOS devices.
· With its video converter, you can have your video in various layouts since it supports more than a thousand formats.
· It is also a video recorder such that you can record videos on streaming sites.
· Since it burns videos to DVDs, you make your content available to people that use DVD players.
Use UniConverter to Make Video Sound Louder
Step 1. Run UniConverter and Upload the Respective Video File
Run Wondershare UniConverter in your computer. Uploading the desired video into the program's interface is the first step. Then, click the option + Add Files and browse video (s) to be uploaded. Alternatively, drag and drop your videos.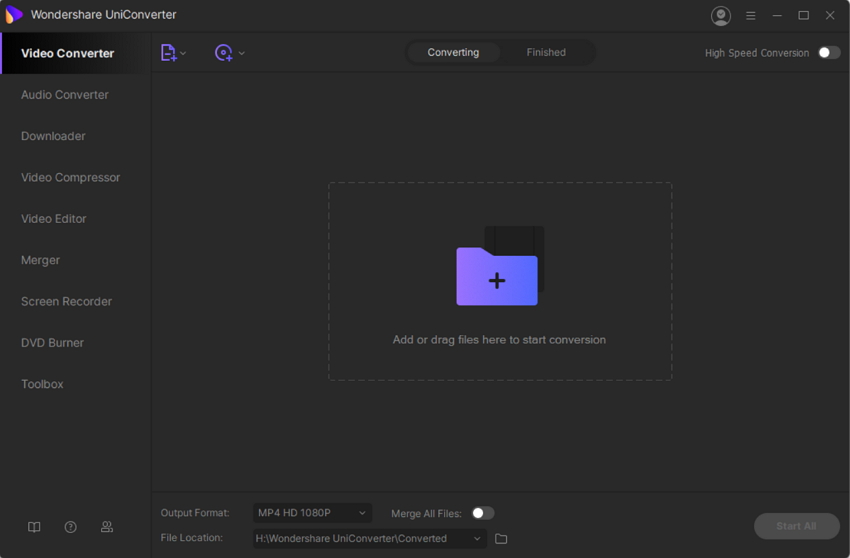 Step 2. Select the Effects Icon
The process to make video louder is part of video editing. Select the Effects icon; this opens a new window for editing that has several editing features. Click on Audio.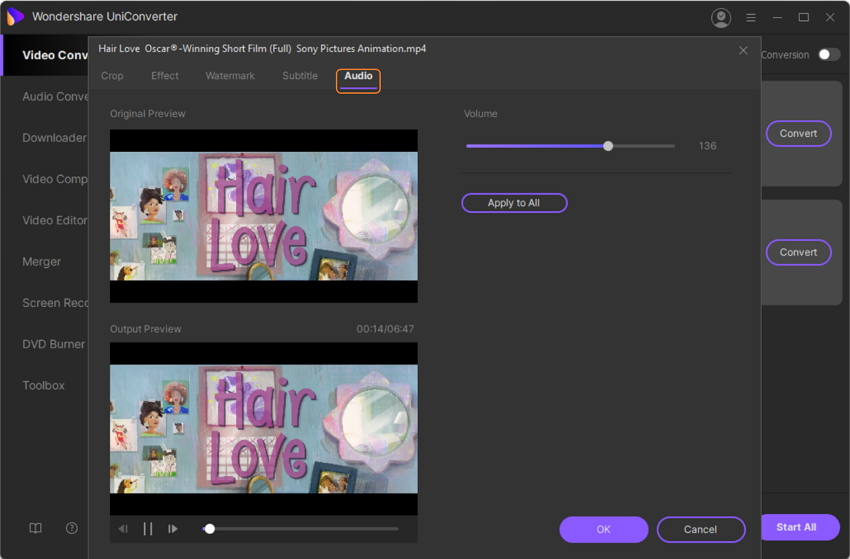 Step 3. Make Video Louder in UniConverter
From the newly exposed features, you can make video sound louder by adjusting the scroll bar through dragging it from left to right. Ensure that you click on OK to save these changes.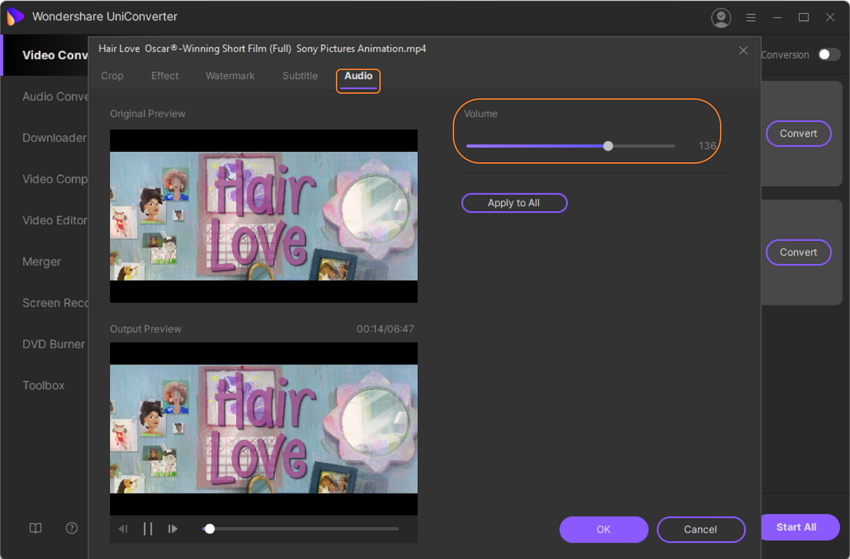 Step 4. Choose the Output Folder
Selecting a destination folder after you make video sound louder and changing format is advisable. This ensures that you access your video in the location you desire. If unsure about the destination location, the application will store it in a default location.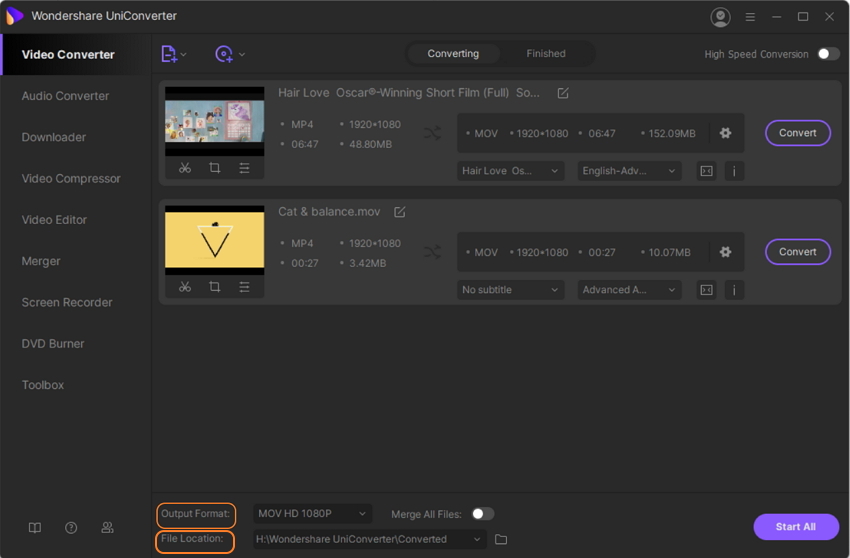 Step 5. Specify the Output Format before Save it
If you would like a different format, you may make your choice. Go to the Output Format function to access all the formats supported by Wondershare UniConverter. Select any format on the list then click Start All. If you upload a MP4 video file, you could still choose the output format as MP4.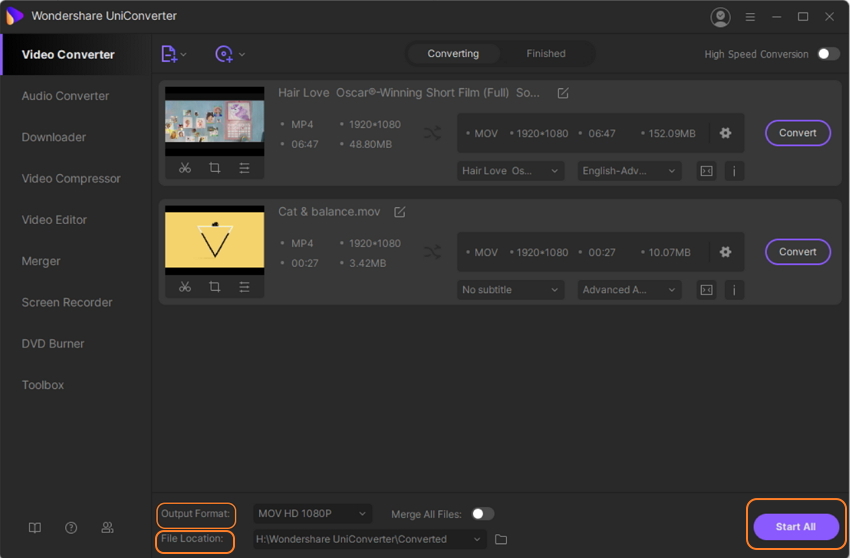 Part 2. Other Effective Tools for Make Video Louder
Apowersoft Video Converter
URL: https://www.apowersoft.com/free-online-video-converter
videos at a super high speed. It supports video formats such as VOB, MP4, WMV, FLV, and AVI, among others. Before conversion, you may customize or edit your video by applying effects and watermarks, adjusting size and trimming. Therefore, this software can easily make videos louder. Since Apowersoft is easy to use the software, the process of how to make a video louder is easy, as well.
Pros:
It is usable online and hence does not require set-up processes.
It supports many audio and video file formats.
Con:
Since it is dependent on internet connectivity, you must have a reliable connection.
It has limits for file size, which causes inconveniences when the video size is above the threshold.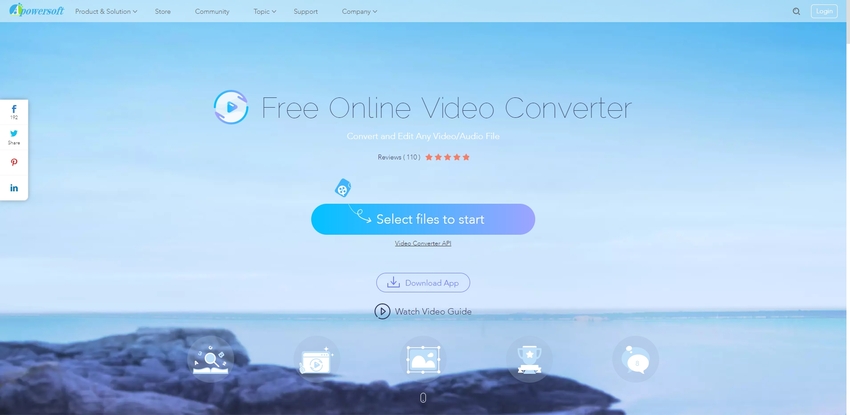 URL: https://www.videograbber.net/
Video Grabber is an application that comes with comprehensive and multiple functionalities. It allows you to download videos with different qualities. It is also a screen recorder and video converter since it can record online videos and convert the downloaded ones into other formats. During conversion, it allows you to edit the videos and hence can make video sound louder. The procedure of how to make video sound louder using Video Grabber is easy and short.
Pros:
It analyzes URL at high speed and thus fastens the video download process.
Provides the desktop application and online platform so that you can make video louder online as well.
Con:
It has a slow performance and gets stuck sometimes, which causes inconveniences when downloading or processing essential videos.
Only the Pro version allows you to convert YouTube videos to MP3.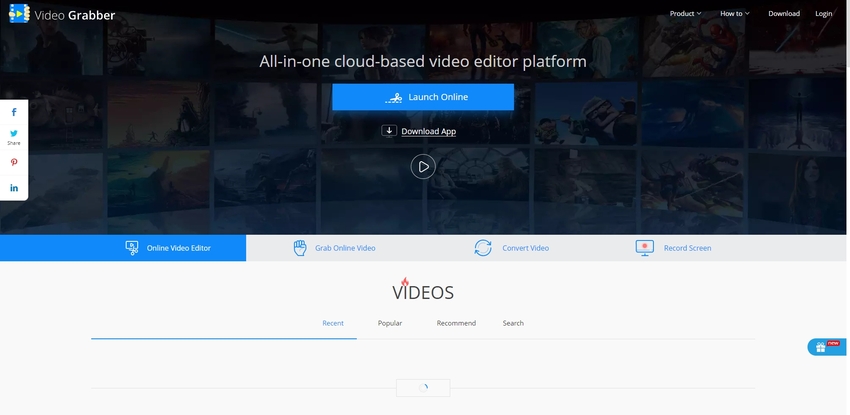 Part 3. Make Video Louder Online Free
URL: https://www.videolouder.com/
VideoLouder is a free service that enables you to adjust the volume of your video and hence, can make video louder online. It involves a straightforward process whereby you upload the video and then create a video sound louder. VideoLouder supports formats like MP4, AVI, MOV, and XVID, among others.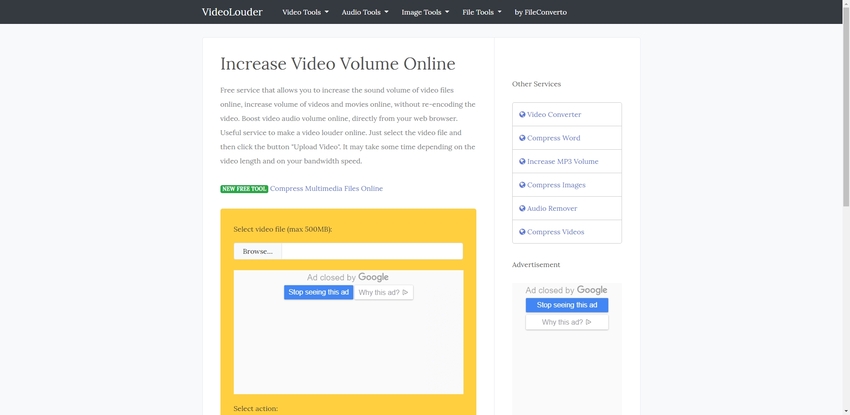 Summary
As shown above, various tools can make videos louder. Although Apowersoft and Video Grabber can perform the task thoroughly, Wondershare UniConverter is the best option to make video sound louder since it makes the process easy to understand. It also lets you enjoy a fast processing speed and delivers quality output. Additionally, you can edit the video more by trimming and adding effects and watermarks. If you would like to make the video louder online, Video Louder works perfectly.