Today we are getting the gist of the best android apps that can make your social feed engaging! If you are on the hunt for social media videos that blow you away, then you are at the right place. If you are looking for the best software to speed up a video or create fast motion video, we have everything you can opt for. In this article, we have provided you the guideline and review of the best software if you want to learn how to speed up a video on Android.
Part 1. 3 Best Fast Motion Android App You should Know
This Android app is excellent to speed up motion and it's a great app to use. This app is great for creating fast-motion videos for TikTok or Instagram posts with the revers and loop effect. People that do not have a lot of time to hang out all the time can become active on social media feed. To garner fans is also something that a lot of young people yearn to do nowadays. When you learn how to speed up a video, you will soon have a lot of followers following your feed. You can easily create slow motion videos by importing from gallery or shooting live. It has some other options such as crop, rotate, trim, apply effects, change audio etc.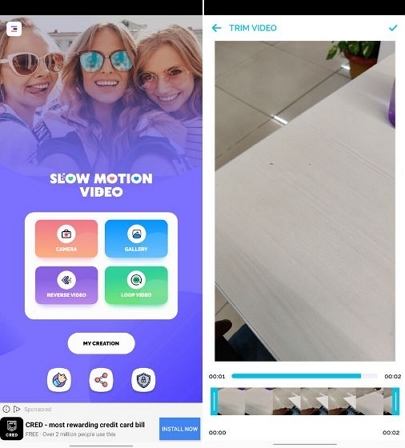 Price: Free

Pros:
You don't get any watermark when using the free version.
The platform is sleek and looks great.
Cons:
You get ads when you want to use the camera.
This app is excellent for cutting videos and adding some BGM music to your video. You can add slow special effects to the video. If you fancy special effects and you love enhancing your videos, then this app is for you. Once you have done editing, just click Done and the whole video will be exported to your Android device storage. It allows users to increase or decrease the speed of a video, so you can easily create fast motion videos easily. It also allows users to reverse a video which is a cool feature.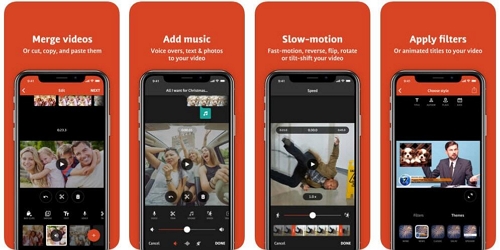 Price: Free, but contains in-app purchases.

Pros:
It has excellent special effects.
You can make fast motion video with this app.
Cons:
It has a watermark for the free version.
KineMaster is claimed as one of the best video editing app for Android if you want to speed up a video on your device. It has powerful options that allow users to create slow or fast motion videos and time-lapse videos without breaking a sweat. It has its own EQ pre-sets and audio editing tools that you can use to fix the audio of the video clips. It also supports 4K video exporting, so this is a very good app for making your videos special.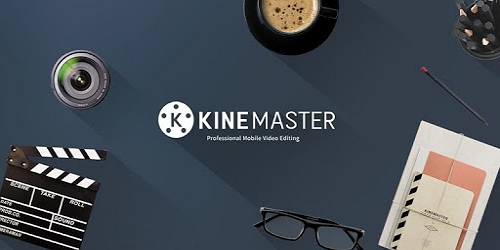 Price: Free, but contains in-app purchases.

Pros:
Excellent video playback speed controlling system.
Advanced audio editing features available.
Varieties of filters and effect available.
Cons:
It has a watermark for the free version.
It's in app purchases are expensive.
Part 2. Compared with them, Online Free Fast Motion Maker may be Another Better Choice
You have now 3 different tools to speeding up your videos easily when needed. These tools are different and they have their own pros and cons to handle. What if we give you another online free fast motion video maker that can become the best choice for you if you don't know how to speed up a video?
Comparing to these tools an online free fast motion tool named Online UniConverter (https://www.media.io/) can give you better solution. As you can understand by the name, it's an online video converter and audio converter. You can convert MP4, MP3, WAV, MOV etc. and more files to any format from here. Actually, it's not that simple to judge this one by its name. This amazing online tool is an all in one toolbox for every video and audio related issue. The advanced features and varieties of tools inside this toolbox will allow you to do almost anything with videos.
Features:
It's an advanced and user friendly online video toolbox that has all kinds of video related tools inside.
Easy to handle, just drag and drop the file, start using any tool you want from the toolbox.
You can create awesome videos and make them look good for your audience.
It has various tools including video & audio converter, compressor, video editor, image converter, GIF maker and more!
It will allow you to slow down or speed up your video for creating excellent social media posts.
Step-by-step Guide to Use Online UniConverter for Speeding up a Video:
[没有发现file]
Step 1: Add or Import Video
First you need to visit the Online UniConverter (https://www.media.io/change-video-speed.html) video editing page and click on the "Drag & Drop or Hit to Add Video" button to import your desired video file. You will get to see that your selected video is added on the online video editor page.
Step 2: Speed Up or Edit Video
Next, you can check out the video editing options from the list and choose the option for speeding up your video. You can also slower the video if you want. There are various editing options available. After your speeding up is done, you can set the output format for exporting the video.
Step 3: Download Video to Android Device
When you are finished editing your video, you can check if everything is alright in the final edited version of the video. If you like what you have accomplished then click on the "Download" button to get the video in your Android device.
Summary
Finally, as we have come to the end of this article, we want to mention that you can use any of these 3 Android speed up motion apps to make your videos faster. These apps can help you a great deal when you don't know anything about speeding up a video. On the other hand, a smart choice for you all will be using Online UniConverter as it's easier and free to handle! Also there is no other online tool available on the internet that can compete with this amazing all in one toolbox. Instead of wasting time on other tools or online fast motion system for videos, directly start using Online UniConverter to get the best result every time.